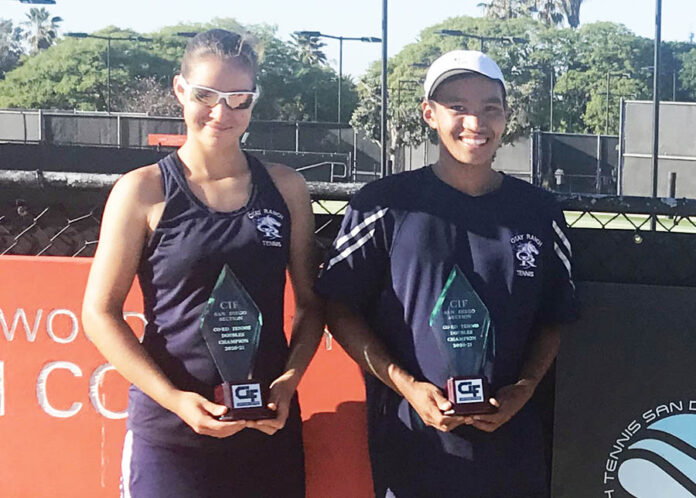 The 2020-21 high school tennis season was unique when competition finally returned to live action last spring as the separate boys and girls seasons were combined into one coed season.
The duo of sophomores Emely Valencia and Marlon Abarca made history for Otay Ranch High School by winning the San Diego Section mixed doubles championship. Valencia and Abarca defeated the Canyon Crest Academy sibling tandem of Katie Codd and Jackson Codd by scores of 4-6, 7-5, 6-4 at the Barnes Tennis Center.
The mixed doubles format was included for the first time in the CIF athletic calendar because of changes that needed to be made because of the coronavirus pandemic.
"It was a real good experience this season," Otay Ranch coach Dan Woodard offered in somewhat of an understatement.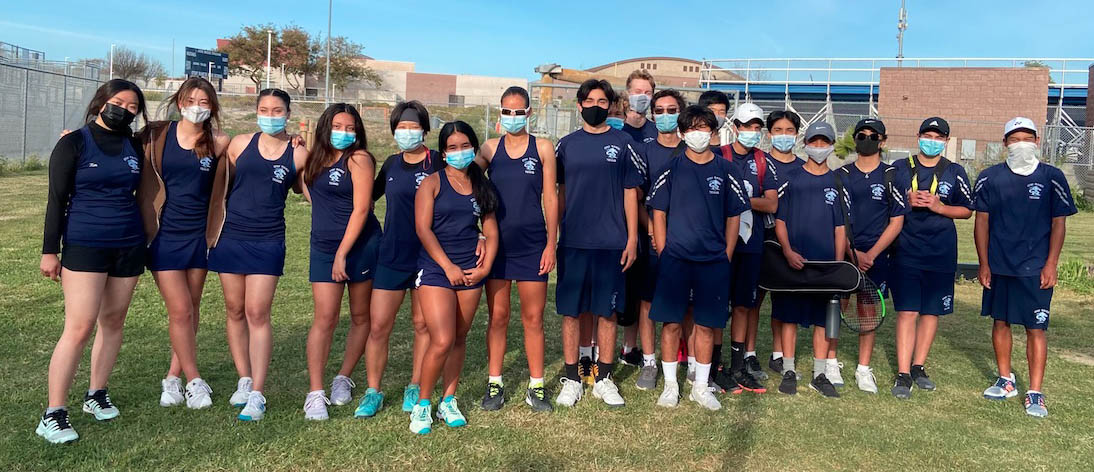 Valencia returns for the 2021 fall girls tennis season while Abarca would be eligible to compete in the 2022 boys spring tennis season.
The combined Otay Ranch boys and girls teams captured the Metro-Mesa League championship during the spring season with a perfect 10-0 record. The Lady Mustangs should have enough remaining firepower to make another strong impression this fall.
Besides Valencia, a first team all-league selection, junior Arianne Pepa, a two-time Mesa League MVP and 2021 CIF singles runner up, also returns to grace the Otay Ranch lineup this fall.
Other top returners include seniors Samantha Bazan and Sarai Santana along with sophomore Kiley Balko.
Bazan received first team all-league recognition while Balko and Santana were both second team all-league honorees.
"With the strength of our returners I expect us to compete again for the Mesa League championship and represent well in CIF," Woodard said. "It will be hard against the well-coached teams we have such as Mater Dei Catholic and Bonita Vista. I am lucky to have a bunch of great kids, so I at least know for sure they will give it their best effort and have fun."
Otay Ranch was scheduled to host Mater Dei Catholic on Thursday and is scheduled to host Bonita Vista on Sept. 16.
League matches will be against Eastlake, Mater Dei Catholic, Olympian, Bonita Vista, Sweetwater and Montgomery.
League play extends through Oct. 14.
Metro Conference Scoreboard
Non-League
Tuesday, Aug. 24
Patrick Henry 13, Eastlake 5
Thursday, Aug. 26
Bonita Vista 13, Steele Canyon 8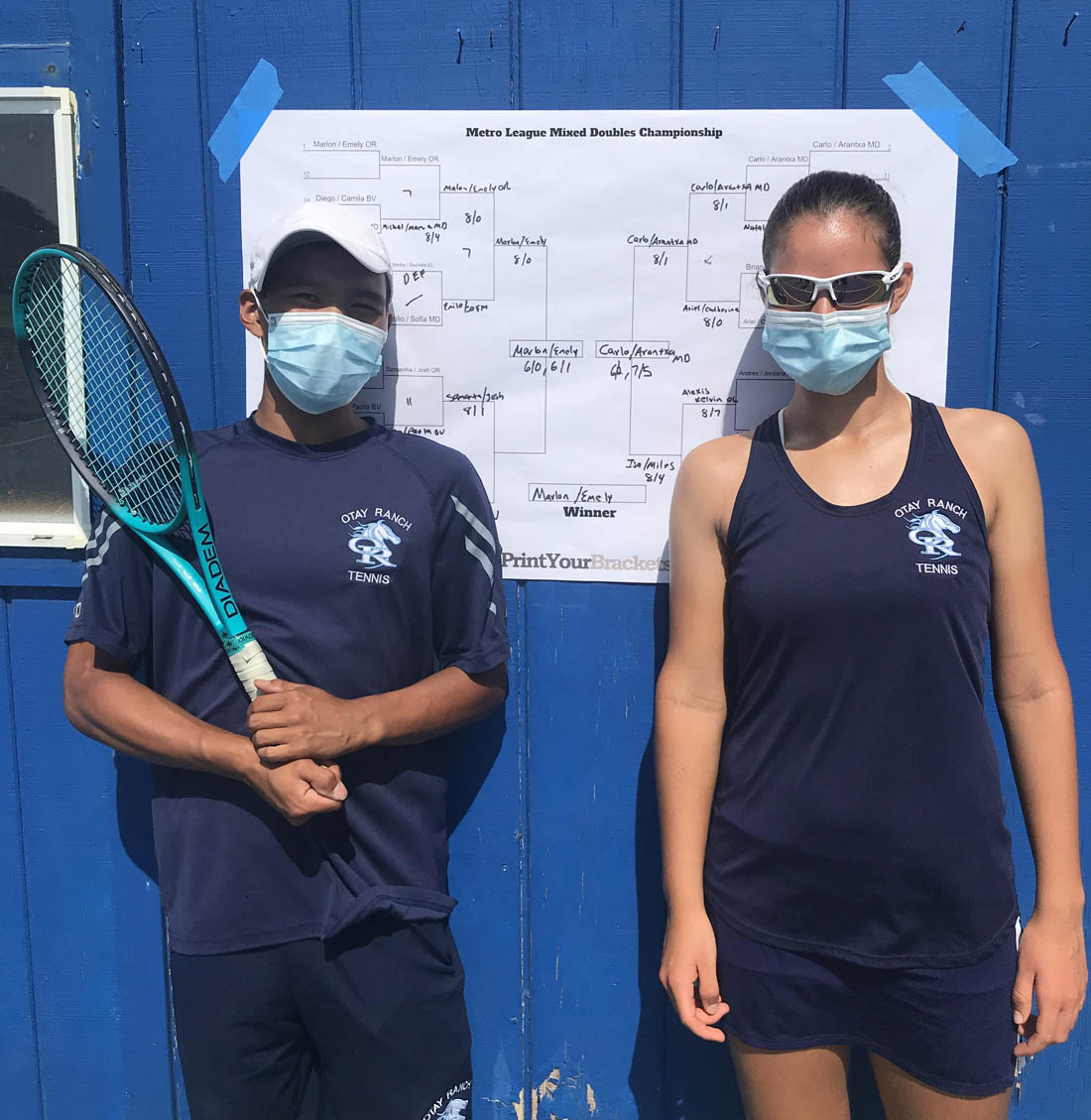 2020-21 Mesa League Coed Tennis All-League Honor Roll
Girls First Team Singles
Arianne Pepa (Otay Ranch), 10
Sydney Pilgrim (Olympian), 12
Isabella Arnaiz (Mater Dei Catholic), 9
League champion: Pepa (Otay Ranch)
Boys First Team Singles
Enrique Uribe (Eastlake), 11
Walker Nelson (Bonita Vista), 10
Diego Covarrubias (Eastlake), 12
League champion: Uribe (Eastlake)
First Team Mixed Doubles
Marlon Abarca (10) and Emely Valencia (10), Otay Ranch
Carlo Oropeza (10) and Arantxa Mendiola (11), Mater Dei Catholic
Josh Woodard (11) and Samantha Bazan (11), Otay Ranch
League champion: Abarca and Valencia, Otay Ranch
Girls First Team Doubles
Alexa Fakhimi (11) and Bibiana Martinez (11), Bonita Vista
Ingrid Liu (12) and Alusia Kim (12), Otay Ranch
Sophia Lawrence (12) and Cydria Harris (11), Olympian
League champion: Fakhimi and Martinez, Bonita Vista
Boys First Team Doubles
Jose Manuel Oropeza (12) and Nilo Granado (10), Mater Dei Catholic
Triston Dinh (12) and Ryan Dinh (9), Eastlake
Leonardo Castaneda (9) and Grant Valentine (9), Eastlake
League champion: Oropeza and Granado, Mater Dei Catholic