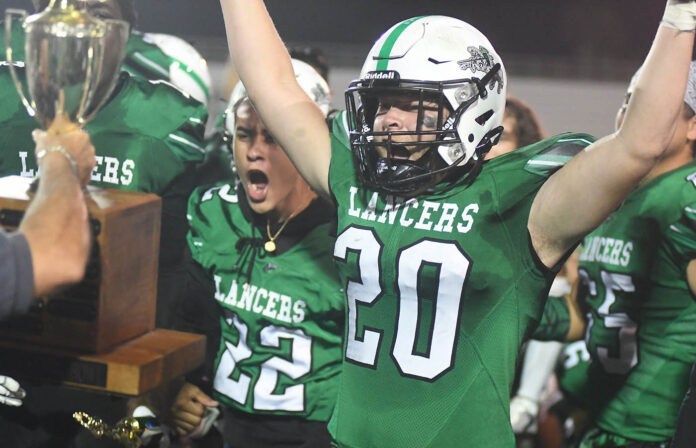 The 20th annual edition of the Chula Vista Kiwanis Bowl may have been the most unusual in the long series between west side city rivals.
The visiting Chula Vista Spartans had just been released from COVID-19 protocols and only had a week of practice under their shoes while the Hilltop Lancers had played two full-length games and intervening practices.
The Spartans were also missing their starting quarterback and starting running back for various reasons. Suffice it to say,  it was a very rusty effort. Every time the visitors appeared to take a step forward, they seemed to take two steps backward.
An injury to starting quarterback Sean Arce early in the fourth quarter seemed to sum up the night for head coach Howard Bannister III's rebuilding team.
"We were without our starting quarterback and we were also missing our starting running back," Bannister said. "We did not practice at all. It was our first game of the year and credit to Hilltop for being ready to play."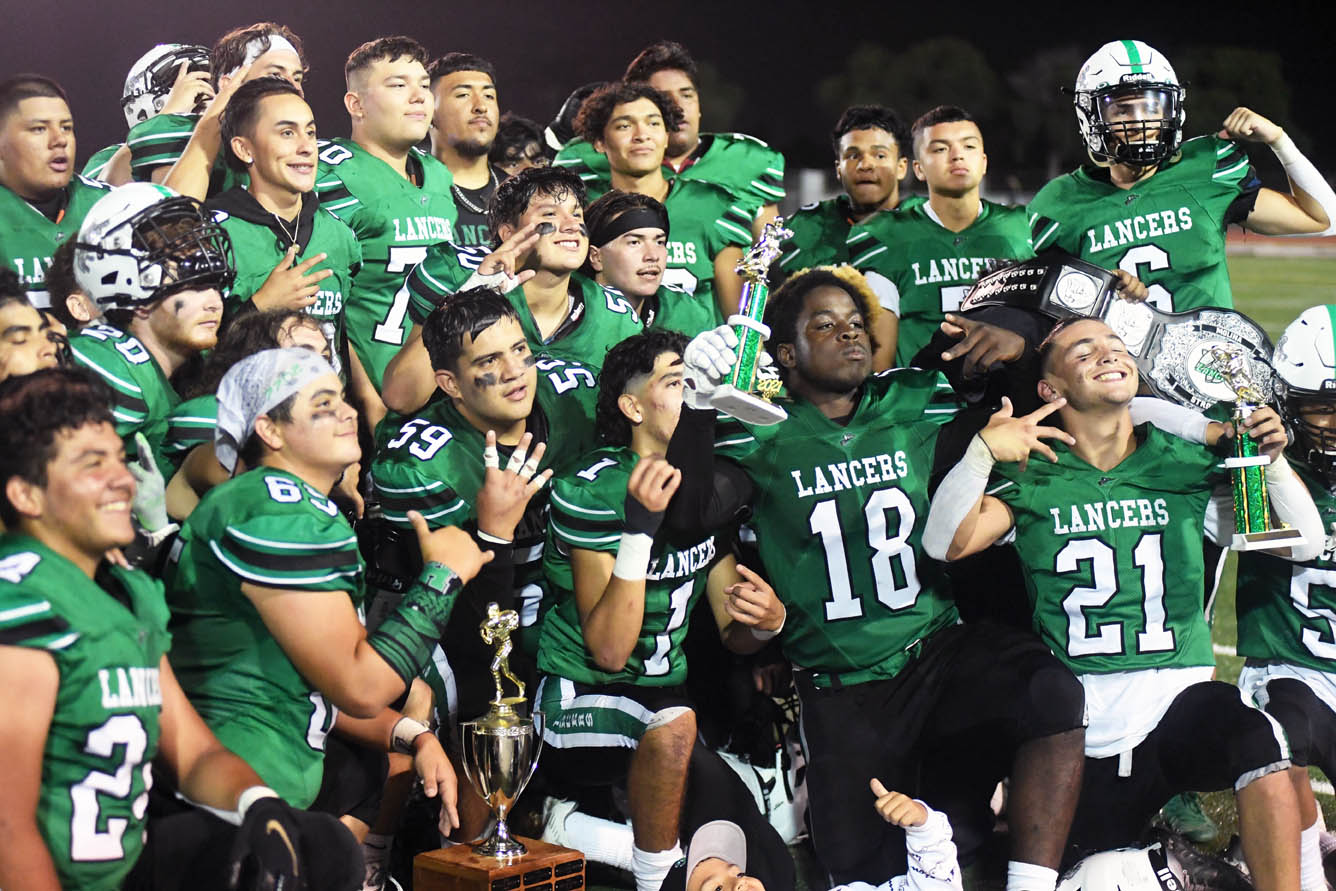 Hilltop (1-2) set the tone with a pair of touchdowns in the opening 2:18 of the non-league contest. Junior Angelo Zapata scored on a 51-yard catch-and-carry down the home sideline while junior Tyeron Washington returned an intercepted pass 75 yards for a touchdown.
Junior running back Josh Bernardo scored from two yards out with 4:13 left in the quarter to tack on yet another touchdown for the Lancers.
The score remained 21-0 until junior Salvador Vidrios kicked a 27-yard field goal with 3:43 left in the game to put Hilltop ahead 24-0.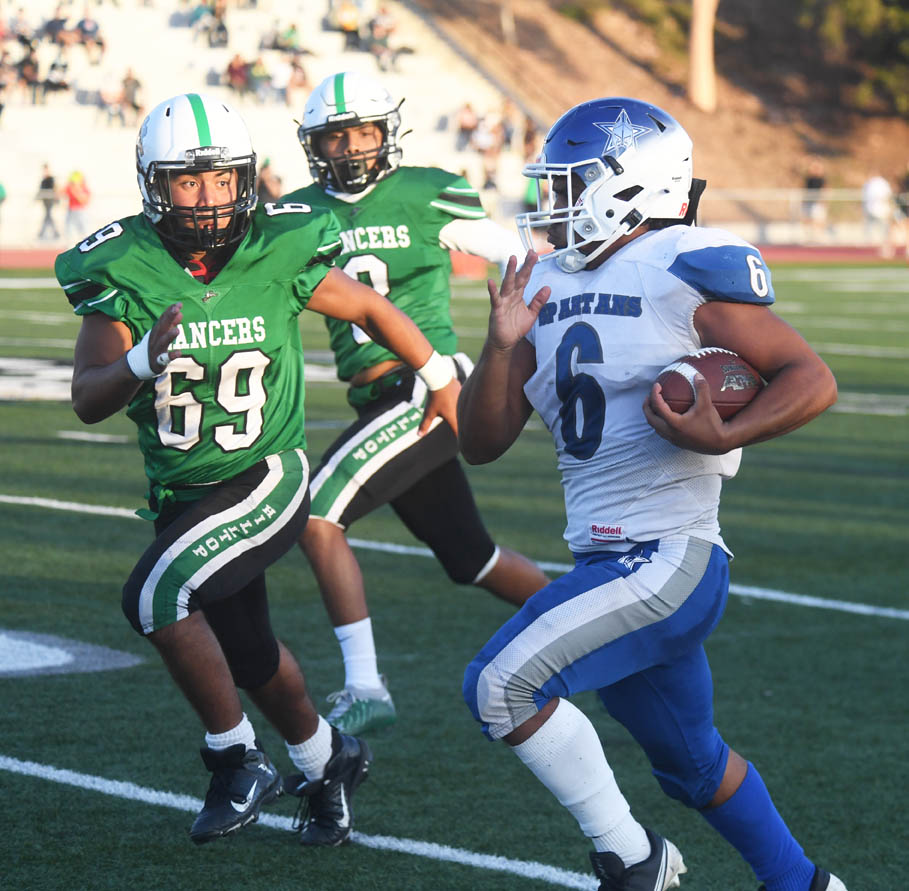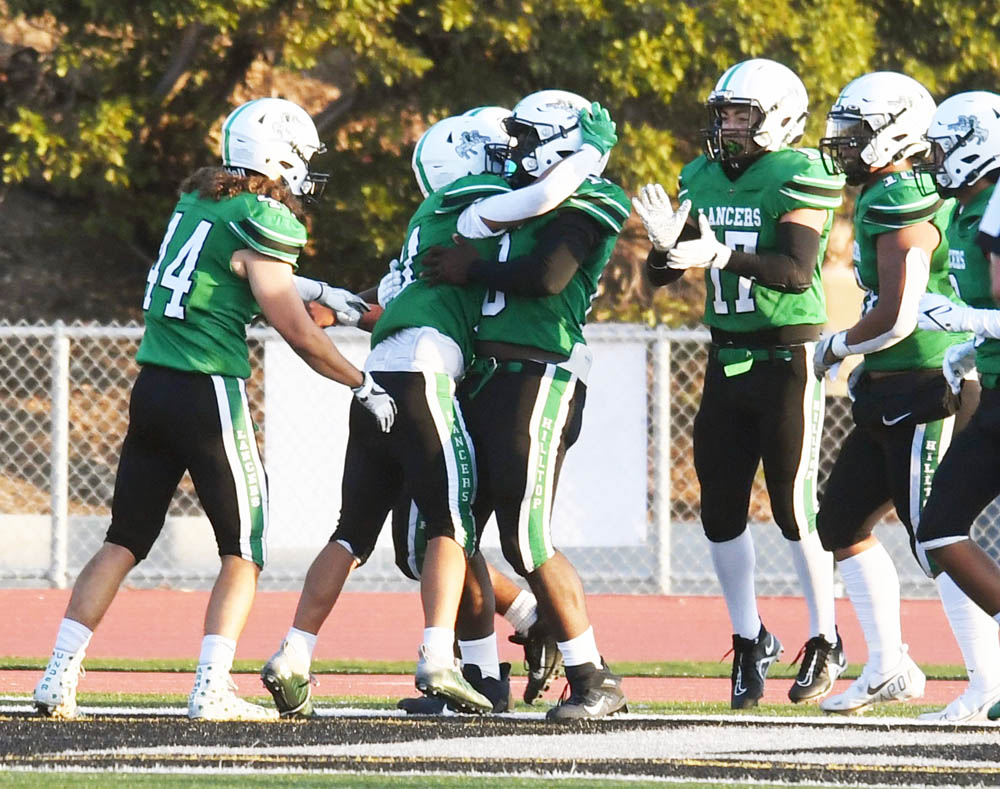 Arce was injured on one of the Spartans' most promising drives of the night. But after dipping into the Hilltop red zone, the visitors were progressively pushed back.
Arce was enveloped in a scrum of Hilltop defenders before falling to the turf. He lay motionless on his back as an ambulance was called. The game was delayed 20 minutes until Arce could be transported to a local hospital.
Bannister confirmed that Arce, a sophomore, briefly lost consciousness on the field.  "But he was talking to us throughout the delay," the CVHS coach said.
Arce battled through adversity most the night before settling for 88 passing yards on nine of 18 completed passes with one interception.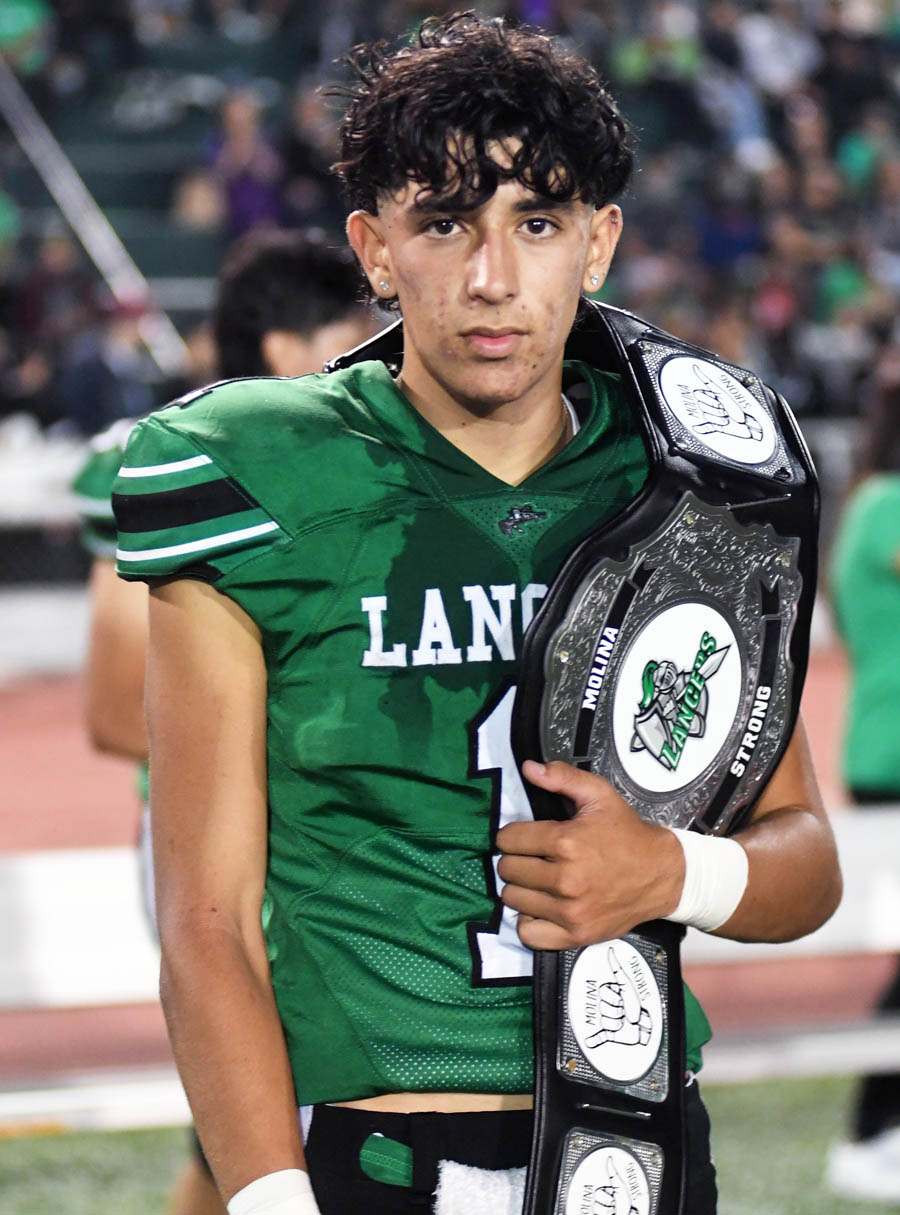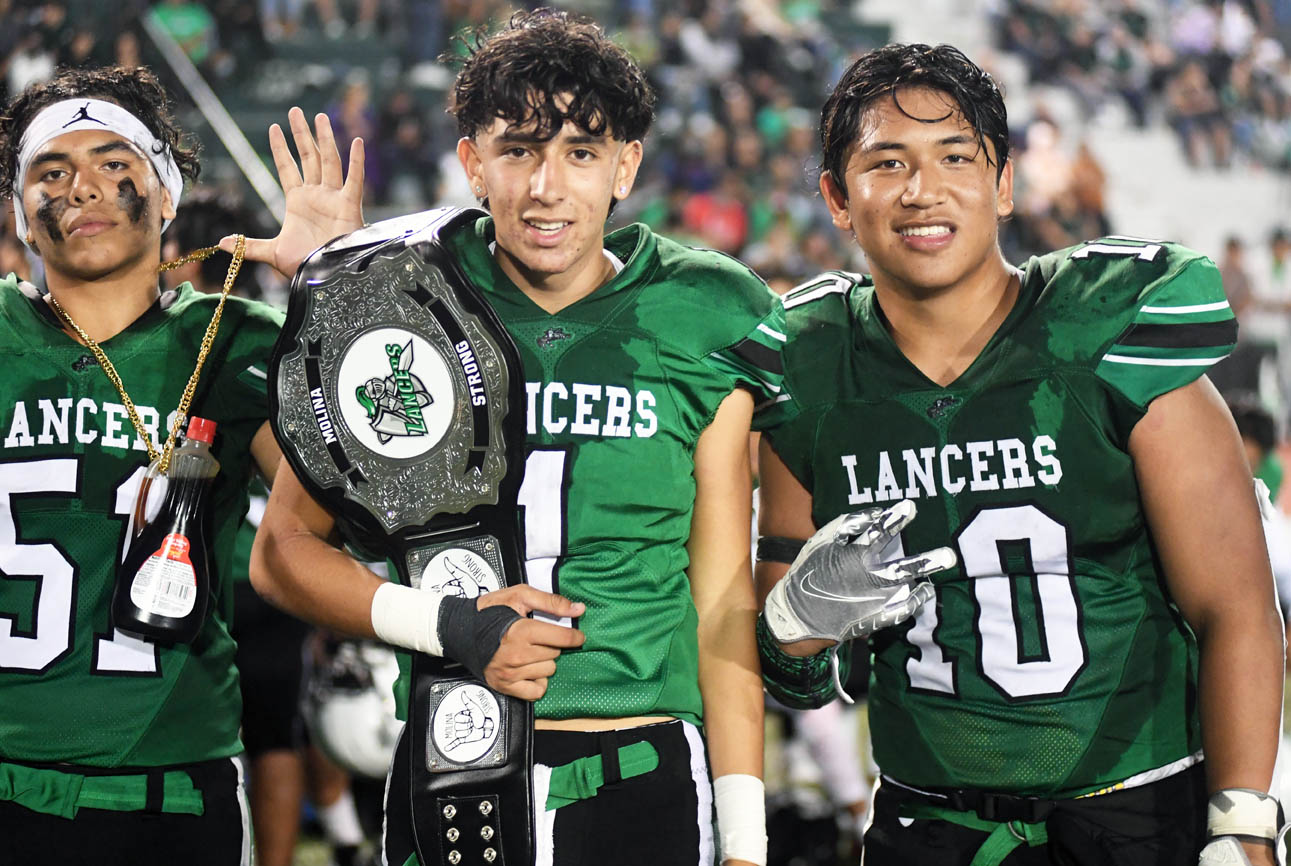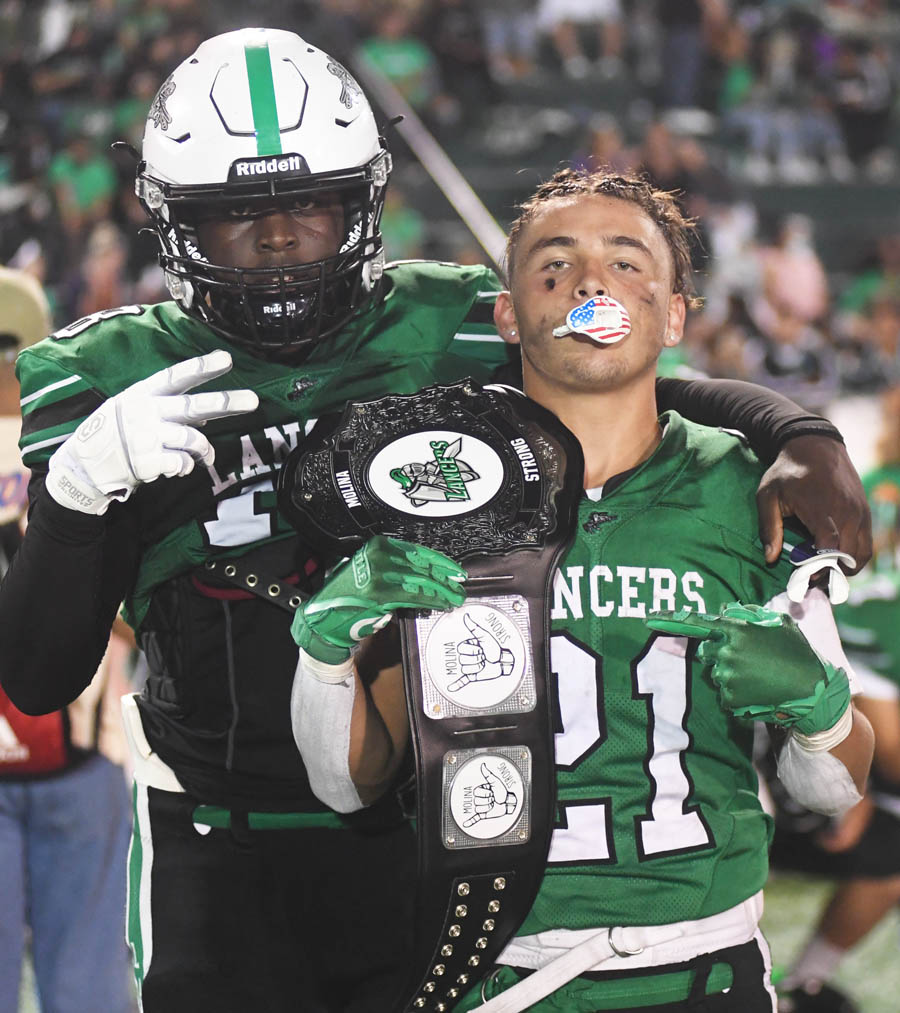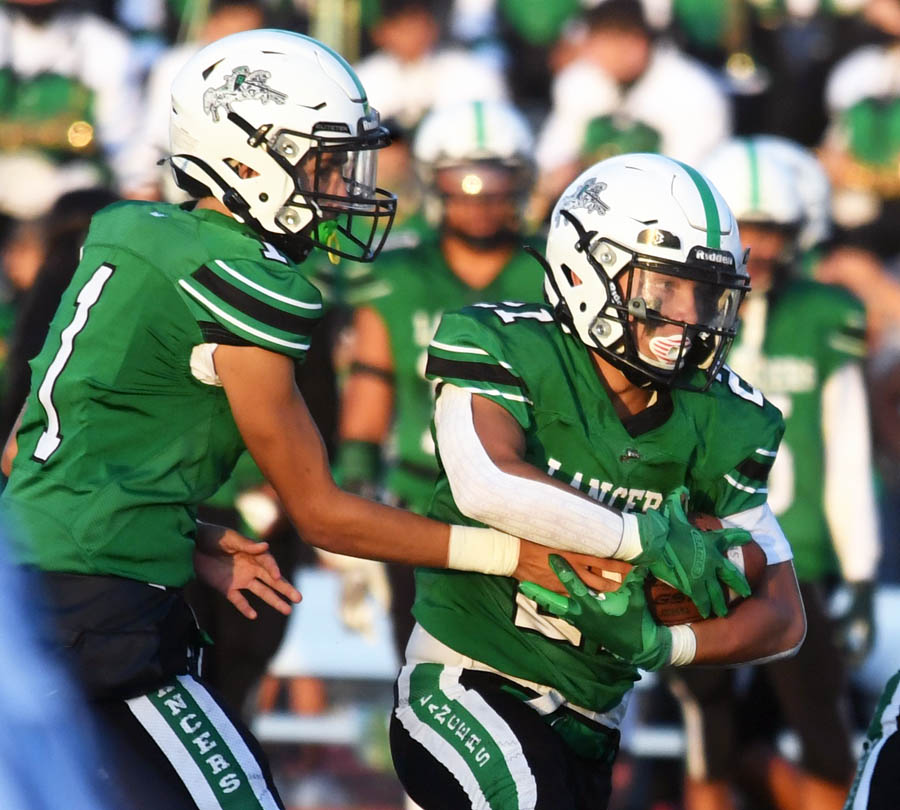 Junior Josh Aguirre finished the game behind center, completing his only passing attempt for five yards. He caught three passes for 38 yards as a receiver to earn the team's Offensive MVP award.
Junior Andres Moreno corralled the team's Defensive MVP award with seven tackles and one caused fumble.
Garcia led Hilltop with 154 total yards. He completed 10-of-15 passing attempts for 197 yards while rushing fof 47 yards. Bernardo rushed 18 times for 51 yards to earn team Offensive MVP honors while Washington was named Lancers' Defensive MVP.
"It's almost like a relief," said Hilltop head coach Bryan Wagner of his team's first win of the season after being outscored 56-8 in a 0-2 start. "The kids are finally getting it and doing it. I wasn't worried about myself because I knew it would come. We had a couple run-pass options we started doing in there. We mixed that up well."
Hilltop, as the winning team, received a check for $1,500 from the Chula Vista Kiwanis Club while Chula Vista, as the runner-up team, received a check for $1,000.
Despite the loss, Chula Vista continues to lead the series 11-9.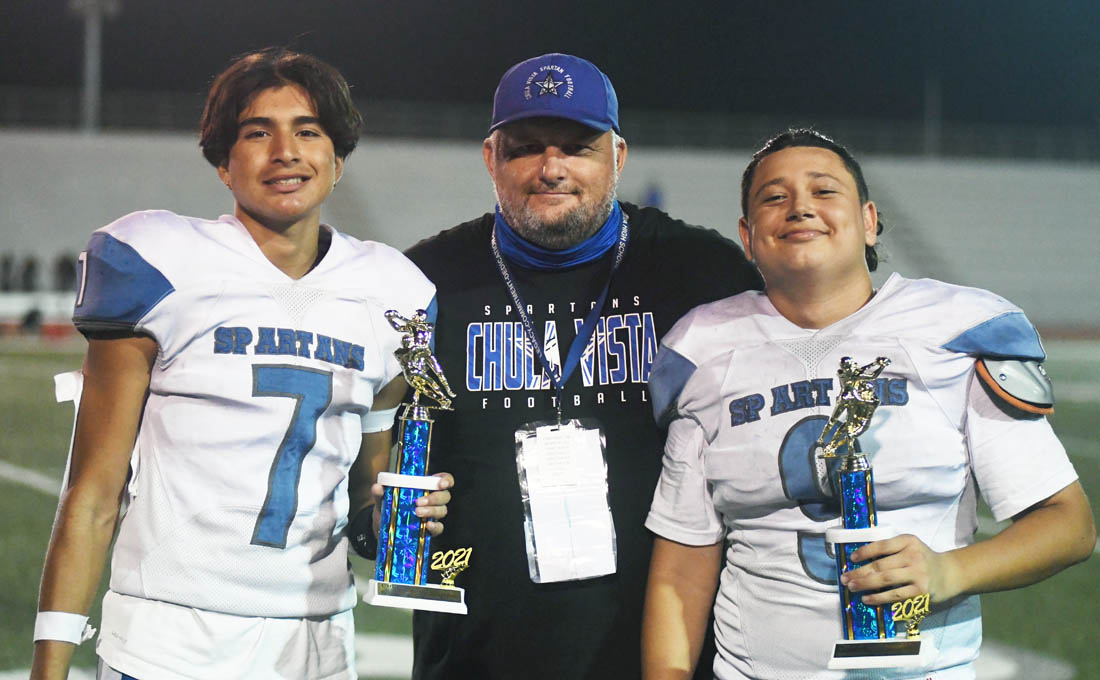 Eastlake 18, La Habra 14
Eastlake (2-1) returned to the win column as senior Jordan Blondin passed for 70 yards and a touchdown while also rushing for 60 yards and one score.
The visiting Titans won despite compiling a modest 136 yards in total offensive yards, so defense was obviously a key facet in the game's outcome.
Senior Jayden Kendricks led Eastlake with 12 tackles while seniors Christian Aguilar, Trey White and Jayden Cortell all recorded nine tackles. White racked up five sacks while JCortell had two interceptions to give him five on the season.
Among the team's big plays on offense, senior Jaydin Jackson caught a 49-yard TD pass.
The Titans moved up to No. 10 in the section rankings and will test host Granite Hills on Friday at 7 p.m. The Eagles (2-1) dropped to No. 15 following a 34-14 non-league loss last Friday to visiting Madison.
Granite Hills had opened the season with non-league victories against visiting Poway (10-7) and Valhalla (62-0).
"We didn't make enough big plays against Madison to win the game," Granite Hills head coach Kellan Cobbs said. "Our offense showed our youth and we have to keep getting better moving forward. Eastlake will be the toughest defense we see this year — they have size speed and get to the ball on all three levels. We have to play at a higher level on offense if we are going to win."
Zak Darling scored two touchdowns for the seventh-ranked Eagles but that was offset by interceptions by Madison's Martel Hughes and James Tivao. Tivao also scored two rushing touchdowns to key the Warhawks (2-1).
Darling scored on runs of 36 and 19 yards but the Eagles never led in the high profile matchup after Madison's Sean Webb ran back an intercepted pass 80 yards for the game's opening touchdown.
The Eagles clawed back to within 20-14 midway through the third quarter but couldn't get any closer on the scoreboard.
Madison (2-1) enters this week ranked 11th among section teams — one spot below the Titans.
Montgomery 7, Crawford 0
Junior Ryan Vasquez tossed a five-yard scoring pass to senior Juan Estrada for the only touchdown of the game to snap a 0-0 deadlock between the teams. The Aztecs (1-1) grabbed their first win of the new season backed by a defense that posted a shutout against the winless Colts (0-3).
Vasquez entered the game following the exit of senior starter Ansel Flanagan (6-for-12, 63 yards). Vasquez attempted two passes while in the game, completing one for a touchdown.
Montgomery, however, controlled the ground game with 182 rushing yards, including 60 yards from senior Isaac Cervantes, 48 yards from junior Victor Flores and 44 yards from Estrada.
Estrada, Flores and sophomore Mike Mohr keyed the host Aztecs with a team-high seven tackles each. Flores had a fumble recovery to key a defense that allowed 168 total offensive yards.
Montgomery, which piled up 250 offensive yards, will be looking to double its win margin when it hosts winless Kearny (0-1) this Friday.
Santana 40, Mar Vista 27
The host Sultans won a battle of unbeaten teams as Mar Vista entered last Friday's game also sporting a 2-0 record. The Mariners proved hard to beat, especially after Diego Arrizon returned a fumble recovery 45 yards for a touchdown and Nathan Ramos scored on a 60-yard interception return.
The game was tied four times before the hosts finally went ahead to stay in the third quarter. Santana prevailed despite five first-half turnovers.
"That shows you the character of the team — that the kids were able to react to adversity," SHS head coach Tim Estes said. "They kept plugging and plugging and it worked out with a victory."
The Sultans got out of the gate offensively as senior Brayden Breshears rushed for a career-high 189 yards and scored two touchdowns, while junior Luke Nash (52 rushing yards) and senior Logan Jorden (six-yard touchdown run) also contributed to the comeback victory.
Santana led 27-20 at halftime and out-scored Mar Vista 13-7 in the second half to win by a two-touchdown margin.
Breshears broke off a 65-yard run to enable the Sultans to tie the score 20-20.
Sophomore Linden Benson also scored a touchdown for Santana.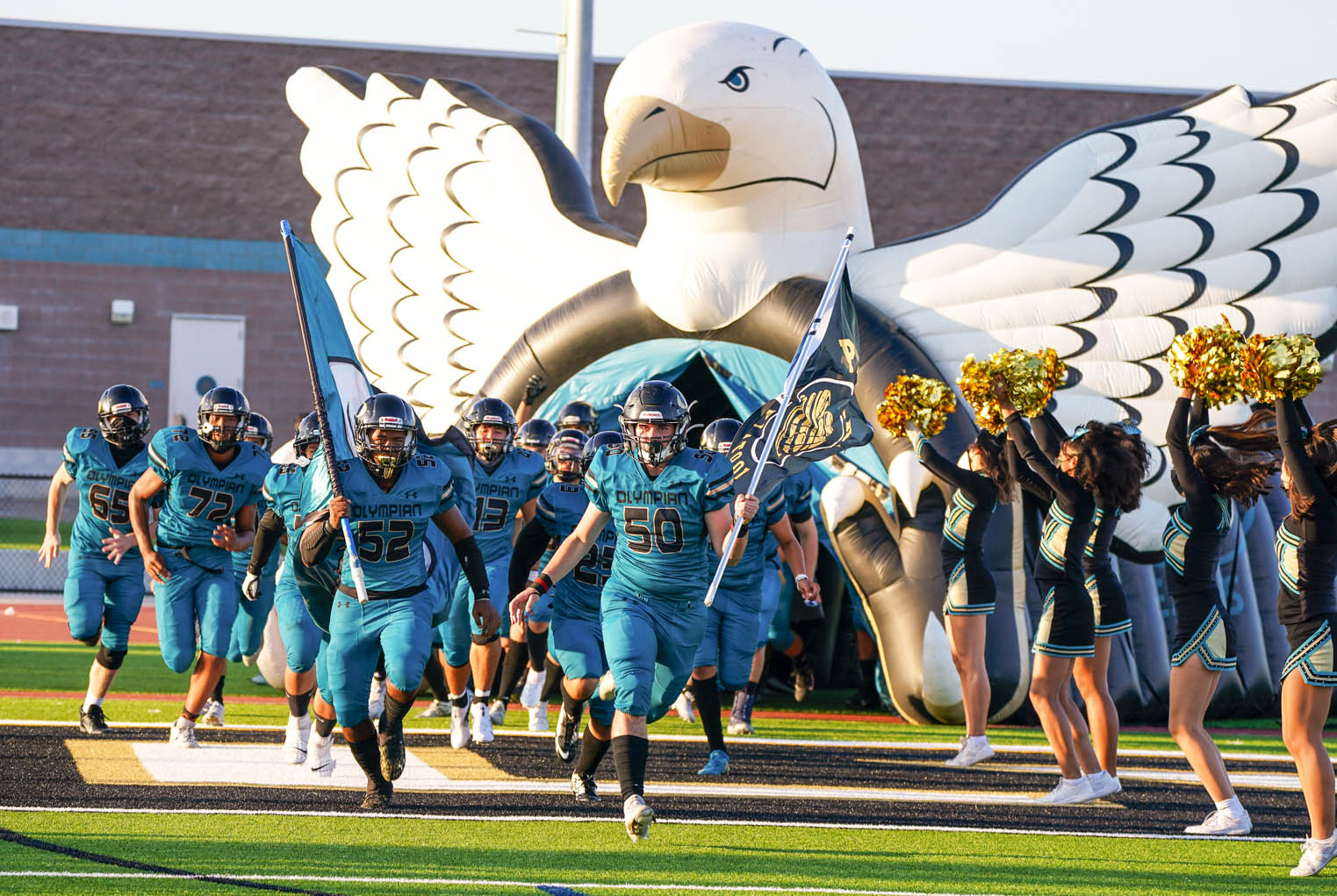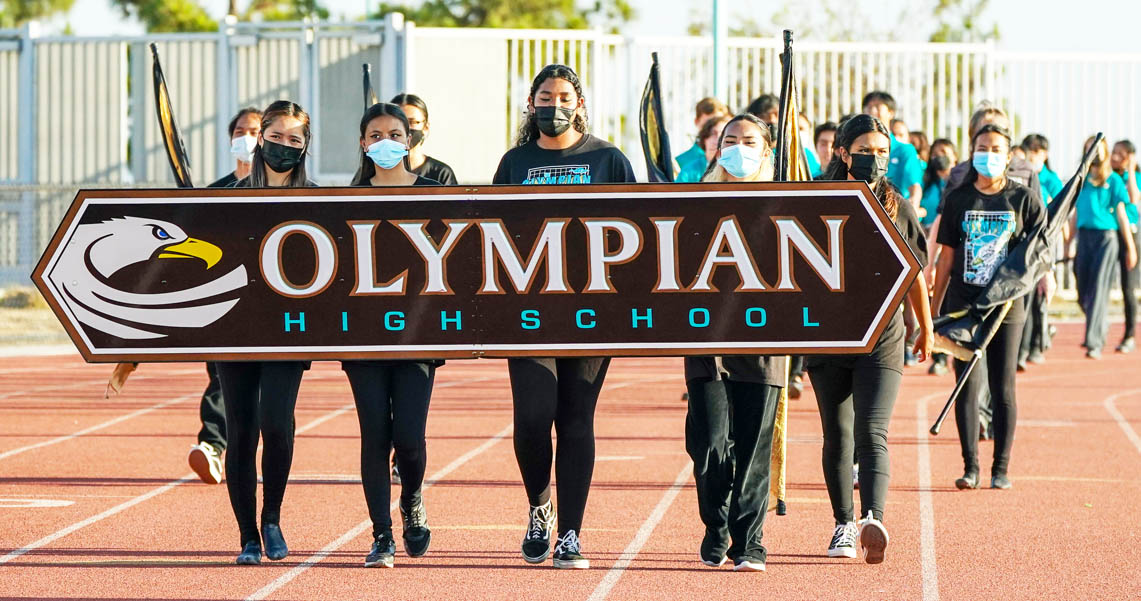 West Hills 41, Olympian 12
West Hills senior quarterback Braden Oberg accounted for four touchdowns with two passing scores and two rushing scores. He completed eight of 14 passing attempts for 148 yards with TD strikes to seniors Max Conaway (four catches, 111 yards) and Elias Sanchez (two catches, 17 yards).
Senior Dylan Snyder and junior Donovan Mjelde both had interceptions on defense for the Wolf Pack, which collected three sacks in the game.
West Hills opened scoring with the only touchdown of the first quarter but piled up the points to lead 24-6 at halftime and 38-12 through three quarters. Junior Fredrick Rowbotham scored on a 14-yard rushing play to net the first points of the contest.
The Wolf Pack out-gained the Eagles (0-3) in total offensive yards 340-191.
Junior Tyler Haley kicked field goals of 43 and 23 yards and converted on two extra-point attempts to add eight points to the visitors' tally on the night.
West Hills has outscored opponents 117-19 in three games while racking up 16 total touchdowns.
"We played well in all three phases," Wolf Pack head coach Casey Ash said. "It was a nice bounce-back after struggling on offense and special teams the previous week (in a 21-7 win over the visiting Imperial Tigers).
Olympian freshman quarterback Kristian Noriega passed for 135 yards and two touchdowns to sophomore Jake Marcial (four catches, 41 yards). The Eagles closed to within 21-12 but a two-point conversion failed.
Oberg has passed for 370 yards and seven touchdowns without an interception in three games while rushing for 156 yards and two touchdowns. Conaway has 15 pass receptions for 293 yards and a team-leading five touchdowns.
Defensively, the Santee team has rang up five sacks, six interceptions and one fumble recovery in its opening three games.
Orange Glen 45, Castle Park 13
Senior Dennis Andrew passed for 372 yards and five touchdowns to lead the visiting Patriots (1-0), who amassed 432 total offensive yards in the non-league victory. Senior Jonathan Littlejohn had 130 receiving yards and two touchdowns while Kaleb Garcia scored on a 69-yard kickoff return to key the Patriots to their first win of the season after undergoing COVID-19 protocols.
Junior running back Sergio Cobos scored both touchdowns for the host Trojans (0-3).
Fallbrook 35, San Ysidro 14
The Warriors won their first game of the season after rolling up 460 yards in total offense against the host Cougars. Quarterback Josh McBroom connected on two touchdown passes while Marquise Washington rushed for 136 yards, including a 77-yard scoring run.
San Ysidro (1-1) generated 263 yards in total offense, including 105 yards through the air from junior signal-caller Ja'Marcus Jiles, 74 receiving yards from senior David Saldivar and 88 rushing yards from senior Santiago Luna.
Luna scored on his only carry of the night — the 88-yard breakaway rumble — while senior Johan Gutierrez had three catches for 23 yards, including a receiving touchdown.
Seniors Matthew Jaime and McKai Jackson co-led the Cougars defensively with 14 tackles. Saldivar had three sacks.
Metro Conference Schedule
Non-League
Friday, Sept.10
Santana at Sweetwater, 6:30 p.m.
Vincent Memorial at Castle Park, 6:30 p.m.
Canyon Hills at Chula Vista, 6:30 p.m.
Coronado at Mar Vista, 6:30 p.m.
Kearny at Montgomery, 7 p.m.
Eastlake at Granite Hills, 7 p.m.
San Ysidro at Hoover, 7 p.m.
Bonita Vista at Norwalk Glenn, 7 p.m.
Byes: Hilltop, Otay Ranch, Olympian, Mater Dei Catholic
Friday, Sept. 3
•Hilltop 24, Chula Vista 0
•Eastlake 18, La Habra 14
•Montgomery 7, Crawford 0
•Santana 40, Mar Vista 27
•West Hills 14, Olympian 12
•Orange Glen 45, Castle Park 13
•Fallbrook 35, San Ysidro 14
Not scheduled/cancelled: Bonita Vista, Mater Dei Catholic, Otay Ranch, Sweetwater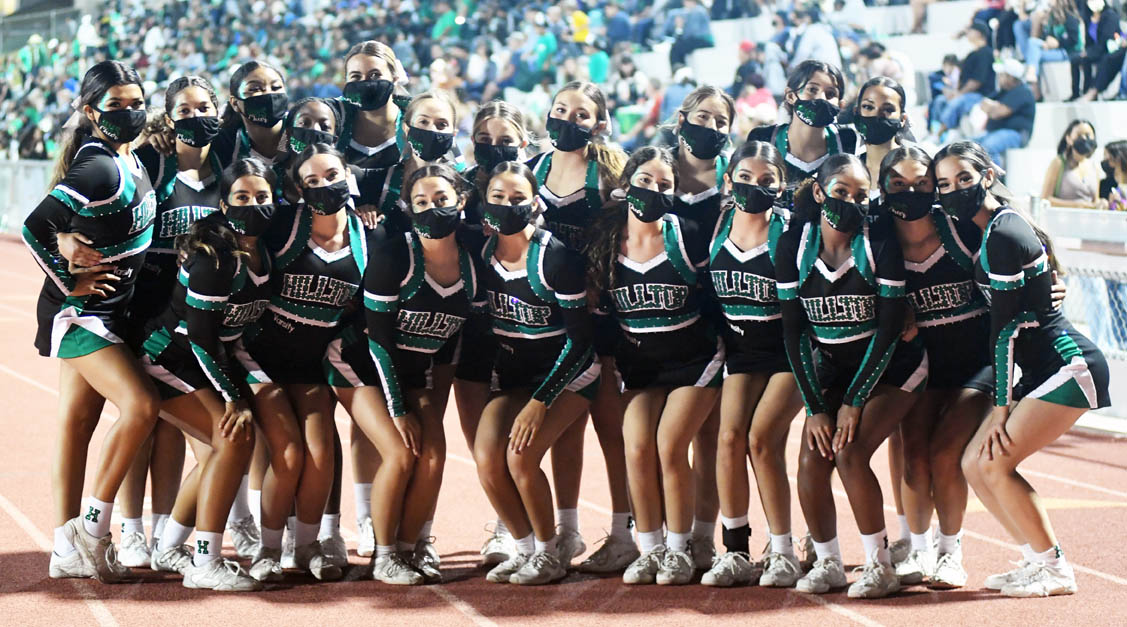 San Diego Section Football Rankings
(Through Sept. 7)
source: MaxPreps

Top 25 teams
1. Cathedral Catholic (2-1), 2. Lincoln (2-1), 3. Carlsbad (3-0), 4. Mission Hills (2-1), 5. Torrey Pines (1-1), 6. Mater Dei Catholic (2-0), 7. El Camino (1-1), 8. Helix (2-0), 9. Poway (2-1), 10. Eastlake (2-1), 11. Madison (2-1), 12. Otay Ranch (1-1), 13. Scripps Ranch (3-0), 14. Oceanside (1-1), 15. Granite Hills (2-1), 16. Mt. Carmel (3-0)
Division I: 1. Cathedral Catholic (2-1), 2. Lincoln (2-1), 3. Carlsbad (3-0), 4. Mission Hills (2-1), 5. Torrey Pines (1-1), 6. El Camino (1-1), 7. Helix (2-0), 8. Eastlake (2-1), 9. Madison (2-1), 10. Oceanside (1-1), 11. Granite Hills (2-1), 12. Grossmont (2-1), 13. St. Augustine (0-3), 14, La Costa Canyon (1-2), 15, Steele Canyon (1-2), 16. San Marcos (0-3)
Division II: 1. Poway (2-1), 2. Otay Ranch (1-1), 3. Scripps Ranch (3-0), 4. La Jolla (2-1), 5. Mira Mesa (1-1), 6. Rancho Bernardo (1-2), 7. Christian (3-0), 8. Central Union (1-2), 9. San Pasqual (2-1), 10. Valley Center 1-2, 11. Point Loma (0-3), 12. San Diego (2-1), 13. Bishop's (2-1), 14. Vista (1-2), 15. Morse (1-0), 16. Olympian (0-3)
Division III: 1. Mater Dei Catholic (2-0), 2. Mt. Carmel (3-0), 3. Ramona (2-1), 4. Santa Fe Christian (3-0), 5. Santana (3-0), 6. West Hills (3-0), 7. El Capitan (2-1), 8. Orange Glen (1-0), 9. Brawley (1-2), 10. Imperial (1-1), 11. Escondido (2-1), 12. Westview (1-2), 13. Monte Vista (0-3), 14. Bonita Vista (0-1), 15. Hilltop (1-2), 16. Canyon Hills (0-2), 17. Kearny (0-1)
Division IV: 1. Patrick Henry (2-1), 2. Rancho Buena Vista (3-0), 3. Univesrity City (3-0), 4. Coronado (2-1), 5. La Jolla Country Day (2-1), 6. Montgomery (1-1), 7. Del Norte (2-1), 8. Francis Parker (2-1), 9. Sweetwater (0-3), 10. Mount Miguel (0-1), 11. Valhalla (1-2), 12. Mar Vista (2-1), 13. Southwest El Centro (1-2), 14. Classical Academy (0-2), 15. Vincent Memorial (1-2), 16. Chula Vista (0-1), 17. Castle Park (0-3)
Division V: 1. Holtville (3-0), 2. Palo Verde Valley (1-1), 3. Mission Bay (1-1), 4. Tri-City Christian (0-2), 5. Fallbrook (1-2), 6. Escondido Charter (2-0), 7. Mountain Empire (1-1), 8. Calexico (2-1), 9. Army-Navy Academy (2-1), 10. San Ysidro (1-1), 11. O'Farrell Charter (1-1), 12. Hoover (1-1), 13. Crawford (0-3). 14. Maranatha Christian (1-2), 15. Foothills Christian (0-2), 16. El Cajon Valley (0-2), 17. Calipatria (0-1), 18. Clairemont (0-3)