Southwestern College is holding its annual State of the District address March 17, from 1:30 – 3 p.m. at the Southwestern College Performing Arts Center.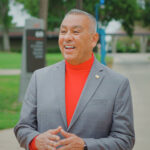 Southwestern Superintendent Dr. Mark Sanchez will be joined by Assemblyman David Alverez and interim California Community Colleges Chancellor Dr. Daisy Gonzales to jointly present a "Hopeful Future for Local Education," information on state funding priorities and educational initiatives, as Sanchez shares what is on the horizon for the college.
There will be a Q&A session to close out the event.
"San Diego's future depends on giving students the skills they need to thrive in our workforce. By 2030, San Diego County must double the number of people with post-secondary education to meet the economy's demands for growth. A thriving community college district is how we can close this gap. Southwestern College offers a model for how community colleges can be a part of this equation: by offering innovative programs that give students skills that can be transferred to 4-year universities or directly into the workforce," stated in a March 8 press release, including that Friday's State of the District will be an opportunity for educational leaders like Southwestern College to share a renewed vision for a more equitable, accessible future in higher education.
Guests are welcome to park near the Performing Arts Center in Lot O from Otay Lakes Road. Limited ADA accessible parking spots will be available.
Southwestern College Performing Arts Center is at 900 Otay Lakes Road in Chula Vista.
To register for the event, RSVP at http://bit.ly/3ymoYQM.