Founded in August 2022, three sisters from Bonita have successfully turned their homemade recipes of sauces that are dairy free, vegan, gluten free, soy free, Paleo diet-friendly, and Whole-30 diet-friendly.
With a warehouse in Chula Vista, their Jalapeno Cilantro, Ranch, and Chipotle Chili sauces are already in Sprouts locations in Chula Vista and Eastlake, the Little Italy Farmer's Market on Saturdays, Harvest Ranch Market in Encinitas, and Farm Stand 57 in Ramona, on Amazon, with plans to expand their business throughout the county, and eventually nationwide.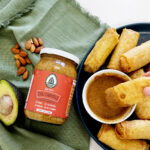 Daphne Khairo, Diane Zoura, and Darlene Zoura created the sauces because of several allergies, lactose intolerance and vegan lifestyles with either themselves, their children, or their family members, and created Sistry Foods.
Diane Zoura said they started the company because Darlene is lactose intolerant and started making the chipotle chile sauce at home. She said she has sensitivity to gluten, and Daphne's two daughters have an egg allergy.
"That is another reason why we create this product because there are all these foods that have these products that we cannot eat," she said. "We created Sistry so we could all enjoy these sauces. And we know there are many people that have allergies and sensitivities, so we wanted to create something that most people can enjoy."
Diane Zoura said it was hard for Darlene to find products that were in stores that were dairy free and tasted good, so she began making her own at home.
"We all instantly loved it," she said. "We would make it on a weekly basis and whoever tried it also fell in love with it. I told Darlene that we have to share this with the world. It is too good not to share it with other people. It was an idea we had, then we just put it off to the side. In 2019, Daphne asked what do you think about making this into a business, and we brought it back."
The sisters held a fundraiser, making hamburgers and hotdogs, bringing the sauce to see people's reactions, and it was a big hit.
"So, in 2020, we decided to bring Sistry to life and that is when we started working on developing the products so they could be sold in stores and launched in August 2022," she said. "We did a Kickstarter in 2021 and met our goal of $50,000," she said. "We have a co-packer that we work with. They ship the products to our warehouse, and then we distribute it from there."
Darlene Khaira said she began with the Chipotle Chile Sauce at home.
"With all of our food sensitivities, it was a lot of trial and error," she said.
"I had started making the original product with a store product mayo-based but it did not fit through all of our food sensitivities, so I started making my own almond milk at home. I started making different versions of the chili chipotle until we all agreed on the same version. We then created three sauces to have a sauce for each sister. The Jalapeno Cilantro was Diane, Ranch was for me, and the Chili Chipotle was Daphne," adding that it took her four to five months to get the recipe down for all three to be able to agree on.
"We took it to a food scientist that helped us make it shelf stable, to take it to a co-packer," she said. "The co-packer makes the formulas for us and gives us the final products."
Daphne Khairo creates all content for social media and their website.
"I do a lot of recipes," she said. "Many people who purchase our products ask how to use them, so I make fun, trendy recipes on our social media platforms. Some of our recipes are vegan, but now we are transitioning to adding like meat to the recipes. But we go back and forth between vegan and non-vegan."
Diane Zoura said being in business for about six months now, they are already in stores, getting positive feedback.
"We are hoping to get into other retailers and spread this product to as many people as possible," she said. "We feel there are so many products in stores that are not clean or healthy, and our products are that, plus more. Many people are transitioning into more healthy diets and becoming more aware of what they consume."
The sisters always talked about having a family business, but never knew what it would be.
"When the pandemic hit and we spent more time at home, that is when the opportunity came for us to do this," said Daphne Khairo. "It definitely has its challenges but it has made us much closer and we are so happy we did this."
Diane Zoura said they ship nationwide and are working to get the product out, expand, and get the product out to as many stores as possible.
For more information visit sistryfoods.com.