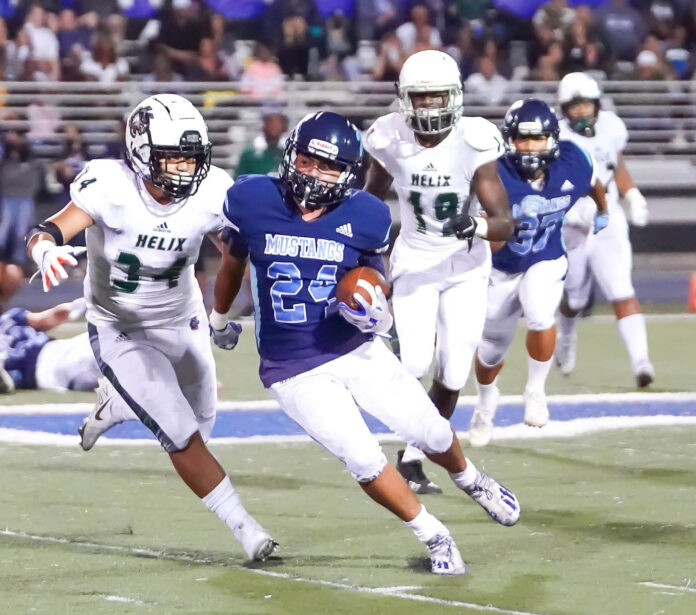 The Otay Ranch Mustangs definitely made their share of outstanding plays in last Friday's top 15 matchup against the Helix Charter Highlanders. The problem for the 11th-ranked Mustangs was that the 15th-ranked Scotties made more of them to emerge with a 29-14 non-league win at Eastlake High School.
"I feel really good about this team," Otay Ranch head coach Lance Christensen said. "We battled all night. I wish we could have won the game but I'm proud how we fought all the way until the end."
The game looked like a marquee matchup on paper pitting the pass-heavy Mustangs against the run-heavy Highlanders.
Otay Ranch junior quarterback Brian Rudden entered the game having thrown for 275 yards and two touchdowns in a 19-14 road win at City Conference heavyweight Madison while senior Christian Washington had rushed for 202 yards and scored three touchdowns in a 28-20 non-league win over visiting Mira Mesa.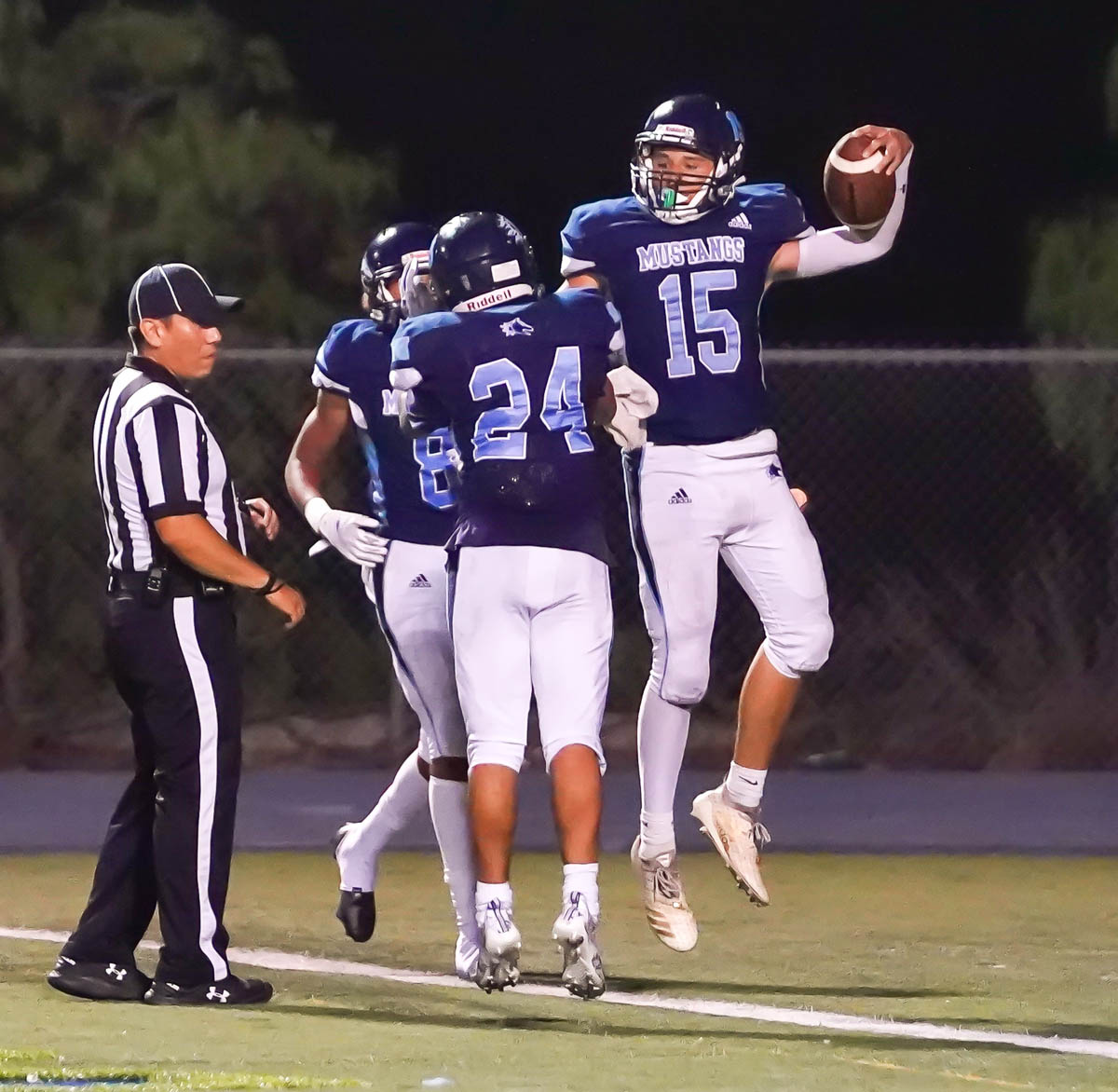 Rudden passed for one touchdown and ran for another in last Friday's game while accumulating 254 yards in total offense (242 passing, 12 rushing). But Washington's motor couldn't be stopped as the Helix running back rushed for 231 yards and scored three times.
Washington (433 rushing yards, six touchdowns) has rushed for consecutive 200-yard, three-touchdown efforts to kick off the new season.
"Every time he steps onto the field, he's one of the best players out there, so we naturally want to make use of his talent any way we can," Helix head coach Robbie Owens said.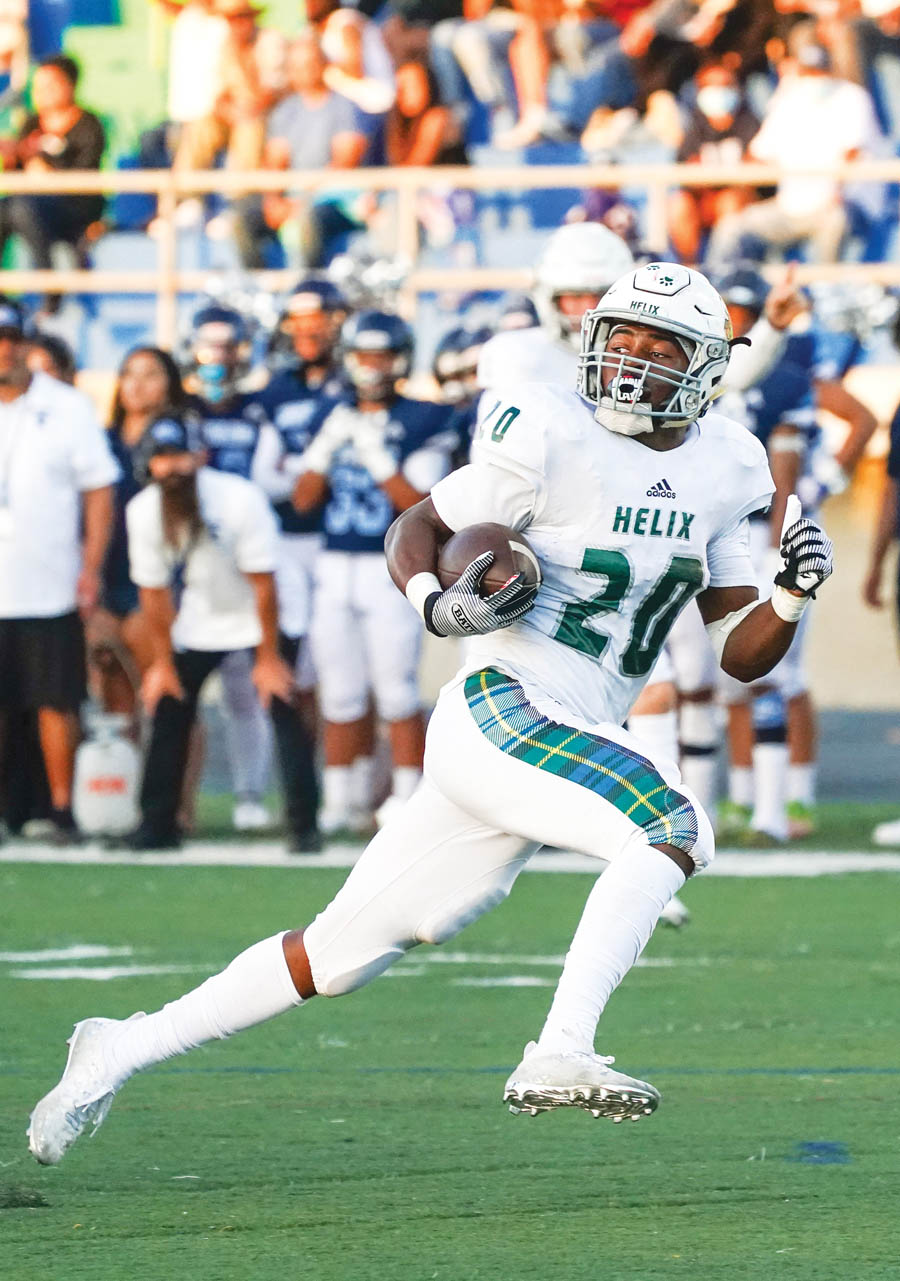 Washington opened scoring in last Friday's contest on a 26-yard run, scored from six yards out to put the Scotties ahead 21-7 on the scoreboard and later broke off a back-breaking 68-yard run up the middle to negate an Otay Ranch touchdown (15-yard run by Rudden) that had narrowed the score to 21-14 early in the fourth quarter.
Washington also had a 33-yard interception return.
Helix never trailed in the top 15 matchup, though Otay Ranch tied the game, 7-7, on a leaping catch by senior Jayhalin Sanders with 3:55 remaining in the first quarter.
The Highlanders pretty much had the rest of the game under control through the running of Washington and some timely defense (four sacks, two interceptions).
Helix had two touchdowns called back or the final margin of victory against Otay Ranch would have been wider.
The game also featured a major leg injury to Mustang senior defensive lineman Kai Robinson that caused a 40-minute delay and an inordinate number of penalties incurred by both teams.
"We had to deal with some adversity," Owens said. "Our season is going to get progressively tougher. We'll need to play cleaner (less mistakes) than we did tonight. We had a lot of opportunities we did not take advantage of."
Helix outgained Otay Ranch 439-302 in total yards. The scales were tipped in opposite directions as the Mustangs racked up 242 passing yards and the Highlanders pounded out 274 rushing yards.
Otay Ranch gained 60 yards on the ground, including 49 by senior Oscar Sandoval. Senior Jake Baca had six catches for 77 yards while Sanders had six catches for 59 yards with one score. The dynamic duo combined for 136 receiving yards.
Junior Ja'den Daniel had one catch for 32 yards while senior Haydn Brotschi had one catch for 27 yards. Senior Noah Concepcion had two catches for 25 yards.
Brotschi also had 12 yards on an interception return and successfully defended six passes.
Defensively, senior Isaac Fualave and Concepcion paced the Mustangs with 17 tackles apiece while senior Johnathan Nava made 12 stops. Junior A.J. McIwain had 10 tackles while senior Mason Rasmussen recorded the team's lone sack in the game.
Fualaave caused one fumble that Nava recovered.
Senior Brian Franke tacked on both PAT conversions.
Washington isn't the only Highlander making noise.
Sophomore quarterback Ryland Jessee completed 12 of 18 passing attempts for 165 yards with one touchdown and one interception for a 91.2 quarterback efficiency rating in the win over the Mustangs.
Jessee completed a 14-yard touchdown pass to senior James Johnson to put the visitors ahead to stay for good at 14-7
Senior Xavier Van led the Highlanders with 95 receiving yards on five catches.
Jessee is already drawing comparison to former Helix star Alex Smith, who won two CIF titles with the Highlanders before moving on to storied college and NFL careers.
Smith earned distinction as the NFL's top-rated passer during the 2017 season.
Jesse has passed for 248 yards with one touchdown and one interception so far this season with a 64.7 completion percentage.
"He's progressed a lot since the spring," Owens said of Jessee. "He was put into the position as a freshman. He didn't really have the right stance then but now he's developing. He's someone who has a lot of potential."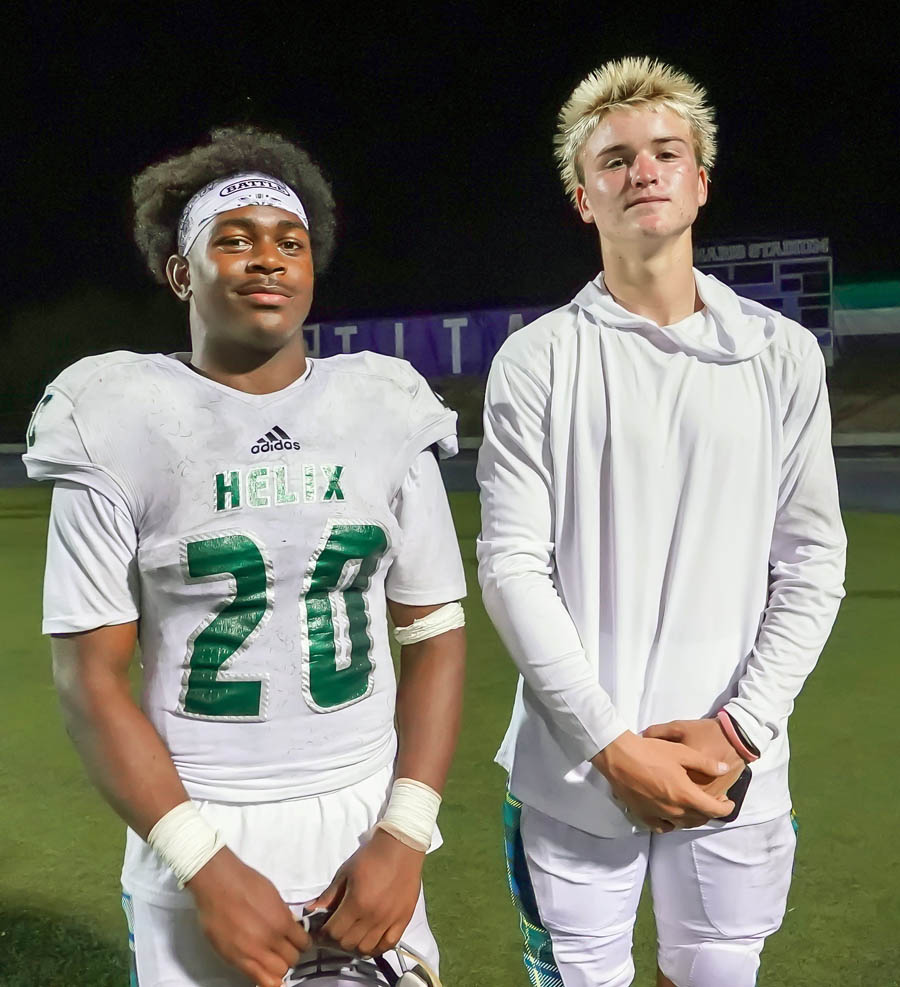 Other statistical leaders for Helix in the win over Otay Ranch included sophomore Travis Ford (two carries, 37 yards), junior Randy Evans (two catches, 29 yards), junior Joshua Carroll (22-yard interception return), senior Noah Horvath (53.8 average on five kickoffs, three PAT), sophomore Kevin Allen (44 kick return yards) and junior Quincy Herron (two-point conversion catch).
Following last Friday's game, the Mustangs and Scotties switched positions in the weekly MaxPreps rankings. Helix entered this week ranked eighth in the section (seventh in Division I) while Otay Ranch slipped to 13th among section teams while remaining No. 2 in Division II.
Otay Ranch (1-1) will host Mira Mesa (1-1) this Friday at Eastlake High School. The Marauders defeated San Marcos, 27-18, last Friday to earn their first win of the young season.
The Scotties remain on the road for Friday's top-notch matchup at sixth-ranked Mater Dei Catholic, which has outscored opponents 106-27 in a likewise 2-0 start.
Crusader junior quarterback Dominic Nankil has already passed for 684 yards and seven TDs.
"We'll need to be ready to go," Owens said of Friday's marquee matchup.
Note: Friday's games have since been cancelled because of COVID protocols within the Mater Dei Catholic and Mira Mesa programs.
Mater Dei Catholic 53,  Westview 6
The Crusaders moved up to No. 6 in the weekly San Diego Section rankings after mauling the host Wolverines. Junior quarterback Dominic Nankil passed for 306 yards with two touchdowns while Nico Mosley scored on a 66-yard interception return and Isaiah Buxton returned a kickoff 72 yards for a touchdown.
The Crusaders allowed 127 total yards in offense to the Wolverines.
Ratings shakeup
There was quite a bit of movement in the weekly San Diego Section rankings following last weekend's spate of non-league games. Most notably, Cathedral Catholic dropped from No. 1 to No. 3 after last Friday's 57-14 loss at Corona Centennial while La Jolla fell from No. 7 to No. 17 following the Vikings' epic 52-51 loss to visiting Scripps Ranch.
Cathedral Catholic (1-1) had opened the season ranked fifth in the state but dropped to No. 18.
Carlsbad (2-0) takes over the section lead at No. 1 (12th in the state), followed by Mission Hills (2-0) at No. 2 in the section (15th in the state). Lincoln remains at No. 4 in the section despite dropping a 21-17 non-league matchup at Los Alamitos last Friday. The Hornets (1-1) are ranked No. 25 in the state.
Scripps Ranch and La Jolla — finalists in the 2019 Division III championship game — combined for more than 1,000 yards in offense and 11 touchdowns that had to leave fans breathless.
Closer to home, the defending Metro-Mesa League Eastlake Titans dropped out of the section's top 10 rankings following a 21-7 non-league setback at Poway in the teams' anticipated "Clash of the Titans" matchup.
The loss knocked Eastlake (1-1) down to No. 14 in the section rankings behind No. 13 Otay Ranch, which slid from No. 11 in the weekly rankings following a 29-14 non-league loss to the Helix Highlanders.
Poway scored first in last Friday's game to lead 7-0 at halftime. But the visitors tied the score, 7-7, on a 12-yard fumble return by senior Isaiah Hinojosa in the third quarter. Poway scored 14 points in the fourth quarter on interceptions 50 seconds apart by Wences Jaurez (27 yards) and Gabe Taylor (25 yards) to secure the victory.
Eastlake sophomore quarterback Johnny Limon completed 20 of 30 passing attempts for 93 yards with two picks. The Titans accumulated just 26 rushing yards in the contest.
Senior Christian Aguilar led Eastlake defensively with 11 tackles while seniors Trey White, Marco Gonzales and Marcus House each recorded one sack.
Senior Jayden Cortell picked up his third interception in two games while Aguilar also had a fumble recovery.
Eastlake will attempt to get back in the win column when it travels to La Habra (0-2) on Friday.
Prep Football schedule
Friday, Sept. 3:
Chula Vista at Hilltop, 6:30 p.m.
West Hills at Olympian, 6:30 p.m.
Montgomery at Crawford, 7 p.m.
Orange Glen at Castle Park, 7 p.m.
Fallbrook at San Ysidro, 7 p.m.
Mar Vista at Santana, 7 p.m.
Eastlake at La Habra, 7 p.m.
Prep Football Results
Thursday, Aug. 26
El Capitan 42, Hilltop 0
Friday, Aug. 27
Mater Dei Catholic 53, Westview 6
Mar Vista 59, Clairemont 6
Helix 29, Otay Ranch 14
Poway 21, Eastlake 7
San Pasqual 49, Olympian 6
Santana 28, Montgomery 7
Calexico 60, Castle Park 6
Coronado 13, Sweetwater 7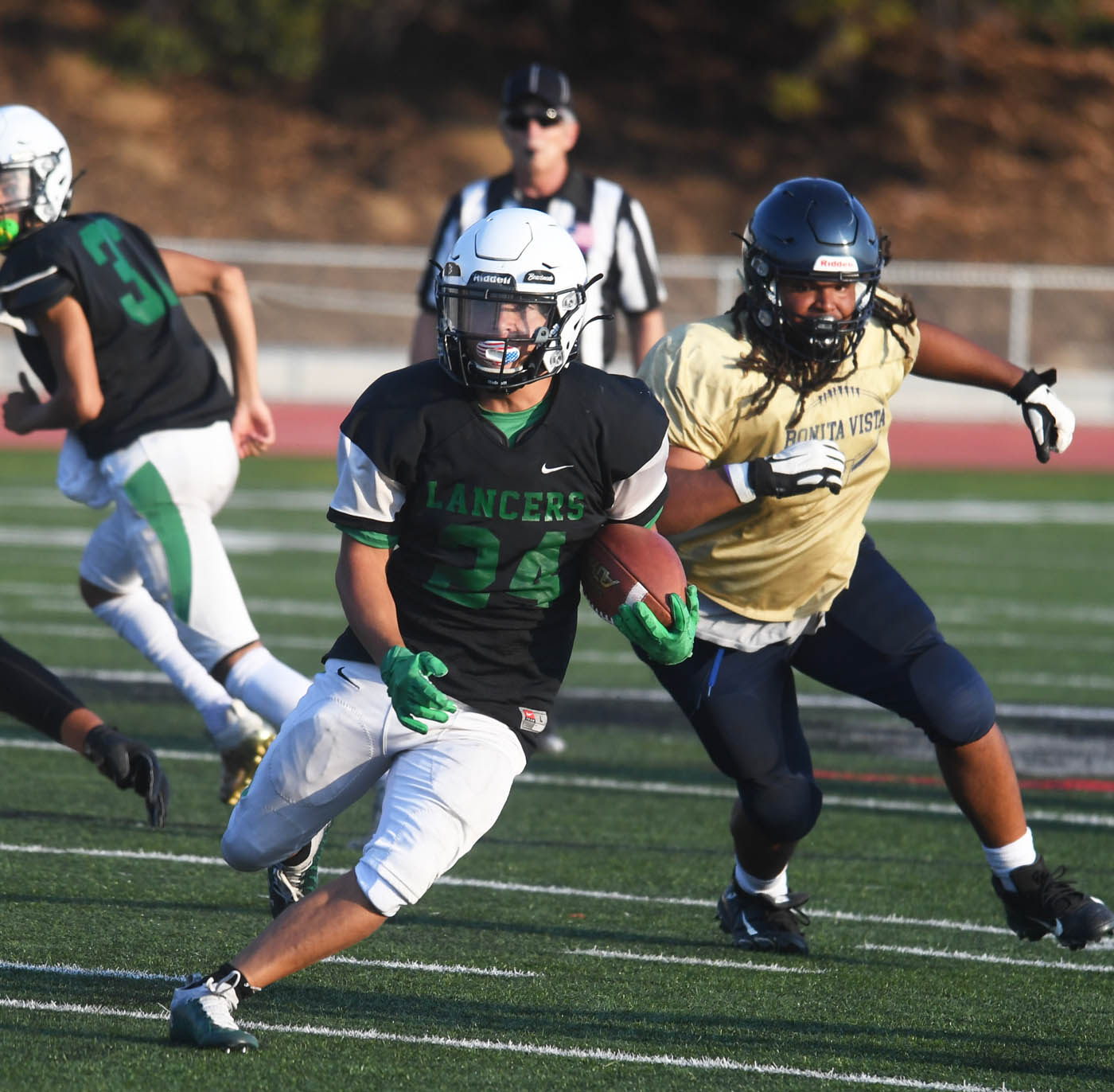 Chula Vista Kiwanis Bowl to offer incentive for Lancers, Spartans
The Hilltop Lancers and Chula Vista Spartans high school football teams will renew their neighborhood rivalry Friday in the 20th anniversary edition of the Chula Vista Kiwanis Bowl.
Kick-off is 6:30 p.m. at Robert Dodds Stadium on the campus of Hilltop High School.
Chula Vista holds an 11-8 edge in the series and is coming off a 42-21 home turf victory during the abbreviated 2021 spring season that snapped a five-game win streak in the series by the Lancers.
It's a new season and both teams are looking forward to gaining renewed momentum after a slow start to the current 2021 fall pigskin campaign.
Hilltop is 0-2 following road losses to Valhalla (14-8 on Aug. 20) and El Capitan (42-0 last Friday).
Chula Vista has yet to take the field following cancellations of non-league contests against La Jolla Country Day and Mount Miguel due to COVID-19 protocols.
Both the Lancers and Spartans are looking for respect as well, and a win in Friday's game will certainly boost the spirits of both programs in the early stages of the season.
Hilltop enters Friday's game ranked 16th out of 17 teams in the San Diego Section Division III standings while the Spartans sit 16th out of 17 teams in the Division IV rankings.
Obviously, there is much to prove on both sides of the field.
And, in neighborhood rivalry games, it's often prudent to throw out the records of both teams.
Pride means a lot on the gridiron.
"This game will be extra special for us," Chula Vista head coach Howard Bannister III said. "Not only will it be the Kiwanis Bowl, but it will also be our first game of the season because we have been in COVID protocol. We are looking forward to having a very competitive game against a well-coached Lancers team."
Hilltop has been outscored 56-8 in its two games so far and will be looking to create more offensive opportunities while tightening up defensively.
El Capitan entered last Friday's game ranked fifth among Division III teams and is among the favorites to contend for this year's Grossmont Valley League championship.
The Lancers ran into a buzzsaw in the guise of Vaquero senior quarterback Savigon Lloyd Yokley, who rushed for three touchdowns and passed for another while accumulating 258 yards in offense. One of his touchdown runs came on a meandering 62-yard cross-field jaunt.
Yokley has rushed for five touchdowns, completed four touchdown passes and caught a scoring pass in two games to key El Capitan to a 2-0 start.
The road doesn't get any easier for Hilltop, which will enjoy a bye week before hitting the road for a non-league game at Morse (1-0) on Sept. 17.
The Lancers host Escondido (1-1) on Sept. 24 before kicking off Metro-Mesa League play Oct. 1 against visiting Otay Ranch (1-1).
Morse is currently ranked 14th among the section's Division II teams following a 38-13 non-league victory against Bonita Vista on Aug. 20 while Escondido (1-1) is ranked 14th in Division III.
Otay Ranch is ranked 13th overall in the section and second among Division II teams.
Chula Vista will return to the playing field following Friday's bowl game with back-to-back home games against Canyon Hills (0-2) on Sept. 10 and Mar Vista (2-0) on Sept. 17.
The Sept. 17 matchup against the undefeated Mariners serves as the Metro-South Bay League kick-off for both teams.
Both Mesa League and South Bay League teams will play five league games this season. Hilltop is on track to complete a full 10-game regular season while Chula Vista is on track to complete an eight-game season unless the Spartans can fill their bye week on Oct. 22 with a non-league contest.
Rescheduled games
Bonita Vista was to take a short swing over to National City to tackle the Sweetwater Red Devils in a non-league matchup on Friday. However, COVID issues in the Barons program have cancelled both the junior varsity and varsity games, according to BVHS head coach Tyler Arciaga.
Sweetwater looked to instead play Mount Miguel in a neutral site game on Friday but scheduling conflicts nixed that matchup.
Sweetwater, Bonita Vista and Mount Miguel will now all be off this week, though Sweetwater and Mount Miguel are able to play.
Bonita Vista will hope to get back to the gridiron the following week against a new opponent.
All three teams will be looking to pick up their first win of the season. Bonita Vista did not play last Friday because its game with San Ysidro was cancelled and is 0-1. Sweetwater dropped to 0-2 following last Friday's 13-7 non-league setback at Coronado.
Mount Miguel is 0-1 following a season-opening 42-7 non-league setback at Patrick Henry. The Matadors did not play last Friday because of COVID issues within the Chula Vista program.
Mount Miguel had hoped to fill its bye week with a game this Friday.
Suffice it to say, all three teams will be looking for respect. The Barons are ranked 13th out of 17 Division III teams while Sweetwater, the 2021 spring Metro-Pacific League champions, has dropped to 10th out of 17 Division IV teams.
Mount Miguel is faring somewhat better at No. 9 in the Division IV rankings.
A Red Devils-Matadors matchup would have important for Division IV seeding points.
Coronado (1-1) tops both Sweetwater and Mount Miguel in the current Division IV rankings at No. 6.
"Hats off to Coronado for a tough game," SuHi head coach Ervin Hernandez said. "However, we didn't capitalize on the opportunities we had on offense late in the game. It was difficult to see the mental errors as we had numerous penalties on first down that moved us back. Our offense couldn't generate positive yards, which put us in a hole. We have to improve our offense during the week to ensure we open things up and can move the ball more efficiently."
For the second straight week, the Red Devils did not accumulate any passing yards, instead rushing for 107 yards. Senior Javier Sanchez led the visitors with 73 yards on 13 carries with one touchdown while senior Carlos Hopper gained 30 yards on 12 carries.
Sanchez has rushed for 131 yards and scored three touchdowns in two games. He also made the extra-point conversion in last Friday's game.
Senior Fabian Venegas keyed Sweetwater with 10 tackles against the Islanders while sophomore Carlos Delgado had nine stops.
The Devils recorded five sacks in a losing effort — 2.5 by Sanchez, one each by seniors Nicholas Jenkins and Venegas and a half sack by sophomore Izell Wright. Additionally, Hopper recorded one caused fumble and senior Adrian Ramirez recovered the loose ball.
Coronado, which gained 168 total yards in the game (87 rushing yards), snatched the victory from Sweetwater on a 38-yard fumble return by Finley Alexander. The Islanders also recorded two sacks and three fumble recoveries to stymie the Devils.
The Barons will now be idle for consecutive Fridays. Arciaga said the Barons inquired about a replacement team for last Friday's scheduled game at Southwestern College against the Cougars but, for various reasons, were unable to reach an agreement with another team.
Arciaga had called Friday's planned meeting with the Red Devils "an interesting matchup."
"Their offense consumes the clock and their defense flies around and creates turnovers," the BV coach said. "We played each other quite a bit in summer passing league, so the perimeter players are fairly familiar with each other."
Malosi Iuli and Dante Herrero caught scoring passes from senior signal-caller Nate Roble-Cristobal in the team's season opener against Morse to stake the Barons to an early 13-0 lead. But the Tigers unleashed their vaunted run game from there and outscored the hosts 38-0 over the balance of the contest.
Roble-Cristobal passed for 115 yards and two touchdowns but was intercepted four times. Bonita Vista added 77 rushing yards – 43 by the BV quarterback.
Five South County high school football programs have now been placed under COVID protocols in successive weeks — Montgomery, Chula Vista, San Ysidro and now Bonita Vista and Mater Dei Catholic.
One has to wonder who's next?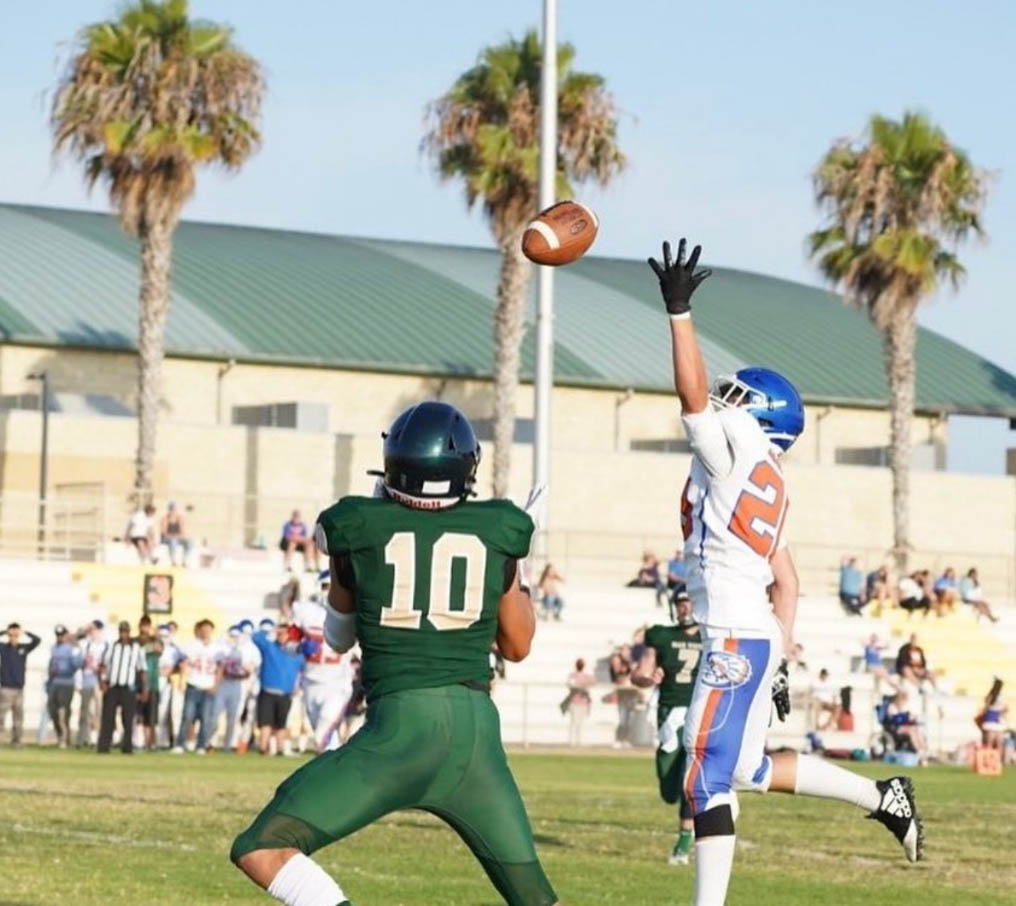 Mar Vista off to optimistic 2-0 start to new pigskin season
The Mar Vista High School football team is still searching for respect from the rankings makers after starting the season 2-0 but still residing at the bottom of the San Diego Section's Division IV rankings.
The Mariners — despite blowout wins over Crawford (28-7 on Aug. 19) and Clairemont (59-6 on Saturday) — sit 17th out of 17 teams in the division entering Friday's non-league game at Santana (ranked fifth among Division III teams).
New head coach Syd Reed has to be pleased with his team's undefeated start regardless of the competition.
Junior quarterback Aleksandr Wojcik tied a school record for most touchdowns in a game with eight while accumulating 316 passing yards and seven touchdowns and 26 rushing yards and one touchdown.
Senior Jordan Mahan scored four touchdowns with 113 yards in offense while junior Nathaniel Ramos piled up 138 yards in offense and two touchdowns.
Senior Hunter Thomas had a 60-yard fumble recovery for a touchdown on defense.
"We're trying to be the best team in our division, starting to change the culture one day at a time," Reed said. "Coach Mo called a great game on offensively and the defense played lights out. The south has something to say this year."
Friday's non-league matchup in Santee will feature a pair of early season unbeatens. Santana improved to 2-0 following last Fridays' 28-7 win over the visiting Montgomery Aztecs.
Junior Luke Nash rushed for 104 yards and two touchdowns while senior Dylan Anderson scored on a 71-yard pass play and 22-yard interception return to key the Sultans to their second victory in as many games to start the season.
The Santana defense limited the Aztecs (0-1) to 183 total offensive yards, including just 32 rushing yards, in scoring the win.
Seniors David Friedman and Brayden Breshears both had interceptions to set up scoring drives for the hosts while senior Logan Jorden had nine tackles and two sacks. Sophomore Isaiah Lloyd also registered a pair of sacks to further key the defense.
Overall, Santana had three interceptions in the game.
SAN DIEGO SECTION FOOTBALL RANKINGS
Top 25 teams: 1. Carlsbad (2-0), 2. Mission Hills (2-0, 3. Cathedral Catholic (1-1), 4. Lincoln (1-1), 5. Torrey Pines (0-1), 6. Mater Dei Catholic (2-0), 7. Granite Hills (2-0), 8. Helix (2-0), 9. Grossmont (2-0), 10. El Camino (1-1), 11. Poway (1-1), 12. Oceanside (1-1), 13. Otay Ranch (1-1), 14. Eastlake (1-1), 15. St. Augustine (0-2), 16. Scripps Ranch (2-0), 17. La Jolla (1-1), 18. Ramona (2-0), 19. Madison (1-1), 20. La Costa Canyon (1-1), 21, Mt. Carmel (2-0), 22. Mira Mesa (1-1), 23. Santa Fe Christian (2-0), 24. Rancho Bernardo (1-1), 25. Steele Canyon (0-2)
Division I: 1. Carlsbad (2-0), 2. Mission Hills (2-0, 3. Cathedral Catholic (1-1), 4. Lincoln (1-1), 5. Torrey Pines (0-1), 6. Granite Hills (2-0), 7. Helix (2-0), 8. Grossmont (2-0), 9. El Camino (1-1), 10. Oceanside (1-1), 11. Eastlake (1-1), 12. St. Augustine (0-2), 13. Madison (1-1), 14. La Costa Canyon (1-1), 15. Steele Canyon (0-2), 16. San Marcos (0-2)
Division II: 1. Poway (1-1), 2. Otay Ranch (1-1), 3. Scripps Ranch (2-0), 4. La Jolla (1-1), 5. Mira Mesa (1-1), 6. Rancho Bernardo (1-1), 7. Christian (2-0), 8. Central Union (1-1), 9. Valley Center (1-1), 10. Vista (1-1), 11. San Diego (2-0), 12. San Pasqual (1-1), 13. Point Loma (0-2), 14. Morse (1-0), 15. Bishop's (1-1), 16. Olympian (0-2)
Division III: 1. Mater Dei Catholic (2-0), 2. Ramona (2-0), 3. Mt. Carmel (2-0), 4. Santa Fe Christian (2-0), 5. Santana (2-0), 6. El Capitan (2-0), 7. Westview (1-1), 8. West Hills (2-0), 9. Brawley (0-2), 10. Orange Glen (0-0), 11. Monte Vista (0-2), 12. Imperial (0-1), 13. Bonita Vista (0-1), 14. Escondido (1-1), 15. Canyon Hills (0-2), 16. Hilltop (0-2), 17. Kearny (0-1)
Division IV: 1. Patrick Henry (1-1), 2. Montgomery (0-1), 3. La Jolla Country Day (1-1), 4. University City (2-0), 5. Francis Parker (2-0), 6. Coronado (1-1), 7. Rancho Buena Vista (2-0), 8. Del Norte (1-1), 9. Mount Miguel (0-1), 10. Sweetwater (0-2), 11. Valhalla (1-1), 12. Classical Academy (0-1), 13. Castle Park (0-2), 14. Southwest El Centro (1-1), 15. Vincent Memorial (0-2), 16. Chula Vista (0-0), 17. Mar Vista (2-0)
Division V: 1. Holtville (2-0), 2. Palo Verde Valley (1-1), 3. Mission Bay (1-0), 4. Tri-City Christian (0-2), 5. Escondido Charter (2-0), 6. Mountain Empire (1-1), 7. Army-Navy Academy (2-0), 8. Fallbrook (0-2), 9. Calexico (1-1), 10. O'Farrell Charter (0-1), 11. San Ysidro (1-0), 12. Crawford (0-2), 13. Foothills Christian (0-2), 14. Hoover (1-0), 15. Maranatha Christian (0-2), 16. El Cajon Valley (0-2), 17. Calipatria (0-0), 18. Clairemont (0-2)