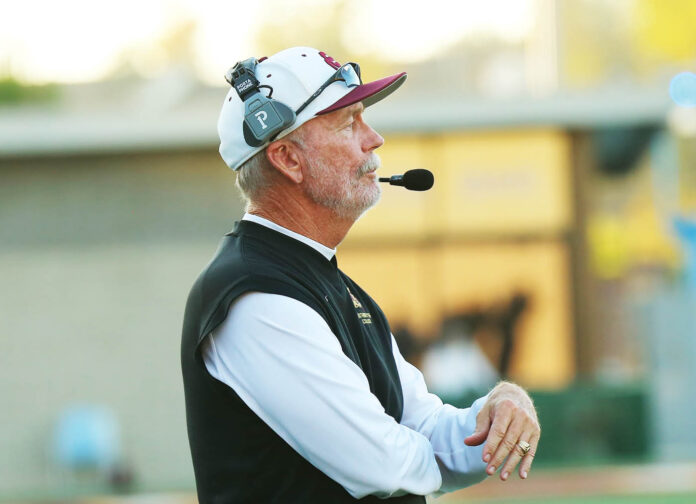 If there is one constant to the 2021-22 high school and college football season, it is that the schedule remains fluid.
A handful of high school football games have been canceled each week because of positive COVID tests.
College football kicks off this weekend and a schedule change has already been announced for Southwestern College.
The Jaguars were scheduled to start their season Saturday at Grossmont College. The opponent remains the same, but the playing site has been switched to DeVore Stadium. No, COVID was not the culprit, rather a faulty scoreboard.
Saturday's game kicks off at 6 p.m. with free admission.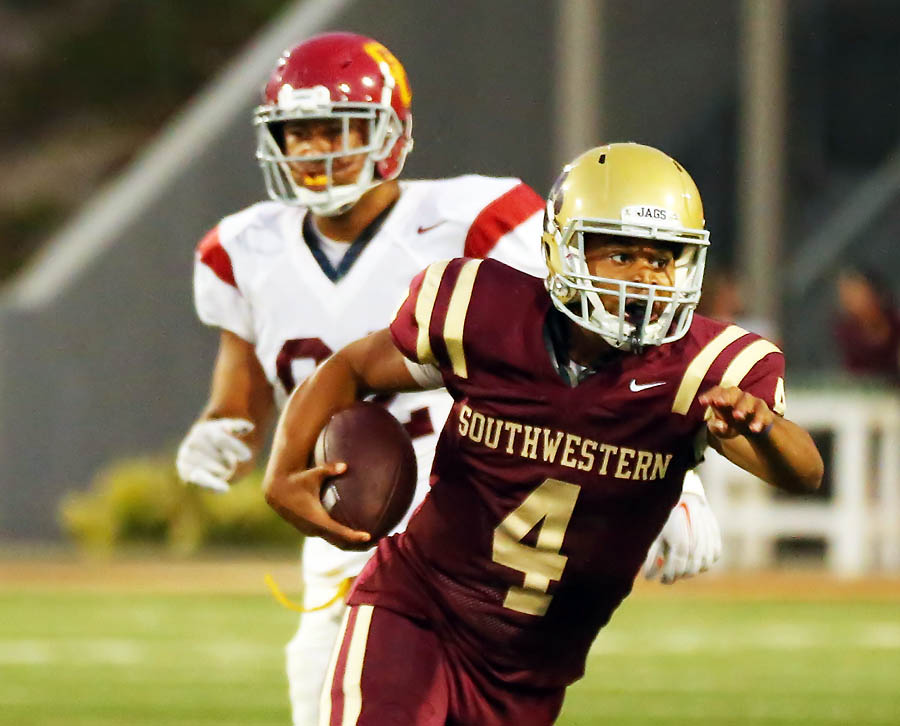 Community college football returns after an absence of a season. The nature of the game at the JC level has always been one of fluctuation and this year there may be more flux than usual.
"With very few returners, the Jags must execute," said veteran SWC head coach Ed Carberry, who enters his 14th season with the Jaguars with a career 207-134-1 record over a 43-year timeline at both the high school and college levels.
The teams have been rivals since they began playing one another in 1962. The series has been played each year with very little exception.
Grossmont College head coach Mike Jordan grew up as a Griffin under the guidance of his father Dave, the longtime Grossmont College coach since 1974. Mike Jordan followed in the footsteps of his father upon the elder Jordan's retirement.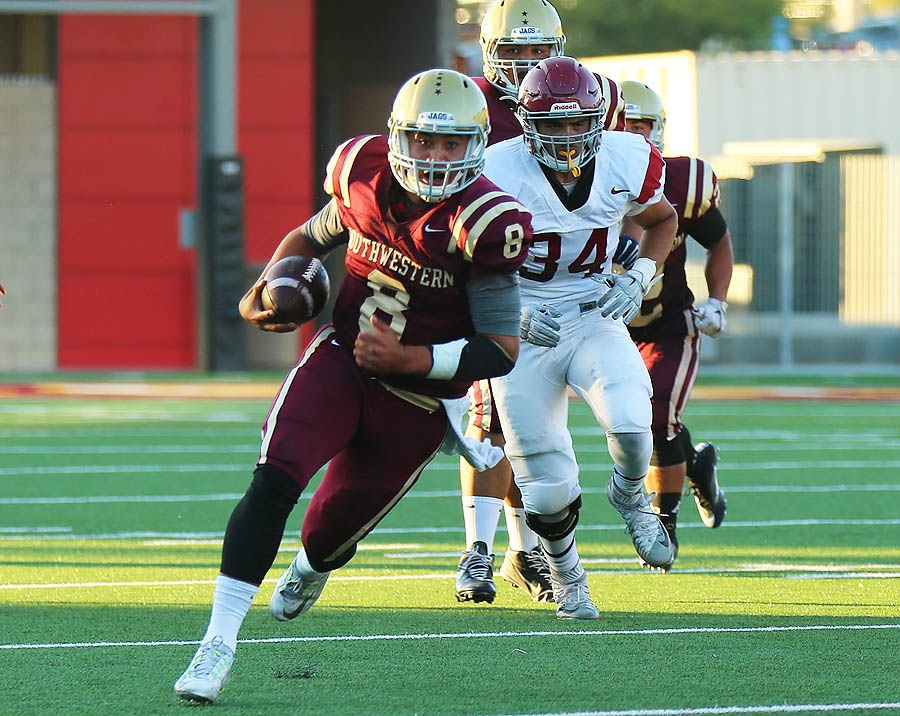 Carberry, who coached in East County at Monte Vista High School, called the Griffins a "perennially strong program."
The Jaguars under Carberry and his staff have been strong over the past decade with conference/bowl championship seasons in 2008, 2012, 2013, 2014, 2016, 2017, 2018 and 2019.
The SWC offense will be subject to development this season. The Jags defense will be led by Jace Fuamatu, an alumnus from St. John Bosco in Bellflower and formerly of Fresno State.
"Our defense is a four-man line with a strong defensive secondary," Carberry said.
Southwestern hopes to excel in the kicking game behind the strong leg of former Torrey Pines standout Asher Booth, now 24. Carberry lists Booth's range at about 55 yards.
"The return game is solid with good execution," the SWC coach said.
The Jaguars roster lists 92 players, keyed by 76 freshmen.
Familiar names include sophomore receiver Terry Wright (St. Augustine), sophomore cornerback Arnold Escano, sophomore receiver Jacob Rozar (Bonita Vista), freshman safety David Hafoka (Otay Ranch), freshman running back David Jazo (Mater Dei Catholic), freshman offensive lineman Daniel Plascencia, freshman offensive lineman Mychal Perry (Olympian), freshman kicker Joseph Firebaugh (Otay Ranch), freshman safety Jaheem Williams (Montgomery), freshman quarterback Paco Puentes (Otay Ranch) and freshman linebacker Daniel Sandoval (Montgomery).
Schools represented from the Metro Conference include Bonita Vista, Eastlake, Hilltop, Mar Vista, Mater Dei Catholic, Montgomery, Olympian, Otay Ranch, San Ysidro and Sweetwater.
East County schools represented include Granite Hills, Grossmont, Helix, Monte Vista and Mount Miguel,
City Conference schools represented include Lincoln, Morse, Patrick Henry and Scripps Ranch.
Southwestern's recruiting net extends far and wide: to Hawaii, Florida, Maryland, Louisiana, North Carolina, Arizona, Oklahoma, Alabama, Arkansas, Georgia, Alaska, Nevada, Ohio, Washington, Texas, Michigan, Minnesota, South Carolina and Virginia.
The Jags have even covered the four corners of the San Diego region: freshman tight end Ty White hails from Borrego Springs.
Carberry is 88-46 leading the Southwestern program. He sees the community college level as a necessary transition point to a higher level of play.
"The Jag program focus is 100 percent transfer of our eligible sophomores," the SWC coach said. "Over the past 13 seasons we have helped over 208 student athletes move on to the university level."
Southwestern College Football Schedule
September
4: Grossmont at Southwestern, 6 p.m. (free admission)
11: Canyons at SWC, 6 p.m.
18: Palomar at SWC, 6 p.m.
25: Southwestern at Cerritos, 6 p.m.
October
2: Southwestern at Chaffey, 6 p.m.
16: Golden West at SWC, 6 p.m.
23: Fullerton at SWC, 6 p.m.
30: Southwestern at Saddleback, 6 p.m.
November
6: Southwestern at San Bernardino Valley, 6 p.m.
13: San Diego Mesa at SWC, 6 p.m.
SDSU Aztecs face New Mexico State Aggies in NCAA Division I season opener
San Diego State University kicks off its 53rd Division I season (99th season overall) Saturday in its temporary home away from home at Health Dignity Sports Park in Carson against the New Mexico State Aggies.
The non-conference game features a 7:30 p.m. start
The Aztecs' fall roster includes 103 players, including 24 from San Diego County high schools. Among the local contingent of playing talent are six alumni from East County Schools and four former standouts from South County schools.
Helix Charter High School can claim four alumni on this year's SDSU roster: senior safety Rashad Scott, freshman cornerback Jaiden Brown, junior linebacker Michael Shawcroft and freshman offensive lineman Josh Simmons.
Junior receiver Jesse Matthews, a two-year letter-winner, returns from Christian High School while former West Hills High School and Grossmont College alumnus Jack Browning joins the team as a transfer kicker/punter.
Scott is a three-year letter-winner while Shawcroft is a two-year letter winner.
SDSU's contingent of former Metro Conference standouts include senior running back Greg Bell (Bonita Vista), sophomore kicker David Delgado (Hilltop), senior offensive lineman Dominic Guidino (Olympian), junior offensive lineman William Dunkle (Eastlake).
The Aztecs finished 4-4 (4-2 in Mountain West Conference games) during the shortened 2020 season.
Bell gained 637 net rushing yards and scored six touchdown in seven games last season to paced SDSU in the ground game while making 11 catches for 114 yards and one receiving touchdown.
Matthews led the team with 24 catches for 326 yards and one touchdown in eight games.
Shawcroft played in eight games with 35 tackles, including 24 solo stops, 1.5 sackes, three quarterback hits, two forced fumbles and two fumble recoveries.
Scott played in five games with two tackles and one interception.
Guidino and Dunkle were members of an offensive line that helped the Aztecs average 350.8 in total offensive yards per game last season.
SDSU returns 19 starters (eight offense, nine defense, two special teams) off its 2020 roster. The Aztecs had 15 players named to last season's all-conference team – 10 return from that decorated group.
Alumni watch
Devin Lloyd (Otay Ranch) had 12 tackles in the University of Utah's 40-10 non-conference victory against Weber State.
Chris Olave (Eastlake/Mission Hills) had four receptions for 117 yards and two touchdowns in his senior year at Ohio State as the Buckeyes defeated the Minnesota Golden Gophers 45-31. Olave's touchdown receptions included 38 and 61 yards.
Ezekiel Noa (Helix Charter) had three tackles for Boise State in its 36-31 non-conference setback to Central Florida.
SDSU Football Schedule
September
4: San Diego State, New Mexico State
11: SDSU at University of Arizona, 7 p.m.
18: University of Utah at SDSU, 4 p.m.
25: Towson at SDSU SDSU, 12:30 p.m.
October
9: New Mexico at SDSU, TBD
15: SDSU at San Jose State, 7:30 p.m.
23: SDSU at Air Force, 4 p.m.
30: Fresno State at SDSU, 7:30 p.m.
November
6: SDSU at Hawaii, TBD
13: Nevada at SDSU, 7:30 p.m.
19: SDSU at UNLV, 8:30 p.m.
26: Boise State at SDSU, 9 a.m.
Note: SDSU home games at Health Dignity Sports Park in Carson. All games are Pacific Time.