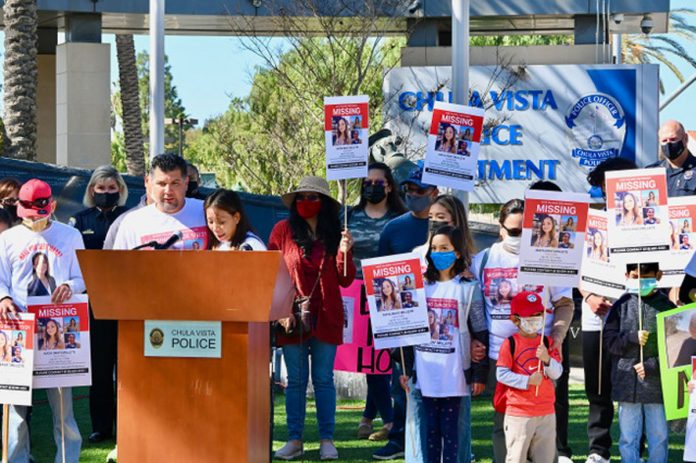 As the search continues for Chula Vista mother May "Maya" Millete, who went missing from her home on Jan. 7, the community joined family members at a rally for more information on the investigation at the Chula Vista Police Department on Feb. 5.
Before the rally, Chula Vista police and Mayor Mary Casillas Salas held a press conference to thank the community for its help in the investigation and plead for anyone that may know anything about Millete's disappearance, contact police or San Diego Crime Stoppers.
Chula Vista Police Chief Roxana Kennedy said she wanted people to know the department understands everyone's concern for answers and that everyone wants Millete to return home safely.
"This is a compassionate organization that empathizes with the community and May is part of our community," said Kennedy. "I want you to know that I am a mother and my children are my world. I know that May's children meant everything to her. We really are doing everything that we possibly can to come up with answers right now. I want you to know that my entire crimes and violence team has been working around the clock on this case from day one and they are following all leads. I want to assure all of our community that no rock is being left unturned. The detectives are staying in contact with May's family. I know it is difficult to be patient when someone you love is missing. We cannot share all the steps in the process because we cannot compromise the investigation."
Millete's sister and brother-in-law, Maricris and Richard Drouaillet were joined by other family members. Maricris Drouaillet said she thanked to community and the CVPD for all the support in finding her sister.
"I am pleading that anyone out there. Please anybody, somewhere, somehow might know where my sister's whereabouts is. Please bring her home," she said. "We are so concerned. Our kids need their mom. Please help us find my sister. If anybody has any information, please help us find my sister. From the bottom of our hearts, we thank you. We believe in your prayers and we can move mountains. This can be a miracle."
Richard Drouaillet said their main goal is to find May and protect the children and they could not be able to do that without the community support and the support of the police department.
"I know that we could never repay what you have done for us in this tragic time. Our goal today is to motivate the community to keep pushing forward to find those answers, to find May and to keep a spotlight on this case. We are not going to give up until we get May back home. This community is amazing, and we consider all of you family," he said.
Lt. Miriam Fox, CVPD criminal investigations division said the investigation is continuing and ongoing. She said the department is actively investigating this case, conducting multiple interviews with friends, family members, neighbors, and coworkers, and reviewed more than 100 hours of video.
"We are not releasing any information or details of the investigation to maintain the integrity of the investigation," said Fox. "We want the public to know we will rest assured we are in contact with the family on a constant basis. The family is very much a part of this investigation. If it is determined that May is a victim of a crime, our investigation becomes even more important. We continue to ask and plead to the community to help us in locating May."
Anyone with information on Millete's whereabouts is asked to call CVPD at 619-691-5151 or San Diego Crime Stoppers at 888-580-8477.