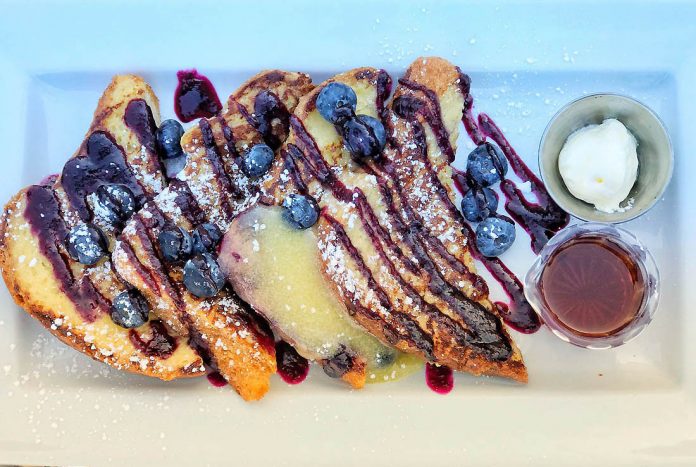 Yes, it's true, there are choices when it comes to waterfront dining with spectacular views. These two locations are my favorites in which to indulge the eyes and stomachs.
Waterfront Grill at Pier 32 in National City offers waterfront dining tucked away in an often overlooked little corner of the city with a view of the marina along the Sweetwater Channel, located west of the Interstate 5 near Pepper Park and the Bayshore Bikeway path.
This restaurant has been serving a large variety of gourmet sandwiches, salads, soups and appetizers for more than nine years. My favorites include the seared sesame ahi salad, British fish and chips and the P32 chicken club sandwich served on a croissant.
Beer and wine are part of the offerings as well. Lunch is served daily from 11 a.m. to sunset. The establishment is open for dinner Friday through Sunday. Breakfast is served at 9 a.m. during the weekend only. Waterfront Grill is located at 3201 Marina Way, National City.
About a nine-mile drive South from National City is the most southern beachfront restaurant in the United States. Quietly nestled in Imperial Beach is Sea180 Coastal Tavern, located inside the Pier South Resort.
Sit, sip and eat along the glass wall that surrounds the outdoor portion of the restaurant, around the large fire pits, or even indoors with essentially an unobstructed view of the pier and Pacific Ocean.
The views are one thing; the food is another detail to gush over.
Open daily from 7 a.m. to 11 p.m., Sea180 offers full menus for breakfast, lunch and dinner. My favorite items for each time of day: lemon ricotta blueberry French toast, Baja crab roll, kobe (wagyu) TJ hotdog, seared scallops and smoked porkbelly and braised short ribs.
Insider tip: order a "fresh mimosa" and don't be surprised when a full bottle of champagne is presented to you! Sea180 is located at 800 Seacoast Drive, Imperial Beach.
To reach Kris Galicia Brown via social media:
www.krisgaliciabrown.com
Instagram: @krisgaliciabrown
Twitter: @krisgaliciabrwn
Tasty Taste of EastLake set Jan. 26
Served up by the EastLake Educational Foundation, the Taste of EastLake returns for its fourth year on Jan. 26, from 6 to 9 p.m., at The Venue at Eastlake, 871 Showroom Place, Ste. 104, Chula Vista. This tasty event cooks up funding greatly needed to provide vital technology to local public schools.
Through the foundation each year nearly 10,000 students are given the ability to acquire the skills needed to thrive in a complex, highly technological knowledge-based world.
Guests will enjoy savory sips and petite portions of signature dishes from an array of more than 25 eclectic eateries, wineries, breweries and spirit purveyors, including Novo Brazil Brewing, Pizzo's Pizzeria, Groundswell Brewing Co., Epic Wings & Things, Thorn Street Brewing, Savoie, Bay Bridge Brewing, Spunky Makings, Lolita's, Ono's Cafe, Maness Vineyard, St. Petersburg Vodka, Islands, Giggling Goodies, Ika Sushi, One Hope Wine, Jersey Mikes, California Pizza Kitchen and Filippi's Pizza Grotto.
Live and silent auction items include a ride in a United States Navy T-34 airplane, hotel stays, a BMX biking adventure, a brewing experience with ale to go and many local Chula Vista and San Diego activity packages.
Guests can enjoy roaming entertainment as they mingle among many of Chula Vista's local leaders, business owners and educators.
This event is made possible by sponsors such as The Adrian & Betsy Gonzalez Foundation (presenting Sponsor), Aztec Fire and Safety, Sudberry Properties, Baldwin & Sons, Lolita's, US Bank, The Eastlake Self Storage, San Diego County Credit Union, United States Karate Academy, and Sunga Orthodontics.
Tickets are $50 and are only available in advance from www.eefkids.org. This event is for ages 21 years and up.