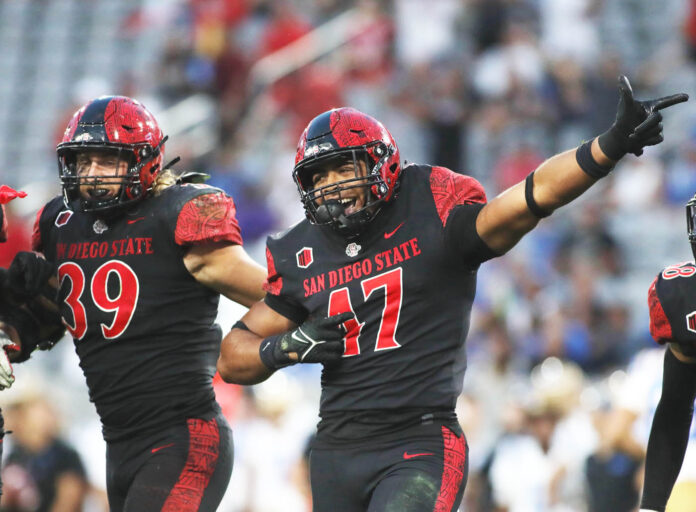 Things were definitely looking up for the San Diego State University football team in its high-profile non-conference game at Snapdragon Stadium against UCLA when Eastlake High School alumnus Trey White recovered a fumble at the Bruins' one-yard line.
At the time, the Aztecs trailed 28-10 early in the third quarter and a touchdown would have brought them closer into striking distance.
But when facing third-and goal, SDSU quarterback Jalen Mayden flipped a high pass to teammate Martin Blake just in front of the goal line. The ball tipped off Blake's fingertips up and over the line into the waiting hands of UCLA linebacker Darius Muasau.
Muasau made the endzone interception and the Aztecs' defeat was pretty much assured from there as the Bruins tacked on another touchdown to win by 25 points.
In consolation, SDSU played well in spurts and seemed to give UCLA a challenge. But the Bruins were the ones who made the big plays and, for the most part, ground the Aztecs' running game to a halt.
Dante Moore led UCLA with 290 passing yards and three touchdowns, including one each to Josiah Norwood (two catches, 87 yards), Logan Loya (four catches, 77 yards) and Carsen Ryan (one catch, six yards).
T.J. Hardin (nine carries, 91 yards) and Carson Steele (12 carries, 84 yards) each rushed for one score.
Mayden (196 passing yards, 18 rushing yards) completed the game with one touchdown and three interceptions while Kenan Christon (Madison) had nine carries for 27 yards.
The Aztecs (2-1) will attempt to regroup against another Pac-12 opponent when they travel to play at Oregon State (2-0) on Saturday (12:30 p.m. kickoff).
White, who is classified as a red-shirt freshman, is not the only South County alumni to engineer a strong start at the NCAA Division I level. Chula Vista's Marcus Ratcliffe (Cathedral Catholic) has collected 11 tackles (10 unassisted) in three games as a true freshman to lead rank in a tie for fourth on the team in defensive stops.
White had played in all three of SDSU's games to start the season, logging one interception, one fumble recovery, one quarterback hit and three tackles one unassisted).
Olympian alum Arnold Escano had posted one tackle in two games.
Kick specialist Jack Browning (West Hills) tops SDSU in season scoring with 22 points — five of six field goal attempts and a perfect seven-for-seven on PAT conversions. He split the uprights on a 44-yard field goal and successful PAT kick against UCLA.
The Aztecs and Bruins were tied, 7-7, through the first quarter before the visitors reeled off two unanswered touchdowns.
The Snapdragon Stadium crowd of 32,017 raised alternating cheers for both teams.
Photos by Andy Bartotto