San Diego State University freshman right-handed pitcher Casey Schmitt earned honors as the Mountain West Conference Pitcher of the Week, the league announced Monday.
The Eastlake High School alumnus logged two saves in a series win over Cal State Fullerton last weekend, preserving SDSU's 6-3 win last Friday and 9-6 win on Sunday.
Over his two appearances, Schmitt totaled three innings pitched and allowed just two hits while not surrendering a walk and striking out three batters.
Schmitt became the first freshman to win Mountain West Pitcher of the Week since former Aztec Bubba Derby (Colorado Sky Sox) earned the award on Feb. 18, 2013.
Schmitt is the eighth SDSU freshman in league history to earn the MW Pitcher of the Week award.
Schmitt has become a mainstay in the back end of the SDSU bullpen, owning a bullpen-best 0.57 ERA. He has not allowed a run to score in each of his last six appearances and currently rides a 9.2-inning streak of not allowing an earned run, with his last earned run coming close to a month ago against Cal Poly.
On the season, Schmitt has thrown 15.2 innings, totaling three saves while accumulating a .175 opponent batting average. Schmitt has not allowed an extra-base hit this season.
Besides his relief duties, Schmitt has been SDSU's starting third baseman for the majority of the season, hitting .299 with a home run, four doubles, and 20 RBI.
The San Diego State baseball team improved to 23-13 overall, 8-6 in conference play, with the series win over Fullerton.
The Aztecs upped those numbers by one in the win column after scoring three runs in the bottom of the seventh inning to nip visiting CSU Northridge, 3-2, on Tuesday.
Schmitt earned his fourth save of the season and his third in the last five days after posting a hitless ninth inning.
SDSU hosts Fresno State in a three-game series this weekend at Tony Gwynn Stadium. Friday's and Saturday's games are scheduled for 6 p.m. starts. Sunday's game is slated to start at 1 p.m.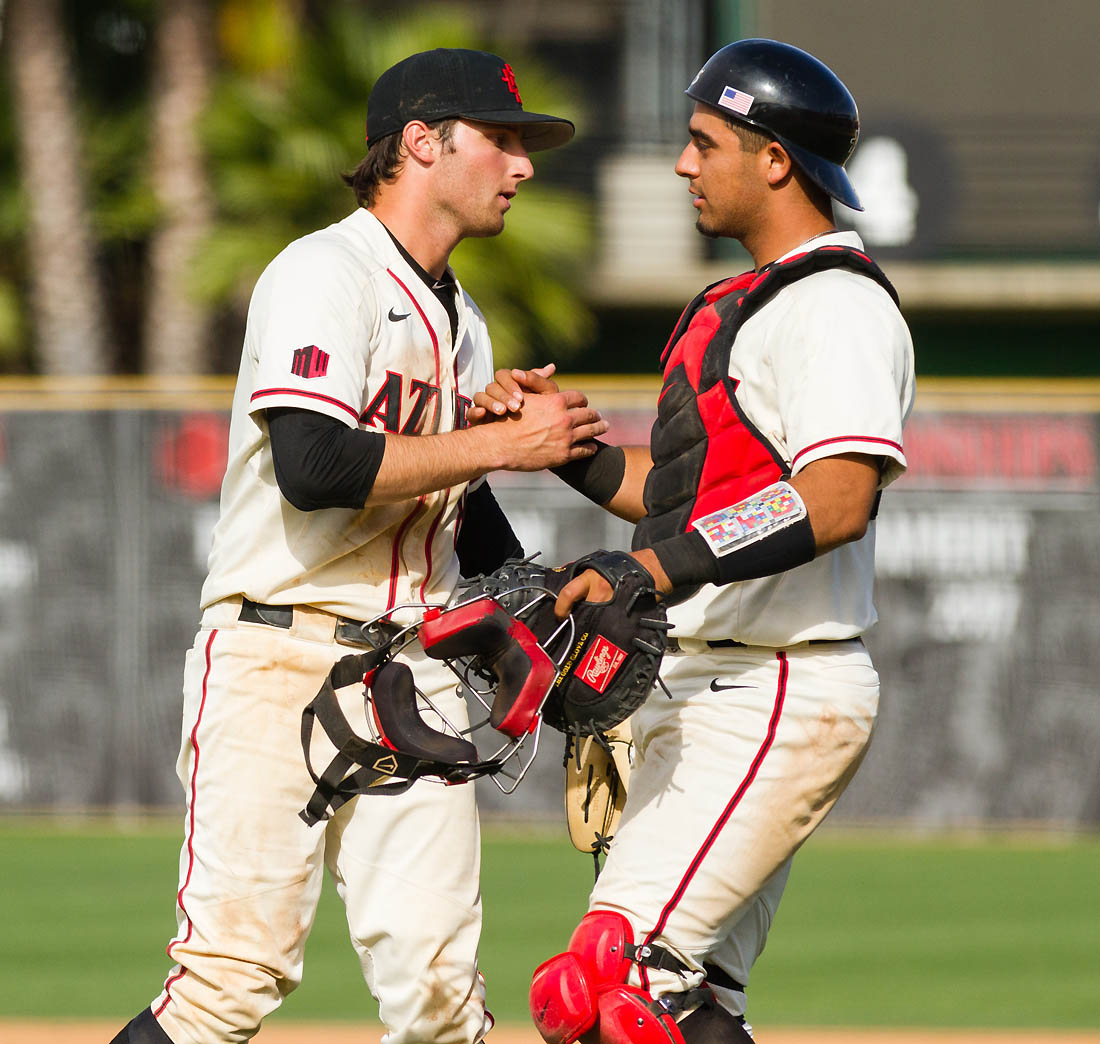 Extra bases
Eastlake alumnus Dean Nevarez, Julian Escobedo and Schmitt combined to help lead SDSU past host Long Beach State, 5-2, on April 3.
Nevarez ripped a two-RBI double to stake the Aztecs to a 2-0 lead. A batter later, Escobedo singled to score Nevarez for a 3-0 SDSU advantage.
Escobedo later drove in a pair of insurance runs in the sixth inning with a double to collect his third and fourth RBI in the game.
Schmitt entered the game in the eighth inning to hold the Dirtbags scoreless in the frame by forcing an inning-ending fly-out to strand a trio of Long Beach base runners.
Escobedo, a sophomore outfielder, is hitting .339 with eight doubles, two home runs, 17 RBI and 32 runs scored.
Nevarez, a junior catcher, is hitting .270 on the season with eight doubles, three home runs, 14 RBI and 21 runs scored.