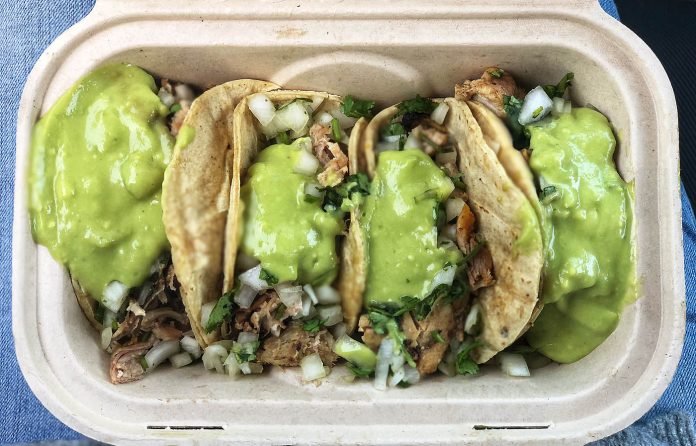 The place I'm highlighting this month will seem a bit unorthodox, but trust me, it's because this place has already earned a spot in my file called Little Hidden Gems.
"Carnival" is not a word typically associated with much of anything here in Chula Vista outside of school-related events and definitely not on the topic of food. From this day forward, "Carnival" will be in your short list of words regarding food; a variety of food, especially that of quick bites to-go.
There's a strip mall in west Chula Vista on Third Avenue between K and L streets that has been close to forgotten. In this strip mall that I have passed dozens of times is Carnival Supermarket.
Please make this stop and pull into the parking lot. Do not judge this book by its cover because inside you'll encounter a modern and spacious food court, with surprising offerings!
There's a central area where the food is made. You will find a full-service taqueria serving delicious street-style tacos (certain kinds are 99 cents each on Taco Tuesday), burritos and tortas; Mediterranean food like shawarma, pitas, gyros and falafel; hot and cold sandwiches, sushi and a full-service coffee and smoothie bar where two kinds of kombucha and cold brew coffee are also on tap.
Agua fresca and other juices are also made/pressed daily in-house.
Carnival is a local family-owned, three-store chain. The Chula Vista location opened two years ago and is the only one with a food court. Grill hours are 6:30 a.m. to 9 p.m.
My must-trys are the carnitas, pollo asado and chicken shawarma wrap. Head on over to Carnival and I'll see you there!
Carnival Supermarket is located at 870 Third Ave., Chula Vista.
Contact Kris Galicia Brown via social media at:
Instagram: @krisgaliciabrown
Twitter: @krisgaliciabrwn
Facebook: /krisgaliciabrown
On tap
BON APPETIT
The Chula Vista Public Library Foundation will present the 10th anniversary wine tasting and restaurant sampler on Saturday, April 28, from 5 to 9 p.m. at the Otay Ranch Town Center food pavilion.
Guests may partake of wine and restaurant samples as well as a live and silent auction. Proceeds benefit the Chula Vista Public Library Foundation.
Tickets are $45 each. Guests must be 21 years or older to attend.
Tickets may be purchased at any Chula Vista Public Library branch: Civic Center (365 F St.), South Chula Vista (389 Orange Ave.) and Otay Ranch (2015 Birch Road). Tickets also may be purchased at the door.
Otay Ranch Town Center is located at 2015 Birch Road, Chula Vista.
ONSTAGE PLAYHOUSE
OnStage Playhouse concludes its 2017-18 season with "Smokey Joe's Cafe" May 4 to June 9, the Grammy and Tony Award-nominated smash that made history as Broadway's longest running musical revue and celebrates the best songs of the legendary songwriting duo Jerry Leiber and Mike Stoller.
The duo's generation-defining songs climbed the Billboard charts and provided hit after hit for icons like Elvis Presley, Ben E. King, The Coasters and The Drifters. With themes of love won, lost and imagined, their songs touched global audiences with wit and slice-of-life emotions.
Audiences will be treated to more than 30 show-stopping tunes, including classics like "On Broadway," "Yakety Yak," "Charlie Brown," "Jailhouse Rock," "Hound Dog," "Love Potion #9," "Spanish Harlem" and "Stand by Me."
Visit www.onstageplayhouse.org.