So, it's come down to this:
The Mater Dei Catholic Crusaders and the Mar Vista Mariners are the last two remaining Metro Conference teams in this year's San Diego Section football playoffs.
They are guaranteed at least one more game. If they win that, they'll play for their respective division championship and possibly beyond in the regional state playoffs.
By virtue of last Friday's 41-9 quarterfinal win over sixth-seeded La Costa Canyon, third-seeded Mater Dei Catholic advances to tangle with second-seeded Cathedral Catholic in a rematch of the teams' season opener won 28-14 by the visiting Dons (6-5).
This time the Crusaders (7-4) will pay a visit sporting a seven-game winning streak studded with six shutouts.
Mater Dei Catholic didn't let a week of rest interfere with its plans to keep moving up the Division I playoff bracket. The Crusaders didn't show any lethargy in building a 27-3 lead and continuing to add to it.
Senior quarterback Dominic Nankill passed for three touchdowns while also rushing for a score to pace the hosts. Senior D.J. Overtstreet caught a 68-yard scoring pass and also had an interception on defense while senior Anthony Gomez had a strip sack that he returned 38 yards for a touchdown.
The Crusaders have out-scored their last seven opponents 322-9.
Meanwhile, the fifth-seeded Mariners (7-5) upset fourth-seeded Army-Navy Academy (9-2) by a 40-35 score to play another day.
The host Warriors had entered the quarterfinal game having notched nine shutouts in 10 regular season games to go with a near spotless 9-1 record.
The Imperial Beach team exchanged blows with the Carlsbad-based school before finally gaining the upper hand in the final stages of the playoff contest.
"When Mar Vista and Army-Navy play it is always a emotional and close game," Mar Vista coach Bryan Moore said. 'Hands down they had some of the biggest and best players we have seen all season. It's truly not surprising that they have only gave up 13 points in the regular season. With nine shutouts in the regular season Army-Navy Academy was the best defense we have seen all year."
But that defense eventually bent and broke.
Mar Vista senior Aleks Wojcik accounted for 274 of Mar Vista's 364 total offensive yards in the game with 190 passing yards and one touchdown and 84 rushing yards and four touchdowns. Wojcik had a hand in five of the Mariners' six touchdowns in the blockbuster showing.
The MV signal-caller passed to senior Demarco Wright (four catches, 74 yards) for a touchdown while hitting junior Erik Garcia four times for 54 yards.
The Mariners rushed for 174 yards in a balanced performance. Wright gained 56 of those yards on 15 carries while junior Lah'darius Crawford bolted loose on one carry for 32 yards.
Wojcik's longest run from the line of scrimmage measured 17 yards. But he didn't have to sprint the length of the field to do his damage on the ground. Most of it was handled close to the goal line.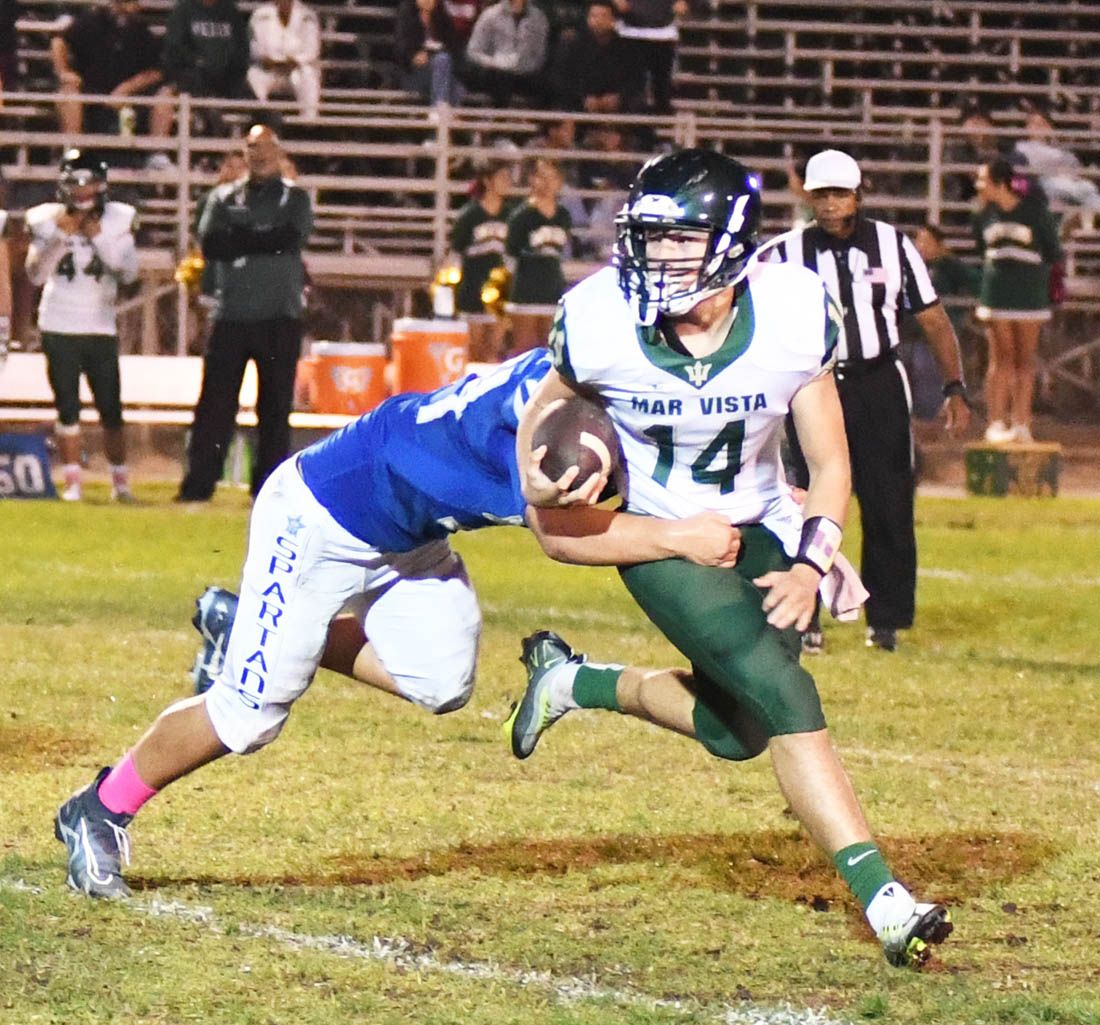 Seniors Adrian Martinez, Marcus Montreuil, Wojcik and Nathaniel Ramos each combined for half a sack while Ramos made one interception on defense. Ramos and junior Jahsaiah Hyneman also had fumble recoveries.
Senior Luis Cisneros tacked on four kicking points in the highlight road victory.
Nehemiah Brunson Jr. had 13 carries for 104 yards and one touchdown and caught five passes fo 56 yards and one touchdown for the host team.
"With putting 40 points on this defense we are the best offense they've seen all year," Moore reiterated. "With almost 4,000 total yards this season, no one in San Diego has as many total yards than Mar Vista. According to MaxPreps, Mar Vista's total yards is ranked fifth in the state. We had a very challenging front-loaded schedule. Most the Division V teams were hesitant to play higher competition in the Division III bracket. We welcomed that challenge and I feel challenging ourselves early is paying off now later in the season."
The Mariners will face top-seeded Crawford (10-1) in Friday's semifinals after the host Colts ended Castle Park's season with a 42-0 shutout win in last Friday's quarterfinals.
The Trojans (4-7) looked to get on the scoreboard first but were held out of the end zone on a goal line stand. The hosts played breakaway ball from there as senior Hamadi Sharif and sophomore Kent Armstrong combined for 404 rushing yards and six touchdowns. Sharif (10 carries, 204 rushing yards) logged a 99-yard touchdown run while Armstrong (13 carries, 200 yards) added a 94-yard scoring burst and five touchdowns to bust Castle Park's playoff bubble.
Sophomore Ladell Hamilton paced the Trojans with 85 rushing yards on 13 carries.
The Colts completed just one pass in the game for 30 yards while the Crawford defense registered two sacks and three interceptions. The hosts punted once in the game for 45 yards while amassing 506 total offensive yard and 621 all-purpose yards.
The Chula Vista Spartans were among eight Metro Conference teams to kick off this year's playoffs and among five remaining teams competing in last Friday's quarterfinals. But the season ended there for the newly-crowned Metro-Pacific League champions following a 34-21 loss at the third-seeded Coronado Islanders.
"The loss against Coronado, while disappointing, did not define our season," Spartan coach Howard Bannister III said. "These young men defied the odds after an 0-4 start and rattled off seven wins in a row along with winning a Metro Pacific League title. They have laid the foundation for future Spartans and have helped author our blueprint to success."
The visitors started strong with a 7-0 first quarter lead before the score became knotted, 14-14, at halftime. Both teams scored a touchdown in the third quarter for a 21-21 deadlock before the Islanders finished the game with a 13-0 scoring advantage in the final quarter.
Coronado quarterback Graham Bower passed for 233 yards and two touchdowns while rushing for 106 yards and three scores.
The Spartans (7-5) countered with sophomore quarterback Izaac Baca, who passed for 145 yards and rushed for 53 yards with one passing touchdown and one rushing touchdown Senior Gio Barrios rushed for 104 yards and one touchdown.
The Islanders (7-3) piled up 445 total offensive yards while the visitors had 345 total yards.
Coronado benefited from three fumble recoveries and one interception. The Islanders advance to play at seventh-seeded Palo Verde Valley (11-1) after the Yellow Jackets upset second-seeded La Jolla Country Day, 27-21, in the quarterfinals.
As for upsets, fifth-seeded Mission Bay (8-4) ended the season for fourth-seeded Montgomery (8-3) on a last-minute touchdown by sophomore Caden Taffe to win 17-10. Senior quarterback Ethan Silber accounted for 200 yards in the win, including 155 passing yards.
Mission Bay junior David Maier intercepted a pass near the goal line to nix a last-ditch attempt by Montgomery to either tie or possibly win the game with a two-point conversion.
The Bucs advance to play top-seeded Fallbrook (8-3) in the semifinals.
San Diego Section Football
Championship Game Schedule
Open Division: (1) Carlsbad (10-1) vs. (2) Lincoln (10-1) Friday at Snapdragon Stadium, 7 p.m.
Division I: Nov. 25 at Southwestern College, 7:30 p.m.
Division II: Nov, 26 at Escondido High School, 7:30 p.m.
Division III: Nov, 25 at Southwestern College, 2 p.m.
Division IV: Nov. 25 at Escondido High School, 7:30 p.m.
Division V: Nov. 26 at Escondido High School, 2 p.m.
8-Man: (1) Victory Christian Academy (10-0) vs. (2) St. Joseph Academy (9-1), Saturday at Escondido High School, 7:30 p.m.
Photo/Jon Bigornia
Mater Dei Catholic's Surahz Buncom carries a LCC defender across the goal line in last Friday's game.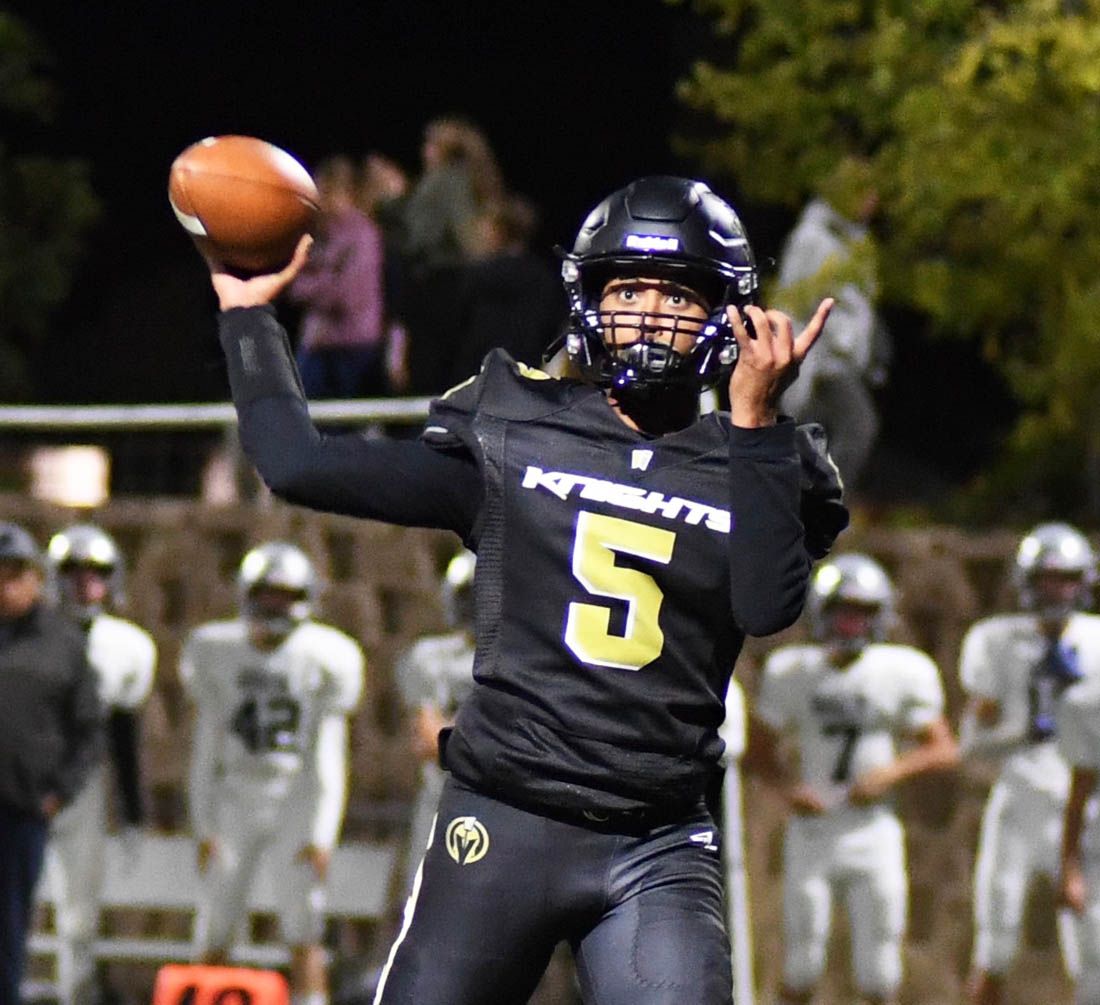 Victory Christian Academy to put undefeated 10-0 season on line in 8-Man championship game
Build it and they will come? How about, build it and they will win?
Victory Christian Academy's new on-campus football field has played to overflow crowds during the playoffs. The team will likely attract its largest crowd in the history of the program Saturday at Escondido High School when the top-seeded Knights (10-0) engage the second-seeded St. Joseph Academy Crusaders (9-1) in this year's 8-Man championship game.
The Ocean League champion Knights advanced to meet the Ocean League runner-up Crusaders after topping the fifth-seeded Coastal Academy Stingrays, 50-12, last Friday in the semifinals.
Earl Benson is in his sixth year coaching Victory Christian Academy, and this is likely the best team he has coached at the small private school in Rancho del Rey.
"Each year, we gotten a bit better," Benson said. "We've gotten more kids at the school and that has helped us in roster size. This year we've had our biggest roster at 28. Last year we had 20. My first two years we had 13. Our school is slowly growing. We now have 80 to 85 boys to choose from."
Victory Christian previously defeated St. Joseph Academy, 27-8, in a league game on Oct. 7.
St. Joseph Academy defeated sixth-seeded Foothills Christian, 38-22 in last weekend's semifinals.
Senior quarterback Tookie Davis completed 13 of 20 passes for 263 yards with two touchdowns and one interception while senior Jacob Gomez rushed eight times for 58 yards and two touchdowns to lead the Knights past the Stingrays.
Davis also rushed nine times for 81 yards in the game while junior Derek Edmond had four catches for 159 yards and two touchdowns. Davis passed 90 yards to Edmond on a sideline pattern to score the team's second TD of the game.
Senior Quentin Richardson had a productive night with five carries for 26 yards and one touchdown while making three catches for41 yards. Freshman Gage Smith had three carries for 27 yards.
Senior Isaiah Tabares had five catches for 37 yards while Gomez had one catch for 26 yards.
Richardson led the Knights with 248 all-purpose yards in the victory — 26 rushing, 41 receiving, 176 on kick returns and five on punt returns. He scored one touchdown on a 92-yard kickoff return.
Davis, the Ocean League offensive player of the year, accumulated 344 total offensive yards.
Senior Anthony Contreras, the Ocean League defensive player of the year, paced the Knights with 16 unassisted tackles last Friday while Richardson added nine stops.
Seniors Jorge Sanchez and Max Isom each recorded one sack while Edmond and Sanchez both had interceptions. Isom also had a fumble recovery.
Victory Christian, braced by 455 yards in total offense, led 22-0 at the end of the first quarter and 22-6 at halftime. The Knights won the second half 28-6.
Junior Lucas Brandini added two kicking points while Davis had four two-points conversions and Gomez had a pair of two-point conversions.
Saturday's championship game kicks off at 7:30 p.m.
Three players on St. Joseph have scored eight rushing touchdowns apiece: senior Giancarlo Puccio (109 carries, 743 yards), junior Andrew Wadds (89 carries, 503 yards) and senior Noah Clow (39 carries, 468 yards). Sophomore Mathew Adams (40 carries, 296 yards) has seven touchdowns.
Puccio has 10 TDs overall.
This is Victory Christian Academy's second consecutive trip to the 8-Man championship game after dropping a 50-28 decision to the San Diego Jewish Academy last year.
The Jewish Academy did not qualify for this year's six-team playoff bracket.
"This year's team has experience," Benson said. "That championship game loss last year made the (incoming) seniors really work hard over the summer knowing how close they were."
Benson said the 12 seniors on this year's team have started to receive recruiting interest.
Photos/Phillip Brents
Isaiah Tabares, left, makes a catch for Victory Christian Academy in last Friday's semifinal playoff game while Jacob Lopez (6) scored two rushing touchdowns.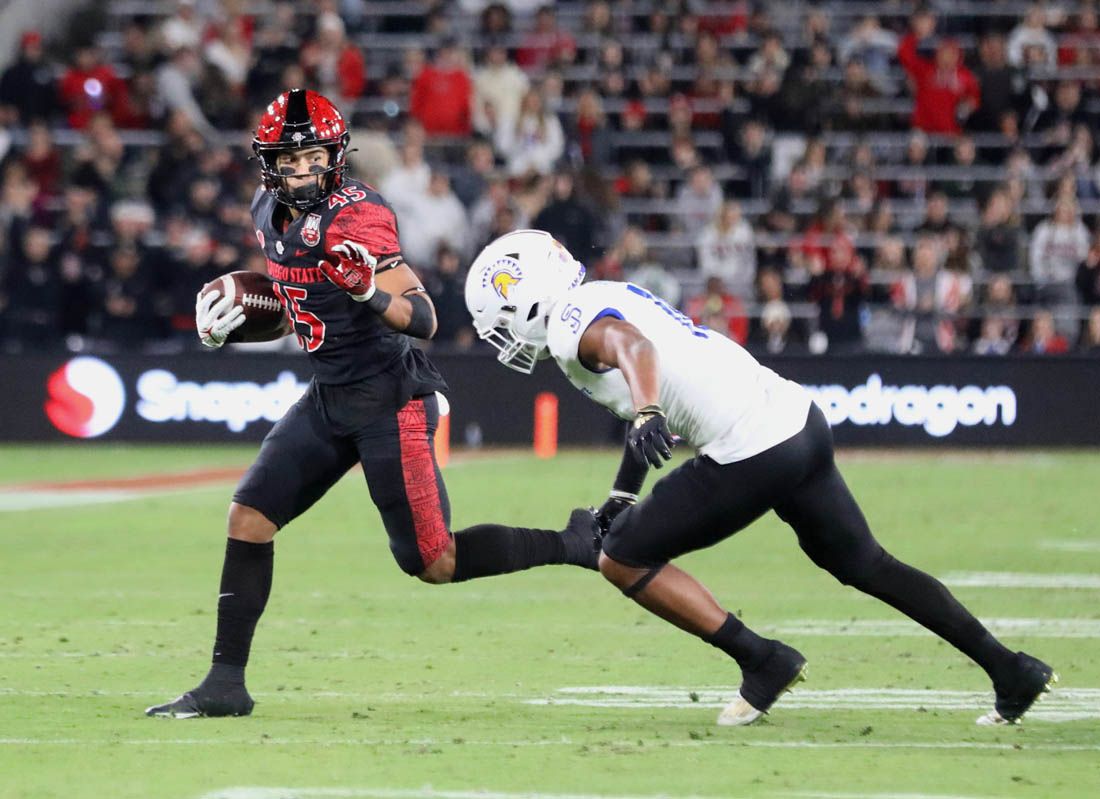 Braced by back-to-back wins, Aztecs making strides in Mountain West standings
After being sidetracked by two late Fresno State touchdowns in a 32-28 loss on Oct. 29, the San Diego State University football team decided to take the bull — on in this case, the UNLV Rebels — by the horns in scoring the opening two touchdowns in a Nov. 5 Mountain West game in front of 28,854 spectators at Snapdragon Stadium and ride them to a 14-10 homecoming victory.
The win upped the Aztecs season record to 5-4, 3-2 in conference play.
SDSU remained in contention for the MW West Division championship, though there is not much wiggle room.
San Jose State, the Aztecs' opponent last Saturday at Snapdragon entered the game co-leading the West Division with Fresno State  with a 4-1 conference mark. The Spartans were 6-2 overall and could have prevented a roadblock to the division title with a timely win over the hosts.
Concurrently, what better way to get back in the championship race than to beat the team immediately ahead.
That's exactly what happened as the Aztecs pulled off a clutch 43-27  victory in front of 28,406 chilled spectators.
SDSU trailed 14-0 just 10:02 into the game but scored the next 38 points.
With the win over the Spartans, the Aztecs (6-4) became bowl eligible for the 13th consecutive season.
SDSU head coach Brady Hoke said he was "really proud of the guys" for pulling out the huge victory.
"We didn't start out the game the way we would like to, but they all came together and worried about execution offensively, defensively and the kicking game," Hoke said.
The temperature was 55 degrees at kickoff — the coldest game so far at Snapdragon Stadium — but San Jose State came out hot.
Chevan Cordeiro connected with Elijah Cooks on a four-yard scoring pass and then scored on a three-yard run to give the Spartans the early advantage.
SDSU's Jordan Byrd electrified the crowd with a 95-yard kickoff return to get the hosts on the scoreboard. It was SDSU's 14th kickoff return for a touchdown since 2015, the most in FBS play over that span.
West Hills alumnus Jack Browning made the score 14-10 on a 22-yard field goal to ignite the Aztecs to 17 points in the second quarter. Tyrell Shavers followed with a 66-yard pass reception from quarterback Jalen Mayden to push SDSU to a 17-14 lead. Mehki Shaw then scored on a 17-yard pass from Mayden to give the Aztecs a 24-14 halftime lead.
Christian alumnus Jesse Matthews then scored on a 20-yard pass play from Mayden to open the second half.
Matthews finished the game with four catches for 57 yards and one touchdown.
31-14 Aztecs.
Jaylon Armstead scored on a two-yard run later in the third quarter to extend the SDSU lead to 38-14.
SJSU finally answered back on a 32-yard touchdown catch by Skylar Loving-Black to narrow the score to 38-20. But Browning added a 31-yard field goal to open the fourth quarter to put the Aztecs ahead 41-20.
Isaiah Hamilton's 21-yard TD catch was the last score of the game for the Spartans. The hosts closed out scoring with a safety as Cordeiro was sacked in the end zone by Jonah Tovai.
Matthews caught a touchdown pass for the third consecutive game after not having a touchdown the first seven games of the season. He now has three touchdowns this season and 15 for his career (tied for 14th in school history).
He has 161 career receptions that rank eighth in program history and 1,968 career receiving yards (17th in program history).
SDSU had its first 40-point game against an FBS teams since scoring 48 points against Central Michigan in the 2019 New Mexico Bowl.
The Aztecs won their fifth consecutive game at Snapdragon Stadium and are 5-1 overall at home.
"The kicking game was huge. Jordan Byrd and his touchdown was a spark for us as a football team," Hoke said. "We played together, we played hard.
"Defensively, we'd like to have stopped the last touchdown but, as a whole, we did a good job of rushing the passer, we hit the quarterback a few times, and that was their strength.
"Offensively, we did a nice job of taking time off the clock and how we handled things. Jayden (Mayden) did a great job. When it was time for him to run the ball, and he thought it was there, he did a great job. When we threw the ball, we threw it well. Jaylon Armstead came in again and gave us some movement on the line of scrimmage.
"Limiting the rush is always one of our goals for the week. That's one of the things that we started doing after the Boise State game (a 35-13 SDSU loss on Sept.30); we set goals and parameters and what we want to achieve."
Matthews put SDSU on top, 7-0, on a 28-yard scoring pass from Mayden in the second quarter against UNLV.
Mayden later threw a 24-yard touchdown pass to tight end Mark Redman in the third quarter to double the Aztec lead to 14-0.
Browning supplied the extra-point conversion on both touchdowns to extend his team scoring lead to 55 points (19 PAT and 12 field goals).
Matthews made five catches (on six targets) in the game for 84 yards with one touchdown. His longest catch measured 28 yards.
The touchdown was the first for Matthews in San Diego.
"That was a pretty special moment for me, and just being in front of my family and friendes," he said. "I'm just grateful, and being here is something very special to me. So, I'm just grateful to be in this position that I'm in. I'm just glad we came out with the win."