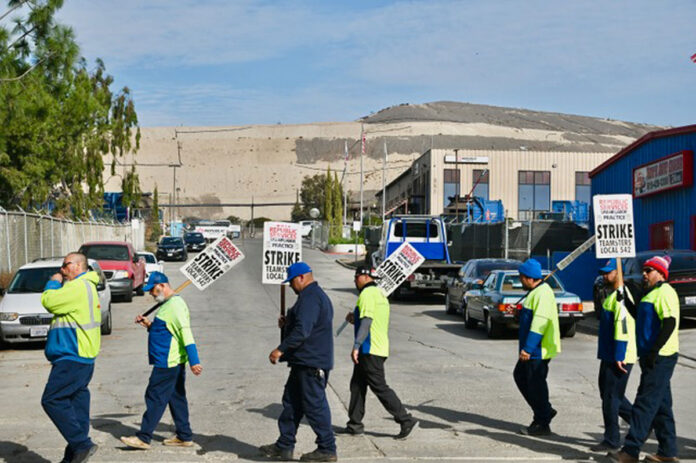 The city of Chula Visa is declaring a public health and safety emergency, with the ongoing strike between waste management workers and its managing corporation Republic Services.
In its first session after winter break and in the midst of a surge of COVID-19 cases, Chula Vista City Council had harsh words for the city's waste management provider, Republic Services as it has failed to reach an agreement with its over 260 employees that work in Chula Vista, San Diego, and the county, in a strike that has lasted nearly a month.
City Manager Maria Kachadoorian said that in late December, when it was realized that an agreement could not be reached between Republic and its workers represented by Teamsters Local 542, city crews were directed to pick up any trash overflowing from bins in a public right-of-way and near storm drains but said even though the city is taking mitigation measures it would not solve the problem.
As of now, less than half of waste in Chula Vista is being collected by Republic, with multi-resident properties, commercial, and businesses getting hit the worst.
Chula Vista Environmental Manager Manuel Medrano said on Jan. 6 that all containers at city parks were over capacity, meaning 1,010 containers were overflowing with trash. He said illegal dumping has become a problem as the strike continues, property owners have out-of-pocket expenses, with reports of property owners paying an average of $2,000 per week to have trash removed. Medrano requested daily updates on collection in the city, the number of calls and emails received, and require an operations plan, something he said they are still working on with Republic.
After 15 negotiation meetings, six with a federal mitigator, Republic Services vice president of municipal sales Richard Coupland came in from Republic's headquarters in Phoenix, Arizona and told the council in looking at the region's essential worker's salaries, that their proposal was in line with other city essential workers, and in some cases above. He compared salaries and benefits with teachers, police, paramedics.
"I can tell you with confidence that our workers with their salaries, benefits, their pensions, and additional allowances fall squarely within and in some cases above their essential worker colleagues, and that is on their current contract," he said.
Coupland said they began negotiations in the fall, with the bargaining agreement ending on Dec. 1, progressing on what he considered a normal pace and process. He said that he knew that if the process did not work, especially right before the holiday, that it would hurt its workers and wreak havoc on the city.
"We were very surprised on Dec. 17 when the union directed our employees to strike because it was relatively early in the economic conversation," he said. "It was actually well before we got a bottom line offer."
Coupland said it has been extremely difficult to find that middle ground with local workers, and that the original line from the union was "so far out of the market" and put Republic in a difficult place.
Mayor Mary Casillas Salas responded by saying that when Coupland said that local leadership and staff were onboard with its proposals, no one checked with her that the council agreed with their actions. She also said that the Blue Crews, coming in from out of state to collect trash are not volunteers and are paid well with extra benefits to come in and work in Chula Vista during the strike. "I am sure that they are getting paid much better than our current sanitation workers," she said.
Casillas Salas said it "breaks my heart" being at this point with Republic, residents, the Council and that people are rightfully upset, and that the strike must end immediately.
"When I had my meeting with Republic, it was represented to me that the ask of the Teamsters was astronomical and out of reason I wondered how that could be," she said. "It really amazed me that I learned over a five year contract, that over five years, there is less than a $5 difference in the ask. To me that did not seem unreasonable that the initial request from the Teamsters was $2 per hour and Republic was offering $1.90. That is a ten cents difference. For a multi-billion corporation whose profits have increased over 24% over the last year…Then in year two, year three, year four, the Teamsters are asking for a dollar an hour and you are coming back with 50 cents. In year five you are rounding up to $1.50…I think a multi-billion dollar corporation that has had that surge in their earnings over the past year is compensating their executives with multi-million dollar a year contracts, compensating the board of directors $100,000 a year for six meetings, plus stock options. I think what the Teamsters are asking for is not a whole hell of a lot."
Salas said the city must honor its contract with Republic and that it is a prolonged process to fire and replace an ongoing contract which ends in 2024. She said in comparing the City's contract with the County's contract, that the city has strong disadvantages relative to the county contract which has "a lot more teeth in it."
Salas said through the contract though, they could insist that Republic fulfill its contract to protect the health and safety of the city, something it is not doing now. She said what Republic is doing now is not enough. She said people coming in from the Blue Crew do not know the area.
"Our trash workers know our city. They know how to keep it clean. They provide excellent service to our community, and that is why I see the court of public opinion is not very favorable to Republic, and they are siding with the workers," she said.
Salas said that this is not the first ask from the Teamsters, but the current ask is reasonable and that the strike must end with a fair contract.
"For not the labor of the sanitation workers, your multi-billion corporation would not be worth a dime," she said. "We need services immediately and customers should get compensated for services not being provided by them."
Salas requested the city manager to report back the feasibility of issuing a Request for Proposal at the end of this contract, select a provider for trash collection purposes, and within that proposal bring in the costs that it would take to bring those services in-house and if the city would have the capability of doing that.
"This lack of trash collection is a first for our city and it must be the last," she said. "In addition, we are meeting in closed session to ask the city attorney to consider any and all legal options that the city has to ensure that full trash collection is restored as soon as possible."
Council member Steve Padilla said the relationship between the city and Republic has been a bilateral mutual give and take relationship and does not understand what has changed on Republic's end.
"The trash is piling up in Chula Vista and the obligations under the contract are not being met," he said. "That is not acceptable under any circumstances."
Padilla confirmed with Coupland that Republic is the second largest waste collection company in the country, its receipts in the last reportable period were over $10 billion. Padilla added that the net profit in that period was over $1.2 billion, its CEO salary is more than $10 million annually, in the last reporting cycle it engaged in $135 million in stock buybacks, and that the board of directors received a restricted stock award valued at over $230,000 each on Jan. 5.
"I would not be too boastful about employees making $80,000 which includes their benefits above their salary, because given our housing market today, even if that were their base salary, they could barely afford to have a home in this region," he said. "What disturbs me with some of the workers is that you are arguing over pennies on the dollar, who struggle every day to fulfill a critical service in the middle of a pandemic in the working class communities are suffering. And you are dickering the table over these pennies over a dollar and how does that concern the city? Your obligations under the contract are not being fulfilled. It is not the worker's fault that the trash is piling up in Chula Vista. It is because you cannot get a fair agreement with your workers and value them in a sustainable way…If I were you, I would be looking at the next 10 years of this relationship. I'd be thinking about the next six months of this relationship…This has to end, and it has to end now."
Council member Jill Galvez said the essential workers in Chula Vista are in full support of Teamsters 542 and that grouping them together as far as salaries was a ridiculous concept. She pointed out that sanitation workers work six days work weeks. Galvez said the emails, photos and texts from constituents to her about trash in the city has escalated to unprecedented levels.
"I call on our city manager to declare a public health state of emergency and invoke the Self-Help option in our contract with Republic Waste," she said. "What that means is that I would like to see, beginning tomorrow, when we see these reports of trash, our city staff hires outside contractors to get that filth and waste out of our apartments and multi-family complexes, out of developments and industrial parks, retail establishments in our city. This is absolutely unacceptable. Our trash is risking going into our storm drains which makes our city at risk in violating the Clean Water Act, we are beginning to see a vector issue with rats and vermin."