WHY ARE YOU RUNNING FOR SCHOOL BOARD?
I am running for the office for Sweetwater-Trustee Area 3 because I know that I can make a difference to the youth of the community. My professional and personal experiences provide me with a unique understanding of the workings of a school district. I am currently in my 35th year of teaching and have been elected to leadership roles to represent my colleagues at the local, state, and national levels. These roles have allowed me the opportunity to collaborate with colleagues, school administrators and district administrators while advocating for students and their families. I will bring knowledge to the office that no other candidate will have and be able to provide a unique perspective for decisions to be made.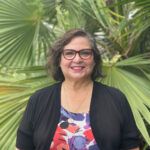 WHAT ARE YOUR TOP THREE PRIORITIES IF ELECTED?
I believe that schools have the important role of shaping our future, but they must have the right tools for the task. I want all students to have access to a high-quality education so that they progress academically and grow socially by ensuring equitable access to educational programs and opportunities and assure that district directives are aligned to address the students' needs so that they will be prepared to meet the needs of the future. To assure that ALL students have access to a high-quality education I will work towards:
Establishing and maintaining a safe and stable learning environment for students and work environment for district employees
The retention and recruitment of highly qualified employees: teachers, school administrators, and support staff
Most importantly, accountability and transparency for district stakeholders, ensuring that funding is allocated properly so that diverse student populations receive a quality education that prepares them to be active participants of the global society.
WITH STUDIES SHOWING STUDENTS ARE BEHIND DUE TO THE COVID-19 PANDEMIC, WHAT WOULD YOU DO ON THE POLICY LEVEL IN ENSURING STUDENTS BEHIND ARE ABLE TO CATCH UP?
Some students are considered behind due to the COVID-19 pandemic because they missed instruction. These students developed skills that are not measured to show academic achievement but are necessary for adulthood. Students are resilient and have shown to overcome many adversities. The district has put in place accelerating learning and tutoring programs to meet the students at their academic levels and addressing social emotional needs to work towards closing the academic gap caused by the pandemic. If elected, I would be a proponent in keeping these programs with highly qualified educators to continue to support students.
ARE YOU A PROPONENT OF ARMED TEACHERS IN CLASSROOMS AS A WAY OF ADDRESSING SCHOOL SAFETY FOR STUDENTS, PARENTS, AND STAFF?
I am not a proponent of arming teachers in classrooms. Teachers should be armed with the necessary tools, programs, and support staff to do what they do best-teach. Schools need to be fully funded to provide these critical components, so all students have a high-quality education.
HOW CAN THE DISTRICT SUPPORT HOMELESS STUDENTS?
The district can continue to support homeless students by providing services that are comparable to what is offered to other students in the school. In addition, provide the resources necessary or supplemental services to meet the unique needs of homeless students. The services needed by homeless students will be more accessible to them and others when schools continue to develop and grow into Community Schools.
UNDER WHAT CIRCUMSTANCES IS IT APPROPRIATE TO BAN BOOKS FROM SCHOOL CLASSROOMS AND LIBRARIES?
Books are tools for instruction. They are used to teach students about all types of topics from different perspectives, giving students the opportunity to learn, analyze and critically think to form opinions on the topics while broadening their views of the world. The removal of books takes away students' educational opportunities needed to prepare them for our global society. Schools are places of learning and should not be a place for politics or personal agendas.
WHAT PAST BOARD EFFORTS WOULD YOU AMPLIFY OR GROW, AND ARE THERE ANY WHICH YOU WOULD PHASE OUT?
Board efforts that I would amplify, or grow are the development of Community Schools and Launch Virtual Academy. Both of these initiatives provide students, their families, and community with resources. The virtual academy is a flexible learning space that gives students another alternative to the traditional school experience. The growth and development of Community Schools in the district's schools will form a partnership with different organizations that can provide needed services and resources to students, their families, and staff that the school district cannot provide. I cannot make a decision on what board effort to phase out without having all the details and information on the effort. My decision must be representative of the community I would serve and based on evidence. Decisions should be data driven, objective, and beneficial to students.
DO YOU SEE ANY INEQUITIES IN YOUR DISTRICT WITH STUDENTS UNABLE TO HAVE EQUIPMENT, AP CLASSES AND OTHER PROGRAMS THAN OTHER PARTS OF THE DISTRICT? HOW WOULD YOU ADDRESS THESE INEQUITIES?
It is unfortunate, but there will be some inequalities among schools. These inequalities are unintentional. One of the reasons is staffing at sites. That is why one of my priorities is the retention and recruitment of highly qualified employees: teachers, school administrators, and support staff. Programs cannot be in place and be effective if there is not the qualified staff to implement them. In addition, to have accountability and transparency of funding so that it is allocated properly to address these inequalities.
EARLIER THIS YEAR, STUDENTS AT CASTLE PARK HIGH SCHOOL TOOK TO SOCIAL MEDIA TO SHOW THE POOR CONDITIONS OF THE SCHOOL. WHAT WOULD YOU DO TO AVOID SUCH CONDITIONS?
Students will be successful when the learning environment for students is safe and stable. It is important to establish and maintain these learning spaces and work environments for district employees for their safety and success. It is a shame that staff and students are expected to perform in such deplorable conditions. I am hopeful that change will occur sooner rather than later. To avoid such conditions there should be better accountability with maintenance of Castle Park High School and all schools of the district. Again, looking at how funding is allocated to assure maintenance is completed on all sites.