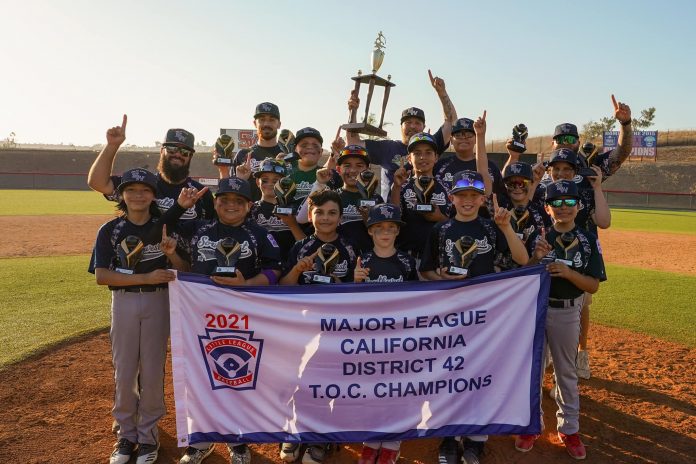 California District 42 Little League has put an exciting conclusion to its Tournament of Champions games and all-star games are now underway.
"We're back to postseason competition, and things are already heating up," district administrator Ernie Lucero said.
Community involvement, of course, remains at the top of the list for the district.
"We've always had the support of the Chula Vista Police Officers Association in our previous years," Lucero explained. "Last year, due to the pandemic, we weren't able to have them out to our games for ceremonial first pitches. But this year, we were able to have them out at our pre-game ceremony at the Park View Little League fields. They also presented District 42 with a check as part of their community support program.
"We thank officer Hugo Cardenas for being part of the pre-game ceremonies and for the gracious donation by the CVPOA. We also thank Steve Eicher, game announcer and liaison with our different community service organizations, for his work with the CVPOA."
This year's all-star divisions include five age-groups: 10U, 11U, 12U, Junior and Senior.
Championship games are scheduled Saturday at Park View Little League, with double-elimination games, if necessary, scheduled for Sunday.
The 10U Division championship game between Park View and Eastlake is scheduled at 11 a.m., followed by the 11U Division championship game between Park View and Eastlake at 2 p.m. and the 12U Division championship game between Eastlake and Sweetater Valley at 5 p.m.
Game action on Wednesday helped set up part of this weekend's championship schedule.
Park View Little League advanced to the 10U Division championship game by defeating Eastlake Little League 9-2. Eastlake dropped to Thursday's elimination semifinal game against Chula Vista American Little League, which eliminated Sweetwater Valley Little League 8-0.
Meanwhile, Eastlake advanced to Saturday's 11U Division championship game against Park View by defeating Sweetwater Valley 8-2.
Eastlake won Thursday's 10U semifinal game 11-1 to advance.
Chula Vista American and Sweetwater Valley dueled in Thursday's 12U semifinal game, with Sweetwater Valley winning, 4-2, to advance to meet Eastlake in Saturday's championship game.
Park View and Southwest paired up in Thursday's Junior Division championship game, with Park View winning, 4-2, to capture the district title.
Sweetwater Valley represented District 42 in the Senior Division Section 7 championship game, finishing runner-up to District 66 champion Lemon Grove by a score of 5-4.
All-Star schedules are posted on the district's Facebook page, and on the district website at https://tshq.bluesombrero.com/cad42.
Tournament of Champions
6U division:  Eastlake 13, Chula Vista American 11
8U division:  Eastlake 4, Chula Vista American 2
9U division:  Chula Vista American 4, Eastlake 1
Minor division:  Sweetwater Valley 12, Eastlake 1
Major division:  Southwest 11, Eastlake 9
This year's District 42 Tournament of Champions began June 19 with games played at Southwest, South Bay and Sweetwater Valley Little Leagues.
Lucero called it a landmark event for the district as a whole.
"This is such a milestone considering that a year ago all youth sports programs were at a halt due to the pandemic," Lucero said. "Little League International for the first time, had to cancel all tournaments and competitions that would have ultimately led to the Little League World Series. Months earlier, Little League had issued temporary suspensions of spring season 2020 play, that eventually turned into full suspensions due to safety concerns.
"Fast forward a year later, eight of our nine District 42 little leagues returned to play for the 2021 spring season. It took a lot of coordination and work from the presidents of our leagues and their board of directors to recruit players, coaches and return to the fields in a safe manner but still being mindful of any state or local restrictions with regards to COVID-19. In addition to beginning the season with reduced revenues and lesser players, these managers managed to keep their parents informed, keep the players safe, and most importantly, give their players a chance to play ball again."
Lucero issued kudos to the following:
Sweetwater Valley Little League: League president Arturo Maldonado and his board developed safety and reopening plans that allowed SVLL to establish practice teams during the pandemic. Their safety plans became a model for other District 42 leagues to follow for establishing practice teams. They continued with enhanced safety plans that allowed them to sign up players for the spring season. Even with reduced numbers, Maldonado and his board provided the players with a great experience.
"A special thanks to Arturo for applying his business acumen to the leagu," Lucero said.
Park View Little League: President Johnny Fuentes and his board worked with the City of Chula Vista to ensure his facilities would meet local safety protocols for reopening. His PVLL board actively solicited sponsors for the spring season as well as engaged in recruiting players for both practice league and spring ball. Their efforts resulted in a smooth reopening of the regular season, new sponsorships for PVLL, and fun for the returning players.
"Johnny is a natural consensus builder who brings and elicit positive energy to his board meetings," Lucero said.
Chula Vista American Little League: President Martin Gutierrez had an uphill battle with regard to regaining access to the CVALL fields. Their baseball fields are on Hilltop Middle School grounds and the school had not yet been cleared for reopening due to the pandemic. Once the school district board gave the league permission to get access to the fields, Gutierrez and his board spent many hours getting the fields ready for reopening and registration. He was successful in getting the grounds ready for play, and even found time to assist PVLL in getting their tee-ball fields upgraded for opening.
"Martin's dedication and passion to little league are demonstrated with his countless volunteer hours to improve his league and others in District 42," Lucero said.
Southwest Little League: President Robert Lewis also faced some delays in getting access to his fields. Their fields are part of the County of San Diego Department of Parks and Recreation and during the pandemic, access was extremely limited. When access was finally given, Lewsi and his board went to work to get the grounds ready and getting players signed up. Imperial Beach Little League was not playing this season at their fields due to safety concerns, so Lewis took in their players for an expanded league. He worked on bringing back the little league experience for two leagues in Dist 42.
"Robert wears many hats at Southwest Little League and gets the job done.," Lucero said.
Luckie Waller Little League: President Richard "Cinco" Inzunza also faced problems getting access to the Luckie Waller Little League fields, which are on City of San Diego Parks and Recreation property. While he had the practice league set up previously, reopening required coordination of his plans with the city. Once granted, he actively worked on getting players signed up, coaches in place, and safety protocols implemented. Besides being league president, Inzunza also spends time as an umpire within his league. He can usually be found at several games during the week and weekend.
"With the passing of beloved Lickie Waller Little League and District 42 umpire Sam Aleman, Cinco was the glue that held the community together during this difficult time," Lucero said.
Chula Vista National Little League: President Edgar Lim had challenges even before the pandemic hit. His fields are located on Harborside Elementary School and school district plans called for shrinking the fields and growing the parking lot. Coupled with declining registration numbers, Lim and his board faced the huge task of recruiting players for the upcoming season. Despite lower registration numbers than previous years, Lim managed to reopen for the spring season  and brought the little experience back for the youth in his area.
"Edgar's dedication to Chula Vista National is greatly appreciated," Lucero said.
South Bay Little League: Steve and Alicia Alanis and Lilia and David Walters are amazing volunteers, according to Lucero. They each run two Little League programs and coordinate with each other for the sole purpose of giving kids in the community a chance to play the game of baseball.
"Lilia and David have run the Challenger Division for over 10 years," Lucero said. "The Challenger Division is for individuals with physical and developmental challenges. Steve and Alicia are highly respected individuals who volunteer their time organizing their league, making sure that South Bay Little League remains in their own facility for years to come."
Lucero noted there are countless stories from all each of the district's leagues as well as major efforts accomplished by their board of directors and league volunteers to make the 2021 spring season a success despite the restrictions in place.
"We are grateful for everyone who has contributed to the reopening of little league and are looking forward to post-season tournament play with our TOC and All-Star games," Lucero said.
PHOTOS BY JON BIGORNIA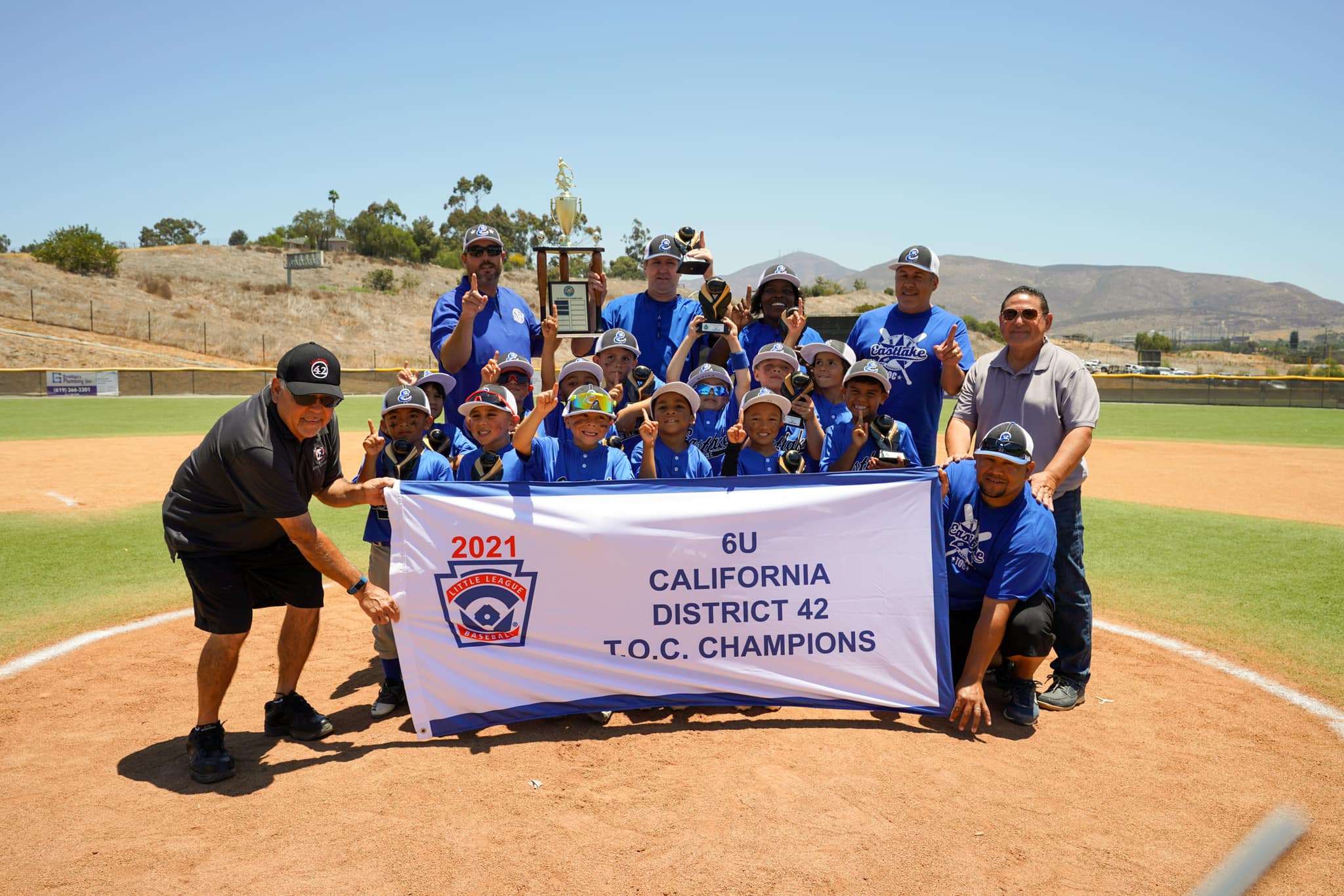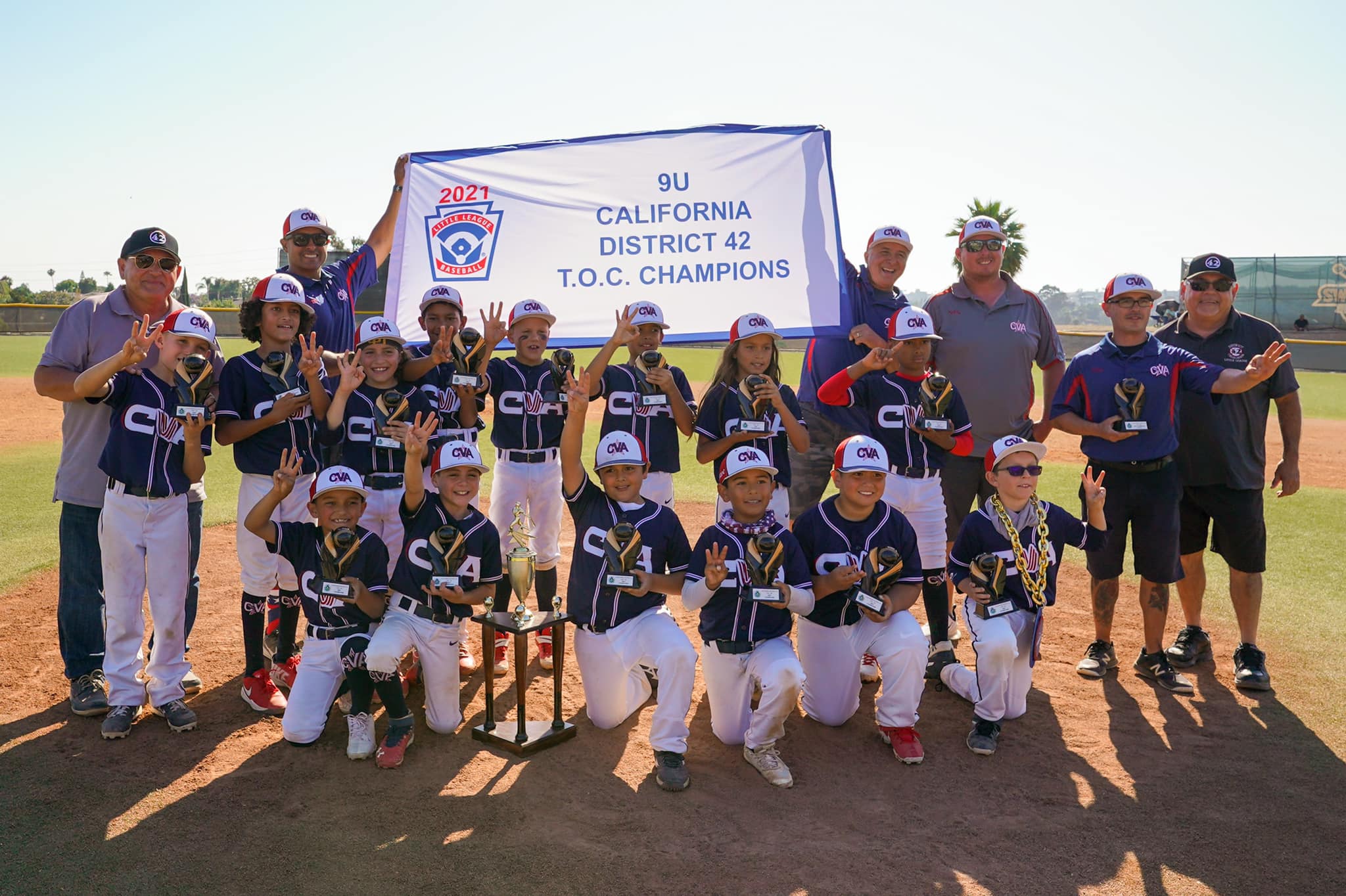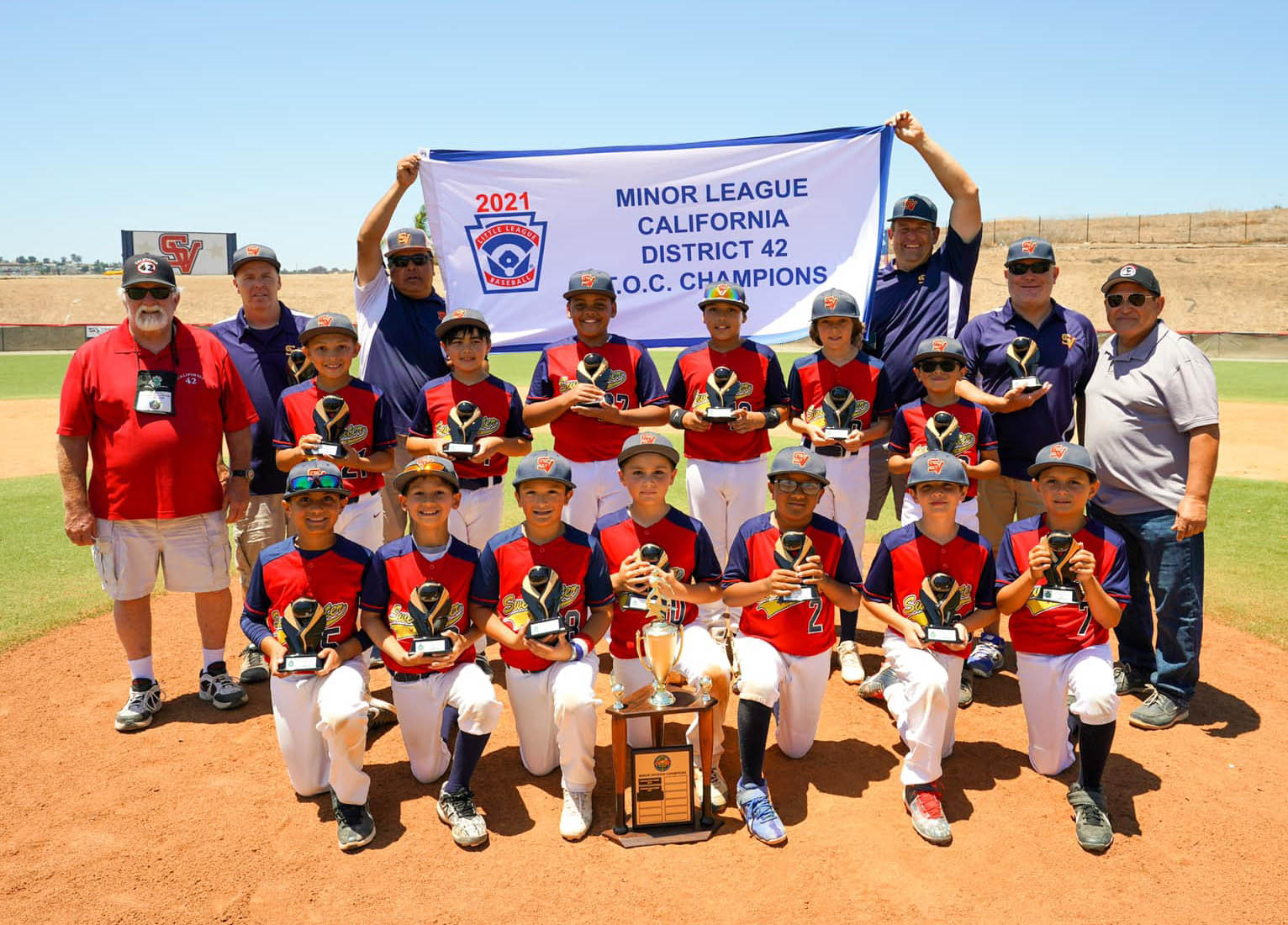 TOURNAMENT OF CHAMPIONS SCOREBOARD
6U Division
June 19
Chula Vista American 6, South Bay 5
Luckie Waller 3, Sweetwater Valley 0
Eastlake 6, Southwest 5
June 21
Park View 4, Sweetwater Valley 3
Eastlake 11, South Bay 1
June 22
Southwest 13, Luckie Waller 3
Chula Vista American 10, Park View 7
Standings: Eastlake 2-0, Chula Vista American 2-0, Southwest 1-1, Park View 1-1, Luckie Waller 1-1, Sweetwater Valley 0-1, South Bay 0-2
Semifinals: June 24
Chula Vista American 11, Southwest 9
Eastlake 8, Park View 6
Championship: June 26
Eastlake 13, Chula Vista American 11
8U Division
June 19
Sweetwater Valley 11, Southwest 1
Chula Vista American 10, South Bay 0
Park View 15, Luckie Waller 3
June 21
Eastlke 5, Chula Vista American 1
Southwest 5, Luckie Waller 4
June 22
Park View 13, South Bay 9
Eastlake 5, Sweetwater Valley 2
Standings: Eastlake 2-0, Park View 2-0, Chula Vista American 1-1, Sweeywater Valley 1-1, Southwest 1-1, Luckie Waller 0-2, South Bay 0-2
Semifinals: June 24
Eastlake 3, Sweetwater Valley 0
Chula Vista American 10, Park View 2
Championship: June 26
Eastlake 4, Chula Vista American 2
9U Division
June 19
Park View 13, Southwest 2
Sweetwater Valley 2, Eastlake 1
June 21
Chula Vista American 13, Sweetwater Valley 1
Eastlake 8, Park View 0
June 22
Chula Vista American 17, Southwest 0
Standings: Chula Vista American 2-0, Sweetwater Valley 1-1, Eastlake 1-1, Park View 1-1, Southwest 0-2
Semifinals: June 24
Chula Vista American 11, Park View 1
Eastlake 8, Sweetwater Valley 3
Championship: June 26
Chula Vista American 4, Eastlake 1
Minor Division
June 19
Sweetwater Valley 10, Luckie Waller 0
Park View 17, South Bay 2
Eastlake 7, Chula Vista American 6
Southwest 4, Chula Vista National 2
June 21
Sweetwater Valley 15, South Bay 0
Chula Vista American 8, Luckie Waller 2
June 22
Southwest 4, Park View 3
Eastlake 19, Chula Vista National 11
Standings: Sweetwater Valley 2-0, Southwest 2-0, Eastlake 2-0, Park View 1-1, Chula Vista American 1-1, Luckie Waller 0-2, Chula Vista National 0-2, South Bay 0-2
Semifinals: June 24
Eastlake 11, Southwest 7
Sweetwater Valley 9, Park View 8
Championship: June 26
Sweetwater Valley 12, Eastlake 1
Major Division
June 19
South Bay 15, Luckie Waller 3
Park View 13, Sweetwater Valley 8
Southwest 11, Chula Vista American 0
June 21
Eastlake 12, Park View 7
Southwest 13, Luckie Waller 2
June 22
Sweetwater Valley 11, Chula Vista American 1
Eastlake 4, South Bay 3
Semifinals: June 24
Southwest 9, Park View 8
Eastlake 12, South Bay 1
Championship: June 26
Southwest 11, Eastlake 9