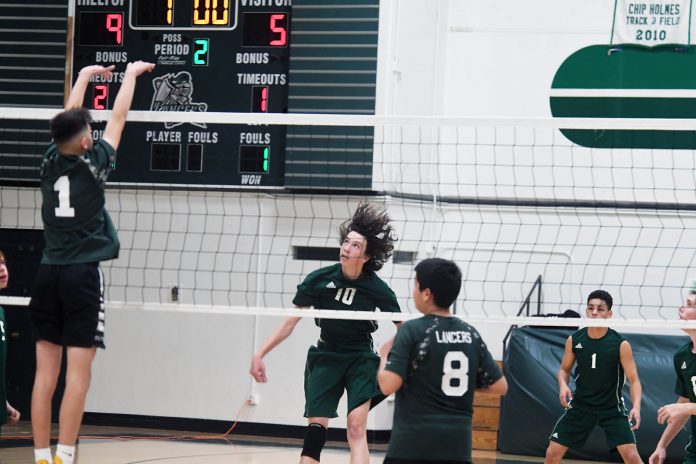 The 2020 boys volleyball season was showing promise for several local high school teams before the spring schedule was paused due to the COVID-19 (coronavirus) pandemic.
The defending South Bay League champion Sweetwater Red Devils were off to a strong 8-1 start in non-league play while the Otay Ranch Mustangs, last year's Mesa League runner-up team, had cobbled together a 6-2 start.
Other teams posting winning records in non-league play to start the season included Bonita Vista (8-4), Olympian (4-2), San Ysidro (4-2), Eastlake (3-2) Castle Park (4-3) and Hilltop (5-4).
Chula Vista was 5-5.
Otay Ranch and Sweetwater won their opening four games in the 51-team Sweetwater Prime Sports Invitational Feb. 28-29.
Otay Ranch defeated El Capitan, Mar Vista and Serra in pool play, topped Fallbrook in the opening round of the playoffs, then exited the tournament with a loss to eventual Gold Bracket champion Bishop's in the quarterfinals.
The Mustangs subsequently defeated Coronado and O'Farrell Charter in non-tournament games before the season was prematurely shut down due to the coronavirus pandemic.
Of interest, Bishop's defeated Coronado to win the Gold Bracket playoff division at the Sweetwater tournament.
The Mustangs strung together a rather impressive 30-9-2 record last year in reaching the Division I semifinals.
They looked to be putting together another solid season this spring.
Junior Joseph Firebaugh topped Otay Ranch with 61 kills in 21 sets, followed by senior Zachary Solomon with 36 kills in 17 sets and junior Francisco Cabrera with 32 kills in 20 sets.
Firebaugh led the Mustangs with 11 aces while Cabrera led the team with 26 blocks.
Senior Andres Bringas paced Otay Ranch with 101 digs while senior Logan Foreman topped the team with 180 assists.
Sweetwater finished 3-0 in pool play with wins over Liberty Charter, Hilltop and El Cajon Valley before topping Olympian in the opening round of the Gold Bracket playoffs. The Red Devils lost to University City in the quarterfinals.
Season leaders included seniors Jose Raul Pina Garcia (28 kills, 35 digs), Brandon Robles (22 kills, 10 blocks), junior Christian Corrales (39 digs) and senior Kristopher Aguilo (63 assists).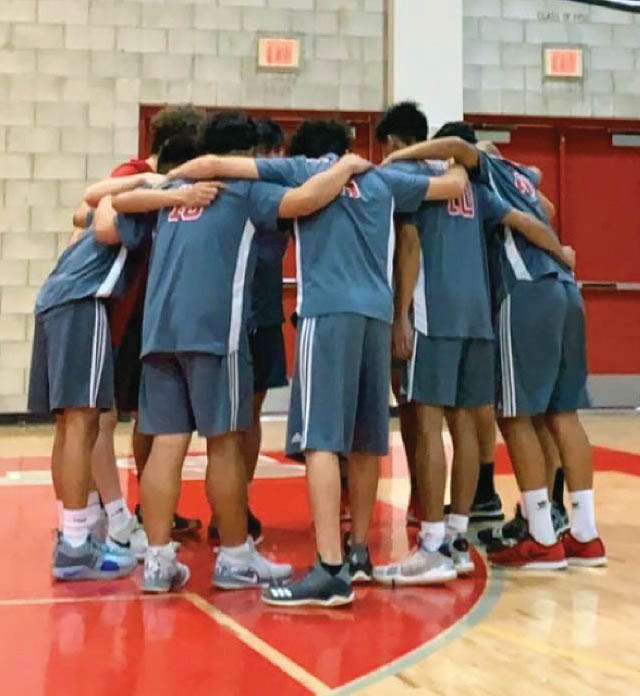 At the time of the schedule pause, the Red Devils had the best record among Division III teams.
"It is unfortunate that the athletes will have to miss out on the season," Sweetwater coach Erik Hernandez said. "Many teams were on different levels but all were seeking the same goal: get a team together, have a common goal, put in hours of practice, get better and then make an attempt to win league, make playoffs, win CIF, win state.
"Some have had some of these goals for three or four years. Some have poured their soul into making this their season. I know many coaches, directors and especially the kids, didn't want to end their season three weeks into action but the health of all is very important.
"Months of development — a year for those who don't do club — will be lost but hopefully it can be used as motivation for the underclassmen to come back next year and work hard to catch up."
Best of the rest
Bonita Vista finished 2-1 in pool play at the Sweetwater tourney, defeating Kearny and Southwest while coming up short against Coronado. The Barons found renewed life in the Silver Bracket playoffs by defeating Serra and Del Lago Academy to reach the semifinals.
El Camino ended Bonita Vista's championship aspirations, however, with a 2-0 sweep.
The Barons rebounded with non-tournament wins over San Diego, Santa Fe Christian and Mar Vista while pulling into the spring pause with losses to San Diego Academy and Castle Park.
Hilltop finished 3-2 in the Sweetwater tournament while tacking on non-tournament wins over Mater Deri Catholic and Southwest.
Castle Park finished 1-3 at the Sweetwater tournament but scored some prestige points with an ensuing 3-1 non-tournament win at Bonita Vista on March 11.
Senior Mario Loaiza led the Trojans with 33 kills in 13 sets while senior Ismael Soto had accumulated 20 kills.
Seniors Erick Rangel and Saulo Salmeron led Castle Park with nine aces while Rangel topped the team with 11 blocks.
Senior Joaquin Murrieta led the Trojans with 47 digs.
Eastlake, last year's Mesa League champion, started this season with non-league wins over St. Augustine, Mt. Carmel and San Dieguito Academy and losses to Westview and Poway while playing a challenging preseason schedule.
The Titans (21-7 overall, 10-0 in league in 2019) represented the Metro Conference in last year's Open Division playoffs, battling through three rounds before being eliminated.
Hernandez had a parting comment for the student-athletes. They have become words for our time:
"Stay safe, keep your family safe, keep your friends safe, always reach out to a coach or adult if times are difficult … We are here for you."
Out of bounds
Southwest advanced to the Silver Bracket final with playoff wins over San Diego and Christian but lost in a narrow two-game sweep to Escondido in the championship game.
Metro Conference
Boys Volleyball Standings
(Non-League Records)
Mesa League
Otay Ranch 6-2
Bonita Vista 8-4
Olympian 4-2
Eastlake 3-2
Hilltop 5-4
Montgomery 3-8
South Bay League
Sweetwater 8-1
San Ysidro 4-2
Castle Park  4-3
Chula Vista 5-5
Southwest 4-5
Mar Vista  2-4
Mater Dei Catholic  1-4
SWEETWATER PRIME SPORTS INVITATIONAL
Pool Round Standings
Pool 1: Sweetwater 3-0, Hilltop 2-1, El Cajon Valley 1-2, Liberty Charter 0-3
Pool 2: University City 3-0, Chula Vista 2-1, Granite Hills 1-2, Oceanside 0-3
Pool 3: Grossmont 3-0, Fallbrook 2-1, Del Lago Academy 1-2, High Tech High Chula Vista 0-3
Pool 4: Coronado 3-0, Bonita Vista 2-1, Southwest 1-2, Kearny 0-3
Pool 5: Olympian 3-0, Point Loma 2-1, Mira Mesa 1-2, Gompers Prep 0-3
Pool 6: Pacific Ridge 3-0, Mater Dei Catholic 2-1, Valley Center 1-2, Christian 0-3
Pool 7: Classical Academy 3-0, El Camino 2-1, O'Farrell Charter 1-2, San Diego 0-3
Pool 8: Poway 2-0, Mission Vista 1-1, Hoover 0-2
Pool 9: Elsinore 3-0, Morse 2-1, Castle Park 1-2, Montgomery 0-3
Pool 10: Bishop's 3-0, Mission Bay 2-1, Escondido 1-2, Escondido Charter 0-3
Pool 11: Canyon Crest Academy 3-0, Madison 2-1, Santa Fe Christian 1-2, Monte Vista 0-3
Pool 12: Patrick Henry 3-0, San Pasqual 2-1, West Hills 1-2, San Ysidro 0-3
Pool 13: Otay Ranch 3-0, Serra 2-1, Mar Vista 1-2, El Capitan 0-3
Gold Bracket Playoffs
First round
Sweetwater def. Olympian 25-21, 25-19
Coronado def. Grossmont 19-25, 25-19, 15-13
Canyon Crest Academy def. Patrick Henry 25-12, 25-22
Bishop's def. Pacific Ridge 25-18, 25-16
Otay Ranch def. Fallbrook 25-16, 25-10
Classical Academy def. Point Loma 25-10, 21-25, 15-5
University City def. Mater Dei Catholic 25-16, 25-14
Poway def. Elsinore 22-25, 25-21, 15-13
Quarterfinals
University City def. Sweetwater 25-20, 25-22
Bishop's def. Otay Ranch 25-21, 25-22
Coronado def. Classical Academy 25-22, 25-17
Canyon Crest Academy def. Poway 19-25, 25-17, 15-11
Semifinals
Coronado def. University City 25-17, 27-25
Bishop's def. Canyon Crest Academy 25-21, 17-25, 15-5
Championship
Bishop's def. Coronado 25-19, 25-21
Consolation games
Grossmont def. Mater Dei Catholic 25-17, 25-19
Olympian def. Point Loma 25-19, 25-21
Elsinore def. Patrick Henry 25-21, 21-25, 15-11
Pacific Ridge def. Fallbrook 22-25, 25-12, 15-4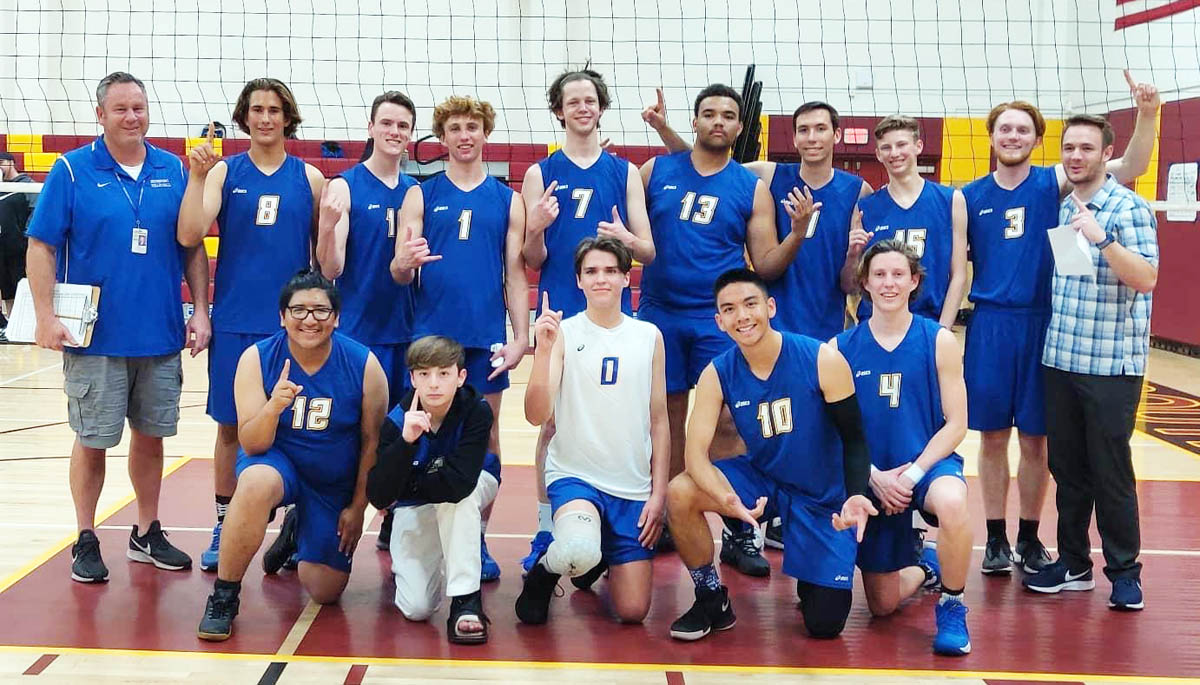 Silver Bracket Playoffs
First round
Santa Fe Christian def. Mission Vista 25-18. 28-26
El Camino def. Mission Bay 25-17, 25-18
Del Lago Academy def. Hilltop 25-17, 25-13
Bonita Vista def. Serra 25-14, 25-12
Morse def. Hoover 25-13, 25-19
San Pasqual def. O'Farrell Charter 23-25, 25-22, 15-10
Madison def. Mira Mesa 27-25, 25-22
El Cajon Valley def. Chula Vista 25-21, 25-19
Quarterfinals
El Camino def. Santa Fe Christian 25-14, 25-13
Bonita Vista def. Del Lago Academy 25-21, 25-18
Morse def. San Pasqual 25-22, 25-27, 15-11
Madison def. El Cajon Valley 25-19, 25-15
Semifinals
El Camino def. Bonita Vista 25-16, 25-19
Madison def. Morse 19-25, 25-21, 15-11
Championship
El Camino def. Madison 25-8, 25-10
Consolation round
Mission Bay def. Mission Vista 25-22, 25-23
Hilltop def. Serra 25-23, 20-25, 15-8
Hoover def. O'Farrell Charter 25-23, 25-14
Mira Mesa def. Chula Vista 25-20, 23-25, 15-9
Hoover def. Mission Vista 25-20, 25-19
Bronze Bracket Playoffs
Quarterfinals
Granite Hills def. High Tech High Chula Vista 25-15, 25-20
Escondido def. Valley Center 25-15, 15-18
Southwest def. San Diego 25-14, 25-14
Christian def. Mar Vista 25-23, 25-23
Semifinals
Escondido def. Granite Hills 25-9, 25-22
Southwest def. Christian 25-23, 25-20
Championship
Escondido def. Southwest 28-26, 25-21
Copper Bracket Playoffs
Pool 1 standings: Montgomery 2-0, Liberty Charter 1-1, Kearny 0-2
Pool 2 standings: Castle Park 1-1, West Hills 1-1, Escondido Charter 1-1
Championship: Castle Park def. Montgomery 25-17, 26-24
Ruby Bracket Playoffs
Round robin standings: El Capitan 4-0, San Ysidro 3-1, Monte Vista 2-2, Oceanside 1-3, Gompers Prep 0-4