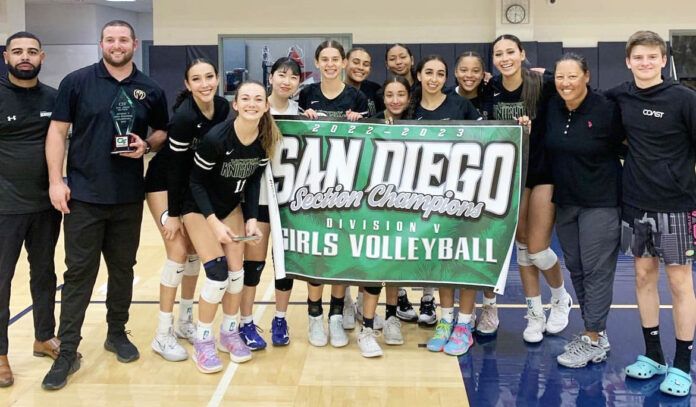 The San Diego Section girls volleyball championships took place across six divisions last weekend at three county sites.
Two South County teams were represented in the finals: Bonita Vista in Division II and Victory Christian Academy in Division V.
In a show of force, both top-seeded Bonita Vista (31-9) and top-seeded Victory Christian (31-7) claimed CIF championships.
For Bonita Vista, it was a race chance to capture back-to-back titles after winning last year's Division III banner.
"It was great to have the girls repeat," BVHS athletic director Tyler Arciaga said. "Coach (Ahmad) Rice and his staff have done a great job helping the girls reach their potential. The girls' hard work paid off and it's great to see everything come together for this great finale. The girls are looking forward to a great state playoffs."
Bonita Vista defeated third-seeded Granite Hills in five sets 25-18, 25-27, 21-25, 25-17, 15-10. The Lady Barone were on the brink of elimination before storming back.
Alina Inzunza paced BV with 23 kills while Jaiden Mojica served the final point.
Victory Christian Academy made short work of High Tech High Mesa with a three-set sweep 25-17, 25-9, 25-21.
Junior Kealoha Phillips (15 kills, nine digs) and senior Saren Rogers (13 kills, six serving aces) were the Lady Knights statistical leaders in the game
Junior Ayame Ebato collected seven aces and 11 digs while senior Miranda Kaack had 10 digs and 35 assists.
VCA coach Aaron Simmons said he caught the potential of this year's championship team when the seniors were sophomores.
"I started here three years ago and I know my sophomore class was special," Simmons explained. "I knew they could win CIF by their senior year. Last year we went to the semis and placed second in league.
"This year we were 10-0 in league. We're a big serve and pass team. If there's an opportunity to hit the ball, we'll put it away."
Rogers, Phillips, Sofia Velasco and Kaack have been instrumental in the championship journey, according to the VCA coach.
Rogers stands out as the kills leader in San Diego while Velasco is the serving aces leader in California. Phillips is contemplating beach volleyball at Long Beach State.
Kaack has logged more than 1,000 assists.
"I knew this year was going to be a special year," Simmons said. "I knew it would take three years with the sophomores we had. We found our identity as a volleyball program."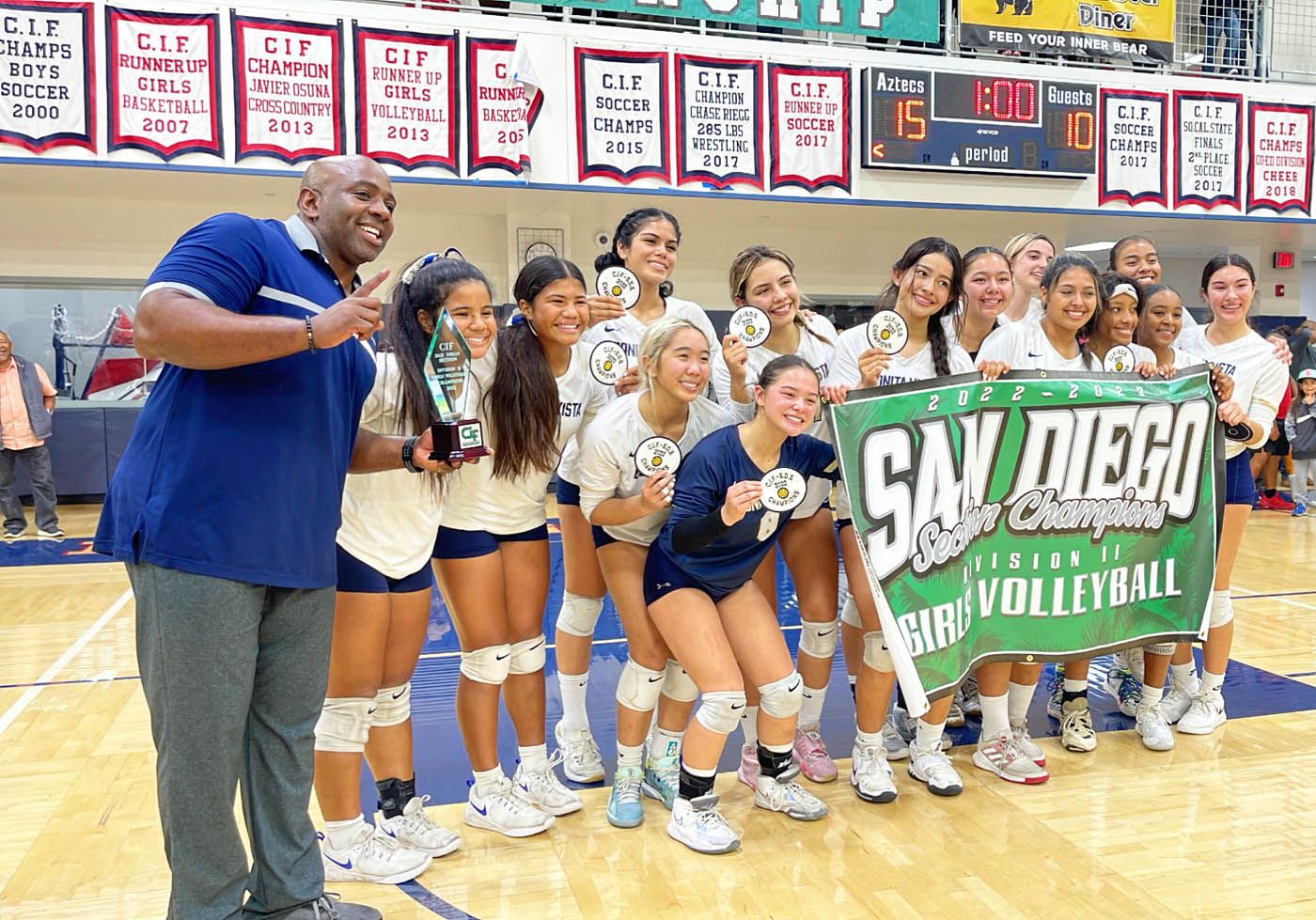 Road to the finals
Bonita Vista opened the playoffs with a 3-0 sweep of 16th-seeded Ramona, then defeated Mission Vista in four games in the quarterfinals before eliminating fifth-seeded Pacific Ridge in four games in the semifinals.
Granite Hills nearly proved to be the bracket-buster.
The Lady Eagles received the No. 3 seed and eliminated 14th-seeded Christian in the opening round on Oct. 26. The Lady Eagles won 23-25, 25-20, 26-24, 25-18, 15-6 in a five-set thriller. Granite Hills swept the final three games while on the brink of elimination.
The Lady Eagles extended their next opponent to five sets in dealing sixth-seeded San Dieguito Academy a 25-20, 25-22, 23-25, 23-25, 15-10 setback on Oct. 29.
Granite Hills eliminated second-seeded Point Loma with the same five sets strategy, winning 11-25, 20-15, 25-17, 25-21, 15-13 with a three-game surge at the end. Junior Delaney Fry led the visitors with 16 kills while recording 14 digs.
Senior Meghan Rea conttirbured 29 assists while senior Madison Bizjak had 29 digs. Sophomore Paisley Stednitz had five serving aces and 18 digs while senior Madilynn Vance with five blocks.
Last Saturday's championship game would be no different as the Lady Eagles engaged top-seeded Bonita Vista with the outcome decided in – you guessed it — five sets.
The Lady Barons won the first game 25-18 before Granite Hills rallied with a 27-25 win in the second game. The Lady Eagles took a 2-1 lead with a 25-21 victory in Game 3. Bonita Vista forced a deciding fifth game with a 25-17 win in Game 4 and won the CIF title with a 15-10 decision in the mini-game.
Fry finished as the team's kills leader while Stednitz paced the team in serving aces. Vance led the team in blocks, Bizjack in digs and Rea in assists.
"These girls fought hard all year as a group and overcame multiple different injuries and different lineups throughout the season," Granite Hills coach Armando Fry said. "There is absolutely no quit in these girls and I'm so proud of each and every one of them. I'm just glad to have been along for the ride this season and see these girls grow and develop as players. We had some absolutely outstanding performances in quite a few areas.
"Delaney Fry had a breakout year offensively amassing 433 kills while contributing 439 digs to the defensive effort.  Madison Bizjack was our defensive anchor compiling 646 digs. Madi Vance was a dominant blocker with 108 blocks and Meghan Rea was consistent at the setter spot adding 827 assists on the year. We also had first year starter Paisley Stednitz contribute 64 aces.
"It really was a team effort to get to where we ended up and I'm proud to have had the opportunity to coach such a talented group of young ladies."
Victory Christian Academy swept three of its four divisional opponents: 16th-seeded Bayfront Charter (3-0 in the first round), eighth-seeded El Cajon Valley (3-1 in the quarterfinals), fourth-seeded Mountain Empire (3-0 in the semifinals) and HTH Mesa (3-0 in the finals).
Net work
A total of 12 South County teams qualified for this year's section playoffs: Olympian (12th seed) in Division I, Bonita Vista (first seed) and Mater Dei Catholic (11th seed) in Division II, Chula Vista Learning Community Charter (fourth seed) and Montgomery (11th seed) in Division III, Mar Vista (ninth seed) and San Ysidro (14th seed) in Division IV and Victory Christian Academy (first seed), San Diego Academy (10th seed), Chula Vista (12th seed), Castle Park (15th seed) and Bayfront Charter (16th seed).
Castle Park and Bayfront Charter both won play-in matches to enter the main field with 3-0 sweeps over the Escondido Adventist and the School for Entrepreneurship and Technology, respectively.
Only Bonita Vista and Victory Christian Academy advanced past the first round.
Olympian (14-19) ended its season with a 3-0 loss to fifth-seeded Carlsbad while Mater Dei Catholic (14-16) ended its season with a 3-0 setback to sixth-seeded San Dieguito Academy.
CVLCC (18-5) was upset by 13th-seeded High Tech High San Diego in four games while Montgomery (16-13) was swept by sixth-seeded Canyon Hills.
Mar Vista (12-12) and San Ysidro (8-13) both were sidetracked in 3-0 sweeps by eighth-seeded St. Joseph Academy and third-seeded Central Union, respectively.
Victory Christian Academy swept Bayfront Charter (11-19) out of the playoffs while the second-seeded Monarch School did the same to Castle Park (10-9).