Umbrellas popped up on both sides of Southwestern College for last Friday's Metro Conference non-league match-up between the host Bonita Vista Barons and Hilltop Lancers. Rain dampened the early part of the game but it wasn't enough to dampen the spirits of the Barons, who picked up their first win of the season in three tries with a 24-6 victory.
"Being 0-2, we had our backs against the wall. ," Bonita Vista head coach Tyler Arciaga acknowledged. "Our kids responded well after a disappointing outcome at Sequoia High School (a 14-7 setback in Redwood City the previous week). We had some players step up and fill some holes in the lineup: Dante Herrero at running back and Isaiah Chappell and Remi Soler at wide receiver.
"Our defense did a nice job of bending and not breaking. They have only given up two touchdowns in the past two games (one of the scores against Sequoia was an interception return for a touchdown). Hilltop is a well-coached team and they will be a tough match in the South Bay League."
The Barons didn't waste any time in taking command after Herrero, a senior, broke around end for a 56-yard touchdown run after the the host team had jut reeled off a couple of opening plays.
Herrero carried the ball 16 times for 75 yards in the game.
Senior quarterback Juan Manuel Gomez completed 10 of 16 passes in the damp conditions for 158 yards and two touchdowns. Chappell, also a senior, caught a 24-yard scoring pass while Soler, yet another senior, caught a six-yard touchdown pass.
Senior Daniel Ugarte recorded six kicking points – three extra-point conversions and one field goal.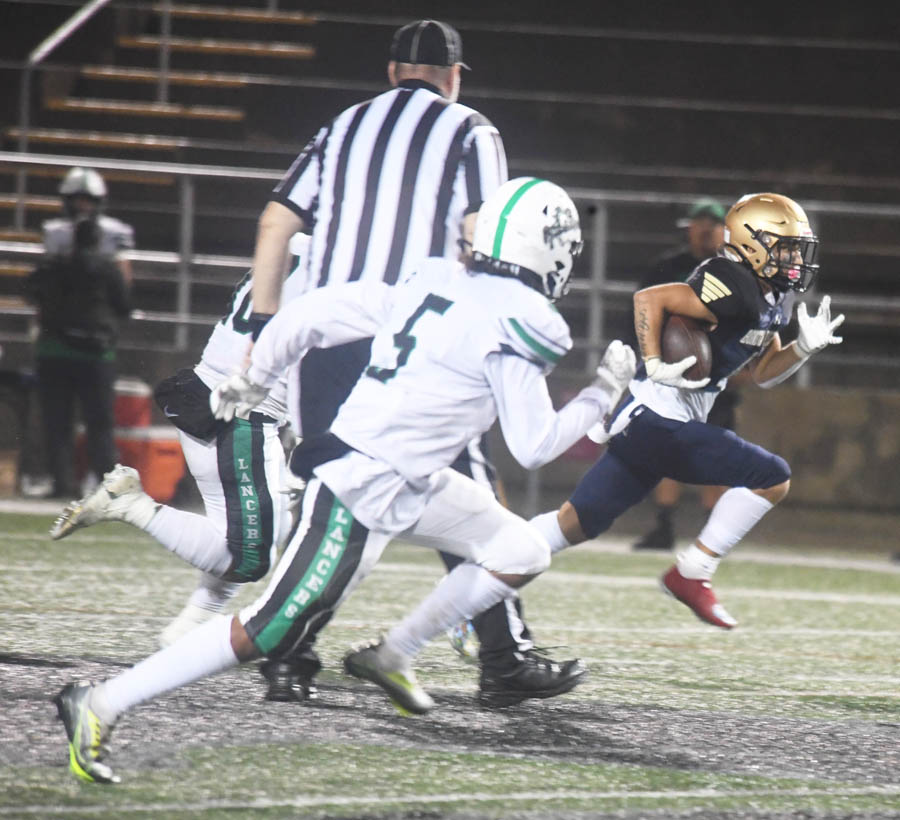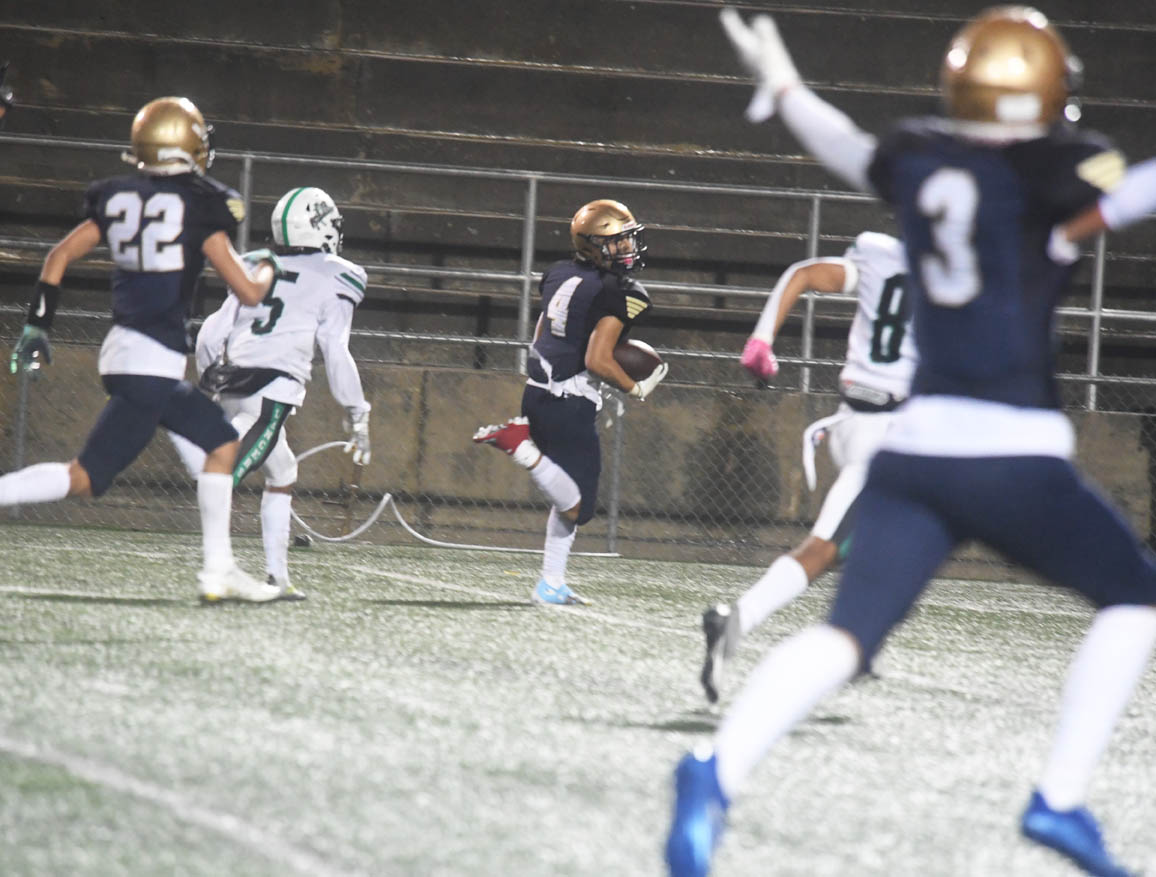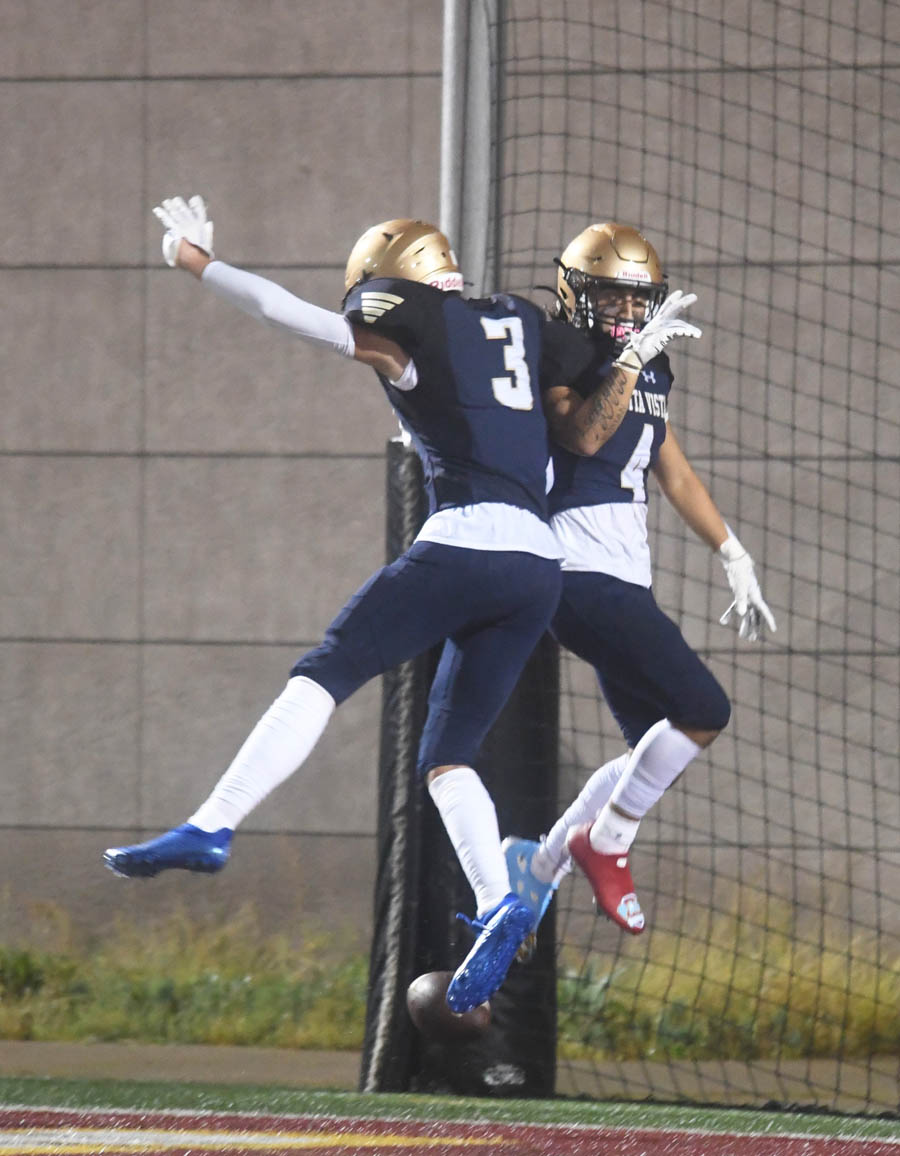 Bonita Vista out-gained the Lancers 280-219 in total offensive yards. The Barons collected 122 rushing yards while Hilltop racked up 212 rushing yards as the teams tipped the field in opposite directions.
Herrero also caught a 40-yard pass while senior Dante Scott, bound for Colorado State University, had five catches for 69 yards. Herrero led the hosts with 115 all-purpose yards.
Senior Jorge Garcia keyed Hilltop with 99 rushing yards but was 0-for-9 in the passing department behind center. Junior Isaac Nones opened the game at quarterback for the Lancers; he completed both passing attempts for just seven yards. Nones rushed five times for six yards.
Senior Tyeron Washington rushed for 92 yards and scored on a 33-yard run. Senior Angelo Zapata averaged 22.0 yards on three kickoff returns while junior Nick Moore returned one kickoff 25 yards.
The Barons (1-2) next play at Patrick Henry High School (0-2) on Sept. 16 while Hilltop (2-2) was scheduled to host San Ysidro (2-2) in a non-league encounter on Thursday.
Tiger tales
Bonita Vista kicked off the season with a 40-0 non-league setback at Morse High School on Aug. 19. The visitors generated just 137 yards in total offense, and Gomez accumulated 95 of them – 73 passing and 22 rushing.
Senior Jamar Haines rushed the ball seven times for 33 yards while sophomore Marcos Pena had three catches for 63 yards.
Senior Jeremiah Barton (three catches, 118 yards) led the host Tigers with two receiving touchdowns. Morse generated 580 total offensive yards in the game – 348 passing and 232 rushing.
Bonita Vista entered its bye week on Aug. 26, giving the team two weeks to prepare for its next game Sept. 2 in the Bay Area.
The Barons out-gained the Ravens, 249-155, and took a 7-0 lead in the first quarter on a toss from Gomez (112 passing yards) to Scott (four catches, 41 yards).
Sequoia tied the score, 7-7, at halftime and scored the game-winning touchdown in the fourth quarter as the Southern California visitors could not return to the scoreboard.
Herrero led Bonita Vista with 43 rushing yards while Pena had 50 receiving yards.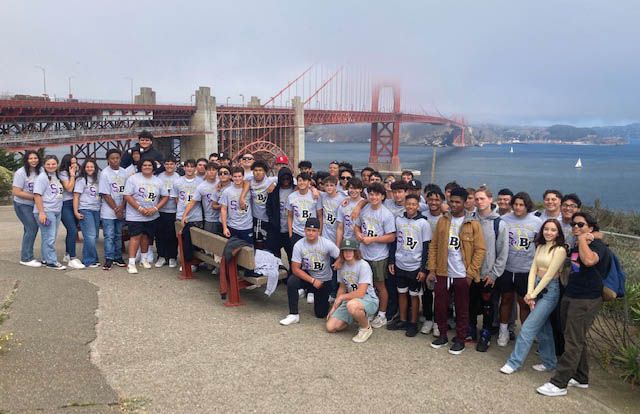 Cultural exchange
Arciaga said this was the first out-of-area trip with the team that included an overnight layover.
"We played John Glenn High School in Norwalk last year, but came home after the game," the BVHS coach said. "I did five overnight trips while I was a Mar Vista (two to the Bay Area, two to Las Vegas and one to Seattle). This was something that I got from (former Bonita Vista) coach (Carl) Parrick as he used to take teams out of the area each season. My sophomore year we went to Tucson, my junior year to Maui and my senior year to Las Vegas. My brother's senior year they played La Jolla High School in Havana, Cuba."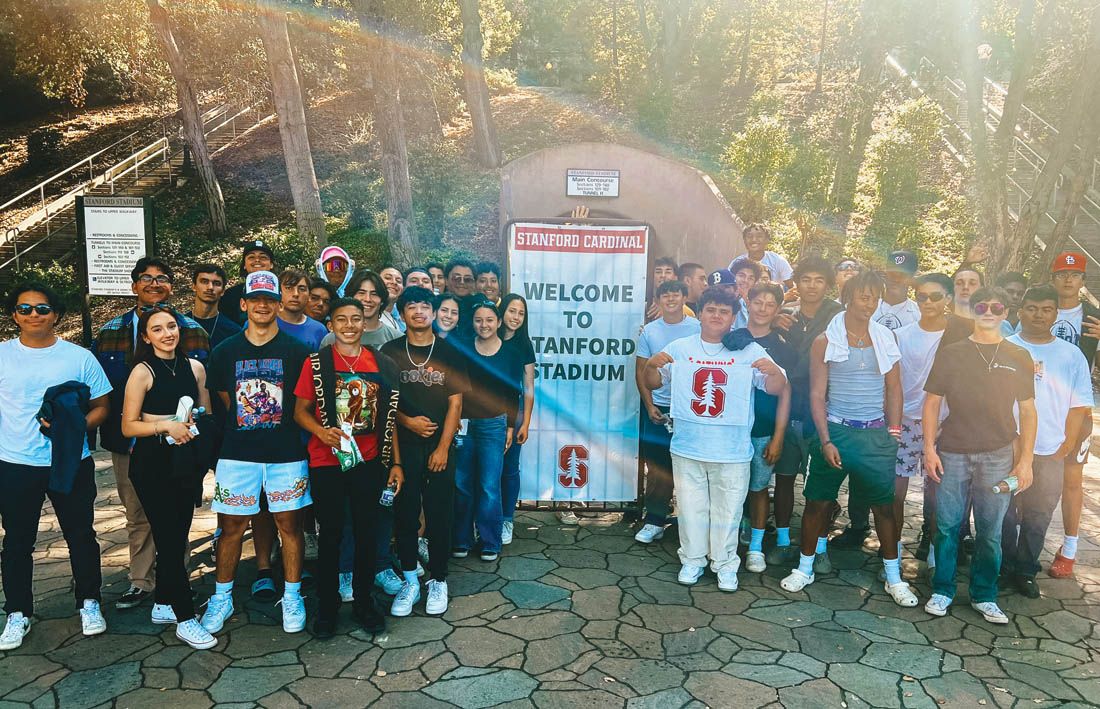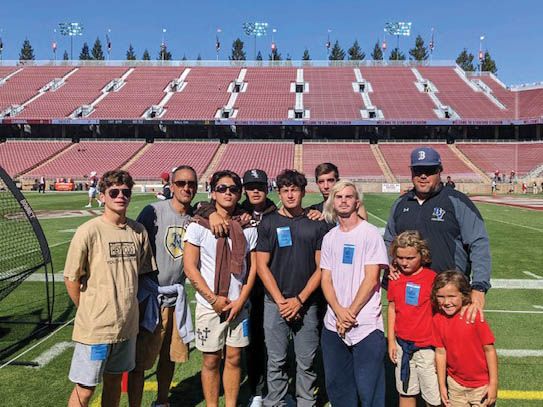 While in the Bay Area, the Barons visited Alactraz, the Golden Gate Bridge, Chinatown and attended a Stanford football game.
"I think it creates an entire experience on what education-based athletics is all about," Arciaga noted. "Many of our players (at both Bonita and Mar Vista) had never been to the areas that we traveled and they got to see things first-hand as opposed to reading about them in a textbook or seeing them on TV. I am trying to give my players at Bonita Vista the same great experience I was fortunate enough to be a part of while at Bonita Vista."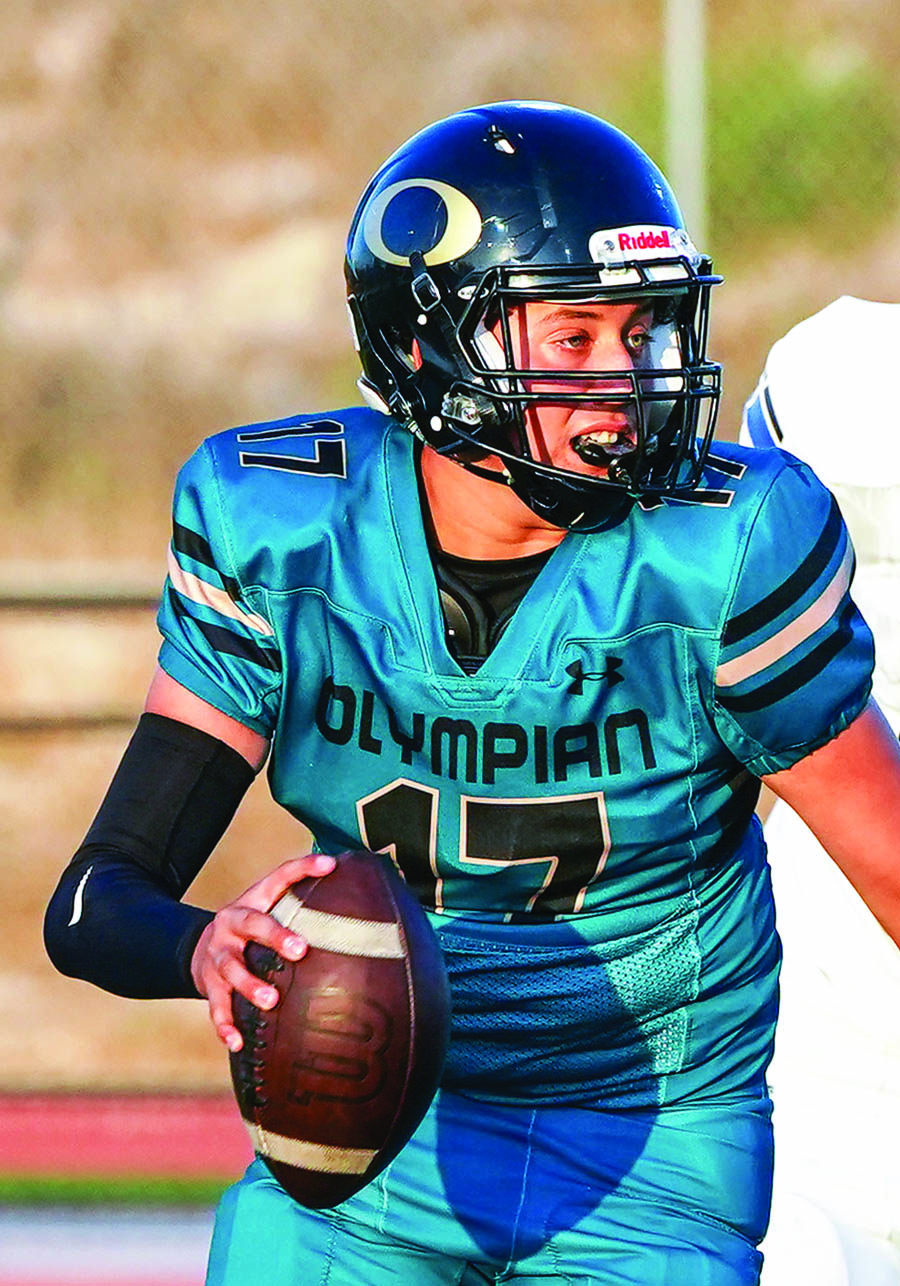 Olympian QB sets school record in 48-0 win over Norsemen
Sophomore quarterback Kristian Noriega set a new Olympian High School passing record with five touchdowns in a single game as he guided the host Eagles past the winless Valhalla Norsemen, 48-0, in a non-league game last Friday.
Noriega started the game hot by completing his first 11 passes and finished the game with 13 completions in 16 attempts for 282 yards. He finished the game with a 161.5 quarterback rating.
enior Matthew Pentland also threw a touchdown pass in the game.
Junior receiver Marcial had five receptions for 136 yards and three touchdowns while senior Gavin Dominguez had three catches for 72 yards and one touchdown.
Senior Javon Jordan had one catch for 38 yards and a touchdown while junior Ceejay Clavier had one touchdown catch for 14 yards.
Olympian scored seven touchdown overall in the game.
Noriega and Pentland combined for 309 passing yards. Junior Tristan Anderson led the hosts with 55 rushing yards.
The Eagles racked up 425 yards in total offense in the victory to improve to 2-2 on the season.
Senior defensive tackle Jace Watson had six tackles and two tackles for a loss while recording one sack and one forced fumble on defense.
Senior Luke Mena had five tackles, one sack and one tackle for a loss.
Junior Aidan Ibarra had one interception.
"We were able to convert consistently on third down and keep the chains moving," OHS coach Jimmy Clark III said. "We put together four quarters of consistent play which is always the goal. Defensively, we played in their backfield and made it difficult for them to get into rhythm. Breaking the record is a nice confidence booster for our offense and shows them the type of potential they have when they are firing on all cylinders."
The Eagles defeated Westview, 21-0, to kick off the season.
Olympian hosts Chula Vista (0-4) in a non-league game on Friday. Kick-off is 6:30 p.m.
The Spartans are coming off a 33-12 loss at Canyon Hills last Friday. In that game, junior Paul Alvarez led Chula Vista with 208 rushing yards.
Montgomery 26, El Cajon Valley 12
The visiting Aztecs snapped a deadlocked game through three quarters with a pair of fourth quarter touchdowns to claim their third consecutive victory – all against Grossmont Valley League teams in non-conference play.
Senior Isaac Cervantes rushed for 205 yards on 22 carries and scored two touchdowns for visiting Montgomery (3-1) in the Thursday contest on Sept. 8. Senior Nathan Ong rushed for 10 yards and also scored two touchdowns.
Junior Arath Leyva keyed the Aztec defense with nine tackles, including three for a loss. Senior Victor Flores was credited with eight tackles in the victory, matching Leyva with three stops for a loss. Leyva had two sacks while Flores had one interception.
Senior Xavier Rosales averaged 48.4 yards on five kickoffs while junior Dalaias Garcia averaged 40.7 yards on three punts.
Senior Joe Davidson returned one punt 26 yards while junior Aereck Brown returned one kickoff 17 yards.
The Aztecs led Braves (1-3) by a touchdown at halftime before the hosts tied the game when second-half play resumed. Senior Kal-el Grodon led the hosts with 115 rushing yards.
Montgomery previously defeated Santana (6-0 on Aug. 26) and Mt. Miguel (12-7 on Sept. 1) to start its current three-game winning streak.
The Aztecs host undefeated Mission Bay (4-0) on Friday in a key intra-divisional matchup. The Bucs are ranked No. 2 in the division while Montgomery is ranked No. 7.
San Ysidro 33, Monte Vista 26
Alexander Villanueva scored on a 70-yard pass play but the host Monarchs (1-2) could not overcome five touchdown passes from Cougar quarterback Ja'Marcus Jiles. Johnny Castro caught three of Jiles' TD passes while Jiles (10-of-16, 253 yards) hit Omar Vargas for a 39-yard game-winning score on his last touchdown pass. San Ysidro evened its record at 2-2 on the season.
Castro had three catches for 92 yards while Vargas had two catches for 48 yards.
"Monte Vista makes no secret on what they want to do offensively, which is be a physical run downhill team," San Ysidro head coach Keith Aguon said. "But we felt ready defensively and showed that in the first half. The second half we made a lot of fundamental mistakes in all phases to let them get back in the game. In the end it came down to execution and we made a big play with less than a minute to go."
The Cougars were slated for a Thursday non-league encounter at Hilltop (2-2).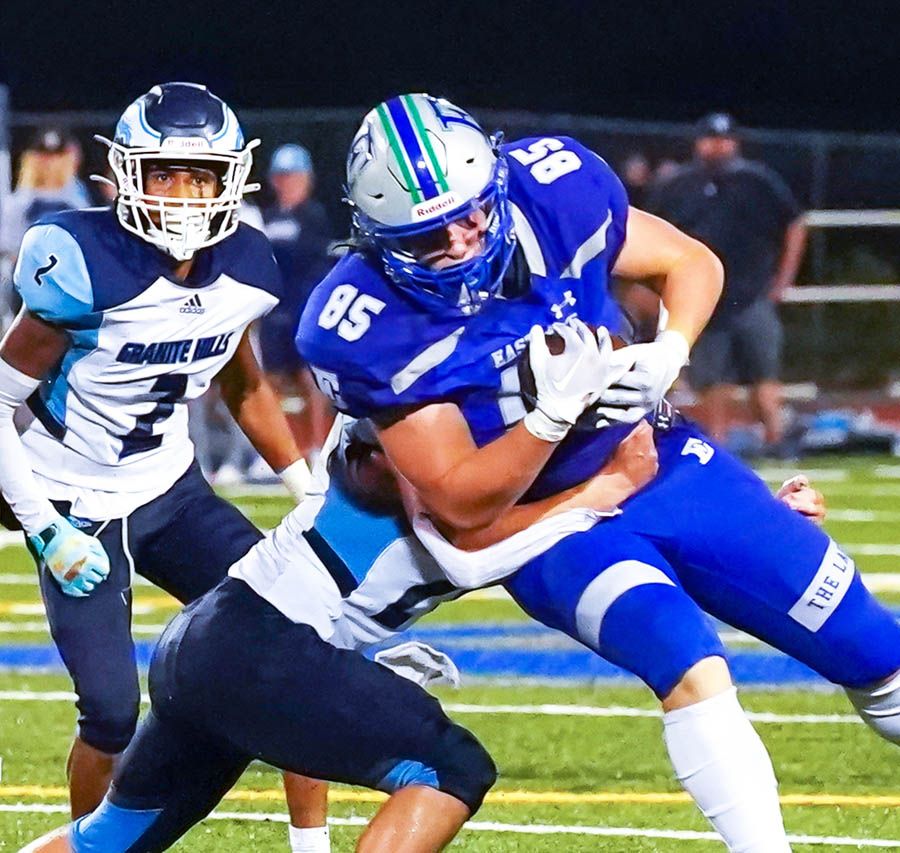 San Diego Section Football Rankings
MaxPreps through Sept. 11
Top 50 TEAMS
1. Cathedral Catholic (2-2)
2. Lincoln (3-1)
3. Madison (4-0)
4. Carlsbad (2-1)
5. Helix (3-1)
6. Poway (4-0)
7. Mater Dei Catholic (0-4)
8. Mira Mesa (2-1)
9. Ramona (2-2)
10. Granite Hills (3-1)
11. Torrey Pines (1-3)
12. La Costa Canyon (2-2)
13. Central Union (2-1)
14. Mission Hills (2-2)
15. San Marcos (3-1)
16. University City (2-1)
17. La Jolla (3-1)
18. El Camino (2-2)
19. Del Norte (3-1)
20. Rancho Buena Vista (4-0)
21. Mt. Carmel (3-1)
22. St. Augustine (2-1)
23. Point Lomas (3-1)
24. Fallbrook (3-10
25. Imperial (3-0)
26. Patrick Henry (0-2)
27. Santa Fe Christian (3-1)
28. Bishop's (3-1)
29. Scripps Ranch (1-3)
30. Christian (2-2)
31. Otay Ranch (0-3)
32. Eastlake (0-4)
33. Mission Bay (4-0)
34. Morse (3-1)
35. Brawley (2-2)
36. San Pasqual (3-1)
37. Valley Center (1-3)
38. Rancho Bernardo (1-3)
39. Steele Canyon (1-3)
40. Oceanside (0-4)
41. West Hills (2-2)
42. Calexico (4-0)
43. Palo Verde Valley (3-1)
44. Vincent Memorial (3-0)
45. El Capitan (2-2)
46. Escondido Charter (4-0)
47. Coronado (3-1)
48. San Diego (2-2)
49. La Jolla Country Day (3-1)
50. Montgomery (3-1)
Others: 53. Sweetwater (2-2), 57. Olympian (2-2), 61. Bonita Vista (1-2), 65. Mar Vista (0-4), 66. Hilltop (2-2), 70. San Ysidro (2-2), 71. Chula Vista (0-4), 73. Castle Park (1-2), 76. Southwest (2-2)
Division I
1. Cathedral Catholic (2-2), 2. Lincoln (3-1), 3. Madison (4-0), 4. Carlsbad (2-1), 5. Helix (3-1), 6. Poway (4-0), 7. Mater Dei Catholic (0-4), 8. Torrey Pines (1-3), 9. La Costa Canyon (2-2), 10. Mission Hills (2-2)
Division II
1. Mira Mesa (2-1), 2. Ramona (2-2), 3. Granite Hills (3-1), 4. Central Union (2-1), 5. San Marcos (3-1), 6. La Jolla (3-1), 7. Mt. Carmel (3-1), 8. Santa Fe Christian (3-1), 9. Christian (2-2), 10. Otay Ranch (0-3)
Division III
1. University City (2-1), 2. Del Norte (3-1), 3. Rancho Buena Vista (4-0), 4. Point Loma (3-1), 5. Imperial (3-0), 6. Patrick Henry (0-2), 7. Bishop's (3-1), 8. Morse (3-1), 9. San PasquaL (3-1), 10. West Hills (2-2)
Division IV
1. Fallbrook (3-1), 2. Mission Bay (4-0), 3. Calexico (4-0), 4. Palo Verde Valley (3-1), 5. Coronado (3-1), 6. La Jolla Country Day (3-1), 7. Montgomery (3-1), 8. Sweetwater (2-2), 9. Mt. Miguel (2-2), 10. Francis Parker (1-2)
Division V
1. Vincent Memorial (3-0), 2. Escondido Charter (4-0), 3. Crawford (2-1), 4. Classical Academy (3-1), 5. El Cajon Valley (1-3), 6. Mar Vista (0-4), 7. Army-Navy Academy (4-0), 8. San Yidro (2-2), 9. Castle Park (1-2), 10. Clairemont (2-2)