For the second consecutive week the San Diego State University football team received top-notch performances from its complement of San County players. This week, those performances – as well as from their teammates from outside the region – resulted in the Aztecs claiming their first victory in Snapdragon Stadium.
SDSU's 38-7 win over the Idaho State Bengals didn't come without its share of drama, however. The visitors scored on their second play of the game as Xavier Guillory took a short pass from starting quarterback Tyler Vander Waal, evaded defenders and broke down the sideline the rest of the way — 75 yards — for the game's opening touchdown.
After the successful point-after-touchdown kick, the Bengals had a 7-0 lead on the heavily favored Aztecs.
"It's good to win compared to last week," SDSU head coach Brady Hoke said. "We started a little slow in some areas. We have to be a little better. We still got a lot of work on both sides of the ball. We can't let up (a) big play and we didn't get any turnovers. If we're going to be a good defense, we have to turn the ball over.
"From the standpoint of how we played versus the run, it was much better than last week. There's a lot of work for us to do, a lot of work offensively. We got some good rushing, got a lot of guys back there to get their hands on the ball. I'd like us to keep feeding the running backs the ball, and I'd like to keep our quarterback healthy."
West Hills High School alumnus Jack Browning had another big day in the kicking department, solidifying his No. 1 choice as the team's punter and place-kicker.
Browning, also a former Griffin while at Grossmont College, led the Aztecs in scoring with eight kicking points in a 38-20 non-conference loss to the University of Arizona in the stadium's official opening on Sept. 3. He out-did himself in last Saturday's game with eight kicking points (five PAT and one field goal) and his picture-perfect placement on punts. He hit six punts for 285 yards – a 47.5-yard average – that included one monster kick that traveled 59 yards.
Browning gave the Bengals horrendous field position throughout the game to help stave off any miracle comeback bid.
He landed all six punts inside the Idaho State 20-yard line, including ones that settled at the 1- (twice), 3-, 4- and 7-yard lines besides a fair catch at the 13-yard line.
He also assisted the offense with a fake punt that went for 26 yards to help keep a SDSU scoring drive alive. He converted a 29-yard field goal in the third quarter that elevated the Aztec lead to 24-7.
In two games, Browning is seven-for-seven on PAT attempts and three-for-three on field goal attempts for 16 points. He continues to lead the team in scoring.
"Jack Browning is smart," Hoke said. "Jack looked at (the Idaho State formation) and ran the play. That was a big part of the momentum we needed then."
Hilltop High School alum David Delgado served as the holder on all of Browning's place-kicks.
Helix Charter alum Michael Shawcroft led the Aztecs with nine tackles in the season opener. He logged six tackles, including five unassisted stops, one sack, two tackles for a loss and one pass break-up against Idaho State.
Shawcroft ranks second on the team through two weeks with 15 tackles (nine first hits, six assists) – one behind leader Patrick McMorris (seven first hits, nine assists). Shawcroft has two tackles for a loss, one sack, one pass break-up and one quarterback hit.
As a team, the Aztecs (1-1) have amassed 13 tackles for a loss, three sacks, one interception and three fumble recoveries on defense.
Not to be forgotten, Christian High School grad Jesse Matthews caught three passes for 24 yards, including one that went for 13 yards. He was targeted six times in the game – the most by any SDSU receiver.
In two games, Matthews has made five catches for 42 yards. He also has one fumble recovery to his credit.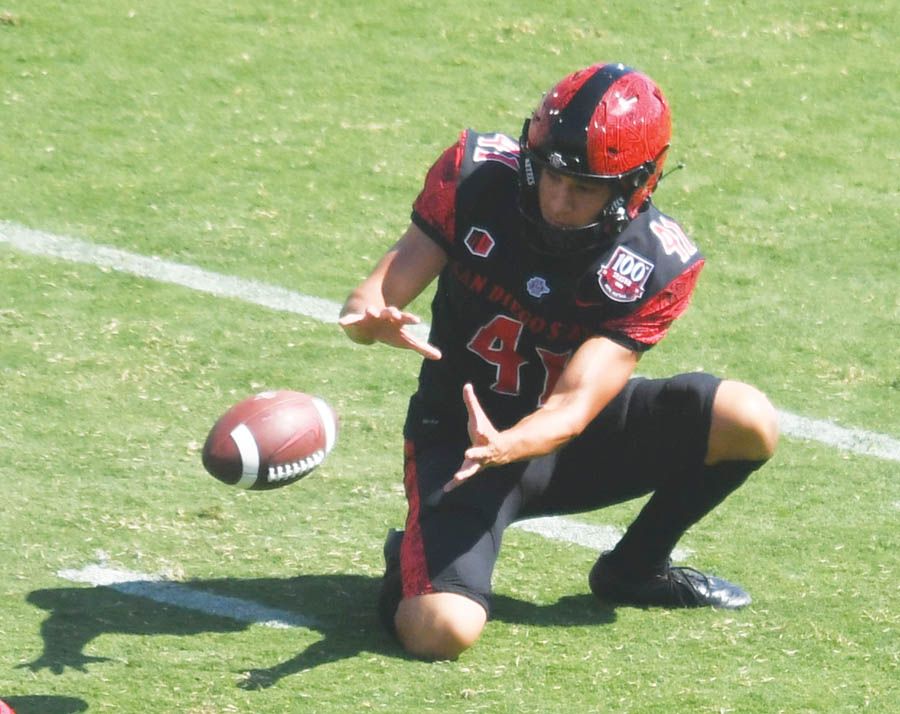 Go Aztecs
SDSU out-gained Idaho State 488-338 in total yards. The Aztecs decisively won the battle of the ground game with a massive 380-80 edge. The Bengals won the passing battle 258-108.
Braxton Burmeister (La Jolla Country Day) completed Saturday's game after seeing partial action in the season opener. He finished 15-for-26 with 108 yards, one touchdown and no interceptions or sacks.
He also broke off the team's second-longest run of the game by going 47 yards up the middle for a touchdown in the first quarter that stood up as the game-winning score in advancing the hosts to a 14-7 lead.
Jordan Byrd broke off a 53-yard touchdown run in the second quarter that pushed the SDSU lead to 21-7. Byrd amassed 75 yards on three punt returns, including a 66-yarder for a touchdown that tied the game at 7-all.
"We thought we could make something happen on special teams, and obviously, Jordan Byrd had a good night in a lot of ways; he's just running the football or returning the football, but what he did when you look at possession," Hoke said. "There were a couple of punts that he got his hands on and did a great job downing them."
Tyrell Shavers had three catches for 36 yards, including a 14-yard reception for a touchdown in the fourth quarter that gave the Aztecs a 31-7 lead.
Cam Davis had nine carries for 38 yards, including a three-yard scoring run in the fourth quarter that capped scoring in the game.
Burmeister has amassed 259 total yards from the signal-caller position in two games – 100 rushing yards and 159 passing yards. He greatly augmented his rushing yardage after reeling off the long run against the Bengals.
Byrd leads SDSU with 277 all-purpose yards (80 rushing, 97 punt returns and 100 on kickoff returns).
SDSU will play at the University of Utah (1-1) this Saturday in its first road game of the new season.
The Utes, who entered the preseason as the Pac-12's top-ranked team (No. 7/AP poll), opened their season on Sept. 3 with a 29-26 loss at Florida, then rebounded last Saturday with a 73-7 thrashing of Southern Utah.
Idaho State fell to 0-2.
Hunter Hays stepped in for Vander Waal, completing 18 of 30 passing attempts fot 140 yards. Sagan Gronauer, the Bengals' third quarterback to see action, completed four of five attempts for 34 yards.
Raiden Hunter was Idaho State's top rusher with 53 net yards on 13 carries.
Locals only
Kenan Christon (Madison) had eight carries for 48 net yards, including one sprint from the line of scrimmage for 34 yards. He also had one kickoff return for 21 yards.
Darius De Los Reyes (Eastlake/Lincoln) had one catch for eight yards.
Griffins drop Jaguars in JC season opener
The community college football season has kicked off and the Southwestern College Jaguars and Grossmont College Griffins had a chance to renew longtime acquaintances in the season opener for both teams on Sept. 3.
The temperature was hot at kickoff and the offenses of both teams seemed on fire as the visiting Griffins captured a high-scoring 41-31 non-conference victory.
Southwestern racked up 312 yards in total offense in the debut of new head coach Dionicio Monarrez, but Grossmont overwhelmed the Jaguars defense with 576 yards in total offense, including 402 passing yards.
SWC also lit up the airwaves with 231 passing yards but was out-gained 174-81 on the ground.
The Griffins ran 66 offensive plays to 47 for the hosts.
Grossmont's Elia Kirisimasi (Steele Canyon) was the game's standout passing leader with 402 yards by completing 32 of 41 attempts with four touchdowns and no interceptions. Dillon Gebase (Scripps Ranch) paced the Griffins with six catches for 113 yards and one touchdown while Chris Dartey (five catches, 36 yards), Lukas Spencer (one catch, 28 yards) and Paul Solanke (one catch, five yards) also caught scoring passes.
The visitors scored two rushing touchdowns – one each by Keiyion Holloway (seven carries, 122 yards) and Kirimasi (three caries, negative four yards). Holloway broke loose for a 55-yard run.
Jorge Aguilar (Lincoln) converted five of six point-after attempts and was 0-for-1 in field goal attempts.
Cleveland Ford III returned two kickoffs for 76 yards. Holloway had one punt return for 18 yards while Dylan Snyder (West Hills) had one punt return for 17 yards.
Grossmont defenders snared two interceptions – one each by Tymon Palaefei and Cavin Howard (Grossmont). Howard returned his pick 20 yards.
Aldo Olweny (Canyon Hills) paced the Griffins with eight tackles while Jagger Giles (Helix) was credited with seven stops.
Solanke is from Helix while Spencer is from Mountain Empire.
Southwestern's Ethan Hery completed 12 of 17 passing attempts for 184 yard with two touchdowns and two interceptions. Kahanu Davis completed one of two attempts for a 47-yard touchdown.
Top receivers for the Jaguars included Kader Diop (four catches, 100 yards), Raymond Romero (three catches, 55 yards), Davis (five catches, 50 yards) and Jo'Vahn Young (three catches, 47 yards). Diop had two receiving scores while Young (Southwest/Mar Vista) also caught a TD pass.
James Coleman (14 carries, 35 yards) and Sean Bryant (seven carries, 29 yards) were SWC's top ball-carriers. Jimmy Inman (three carries, one yard) scored the team's lone rushing touchdown.
Jacob Martinez finished the game with seven kicking points on one field goal and four extra-point conversions.
Bryant had three kickoff returns for 67 yards while Diop returned two kickoffs for 56 yards.
Michael Harrington keyed the SWC defense with six tackles, 2.5 sacks and one fumble recovery.
Southwestern dropped to 0-2 on the season following last Saturday's 43-7 non-conference loss at College of the Canyons.