The NFL has kicked off its season, so hockey appears ready to follow.
The San Diego State University men's ice hockey team turned in a program-first 20-win season to cap the 2019-20 American Collegiate Hockey Association Men's Division 2 campaign. Helping provide the many highlights during the Aztecs' last completed season were a pair of South County standouts: Otay Ranch High School alumnus Devyn Taras and Eastlake High School graduate Aaron Mayer.
Mayer, the all-time single-season scoring leader in the CIF-Metro Conference roller hockey playing circuit, helped provide the face of the SDSU hockey program across five seasons. He led the Aztecs in scoring during the 2018-19 and 2016-17 seasons after finishing second in 2017-18. He continued to contribute by averaging 1.71 points per game during his last semester with the team to close out the history-making 20-10-0-1 season.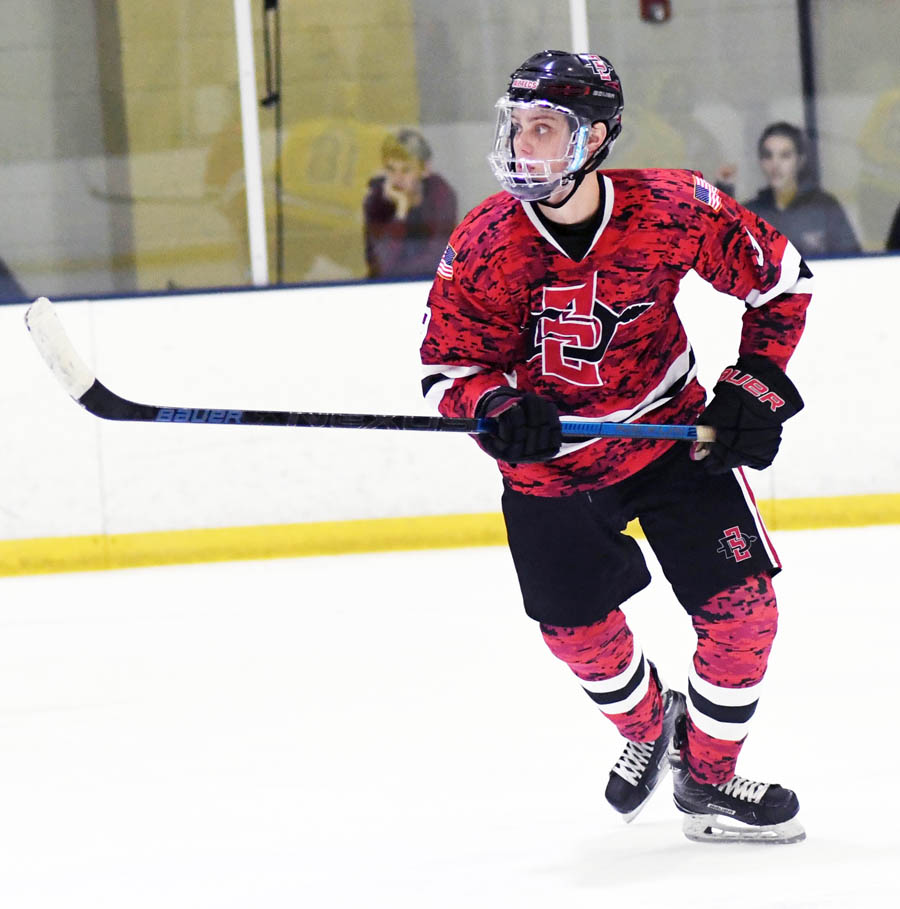 "I'm proud of my time here and I'm proud of my teammates," Mayer said. "It's a little nostalgic thinking back to how the team has developed over my five years here, moving the puck more, more speed, everyone contributing."
SDSU head coach Phil Bateman had the pleasure of coaching Mayer for eight years, from youth hockey with the Junior Gulls through college.
"Aaron is exceptionally talented, enthusiastic, a student of the game, and a quiet leader for the program," the SDSU coach said. "He has thrilled the fans of Aztecs hockey over his four-and-a-half years. Aaron's calm presence will be deeply missed upon his graduation."
Mayer graduated with a BA Finance degree and is currently employed at Tweet management services. He recently received his license to sell insurance and is about to take his Financial advisors test. He also is staying engaged in local hockey by coaching the Saints Squirt B Saints travel team.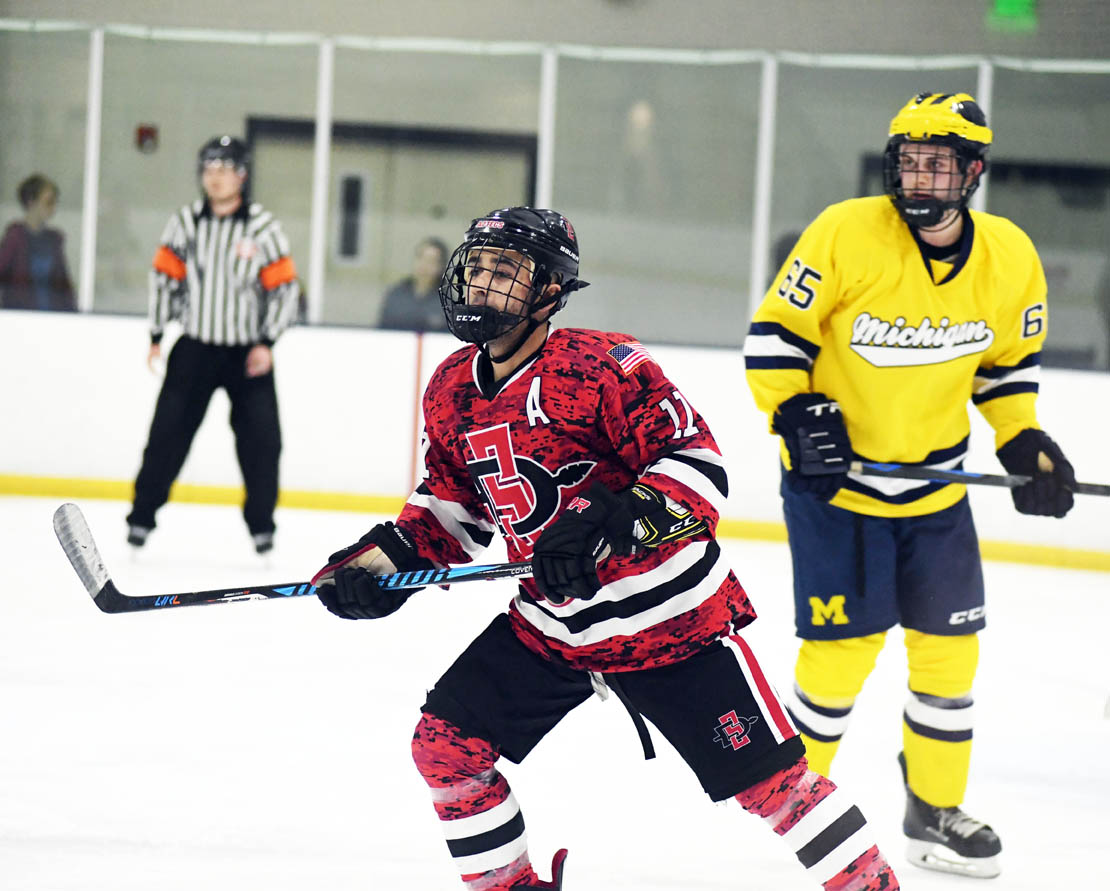 Taras suited up for two seasons before the COVID-19 pandemic canceled last season. He ranked among the team's scoring leaders and one of the team's toughest and most resilient players, pound-for-pound.
Taras graduated at the end of the 2020-21 school term with a BA degree in communications but without a chance to get on the ice one last semester. He is now serving as a marketing and development intern at The Arc of San Diego.
Bateman remains proud of what both South County products brought to the program.
"Both of these players were integral for the advancement of the program," the SDSU coach said. "Each alumni set the table for the incoming classes, and Aaron was such an important member during his five season with the Aztecs. Devyn, is applying for a graduate program at San Diego State and hopefully will be returning to the ice in the fall of 2022 to resume his playing career."
In the meantime, the 2021-22 edition of the Aztecs has the opportunity to make some program history of its own.
While Mayer and Taras helped expand the foundation of the program, the best could be yet to come, according to the SDSU coach.
"The 20-win team was special but, with the talent we have assembled now, I think this year's team could beat that team by five or six goals," Bateman said. "We had only one AAA player on the 20-win team and I have nine AAA players this season. I will say this year's roster is going to be fun to watch."
The Aztecs possessed four of the top 40 point-scorers at the ACHA II national level at one point during that milestone season, including the nation's top scorer. Three of those four players — Derian Theberge, Ian Stentz and Blake Reed — return to the lineup after a year's absence due to the COVID-19 shutdown.
The Aztecs have had the luxury of adding two recruiting classes to add depth to the returning roster. Bateman said he concentrated much of his recruiting in an effort to expand the talent base to compete at the ACHA Division I level, possibly as early as next season. Down the line, Bateman said he would like to see the SDSU program included in any projected expansion of NCAA Division I hockey to the West Coast.
"It's a different level of player coming in," Bateman said. "This group consists of some of the best players from out-of-state and the top rising talent from inside California. If all goes as planned, this will be an evolved, more talented dynamic version of that 2019-20 roster that was playing at such a high level."
The Aztecs face off the new season Oct. 8-9 against Colorado State at the Kroc Center Ice Arena.
Ice chips
Despite the disappointing ending to the team's 20-win season in the Pac-8 tournament quarterfinals to Boise State, the Aztecs did reap several postseason awards. Theberge (Santa Clarita) and freshman Michael Pellegrino (Ladera Ranch) were both named to the All-Pac Second Team while freshman Reed (Aliso Viejo) earned selection to the all-conference third team.
Theberge racked up 23 goals and 45 points while Reed matched Theberge's team-leading 23 goals. Pellegrino tied for fifth on the team with 12 goals and 29 points.
Pellegrino and Reed both played for JSerra High School in the Anaheim Ducks High School Hockey League.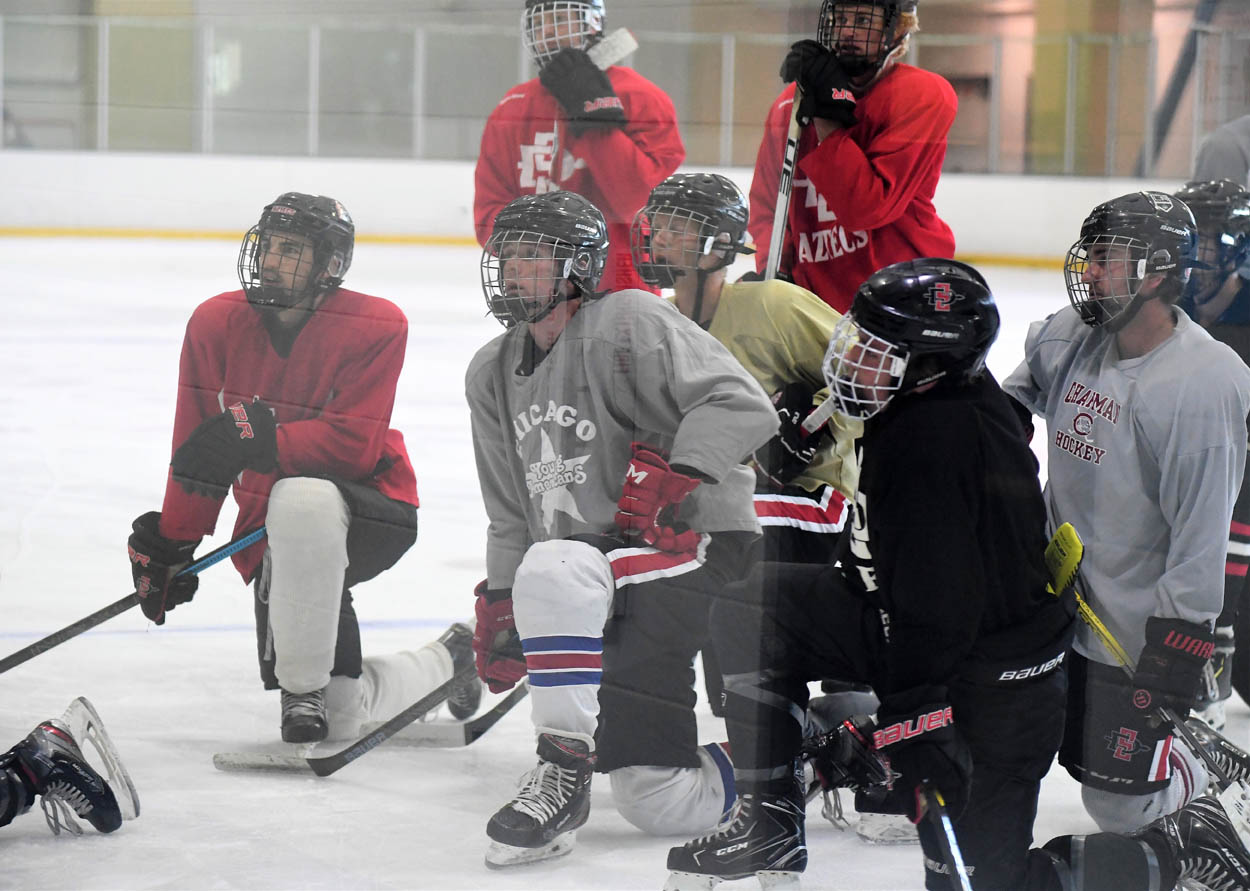 New horizons
The 2021-22 edition of the Aztecs will be split just about evenly between returners and newcomers resulting from two incoming recruiting classes, one of which was not able to take the ice because of the cancellation of the 2020-21 season, but is ready to show its untested potential.
"You look at our roster and we have an abundance of juniors and seniors and a lot of freshmen but essentially no sophomore class," Bateman said. "It's almost like we have two teams."
Returning players include senior defensemen Curtis Maltby (Nantucket, Mass.), graduate student defenseman Jack Matura (Palos Verdes), junior defenseman Andrew Hoy (La Jolla), senior forward Eli Reece (La Mesa), junior forward Brandon Roselli (Stanford, Conn.), senior defenseman Mickey Sullivan (South Lake Tahoe), junior defenseman Evan Kordovi (Irvine), senior defenseman Callum McRae (San Diego), junior forward Ian Stentz, senior goaltender Nick Ilvento (South Lake Tahoe) along with Theberge, Reed and Pellegrino.
Stentz, Reed and Pellegrino were the team's highest scoring freshmen on the 2019-20 squad. Ilvento was the team's iron man between the pipes, playing every minute in every game that season.
The newcomers comprise an elite group, certainly one that will be pivotal in building up the foundation for the program in future years and one that should impact the team immediately.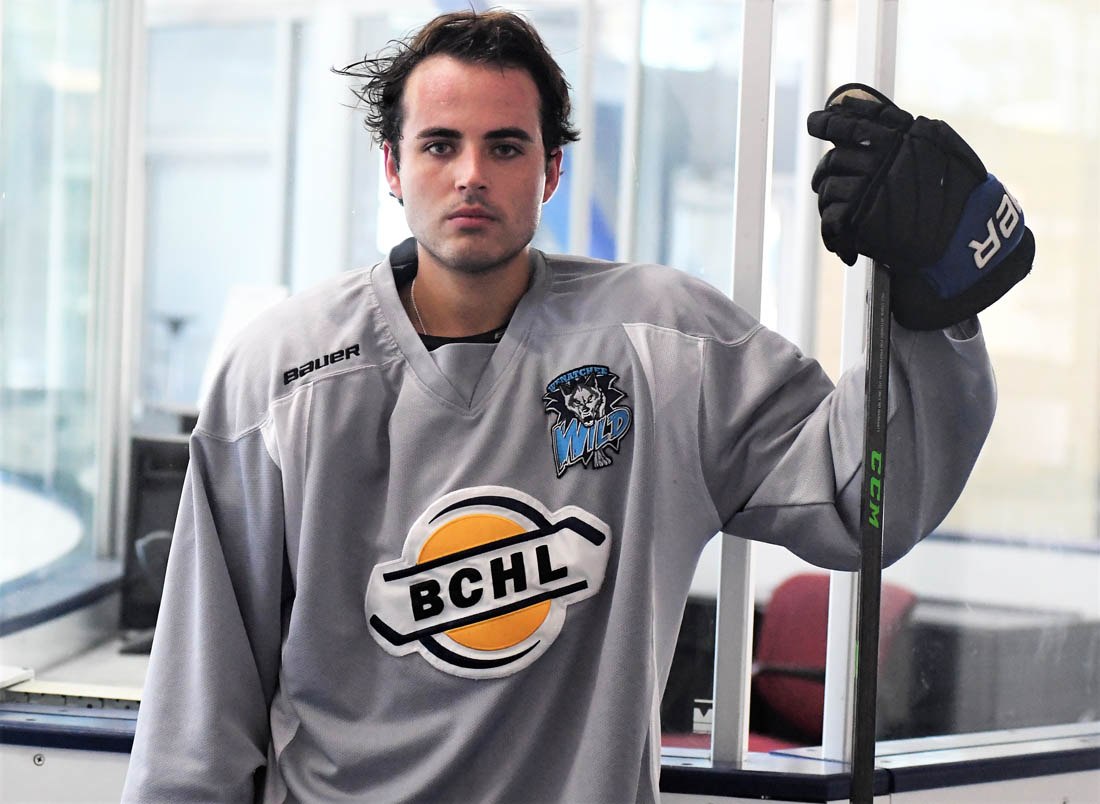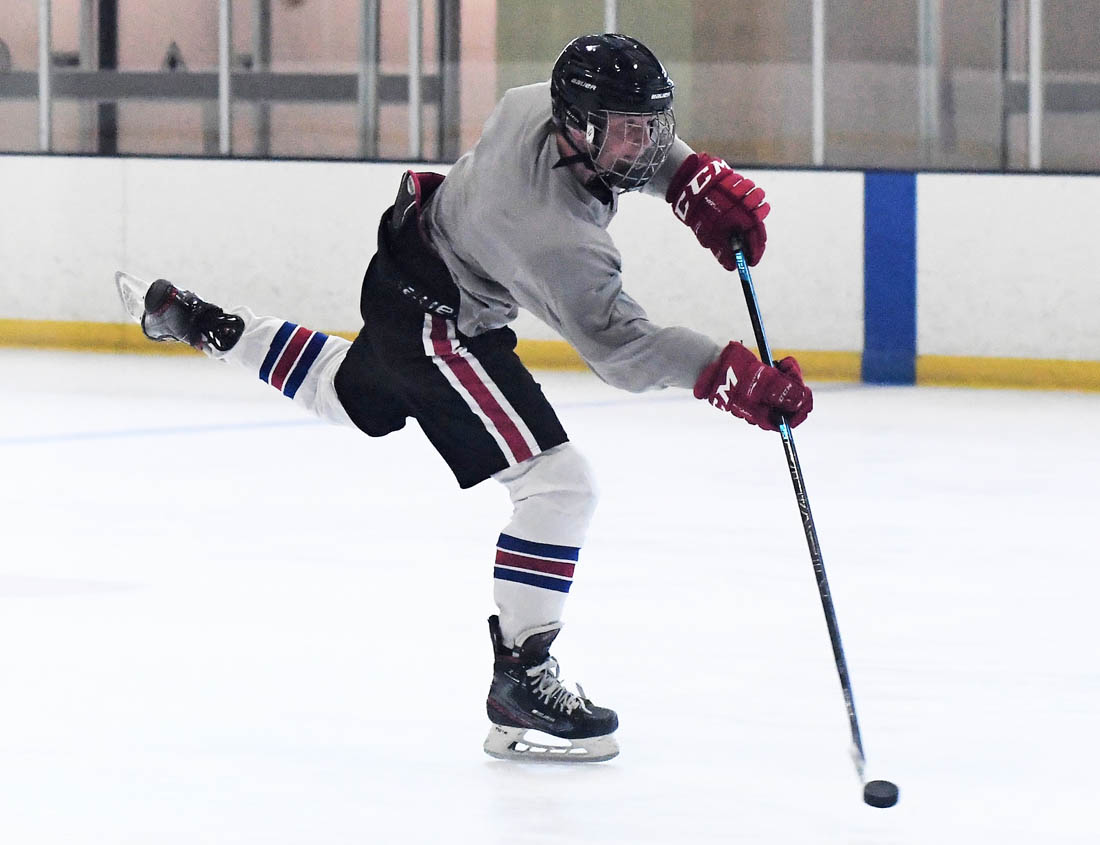 The nine AAA-level players include forward Stefan Brockmann (Morristown, N.J), defenseman Jerrett Overland (Las Vegas, Nev.), forward Neil Murphy (Scituate, Mass.), forward Marcus Kim (Irvine), forward Colin Geiser (Hopkins, Minn.), forward Christopher Dauria (Coto de Caza), forward Kellen Christopher (Prospect Heights, Ill.), forward Cole Kosowski (Boxborough, Mass.) and forward Michael Eng (Yorba Linda).
Eight of the nine high profile recruits are forwards.
Kim and Overland enter the SDSU with celebrity status after winning two national championships with Santa Margarita Catholic High School. As a bonus, Overland has also played junior hockey in the British Columbia Hockey League (Wantchee Wild) and National Collegiate Development Conference (New Jersey Hitmen).
Murphy has played Division I prep school hockey for Boston College High School, compiling 34 game appearances in two years.
Eng has played most recently for the Jr. Reign, which had its roots in the California Wildcats program for which the Yorba Linda native suited up 72 times from 2015-17.
Of the 28 players on this season's SDSU roster, 15 are Californians while nine hail from east of the Mississippi River and another from Japan. Home states represented include California (14), Nevada (one), New Jersey (one), Massachusetts (two), Minnesota (three), Connecticut (one), Illinois (two) and Florida (one).
Also coming on board thus season are freshmen forwards Jason Perkins (Mt. Prospect, Ill.), Isaiah Tano (Burlingame) and Lewis Priestley (Tampa, Fla.), freshman defensemen Logan Resendez (Valencia) and Jack Anderson (Minnetonka, Minn.) as well as freshman goaltender Charlee Lerow (Kobe, Japan).
Perkins and Christopher both played hockey in the greater Chicago area.
With players coming from such diverse backgrounds, it will be interesting to see how the combined group meshes.
"So far, they're mixing and the best mix is in the high skill level," Bateman said. "They complement each other. They all fit in."