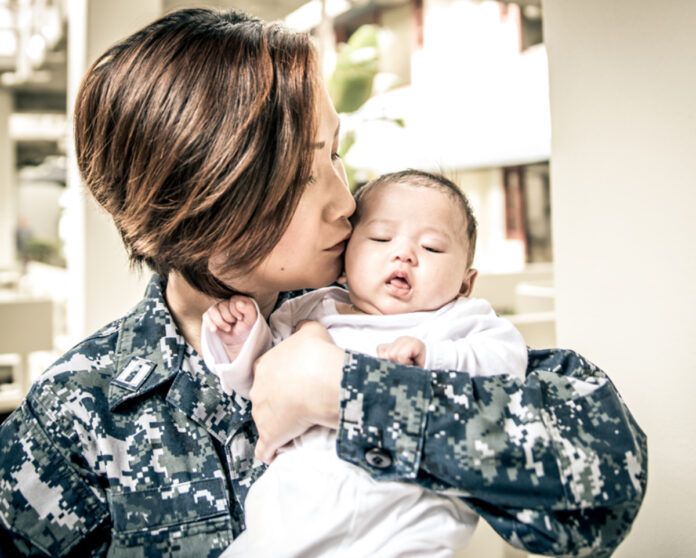 June 12 was the 74th anniversary of the Armed Forces Women's Integration Act, enacted in 1948 permitting women to serve as full members of the U.S. armed forces. Now about 357,550 women currently serve in the military between active duty, reserves, and Guard Women, according to the Foundation for Women Warriors. More than 25,000 women veterans make up 11% of San Diego's veteran population, and 10.4 % of U.S. veterans are women (1.64 million).
Foundation for Women Warriors CEO Jodie Grenier said the organization is a 102-year-old nonprofit that began as a housing association for widows, war nurses, and mothers of fallen service members back in 1920.
"As women's roles have changed, we evolved to serve predominantly women veterans as they transitioned out of the military," said Grenier.
"We serve 1,100 women and children each year throughout Southern California. We are nearing 58% being in San Diego County."
Grenier said the organization had about eight bungalows to house women until the late 90s, then sold the property and created the "public facing charity" that is seen today.
"We rebranded in 2016, so today we continue to support and empower women veterans by providing emergency financial assistance, childcare assistance, professional development, and then due to COVID, we opened a couple of warehouses, one in Vista, and one in a small distribution center in North Hollywood," she said.
Grenier said predominately, FFWW focuses on the prevention of homelessness. She added that women veterans are the fastest growing segment of the veteran population, but they are also unfortunately the fastest growing segment of the homeless population.
"We have testified in front of Congress a couple of times, the first time in women veterans not self-reporting being homeless because they were afraid of their children being taken away," she said. "Though we do not home homeless veterans, we prevent homelessness by investing in financial literacy, training and education, financial assistance for childcare, rent and utilities. We also work with partners locally and across the country to help with some other needs. Women veterans will come to us because we are a trusted resource for referrals for mental health, legal assistance, one-on-one job coaching. Because are not an employment agency we try to build their financial foundation to enhance their personal and family stability."
Grenier said women veterans who need services can contact one of its partners, the Veterans Administration, call 2-1-1 San Diego, or visit its website.
"We have Google ad grants, so we pop up when women are looking for veteran resources. We also have social media accounts. They can find us either by phone, on the internet, email us, or be referred to us," she said.
Grenier said the San Diego office is located at is warehouse in Vista and everything is by appointment only.
"We are not a walk-in facility which works well for our women veterans, because the services that we provide, some are online, and if they need something from our warehouse, we set up an appointment. We also do monthly distributions where they are invited to get the things that they need," she said.
There are several ways to help this organization, said Grenier
"We operate on the altruism of our community," she said. "Folks can donate online. They can also send us in-kind items. We have an Amazon wish list of things like diapers, wipes, car seats, cribs, formula is a big one these days, so these items can be sent to us directly. Or people can volunteer. They can go to our website, click on our Get Involved button, and several ways with pop up on how you can support the women veterans in your community."
Learn more at www.foundationforwomenwarriors.org.