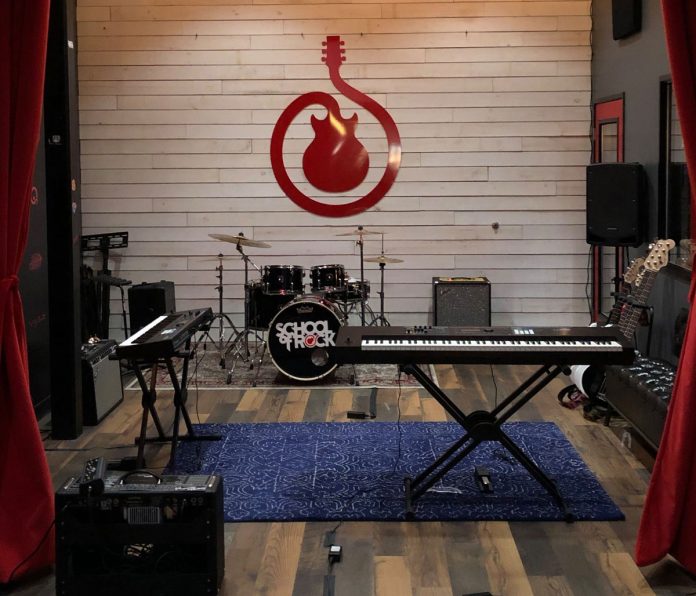 Career naval supply officer Mark Sheffield served on three ships, seven years at sea commands, seven years overseas and completed deployments in Iraq, Afghanistan and Kuwait before retiring after 22 years of service.
Now he is the owner of South Bay's first School of Rock on Otay Ranch, bringing the learning of music to the people in his community. Sheffield said he chose this opportunity for his children.
"I am a veteran, but more importantly, I am a father," he said. "I have two boys. I understand the importance of having music in their lives. I have given them the opportunity to learn music."
Sheffield and his family moved to Southern California after a tour in Japan. His boys were 3 and 5 years old. He said he wanted to start his oldest son learning music and, after searching for the best music school, he said what "tickled his fancy" was School of Rock.
"I wanted my son to go there and learn how to rock, have a good time and in the process learn to play formal music and really understand music theory. Which is what we do," he said.
He said he asked his wife to take him to the closest School of Rock. It was a 45 minute drive there, a one and a half hour ride back home. He said his son had a great time, but his wife said she would never take that trip again. So he brought School of Rock to them.
"When I looked at retirement I could have very easily put on a suit and gone to work the next day for the Department of Defense," he said. "I decided I would rather help my community and stay in the community. It was time to take some of the awesome skillsets the military gave me and help other people."
Sheffield found that School of Rock was number 2 in the Forbes ranking of top franchises. He said franchises worked well with his military background as he had no experience in running a business. He realized his community could use School of Rock because there was nothing like it in the South Bay. After calling School of Rock and expressing his belief in the need for art education in this region, within a year he opened his doors on Jan. 22.
"The magic of School of Rock is bringing our students together and having them learn music in a band setting," he said. "You just don't get that anywhere else and most bands that are out there are literally people who have gone out of their way to try and do it themselves and that is difficult to do. This makes it easy."
Sheffield said his number 1 customer is the "other kids" who are not actively involved in extroverted sports programs and lean toward the arts. He said this is the "gap" that he found while researching businesses. He said he believes it is necessary to have an educational opportunity for children who do not have access to local arts as more funding went to STEM and sports teams.
"This is an opportunity for parents and those kids to actually go and do things," he said.
"And what we offer, I sincerely believe, is a premium opportunity like a soccer or baseball club. It is the same kind of thing. We are going to teach you how to utilize your instrument much faster than just taking lessons. And you are going to have a lot more fun."
Due to the COVID-19 pandemic, Sheffield closed its doors on March 17 and reopened on June 1. During that time, he said he lost 41 out of 100 students. Even with the shutdown, he owns the fastest-growing School of Rock in the United States. It is currently at 166 students.
"Businesswise, you cannot do anything better than helping kids," he said. "Focusing on kids, especially when there is a gap in the market, works. I found my gap in the kids who are not doing baseball, soccer, martial arts. Who is doing something for them except letting them become Netflix junkies or YouTube subscribers?"
Sheffield said being a veteran helped him enormously in running a small business.
"I am very confident in myself and what I bring to any organization," he said. "I know how to lead people, create teams, have a mission of goals and how to attain them. What the military has given me is almost priceless. A lot of small business owners are ex-military. It fills you with the confidence that you can do the work."