Of the three NCAA Division I baseball teams in the San Diego region, the University of San Diego Toreros seem to be off to the best start this season.
One needs only take note of Monday's 15-1 non-conference victory at San Diego State University. The Toreros previously hung an 8-3 defeat on the Aztecs in a game played at Fowler Park at Cunningham Field on April 12.
USD is 2-0 against SDSU this season and also swept the UC San Diego Tritons in the teams' two-game matchup.
The Toreros (23-12 overall, 9-6 in West Coast Conference play) were set to return to WCC play in a three-game series at Brigham Young University starting Thursday.
Gonzaga University (24-9) tops the conference standings at 11-4, followed by USD and Loyola Marymount University (13-22-1) in a second-place tie. Santa Clara (19-15) and San Francisco (19-20) were both tied with 8-7 conference marks.
The Toreros feature eight homegrown products on this season's squad, including former Grossmont High School standout pitcher Jack Hyde, now a sophomore majoring in marketing at Alcala Park.
USD features three St. Augustine alumni: sophomore catcher Angelo Peraza and freshman catcher Ariel Armas, both from Chula Vista, and junior pitcher Jack Dolak (San Diego).
Redshirt freshman utilityman Kyle Carr attended San Marcos High School while sophomore third baseman Kevin Sim attended Torrey Pines High School. Sophomore pitcher Brycen Mautz attended Westview High School while sophomore pitcher Ivan Romero attended Poway High School. Sophomore pitcher Cole Colleran attended Canyon Crest Academy.
The 15 runs in Monday's game was a season high for USD. Meanwhile, the Aztecs (10-26 overall, 4-14 in Mountain West play) proved to be their own worst enemy by committing five errors.
The Toreros exploded on the diamond for eight runs in the top of the second inning to chase SDSU starter Brian Leonhardt (Eastlake). The former Titan standout surrendered all eight runs (three earned) on five hits and two walks with just one strikeout before yielding the mound to teammate Omar Serrano, who gave up four runs to the visitors in the third inning.
USD led 12-0 after three innings.
The Toreros jumped out on the scoreboard as sophomore center fielder Dustin Allen was hit by a pitch with the bases loaded, sophomore infielder Chase Meidroth trotted home on a bases-loaded walk and Peraza reached on an error.
A sacrifice fly from Sim extended the lead further, as did a RBI double by sophomore utility player Jack Costello. Junior shortstop Cody Jefferis later reached on a throwing error.
Peraza singled to right field to score Allen to start the third inning. Sim notched another sacrifice fly to score Meidroth and graduate utility player R.J. Teijeiro socked his second home run of the season to plate Peraza.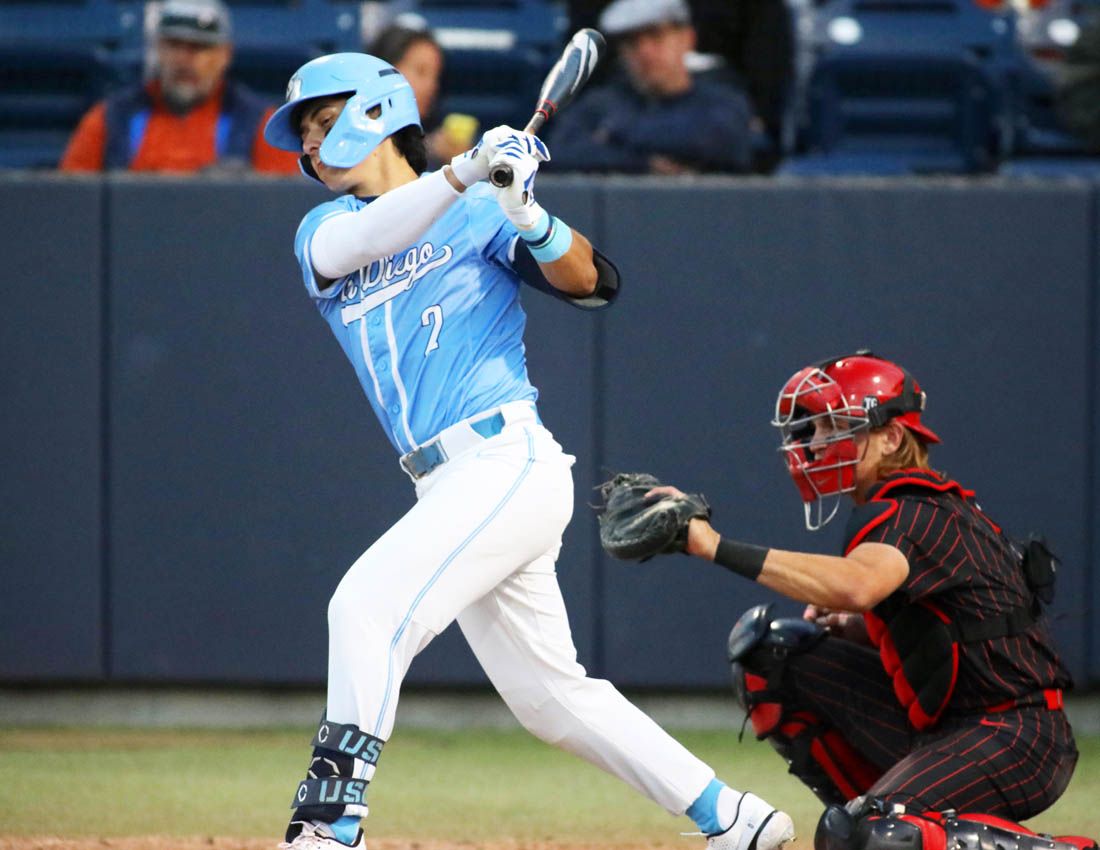 SDSU scored its lone run in the fourth inning when Leonhardt singled home Shaun Montoya, who had led off with a walk and advanced to third base on a double to left center by Cole Carrigg.
USD redshirt sophomore Ryan Kysar (1-0) turned in the best start of his young college career by allowing just one run on three hits while striking out four Aztecs in five innings. True freshman Morgan Lunceford, Dolak, Colleran and junior Jake Reed teamed up for four innings of relief work with one scoreless inning each. Dolak had a pair of strikeouts.
Carrigg led the SDSU offense with two doubles
In the first of the two crosstown meetings this season between the teams, the Aztecs committed a series of costly mistakes in the loss to the Toreros despite finishing with a 7-5 edge in the hitting department.
SDSU was plagued by three wild pitches, two passed balls and a crucial fielding error as the hosts scored seven of their eight runs with two outs.
The Aztecs scored all three of their runs in the top of the third inning to temporarily erase an early 2-0 USD lead. Irvin Weems singled and came around on a double by Tino Bethancourt, who later scored on a tapper to the second base side by Caden Miller. Poncho Ruiz (Mater Dei Catholic) later singled up the middle to score Miller.
The Toreros tied the game, 3-3, in the fifth inning when Armas, a former Little League World Series participant with Sweetwater Valley Little League and Pony-13 International World Series champion with Emerald Diamond, came home on a sacrifice fly by Peraza, who won a CIF Division I football championship as a junior as the Saints clipped the Helix Highlanders, 21-20, in overtime.
Arias started another Torero rally in the bottom of the sixth inning with an infield single. Following a passed ball and a pair of walks (including one with the bases loaded), Meidroth's grounder to shortstop was misplayed, allowing both Armas and Allen to score.
A wild pitch brought in another runner to hike the USD lead to 7-3.
Hyde, the Toreros' second pitcher of the night, picked up the win after tossing two scoreless innings. He allowed two hits and a walk against three strikeouts.
The Aztecs used six pitchers in the game. Weems and Leonhardt keyed SDSU offensive with two hits apiece.
San Diego State had little time to dwell on its defeat as it returned to the diamond on Tuesday night at UC San Diego for the third installment of the newly christened Trolley Series.
SDSU sweep
Prior to hosting the Toreros on Monday, the Aztecs were coming off their first series sweep of the season after topping the host New Mexico Lobos by scores of 10-3, 14-13 and 11-8 in a pre-Easter get-together.
SDSU rapped out 18 hits, including three home runs, to thunder past New Mexico in the series opener on April 14. In the process, the Aztecs snapped a four-game losing streak.
Montoya turned in a career-best four-for-four performance while Bethancourt collected a season-high three hits. Johnny Giannola, Leonhardt, Miller and Ruiz all finished the game with two hits apiece. Troy Melton evened his record at 2-2 on the year after scattering nine hits and striking out seven batters in seven innings on the hill.
Leonhardt and Giannola hit back-to-back home runs in the top of the second inning to stake the visitors to an early 2-0 lead on the scoreboard. The Aztecs doubled their lead to 4-0 with two more runs in the third inning as Montoya scored on a throwing error and Carrigg later raced home on a wild pitch.
Ruiz slammed his fourth home run of the season in the sixth inning, a two-run shot over the left field fence, to extend the SDSU lead to 9-2. Leonhardt scored on a basehit by Bethancourt in the ninth inning to round out the Aztec scoring parade.
Carrigg went six-for-six in last Friday's second game. Carrigg and Montoya combined for 10 hits and six RBI as the visitors pounded out 18 hits for the second consecutive game.
SDSU terrorized the basepaths with eight steals. Despite allowing two runs in the seventh inning, Eastlake's Ricky Tibbett (1-0) earned his first victory of the season by off-setting four hits in 3.1 inning with three strikeouts.
Leonhardt's two-run double helped the Aztecs off to a 4-0 lead in its first trip to the plate.
Leonhardt had two hits and one RBI in the closing game.
Montoya earned honors as the MW Freshman of the Week after leading the Aztecs in hitting average (0.647), on-base percentage (0.684), slugging percentage (0.882), total bases (15), hits (11) and runs scored (seven) in four games during the week.
He hit 0.714 in the series sweep at New Mexico (14-20 overall, 6-12 in MW play).