The San Diego Section held its first championship event in 14 months last weekend as the Division I and Division II swim and dive finals unfolded in front of an appreciative gathering of parents at Granite Hills High School.
While social distancing protocols were still in effect and no medals were awarded on site, the general mood from spectators and participants alike was one of appreciation.
The CIF finals had originally been cancelled on March 26 but were reinstated on April 15 after clearance from San Diego County officials. It was a hectic week of preparation to launch a somewhat scaled-down event. Instead of 32 entries per event, the final proposal that passed county scrutiny reduced the field to 24 entries per event.
Regardless of the size of the event (it was still large), it was definitely a day to celebrate for everyone.
Section officials noted last weekend's San Diego CIF championship event was the first section finals event held in the state so far this spring.
"Every team said they were so excited to compete," Granite Hills coach Cathy Elgas said in representing the swim community at large. "Coaches and swimmers said what a great way to end the season. The swimmers needed this. Most teams in the county did not have a league championship, so this made the season extra special. We cannot thank CIF enough for not giving up."
It was a record-breaking weekend with five section records set over the two days (Division II finals last Friday and Division I finals the following day), as well as a slew of league and school records rewritten.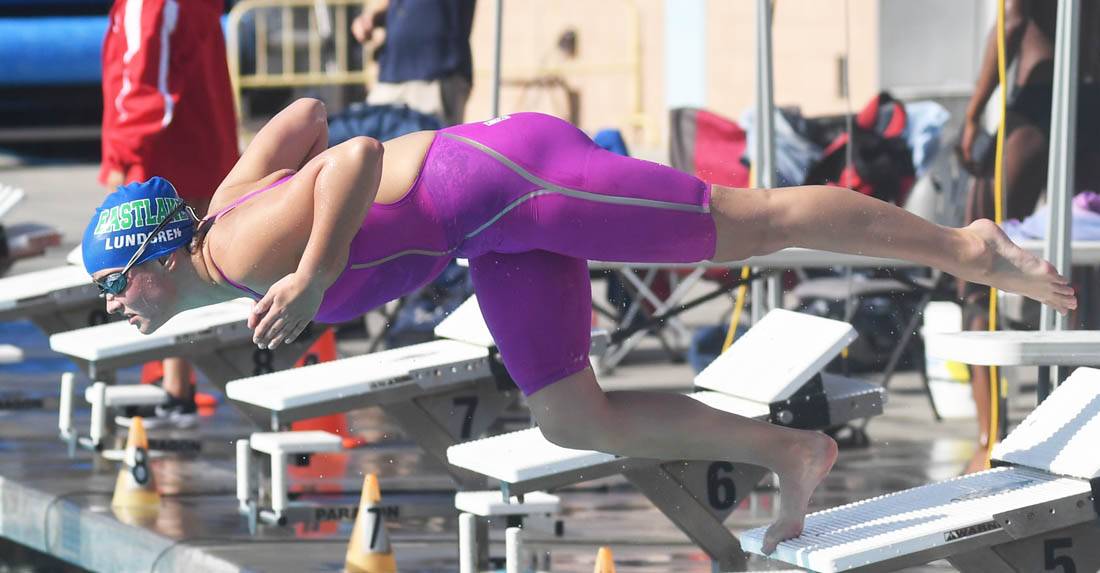 Teen Titans
Eastlake High School returned to the fast lane with a vengeance by capturing three individual section titles at the Division I meet.
Junior Emily Lundgren, a returning state place-finisher, provided the marquee highlight by winning two events and setting a new section record in one of them, while senior Christian Johnson won one of his two individual events.
Lundgren, who posted the top times this spring in the 200-yard individual medley (2:09.20) and 100 breaststroke (1:06.24) in the Mesa League finals April 14 at the Las Palmas pool, captured the 200 IM event in 2:02.74 and won the breaststroke event in 1:00.96 to set a new CIF record in the event.
Actually, Lundgren set a new CIF record twice on the day. She timed 1:01.24 in the morning's prelims to eclipse the old record of 1:01.77 set by Carlsbad's Staci Stitts in 1998. In the finals that evening, the Lady Titan went even faster.
Interestingly, Stitts' record was set before Lundgren was even born, attesting to the longevity of both the mark and the talent it took to finally break it.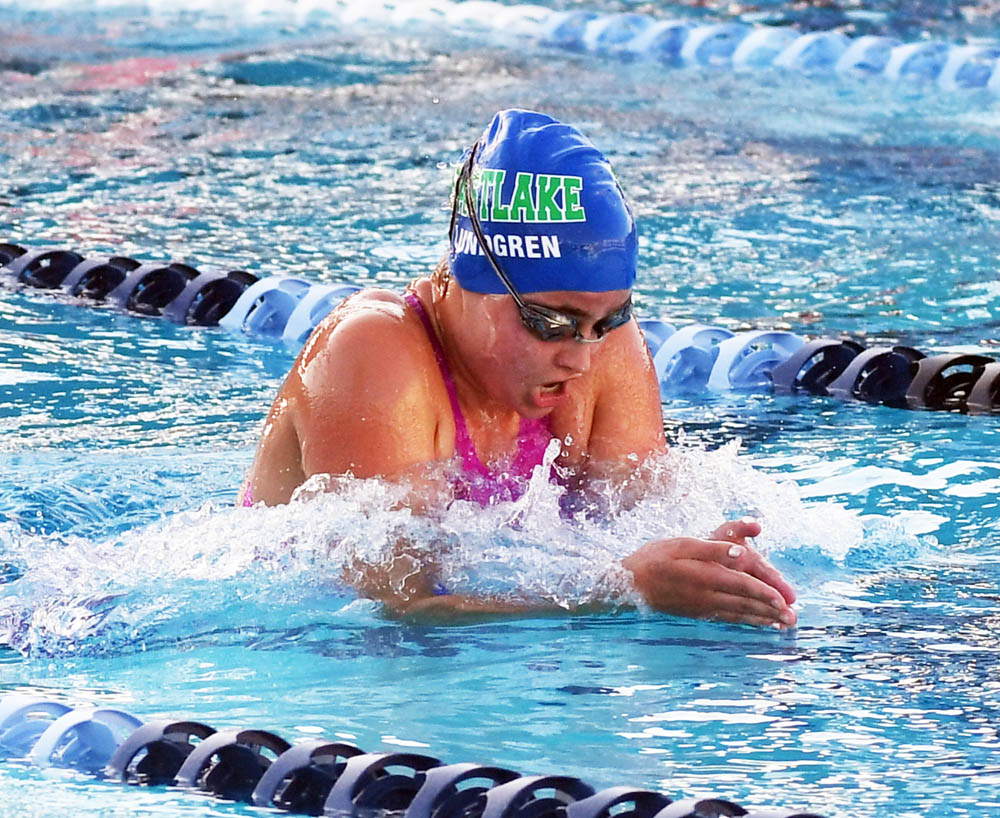 "Coming into this meet I was definitely nervous but knew I could trust the training we've been doing to get ready," explained Lundgren, who repeated as CIF champion in the 200 IM. "I was very excited to just go all-out in my races and see what I could do. The coaches have been incredible keeping us motivated and especially (Eastlake) coach Steve Wiggs, who inspired me to go after the breaststroke record.
"I was definitely not expecting to break the record in prelims, but when I did, I felt I could go faster and lower it in finals. I was swimming against some really fast swimmers and it certainly pushed me. Then helping our 400 free relay team place third was amazing. I'm just very proud of the entire Eastlake team."
Both winning marks are school records that Lundgren lowered from 2019. She is also part of the school's 200 medley relay school record also set in 2019.
Her sectional record is also a San Diego/Imperial swimming record for 17 to 18-year-olds, which gives her a place as a National Interscholastic Swim Coaches Association All-American.
Lundgren had originally set the pace with a ninth-place finish in the 200 IM at the 2019 state championship meet with a then lifetime best 2:03.37.
Lundgren won by a four-second margin in the 200 IM this year. San Marcos senior Summer Mitchell touched in the runner-up spot in 2:06.58 while Torrey Pines senior Charolette Zhang finished third in 2:07.98.
Lundgren won by more than two seconds in the breaststroke event as Poway freshman Ashlyn Hernandez finished in second place in 1:03.21. Granite Hills senior Rachel Sapper was third in 1:07.19.
As a bonus, the Titans placed third in the meet-concluding 4×100 freestyle relay event with a time of 3:43.50. Besides Lundgren, the unit also included juniors Meagan Ruane, Morgan Watson and Erin Gidley.
San Marcos won the 400 freestyle relay event in 3:37.25 while Granite Hills set a new school record of 3:39.91 in placing second.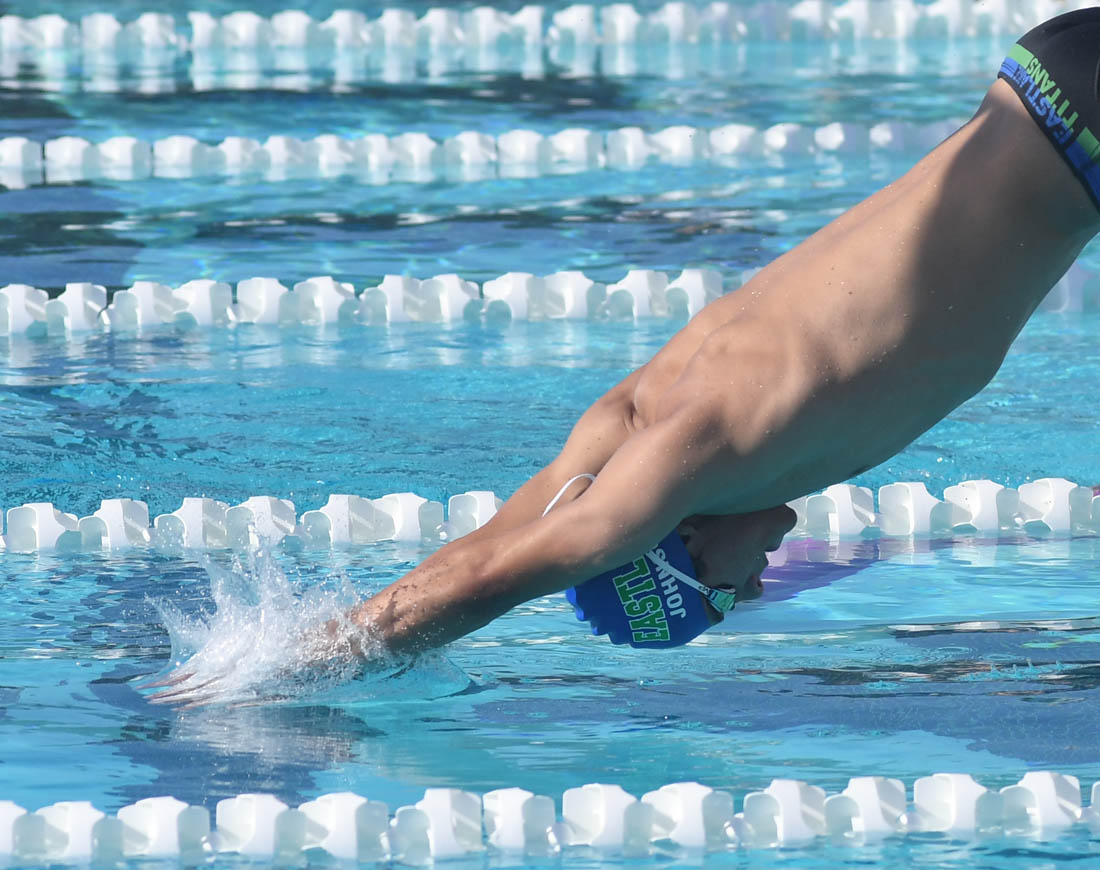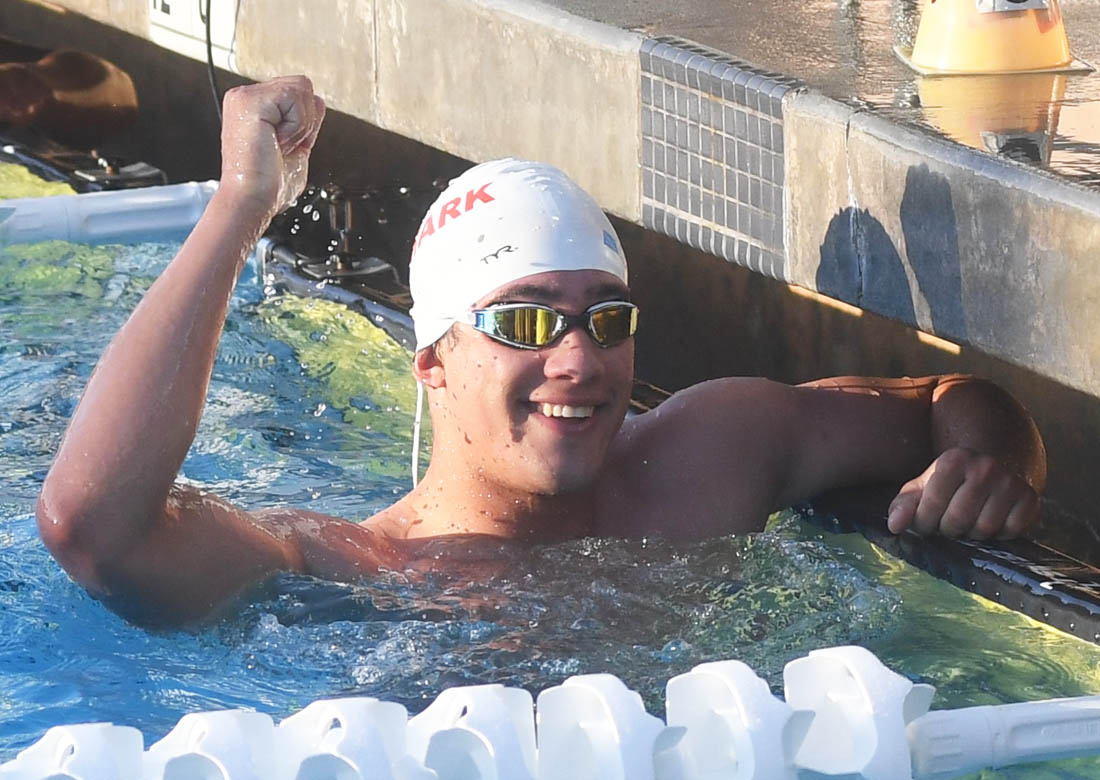 Johnson won individual gold medals at the Mesa League finals in the 50 free (22.16) and 100 free (48.74). He qualified for the CIF finals with prelim times of 21.28 in the 50 free and 47.00 in the 100 free.
He won an all-out sprint in the 50 free finals with a time of 20.93 and earned a forthcoming bronze medal in the 100 free finals in 47.17.
Johnson's times from the CIF prelims and finals are new school records.
"It was the first time I've dropped that in two years — I was stuck at 21 seconds," Johnson said. "It feels good. I felt physically strong. Good job to everyone else."
Senior Nate Bjornstad was the third Eastlake swimmer to make the finals (top six). He finished with four gold medals at the preceding Mesa League championship meet with first-place finishes in the 100 butterfly (54.62), 100 breaststroke (1:01.05), 200 medley relay (1:47.54) and 400 freestyle relay (3:37.20).
Though he did not win an event at the CIF finals, he was involved in exciting races from beginning to end. He placed third in the breaststroke (57.87) and was fourth in the butterfly (51.55). He set a new school in the breaststroke prelims at 57.39.
The Eastlake senior finished behind breaststroke winner Aidan Simpson, a senior from San Marcos, in 55.81 and runner-up Ethan Hildesheim, a senior from Mission Hills, in 56.87.
Bjornstad finished one second from a silver medal.
Torrey pines sophomore Andrew Li won the butterfly event in 50.59, followed by Hildeshiem in 51.38 and bronze medalist Lan Zhu, a junior from Torrey Pines in 51.39.
Wiggs noted that Bjornstad had switched over to the butterfly from the individual medley just three weeks ago.
"Not too shabby," the EHS coach noted.
Both of Bjornstad's finals times were personal records. Wiggs noted that the Titan senior beat his time of 52.34 that he set in 1990 while swimming for Bonita Vista.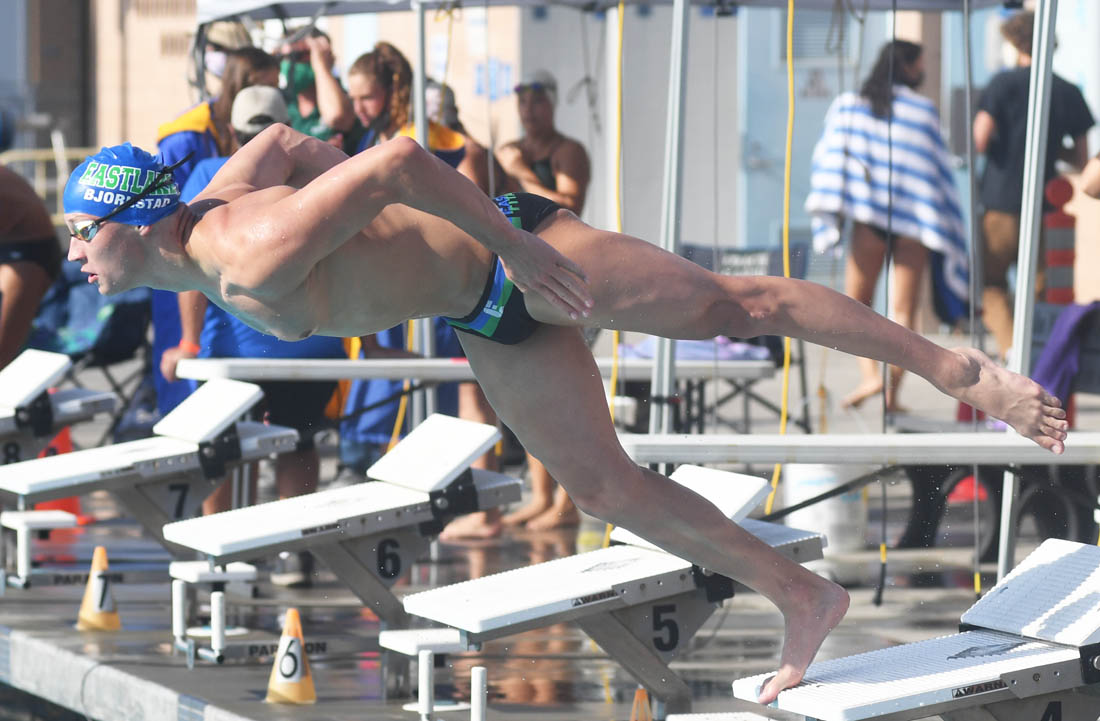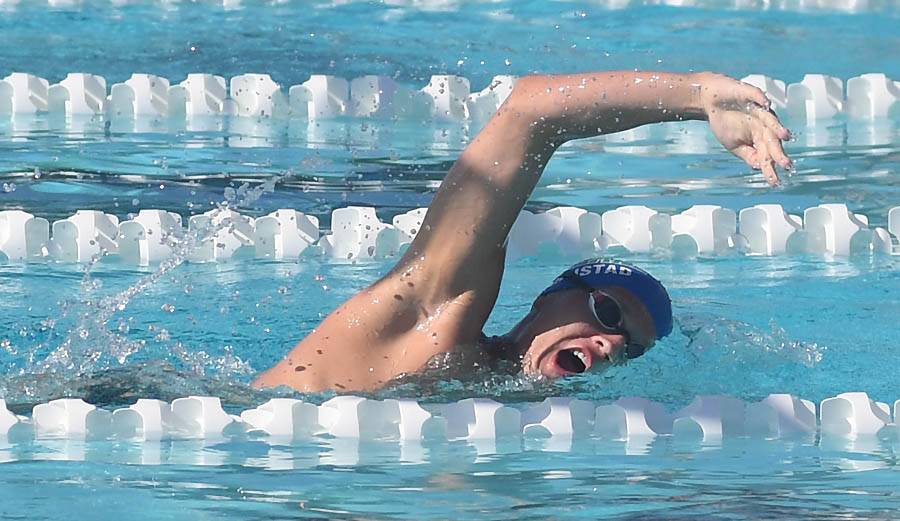 Almost famous
While the top six swimmers from the prelims advanced to the championship finals, the next six swimmers advanced to the consolation finals (seventh through 12th placers).
Eastlake's unit of juniors Meagan Ruane, Lundgren, Daniella Rivas and Gidley qualified to compete in the consolation heat of the 200 medley relay while the Titan foursome of Johnson, Bjornstad, sophomore Will Coziahr and senior Riley Anderson qualified in the boys medley relay.
The Titans placed eighth in the girls field with a time of 1:54.48 and 10th in the boys field with a time of 1:42.73
Gidley earned a berth in the girls 200 freestyle consolation heat while Ruane qualified for the 100 freestyle consolation heat.
Gidley finished 10th in 1:59.43 while Ruane finished 12th in 56.91.
Watson was an alternate in the girls 50 freestyle while Gidley was an alternate in the 500 freestyle.
Eastlake's 200 freestyle relay team consisting of Watson, senior Alexis Harlow and juniors Melinda Espinosa and Sabrina Phillips also earned an alternate designation.
Wiggs said Coziahr, among several Sol Swim Team members on the Titans, is one of the best stories this high school season.
"After winning the 500 free at the Mesa League championships with a 5:09.55, Will bested his time at the Division I CIF prelims with a 5:01.95 and missed making the finals of his first CIF championship by only two seconds," the EHS coach said. "He started the season with a best time of 5:20.86, I'd say he hit his taper. He was able to come back to finals to swim butterfly in the 200 medley relay.
"Will's ceiling is high because he's a sponge and comes to practice every day wanting to improve. He's one of the best finishers on the team, right up there with how Emily Lundgren finishes races."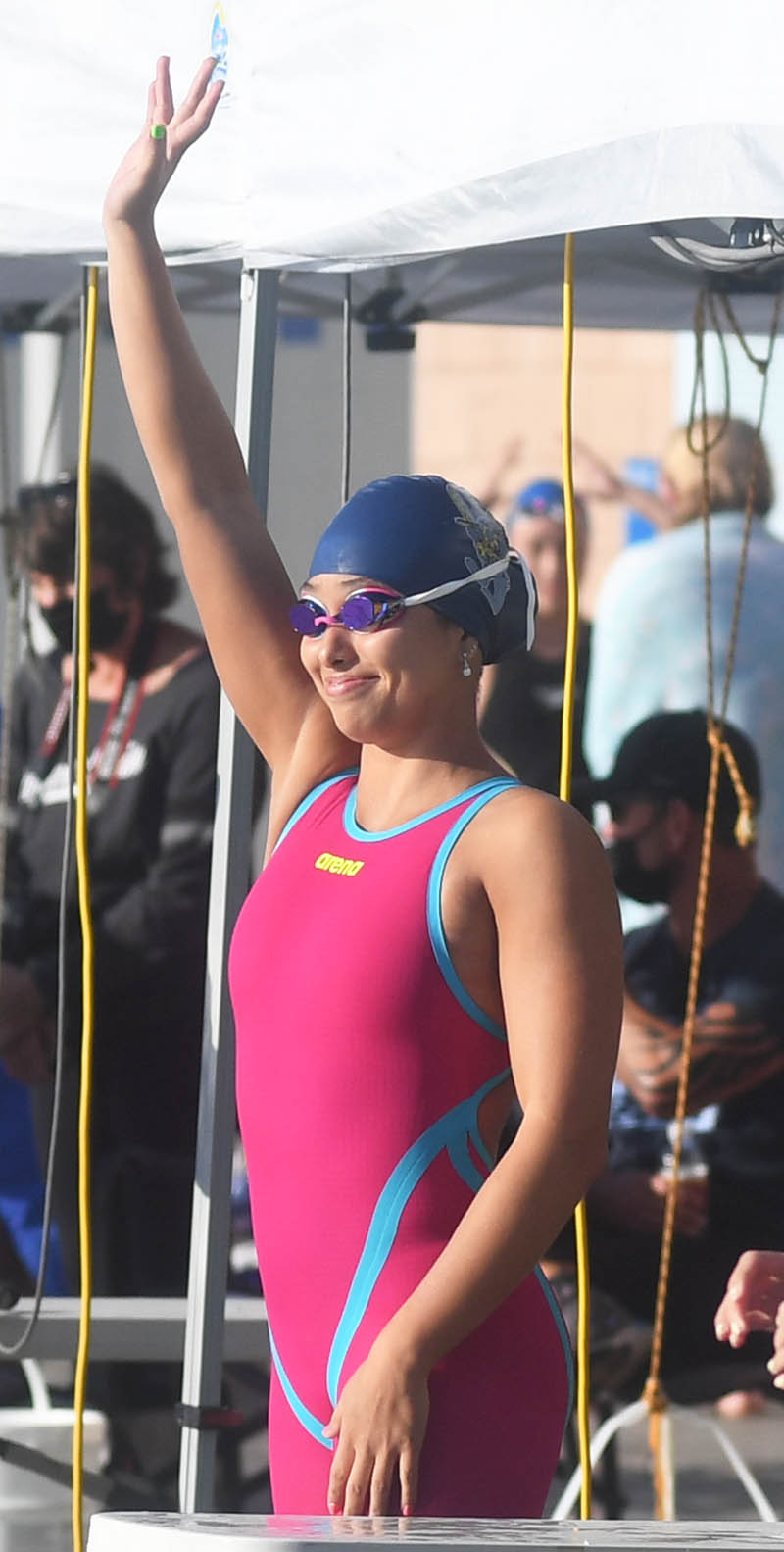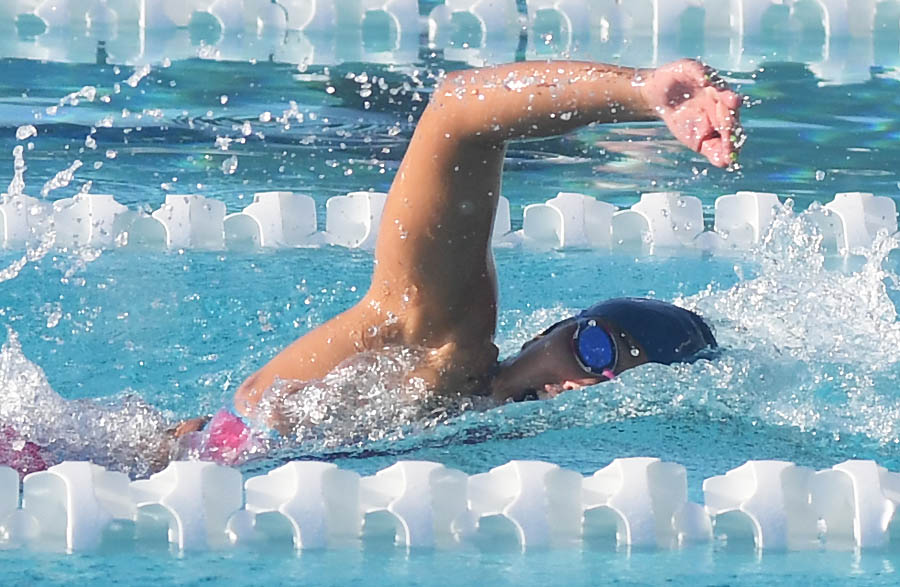 Making a splash
Bonita Vista was represented in the finals by junior Paola Castillo, who swam in the championship heats of both the girls 200 freestyle and 500 freestyle events.
Castillo had posted the top times in the Mesa League finals at 1:57.97 in the 200 freestyle and 5:11.17 in the 500 freestyle.
Both times would be significantly lowered at the CIF meet.
Castillo entered the 200 freestyle finals with a prelim time of 1:56.10 and finished sixth. She briefly flirted with winning the 500 freestyle before Helix Charter junior Maya Garcia-Hale broke away on the bell lap to win in 5:00.17. Castillo finished runner-up in 5:04.48.
Escondido sophomore Riley Baldwin finished third in 5:06.65.
Garcia-Hale jumped out to an early lead in the 500 distance, though Castillo steadily moved up to challenge midway through the race. However, Garcia-Hale swiftly answered the challenge with an extra bit of energy to win.
"I sprint the whole way in the 500," the Helix junior explained. "I saw her (Castillo) coming up. The last 50 I sprinted even faster. Everything I had, I left it in the pool."
Otay Ranch sophomore Mia Villa, the runner-up in the girls 500 free at the Mesa League finals, earned a berth in the consolation heat with a prelim time of 5:21.28 while Olympian senior Yad Hasan, the Mesa League champion in the boys 100 backstroke, qualified to compete in the consolation heat with a prelim time of 58.00.
Villa finished 10th in 5:21.28 while Hasan finished ninth in 56.50.
Hasan was an alternate in the 500 freestyle.
Torrey Pines won the Division I girls team championship with 213 points, followed by San Marcos with 152 points and Del Norte with 127 points.
Torrey Pines made it a double team championship by winning the Division I boys field with 240 points over runner-up San Marcos (177 points) and third place Canyon Crest Academy (138 points).
University City nosed out Cathedral Catholic, 206-204, to win the Division II girls team title while Bishop's won the Division II boys team championship with 184 points over Cathedral Catholic (139 points).
La Costa Canyon was third in both gender fields.
The team title was the 11th consecutive for the Torrey Pines girls team and the sixth straight for the Falcons boys team.
Eastlake finished sixth in the girls team standings and ninth in the boys standings.
Participation in the Division II finals by the Metro Conference was minimal.
Mar Vista's boys 4×100 relay team finished 12th overall with a time of 3:35.65 to better the 3:37.53 time posted in the morning prelims. Swimmers included Ethan Hastings, Fletcher Field, Bradford Dickson and T.C. Spaulding.
Spaulding also participated in the 200 IM, finishing 12th in 2:02.39.