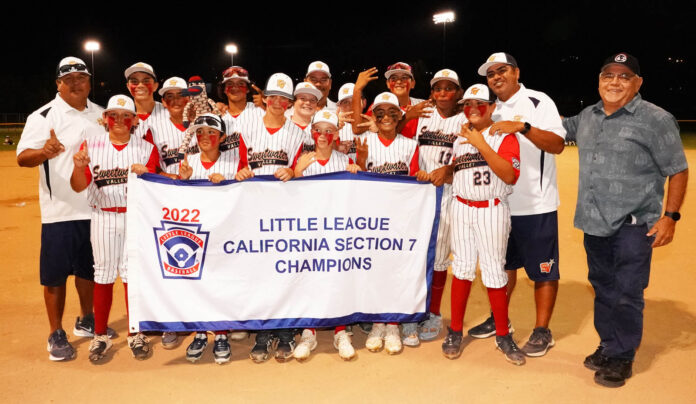 There are some statistics that are just hard to comprehend. Take the last time a team from California District 41 Little League advanced beyond the section tournament.
Try 2007.
That's a while back, a long while back.
With District 42 champion Sweetwater Valley playing District 41 champion Lakeside National in Thursday's "if necessary" double-elimination 12U California Section 7 championship game, the odds thus seemed to favor Sweetwater Valley.
And they did.
District 41 will have to wait another year to break that winless streak after coming up on the short end of a 20-0 score at Spring Valley Little League.
"This is how our team can play!" SVLL manager Ward Lannom exclaimed with excitement – and a bit of relief — after the game. "I'm pumped!"
He should be riding on Cloud Nine after his team avoided an early exit on the road to the Little League World Series while re-establishing itself as a championship contender down that long and sometimes winding road.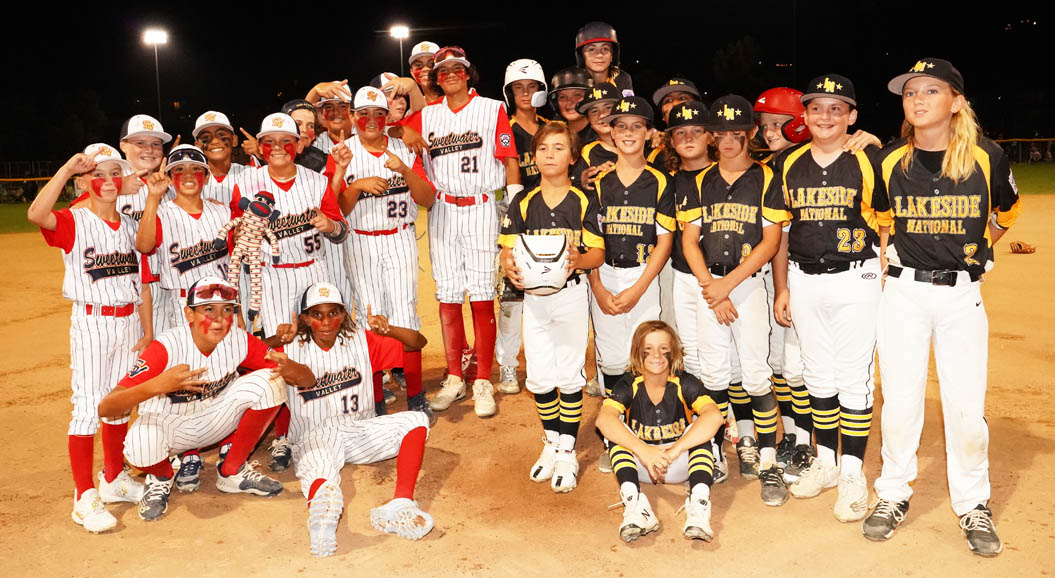 Sweetwater Valley appears to be back on track after out-scoring Lakeside National by a combined score of 38-0 in capturing back-to-back must-win games to continue its season following a somewhat shocking 11-7 loss on Sunday.
Sweetwater Valley eliminated District 66 champion Spring Valley, 19-0, on Monday to get a second crack at Lakeside National in the double-elimination tournament on Wednesday.
Sweetwater Valley posted a convincing 18-0 win to force the "if necessary" game on Thursday.
Had Lakeside National managed to pull off a win on Wednesday, Sweetwater Valley's season would have been over, and the District 41 team would instead be on the road to Williamsport, Pa.
But history tends to repeat itself and Lannom has to hope fate stays on the side of his team.
Lannom's 2015 Sweetwater Valley all-star team did advance all the way to the Little League World Series en route to scoring a third-place finish among United States teams.
Sweetwater Valley finished 4-1 at this year's Section 7 championship tournament after opening with an 11-0 win over Spring Valley last weekend. The District 42 champions racked up a lethal 68-11 scoring advantage in the four games.
Lannom remains four-four-four in Section 7 championship game appearances. His gleaming smile didn't need any words.
Photos by Phillip Brents
Final conflict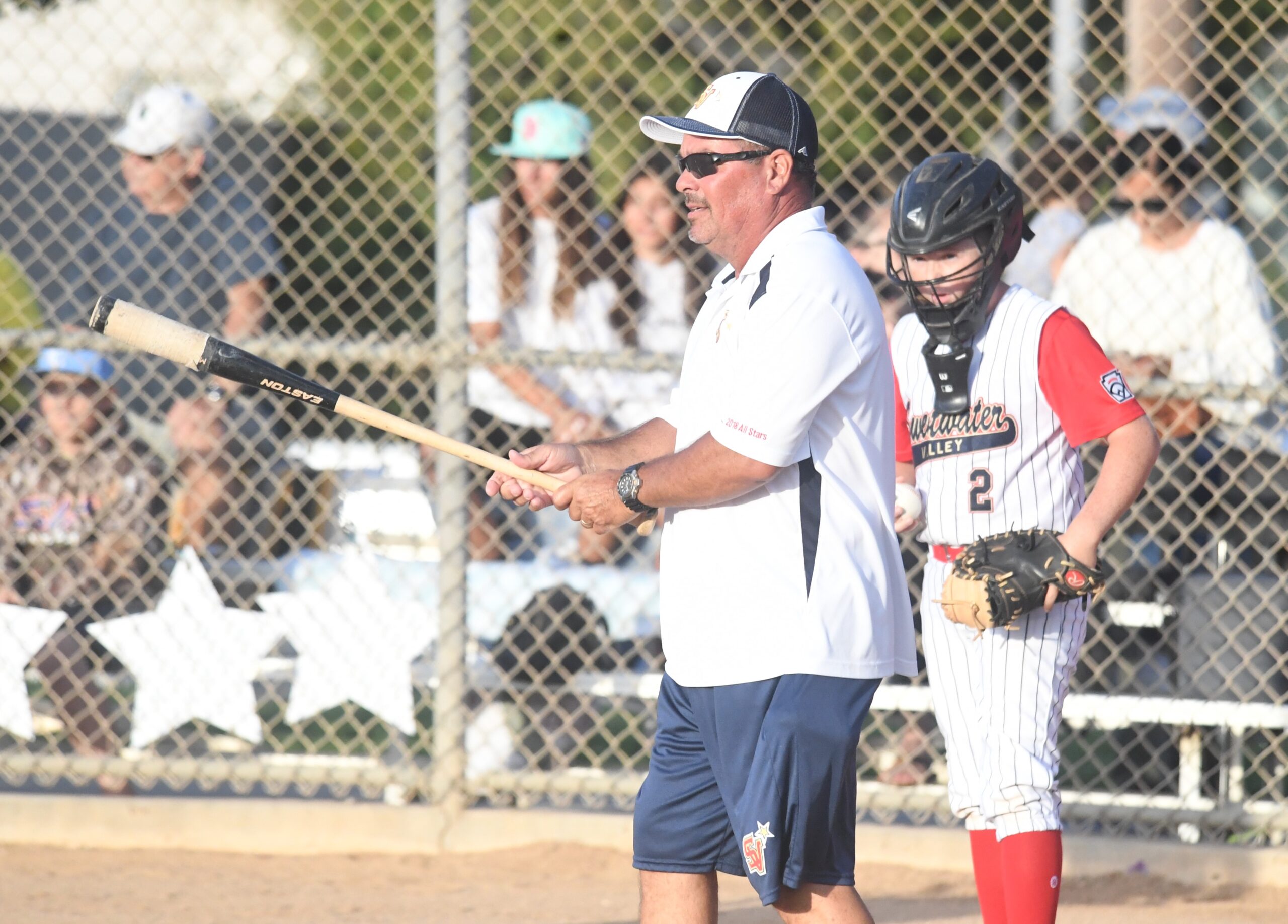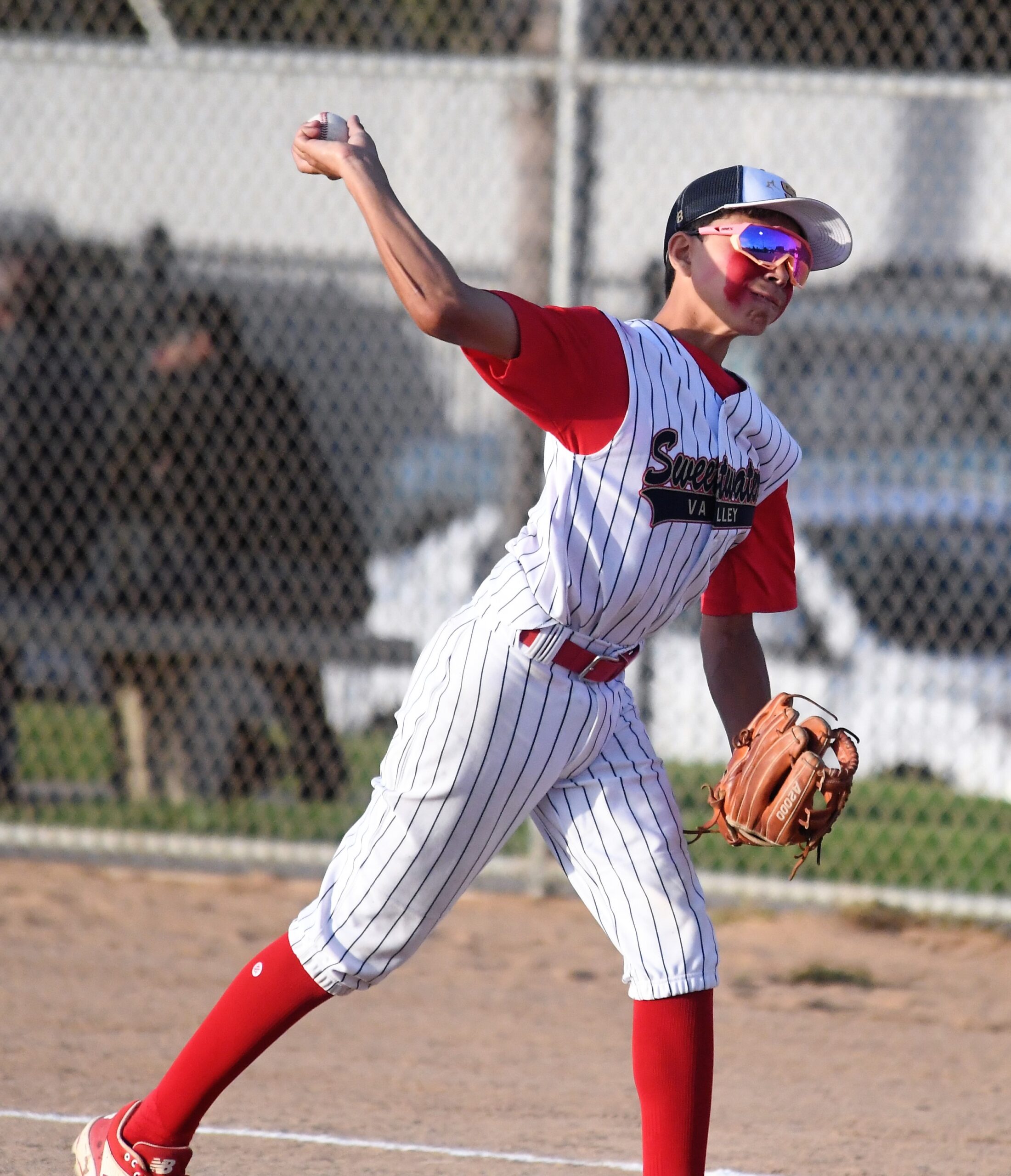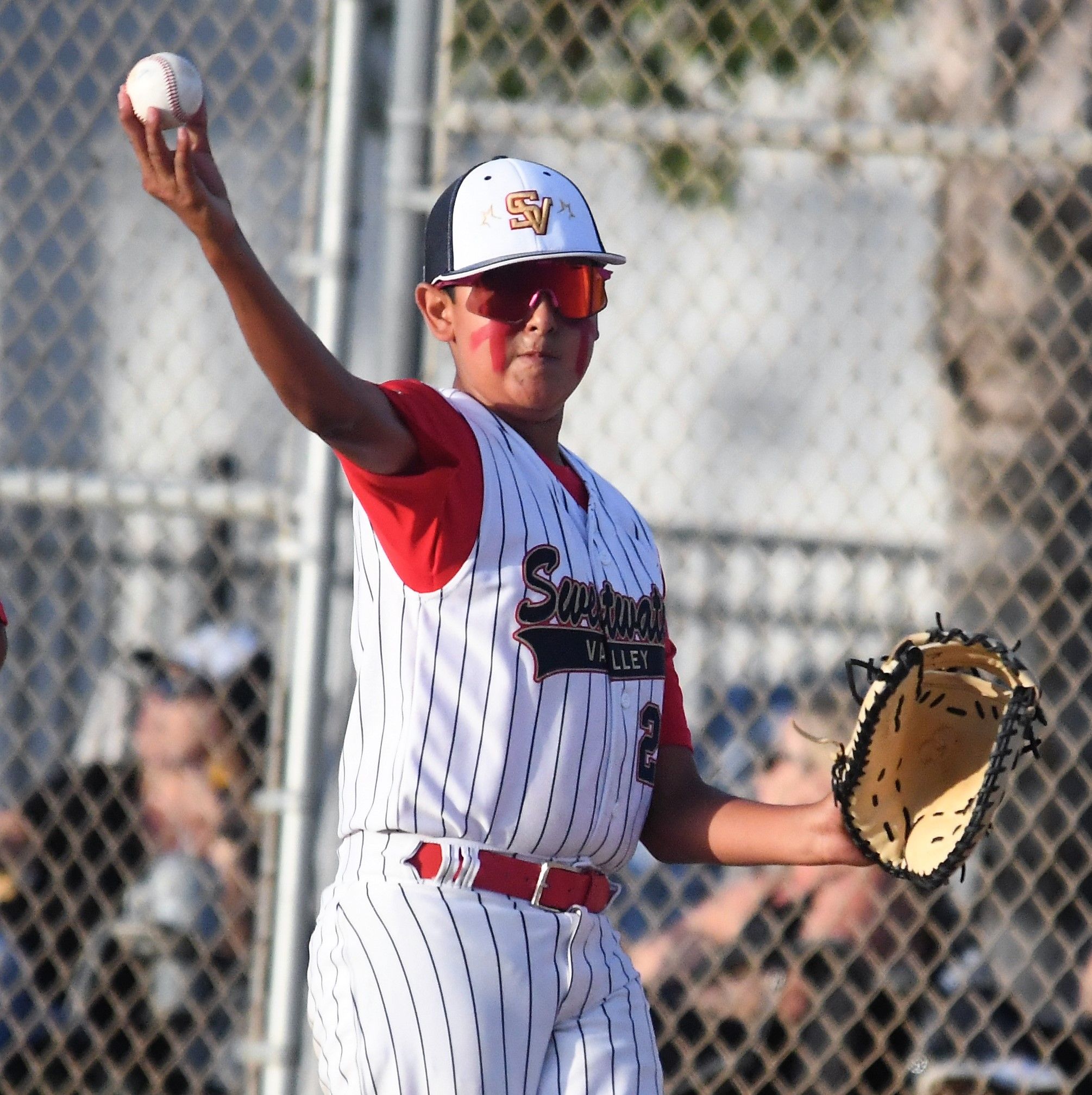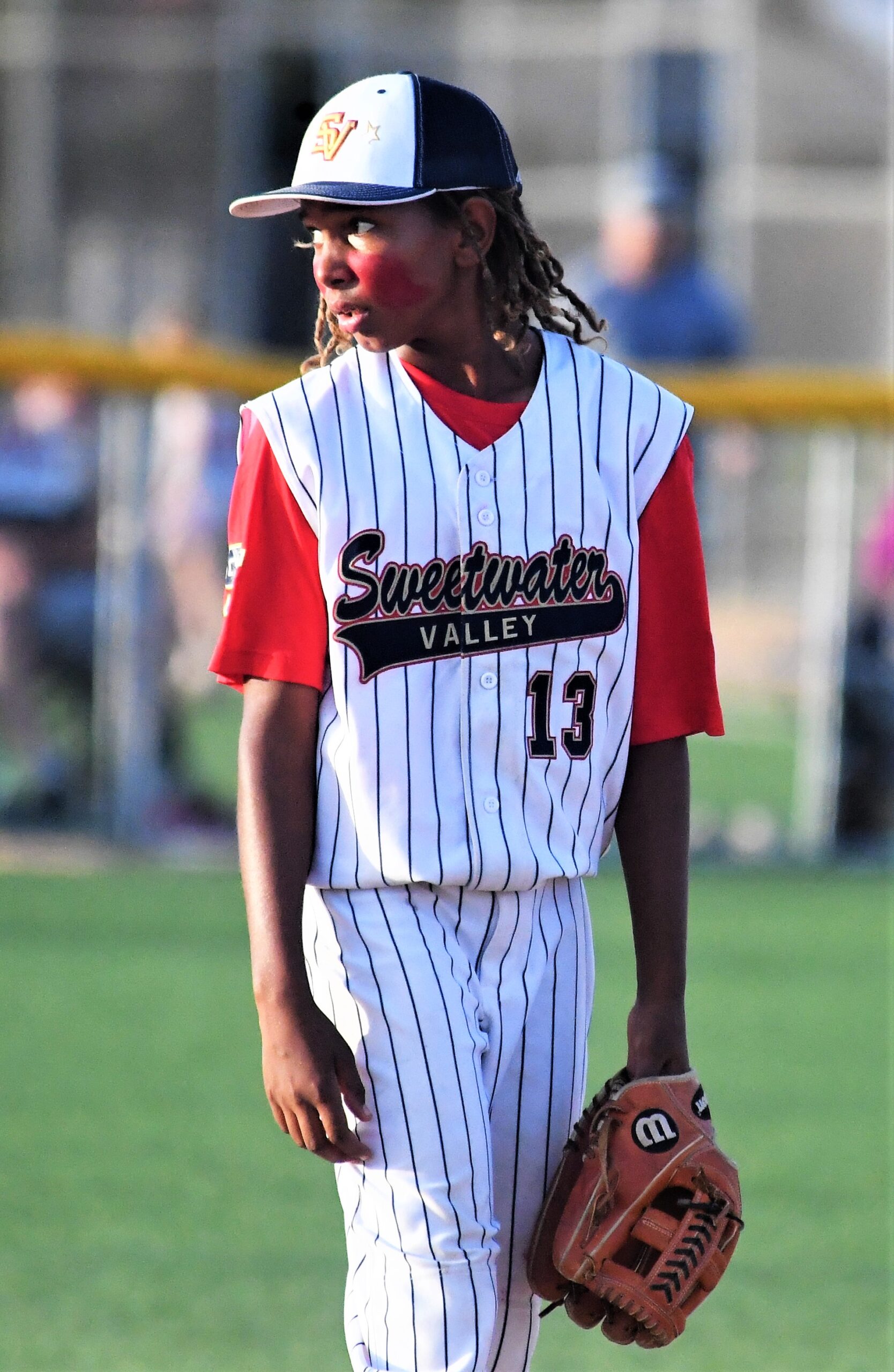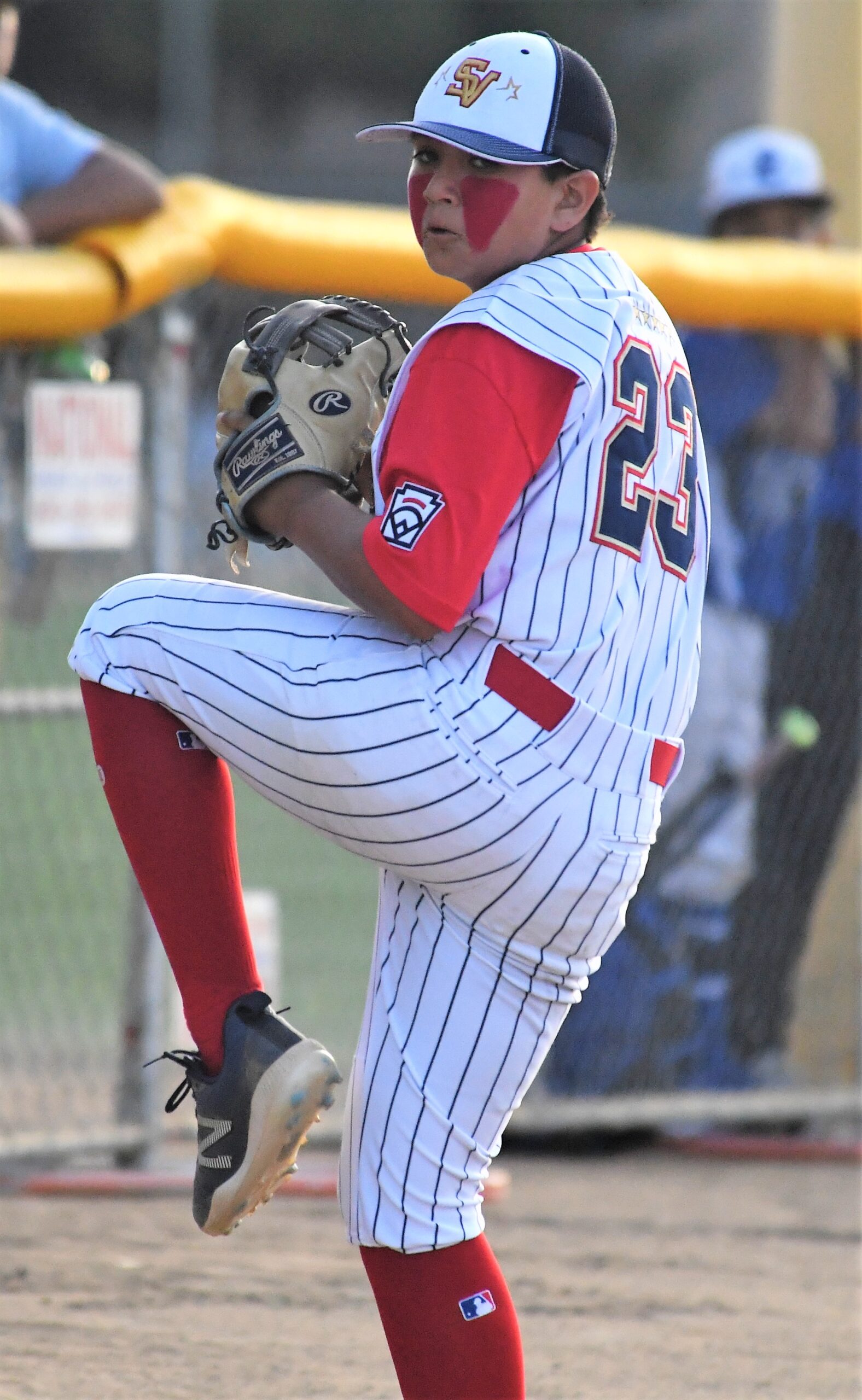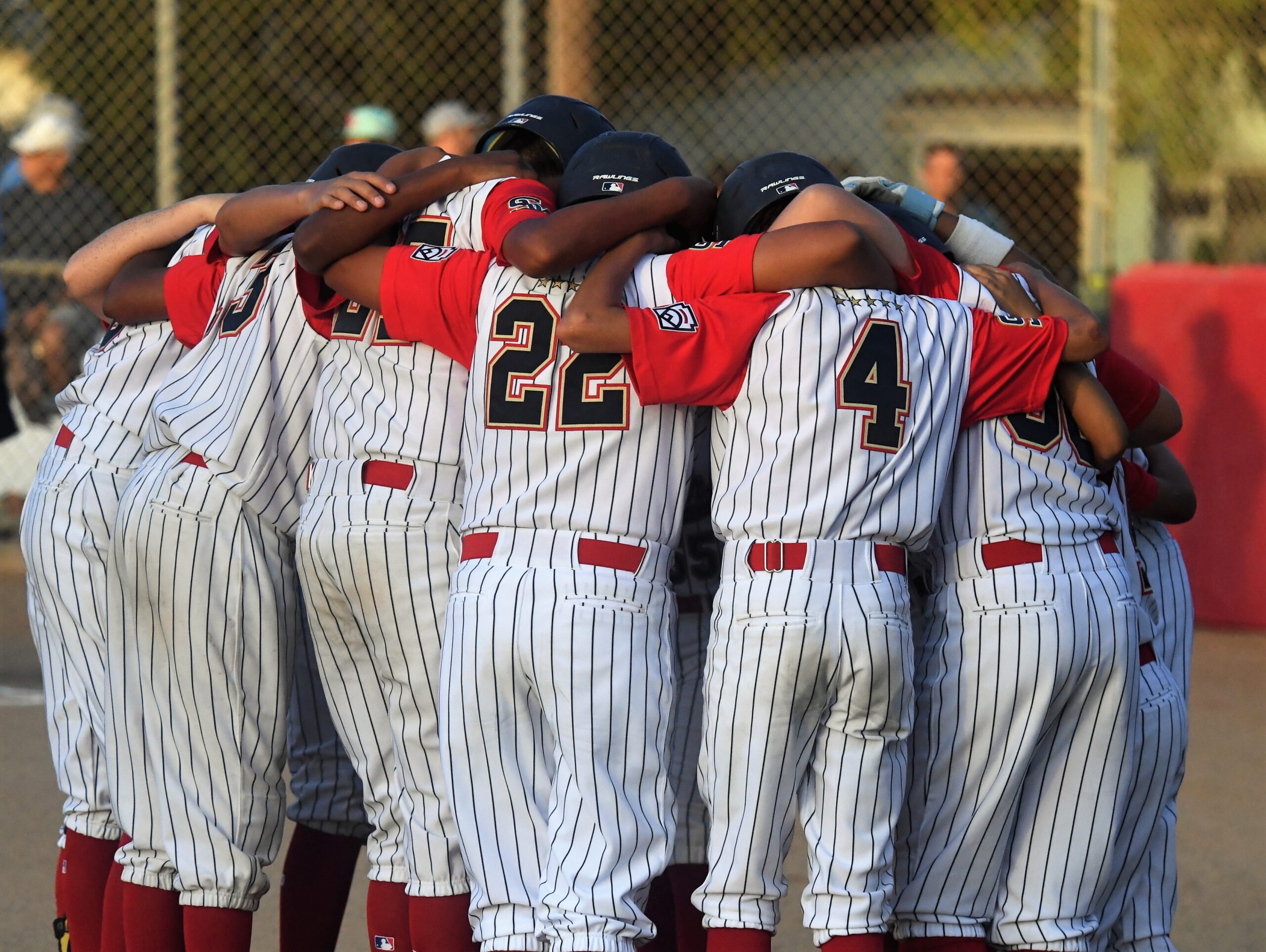 But victory was by no means assured as the early stages of Thursday's section final played out.
Sweetwater Valley scored single runs in each of its opening two at-bats to lead 2-0.
Joel Vargas stroked a one-out double and scored on a two-out double by Maelo Forrero.
Lakeside National's Gavin Kelly, who slew Sweetwater Valley with a grand slam in Sunday's winners bracket contest, singled to open the bottom of the first inning but the frame ended with a fielder's choice and double play as the East County champions went down scoreless.
Sweetwater Valley doubled its lead in the top of the second inning when Joe Waters reached base on a throwing error and came around to score on back-to-back singles by Ethan Orozco and Lucas Yriqui. A subsequent single by Vargas loaded the bases but Kelly, the Lakeside National starter, struck out Kenson Johnson to prevent further damage on the scoreboard.
SVLL added a third run following a walk to Orozco and a base hit by Yriqui.
Photos by Phillip Brents
Fast start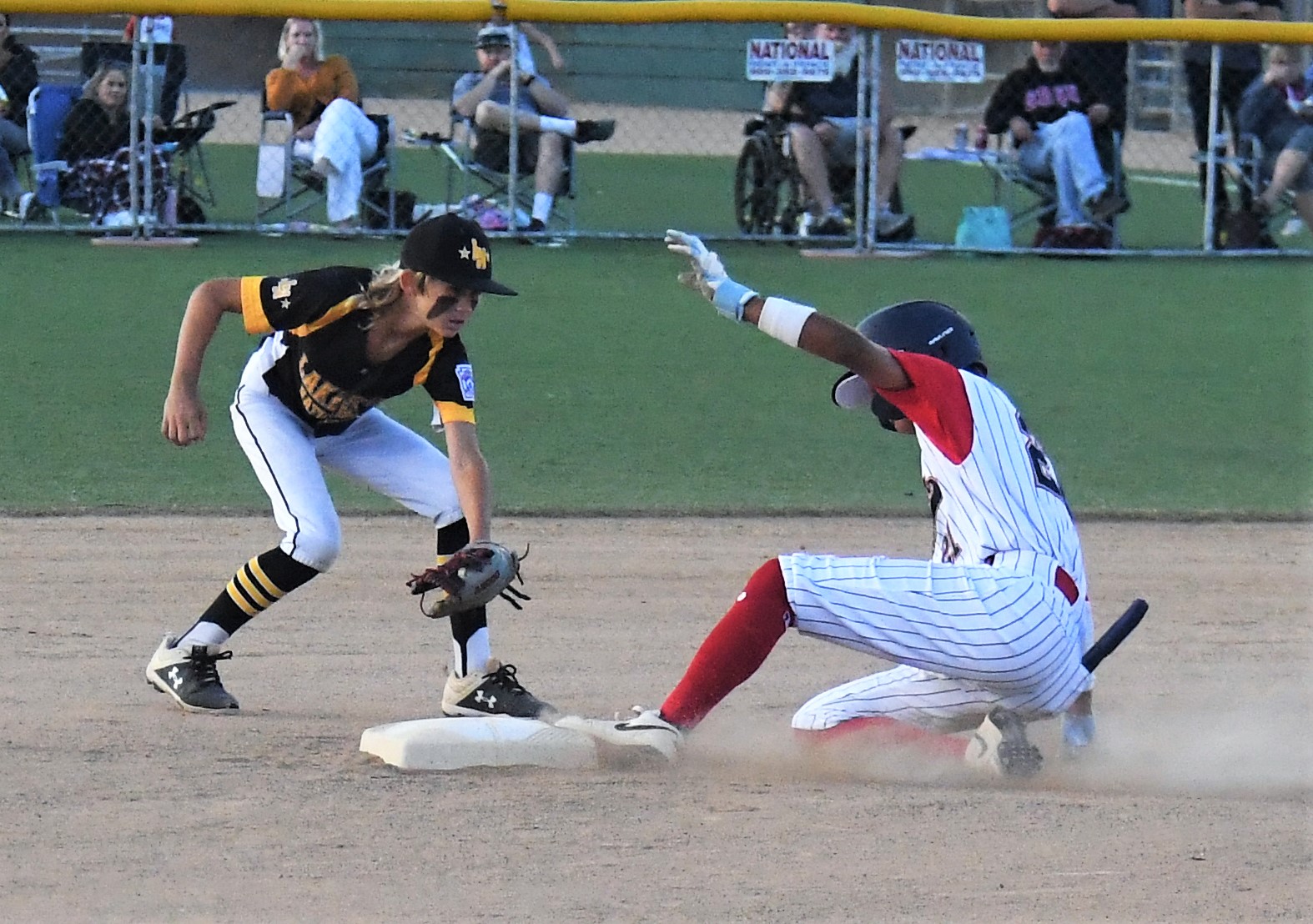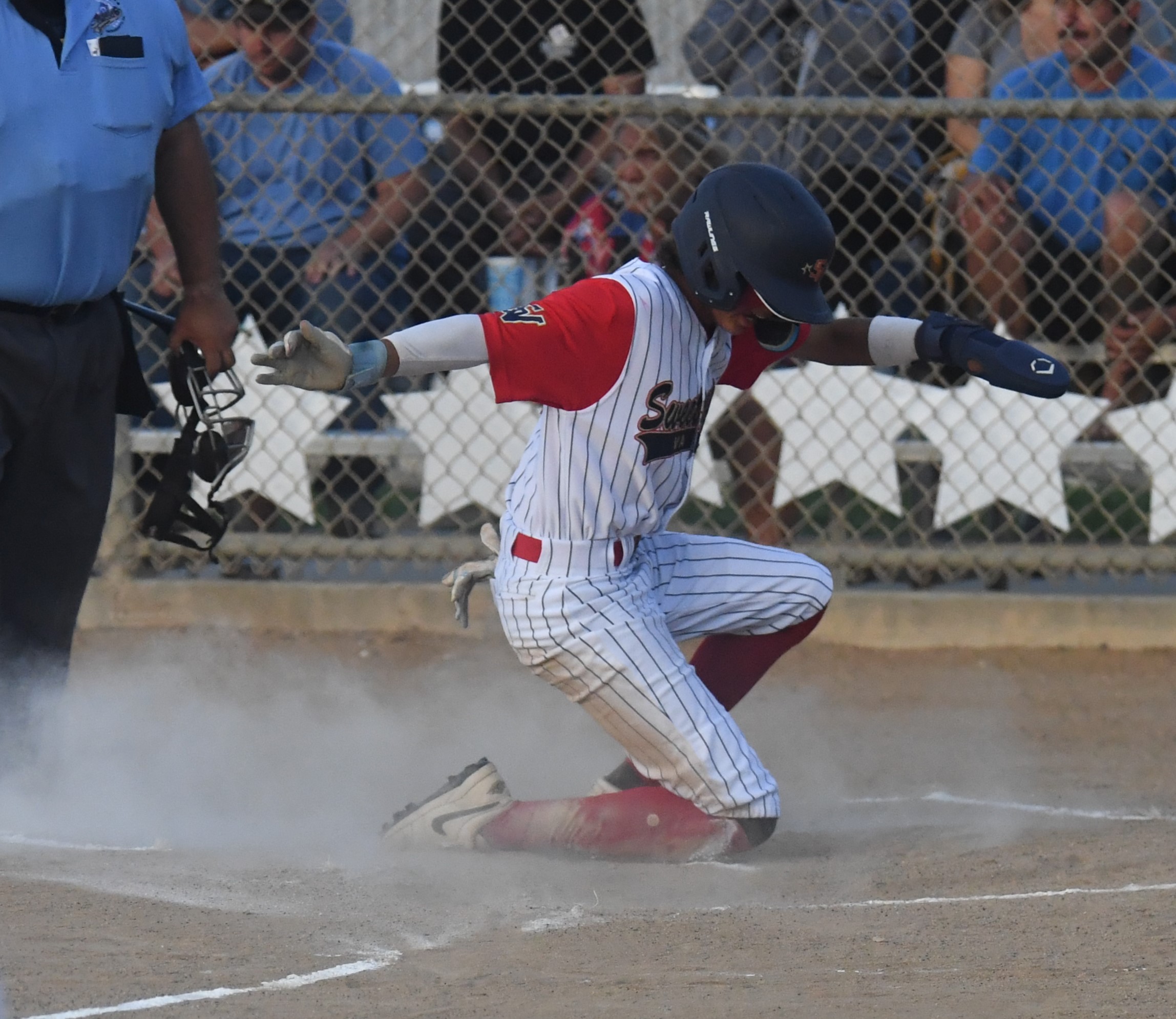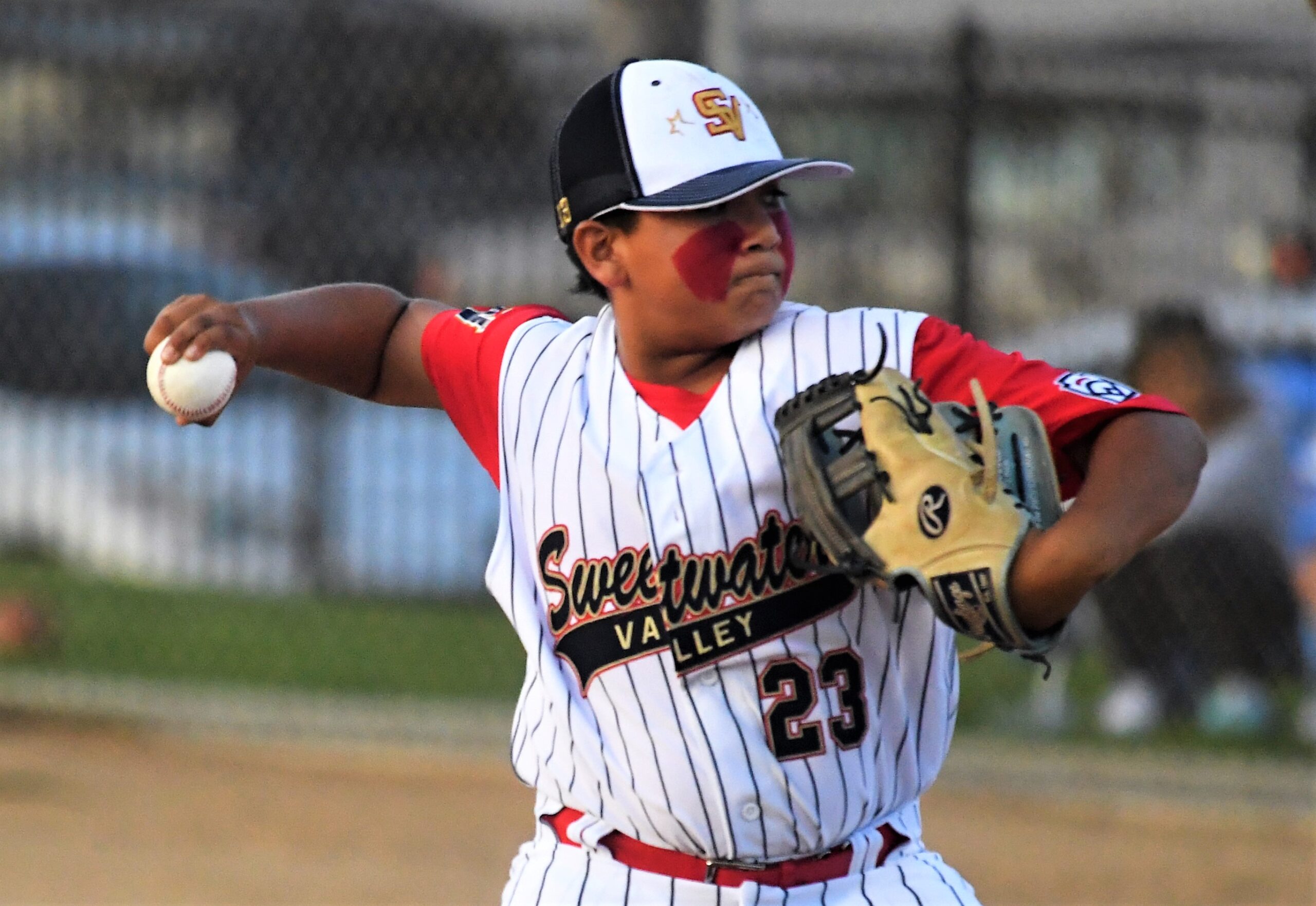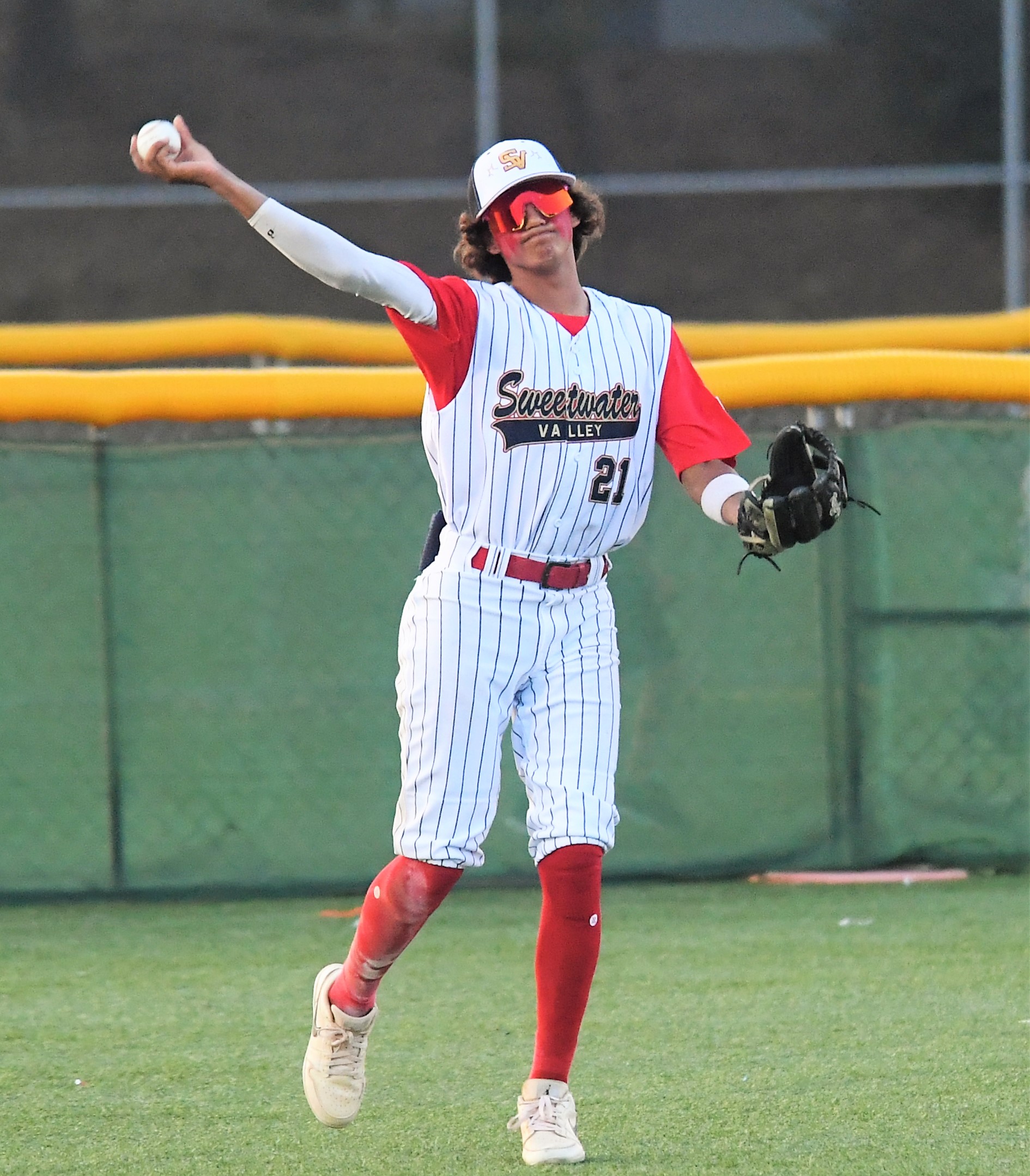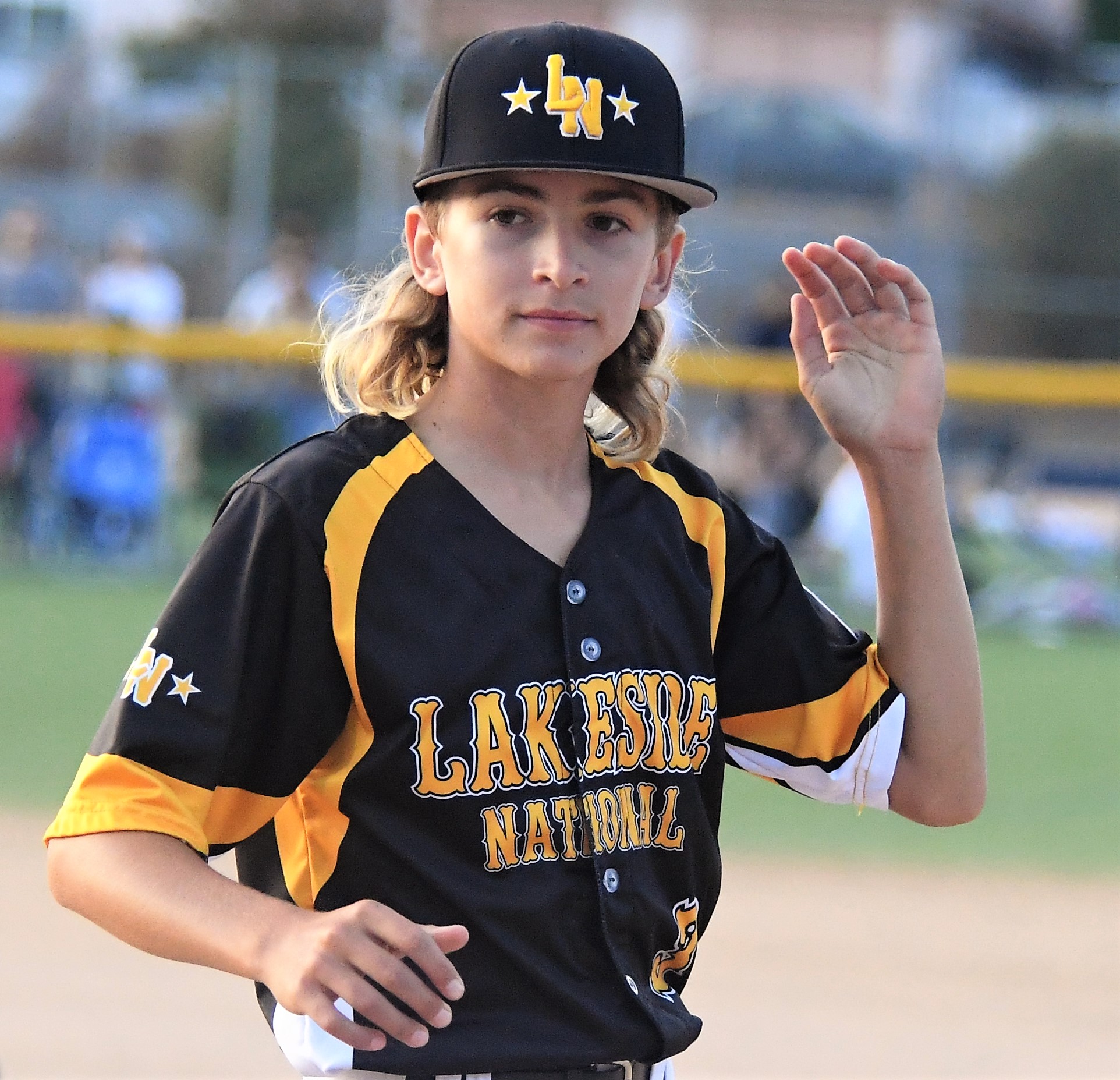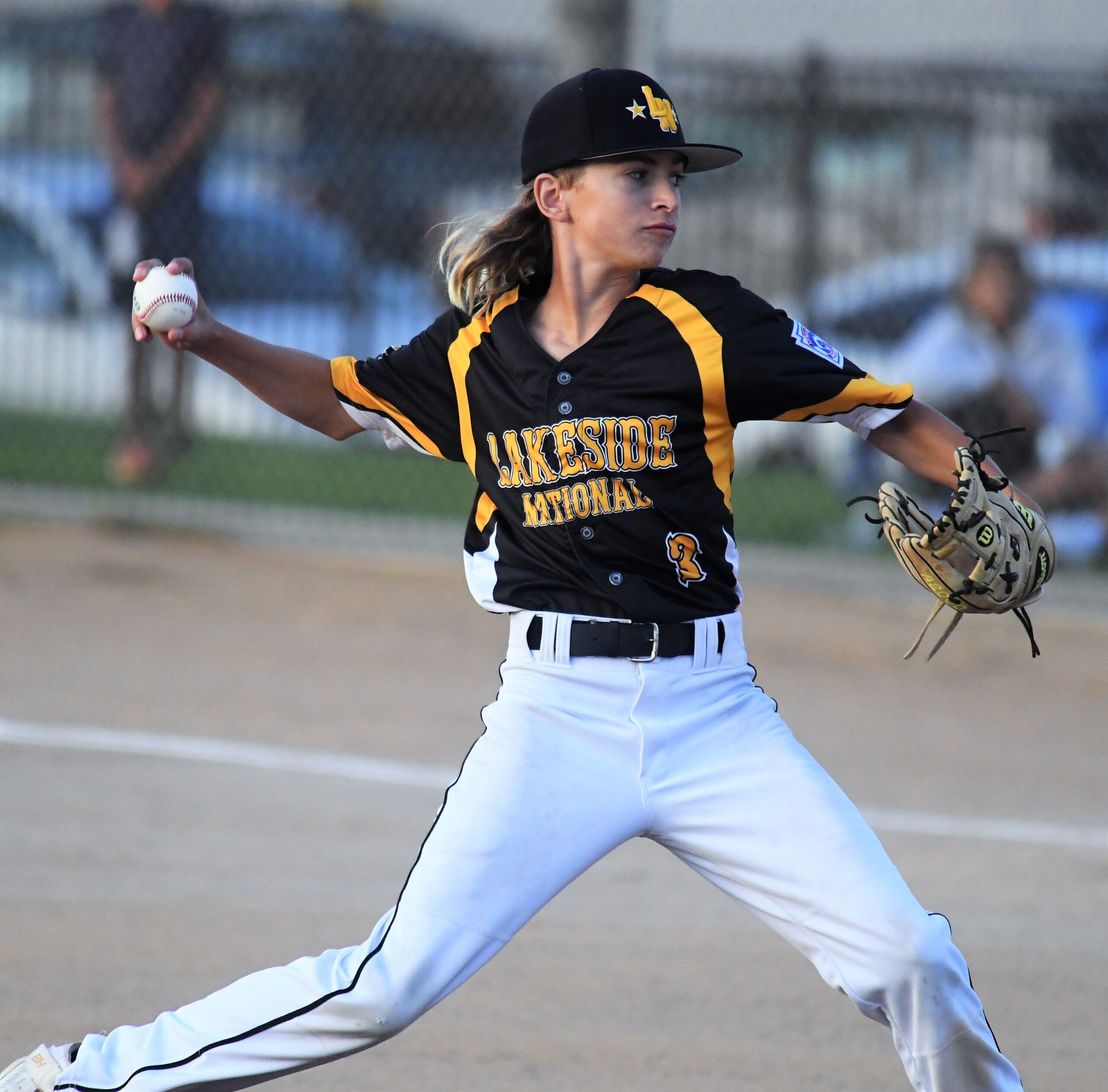 Lakeside National threatened again in the middle part of the game by placing two runners in scoring position but could not get past the Sweetwater Valley defense nor Orozco, the starting pitcher.
Instead of closing the gap, Sweetwater Valley extended its lead further to 4-0 when Vargas doubled, advanced to third on a passed ball and scored on a fielder's choice.
The Sweetwater Valley advantage ballooned from there.
The District 42 champions made the score 5-0 on another fielder's choice, increased their lead to 6-0 on a passed ball and upped their margin to 8-0 on a two-RBI double by Johnson.
A triple by Forrero made the score 9-0.
It seemed the Sweetwater Valley offense was just warming up in the final stages of the game. The District 42 champions punctuated their victory with by scoring 11 runs in the top of the sixth inning.
Yriqui drove in Tatum Feria for a 10-0 lead. Austin Walrath doubled to make it an 11-0 game. A passed ball increased the SVLL lead to 12-0.
A change of pitchers on the part of Lakeside National did not stop the bleeding.
Photos by Phillip Brents
Grand slam!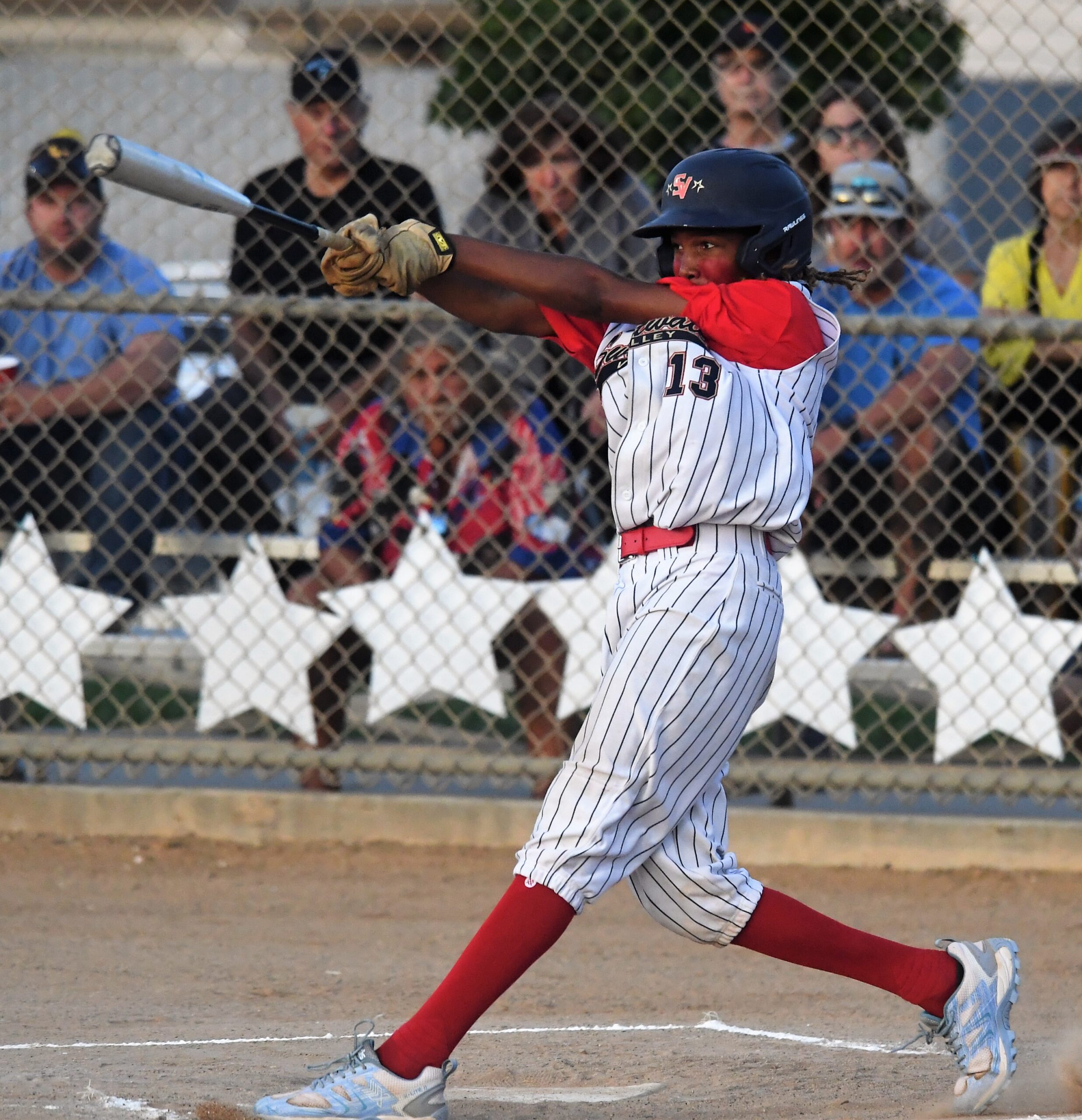 Vargas was hit by a pitch to load the bases and Johnson followed with a grand slam to up the score to 16-0. A three-run home run by Waters later rolled the score to 19-0.
Niko Duncan drove in the final run for the newly minted Section 7 champions.
Forrero came in to relieve Orozco in the bottom of the sixth. He allowed an infield single but retired the three other batters to sew up the dominating shutout victory.
Sweetwater Valley (8-1) advances to the 10-team Southern California regional tournament hosted by Eastvale Little League. The Section 7 champions will have to place their pitching in order as their first game is Saturday at 9 a.m. against Orcutt National Little League.
"It feels awesome that we came back after that first loss – that's what really woke us up," Vargas commented after the game, which included several water bottle cascades in the infield and an outfield perimeter victory lap. "I'm really proud of how my team came back to win and hopefully we can do it again in the next tournament."
Photos by Phillip Brents
How sweet it is!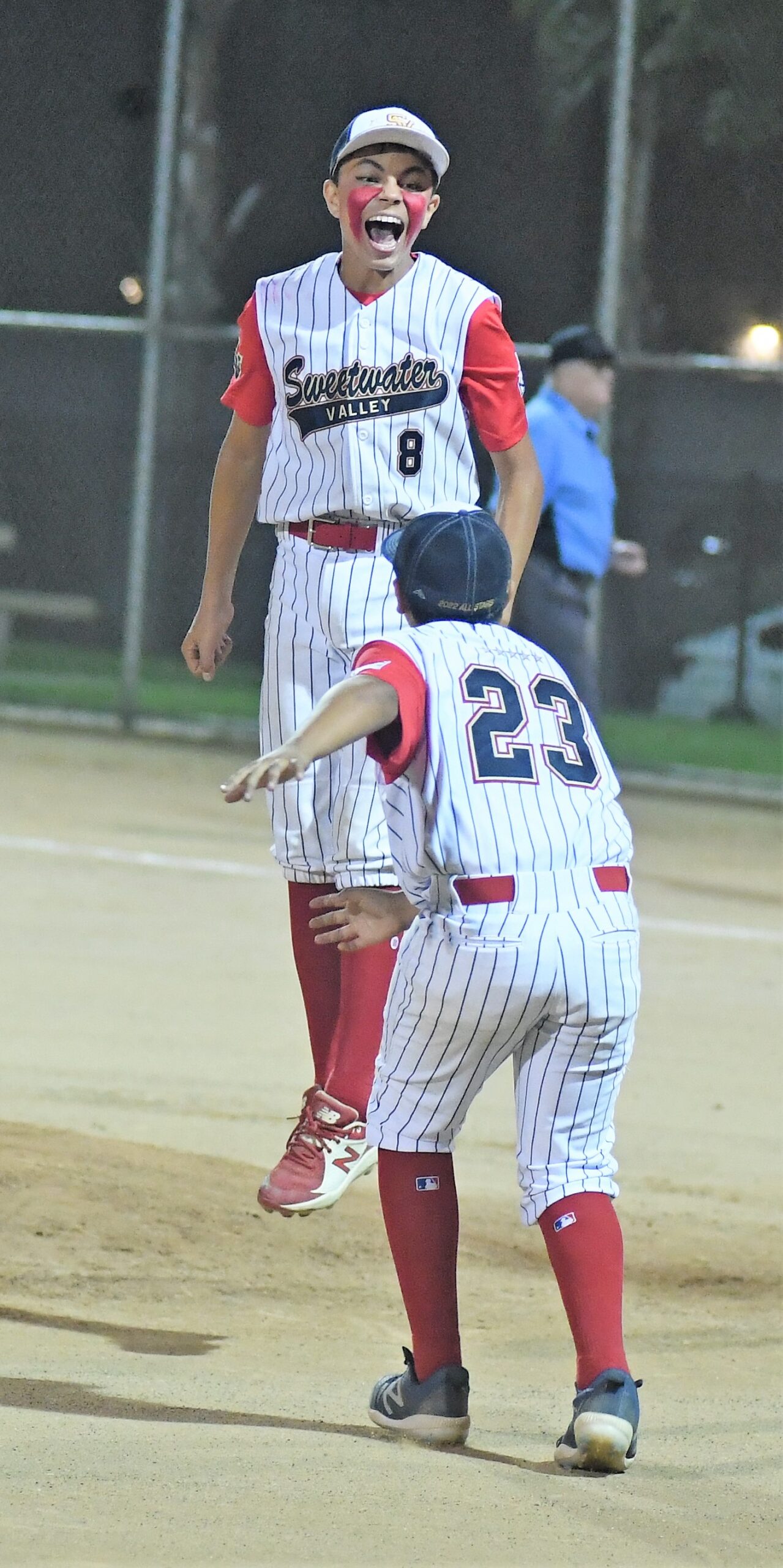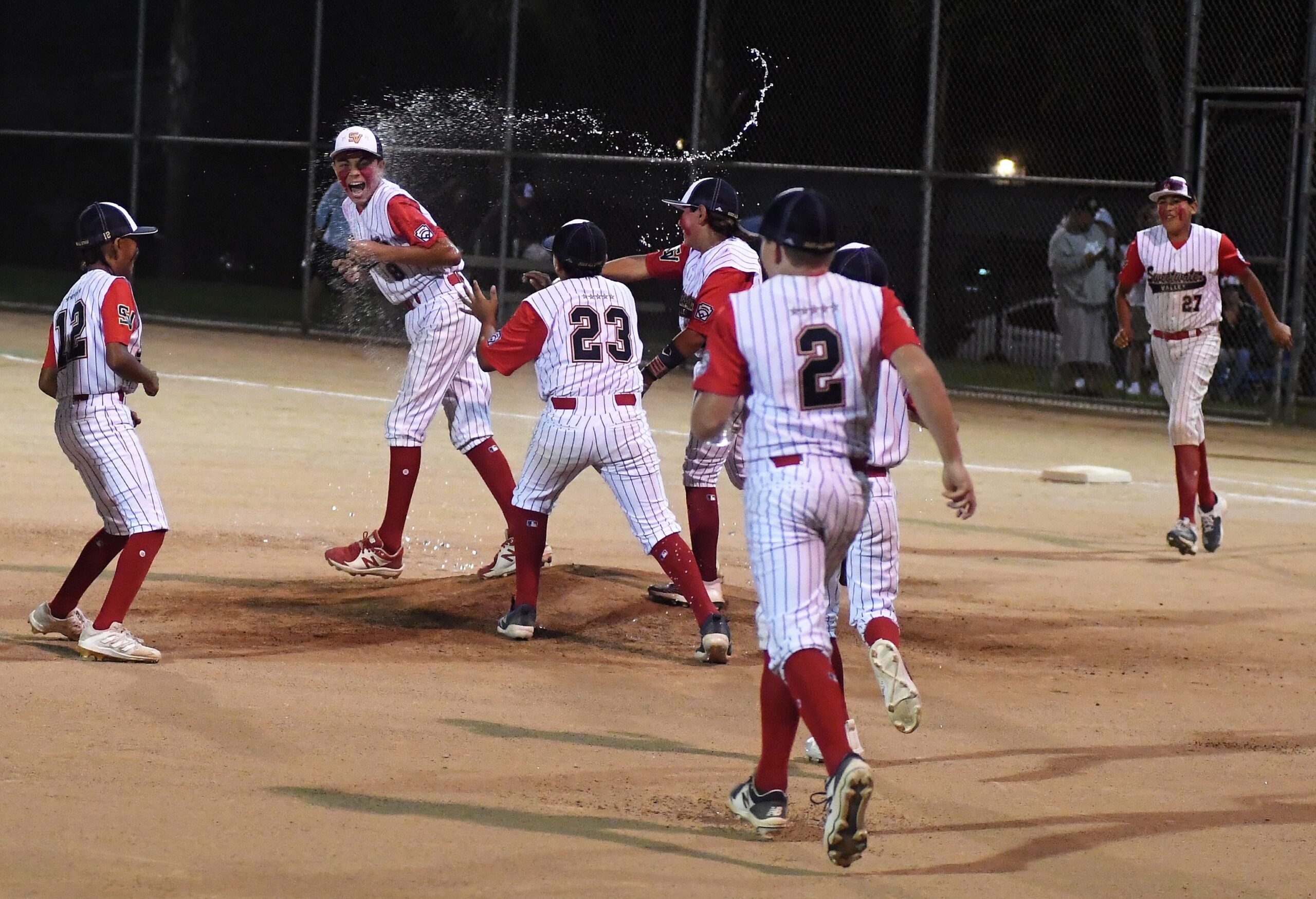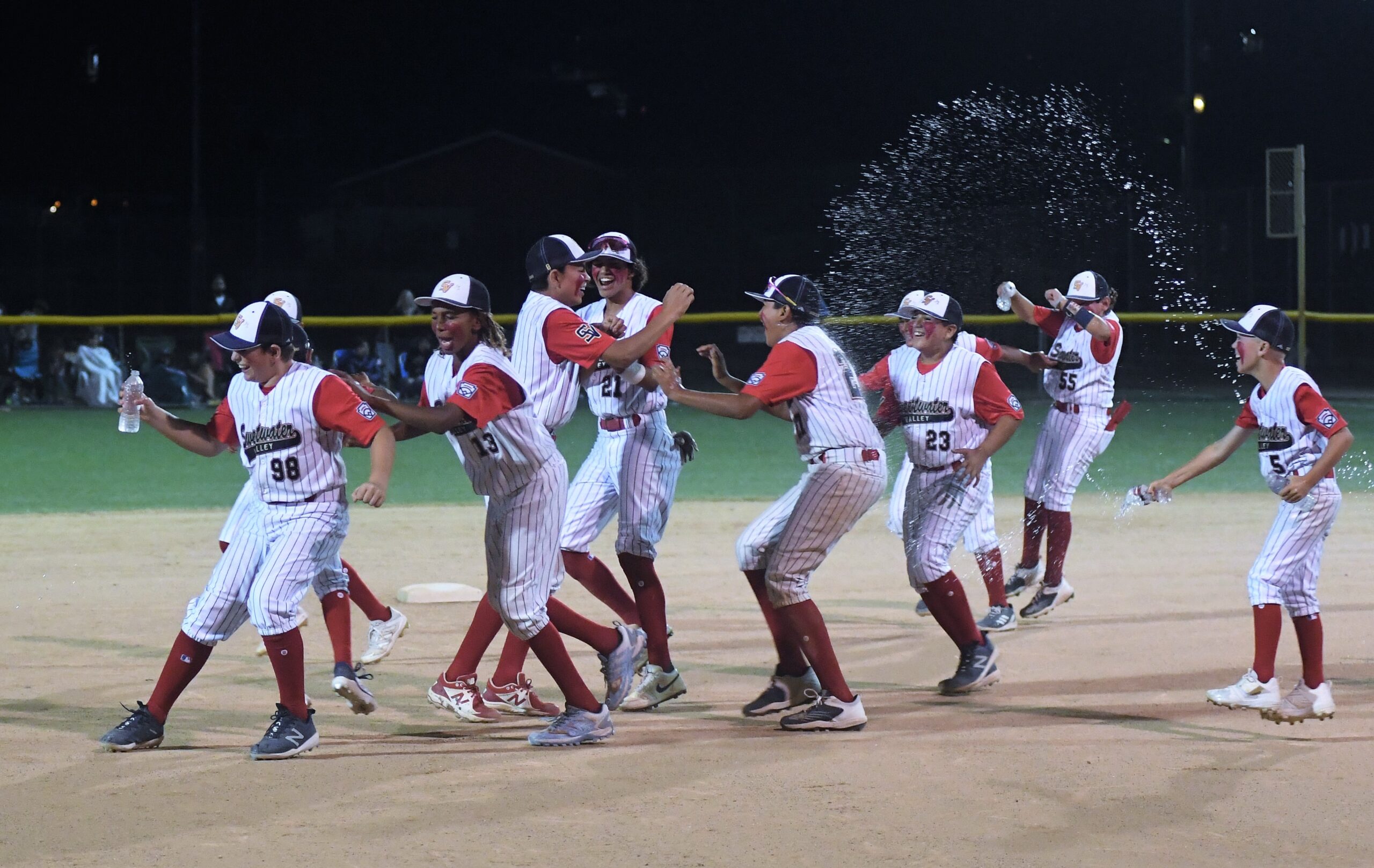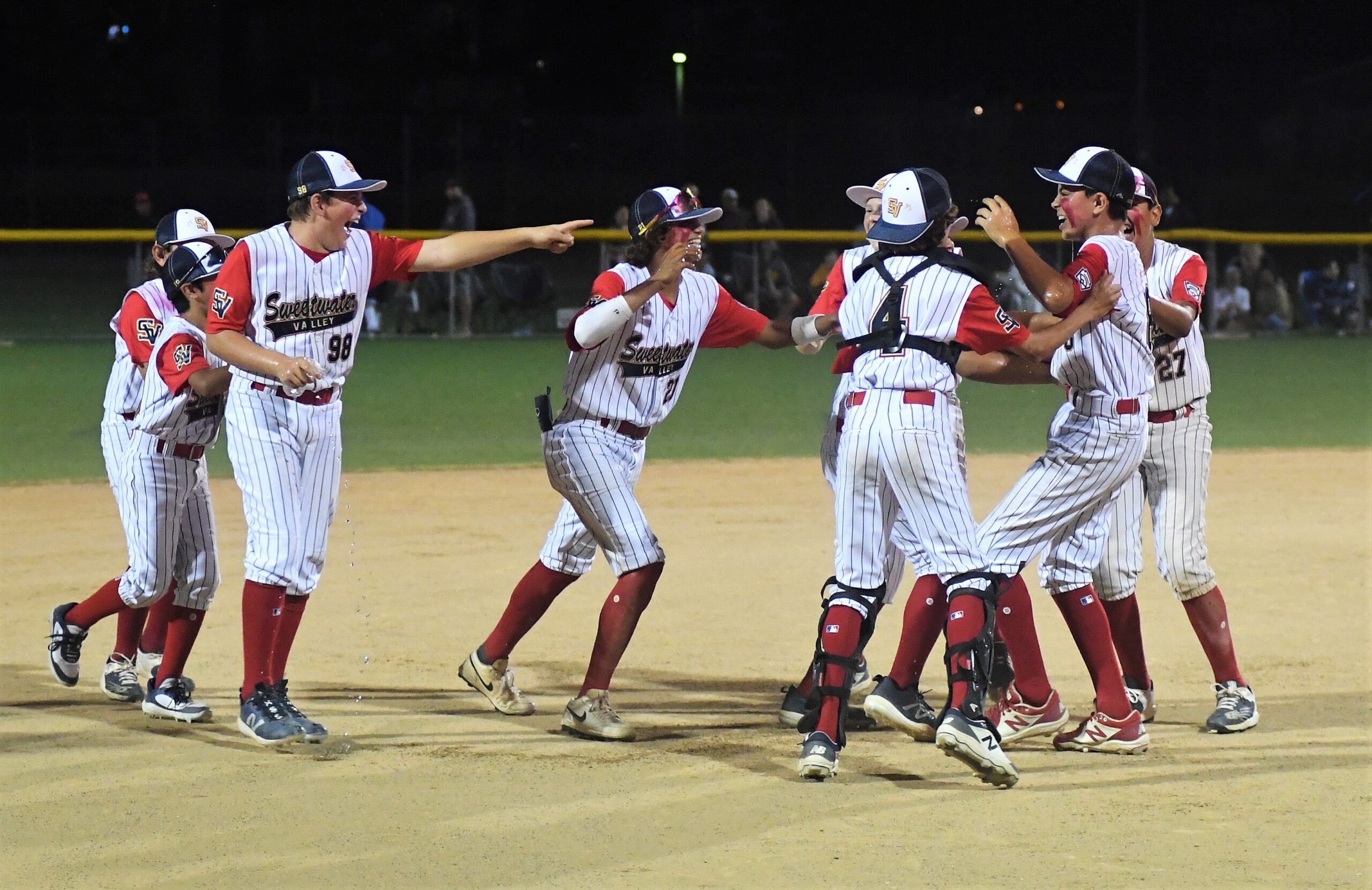 Sweetwater Valley out-hit Lakeside National 21-4 with the East County hosts charged with three errors.
Johnson led Sweetwater Valley with seven RBI in the blowout victory while scoring two runs. Waters had four RBI and scored three runs. Forrero and Yriqui both went five-for-five with two RBI. Yriqui scored three times while Forrero scored twice.
Duncan was credited with two RBI while Vargas had three hits and scored four runs.
Sweetwater Valley's win completed a sweep of this year's section division titles by District 42 teams. Chula Vista American won the 10U division title, Eastlake Little League's 11U team duplicated the SVLL 12s double-elimination championship by defeating District 41's Rancho de Oro, 9-2, in Thursday's first half of the championship double-header. Previously, Park View Little League won the Junior Division title while Sweetwater Valley captured the Intermediate and Senior division championships.
In the 6-0 title run for District 42 teams, Sweetwater Valley recorded three section titles while CVA, Eastlake and Park View each posted one victory.
District 42 administrator Ernie Lucero was left scrambling to determine if the clean sweep had ever been accomplished before.
Photos by Phillip Brents
Lucky Monkey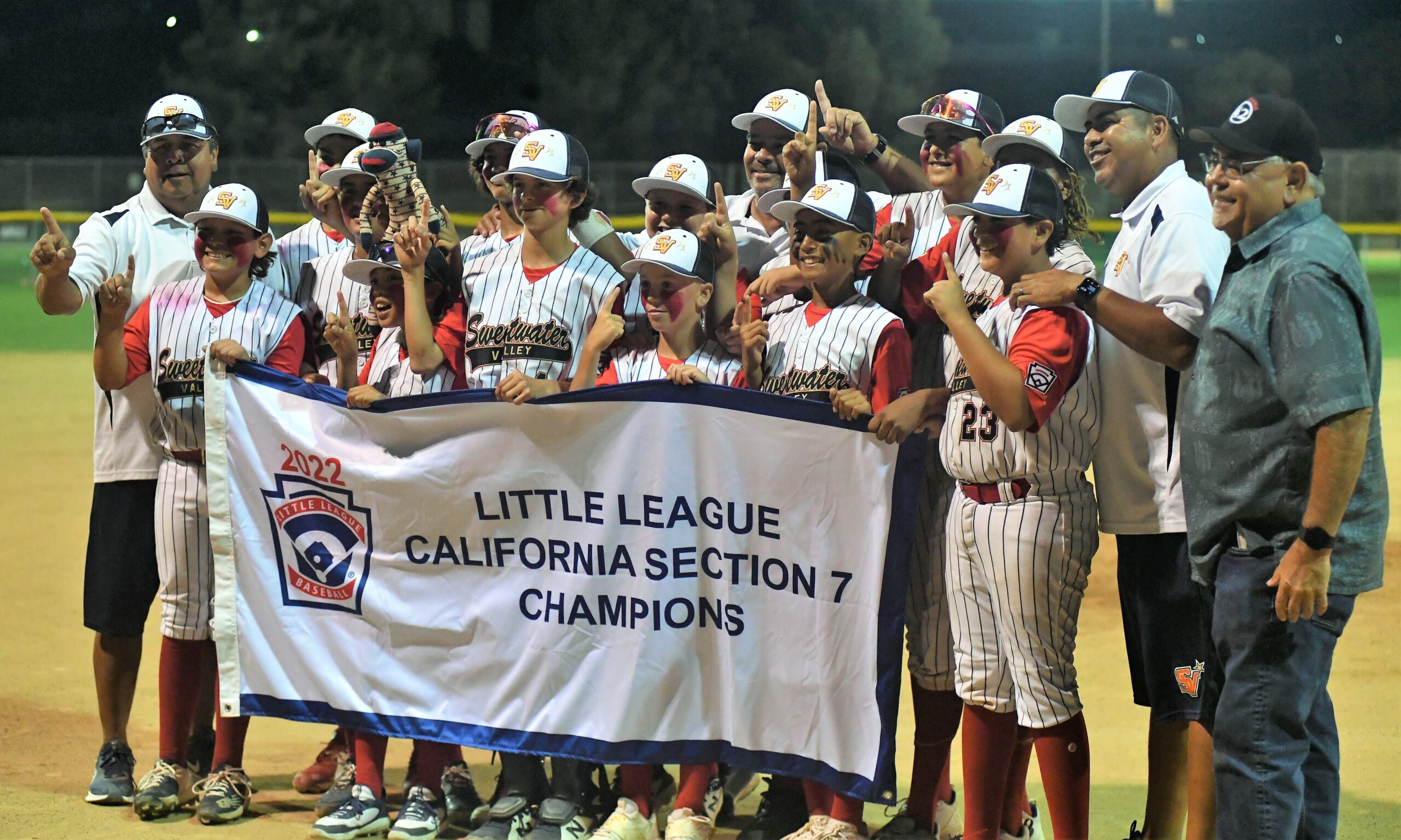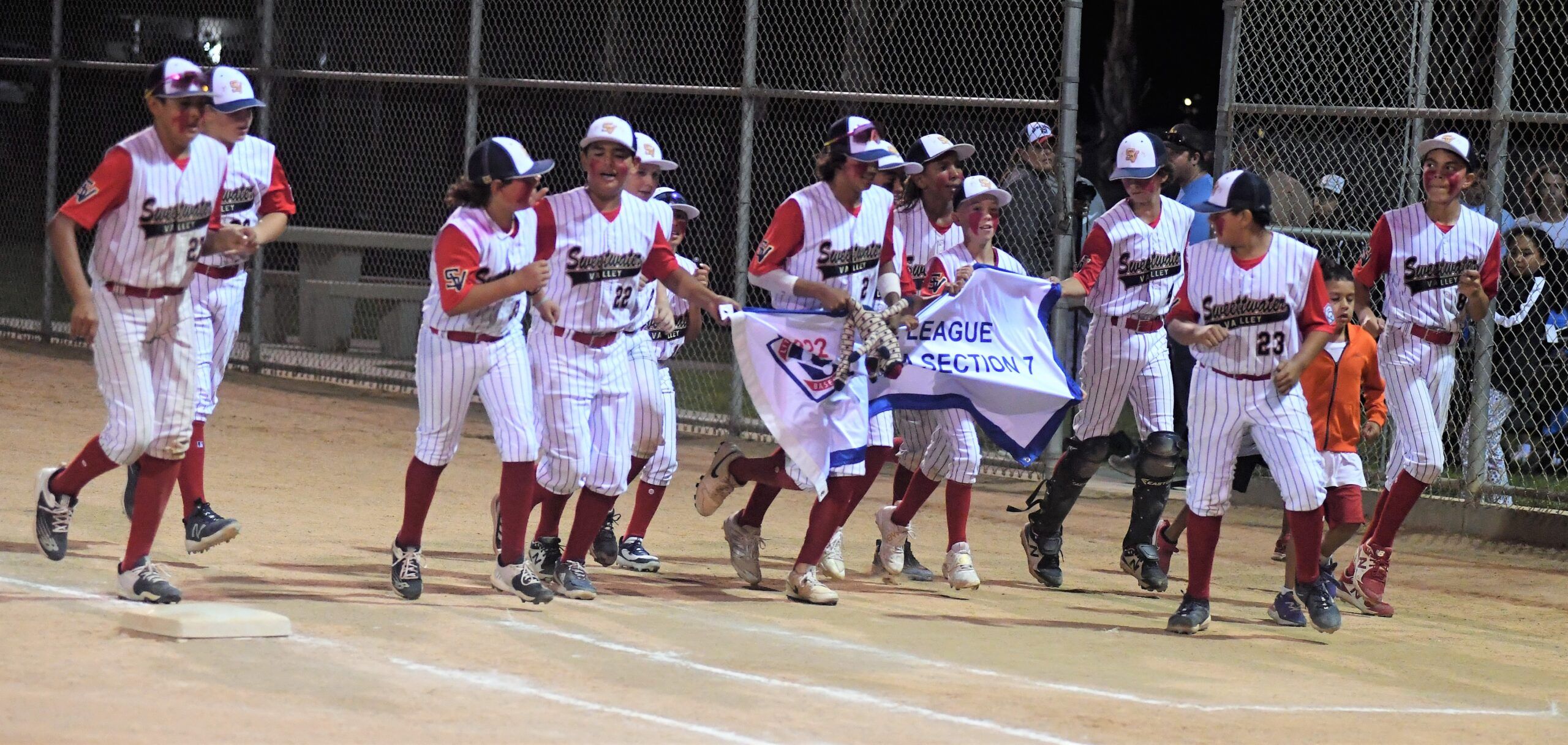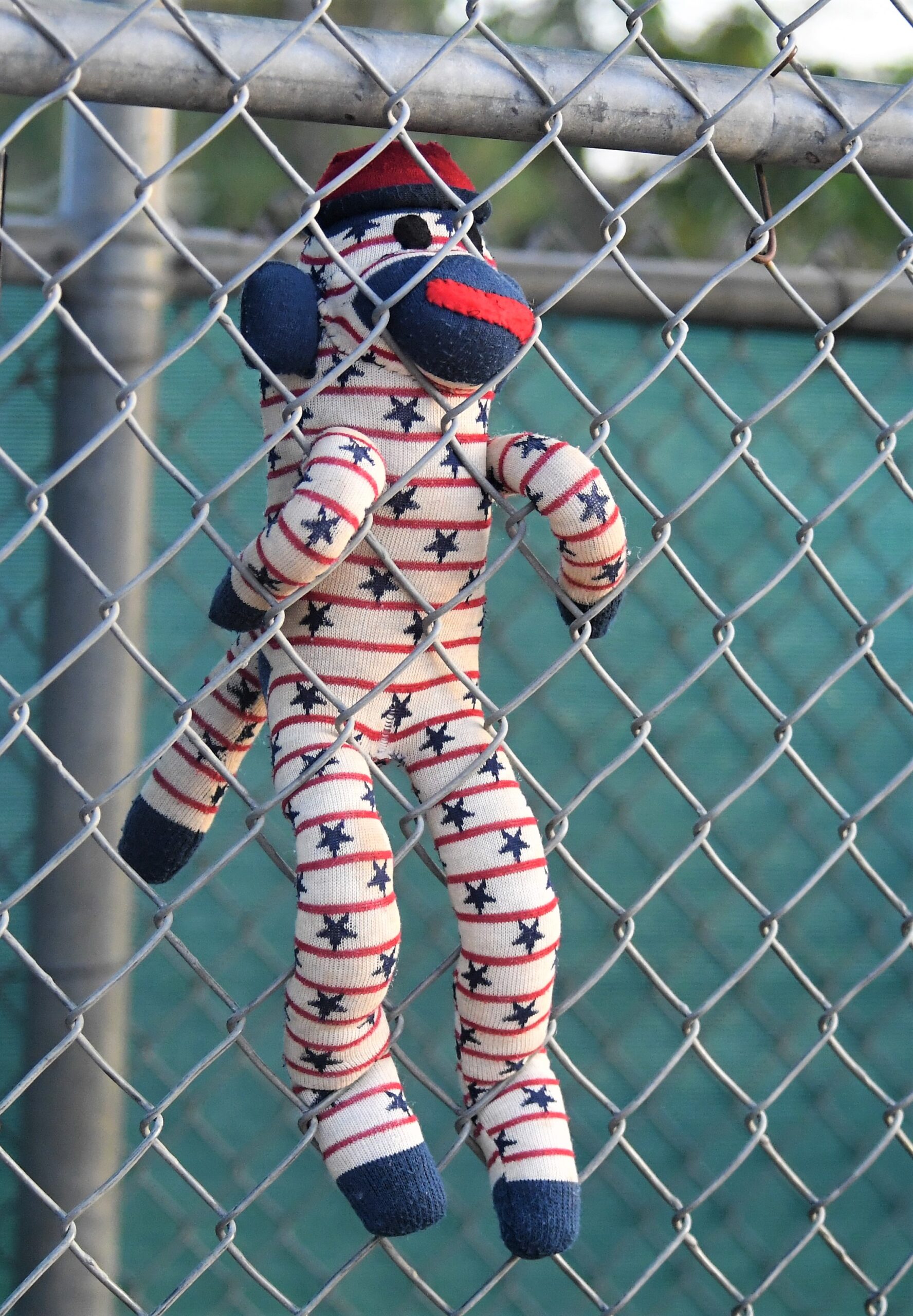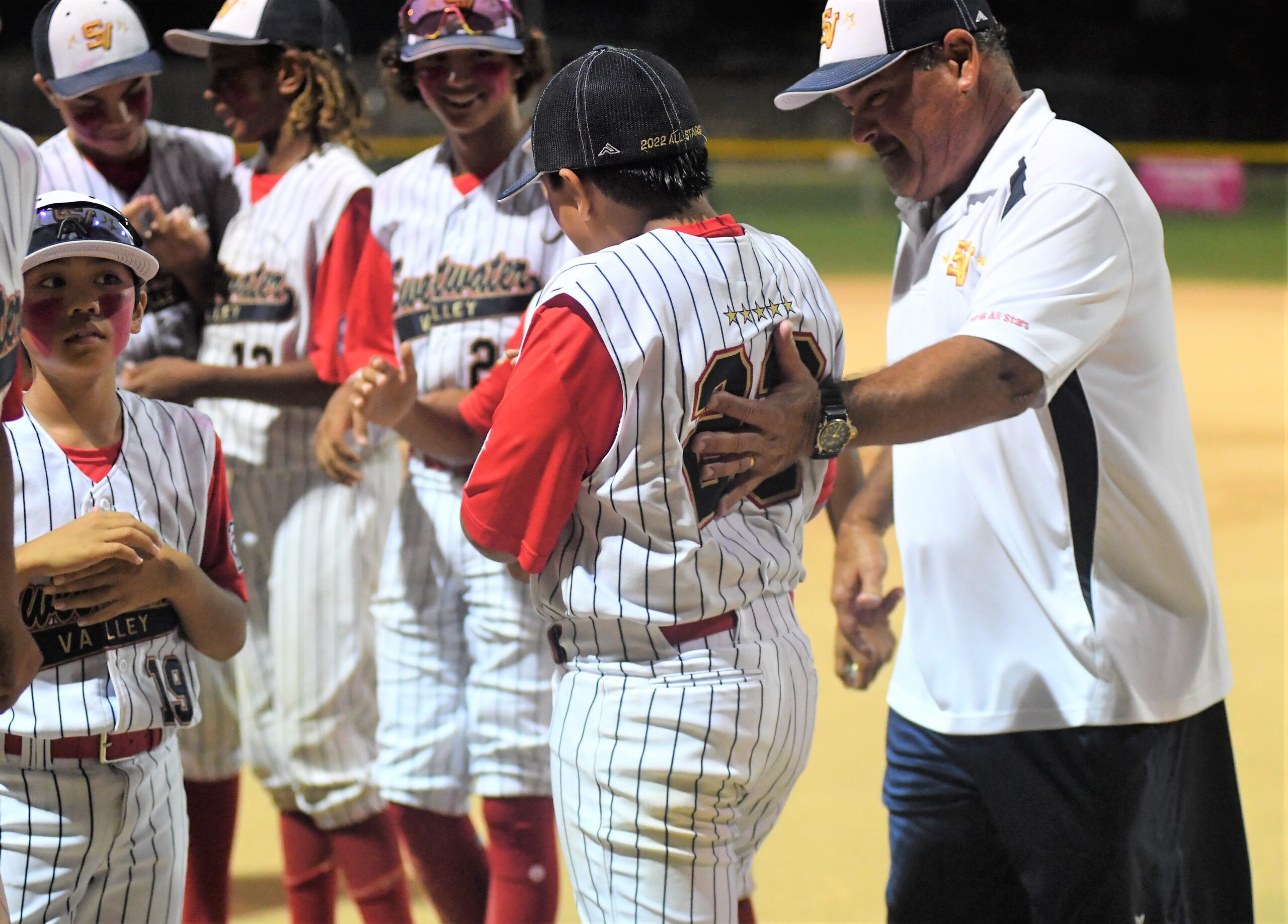 Micah Pietilla-Wiggs remains on the road with Sweetwater Valley …
Courtesy photos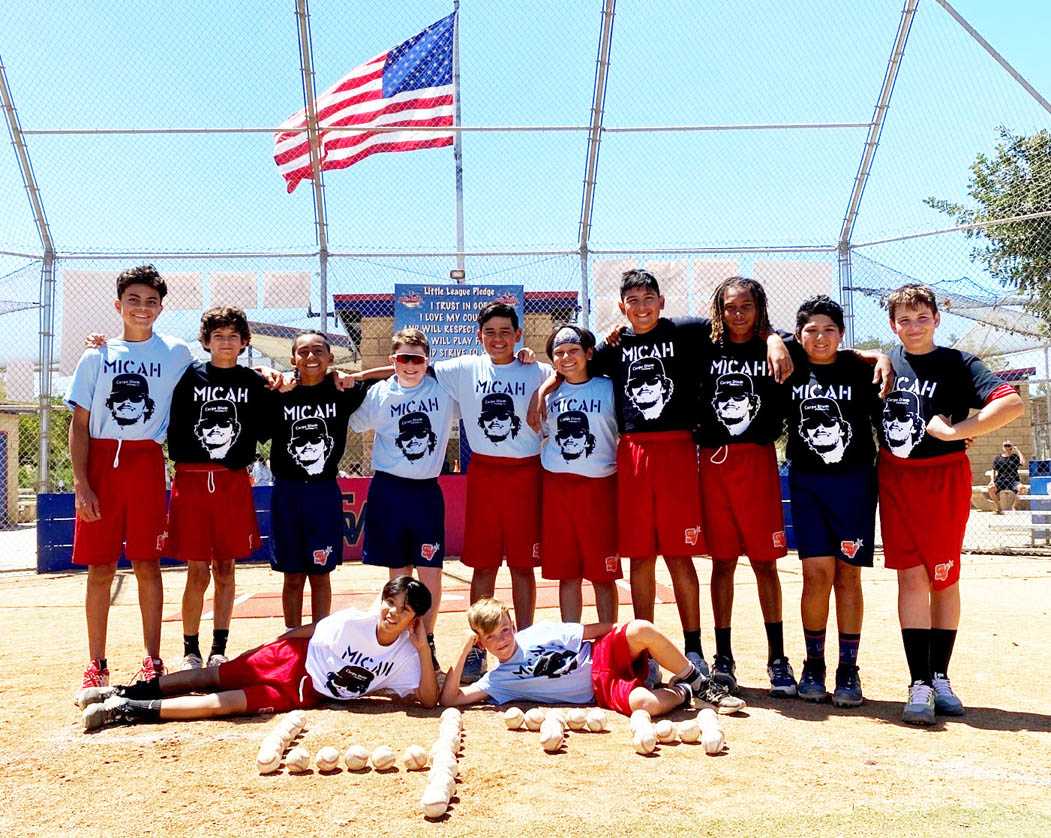 Eleventh heaven!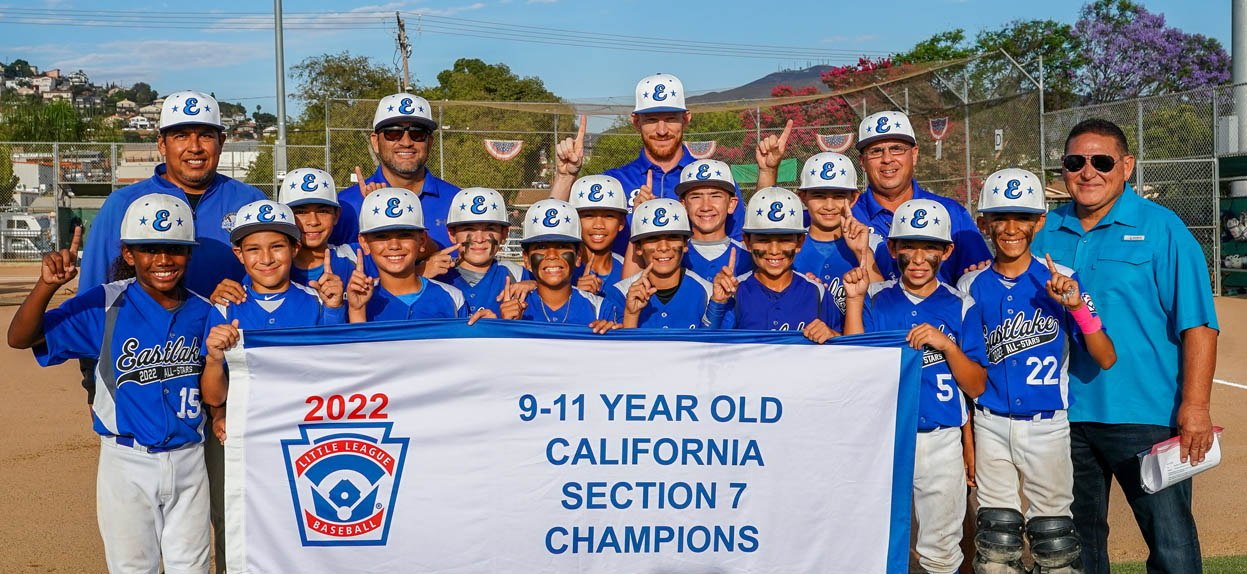 Photo by Jon Bigornia