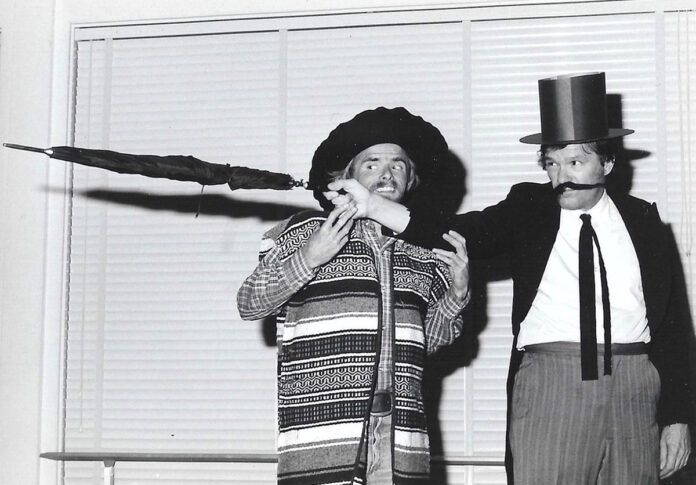 Bonitafest is celebrating its golden anniversary this September with several events. Two parades, a performing arts festival, a street fair, and San Diego County's longest running theatre production.
On Friday evening, Sept. 16, the Bonitafest Twilight Trail Parade invites equestrians, cyclists, marching bands, strollers and walkers to snap on glow sticks and cruise around the south side of the Chula Vista Municipal Golf Course trail to the Bonita History Museum for a community party in the parking lot, said Bonitafest General Chairman Max Branscomb, who has been going to Bonitafest since he was 15-years-old, attending the first time with his mother in 1973. Since that time, he has only missed one Bonitafest and served on the committee for 47 years.
On Saturday morning, Sept. 17, the Bonitafest Car Parade, led by the Bonita Sunnyside Fire Department will take a 13.1 mile journey from the Sweetwater Community Church through Sweetwater Valley neighborhoods. Right afterward, the SCC will host the Bonitafest Performing Arts Festival and Street Fair, the first ones since 2019.
The 45th annual Bonitafest Melodrama runs Sept. 21-24 at the Sweetwater Church theater. Branscomb said the hope this year is to have a live production of the musical-comedy "Really Fast Food" with a live audience after two years as a radio production due to the pandemic.
"Bonitafest was one of few San Diego County community celebrations that persevered through the pandemic by developing Covid-safe, socially distanced community events. We are looking forward to more traditional celebrations, but ready to pivot if the South County suffers another coronavirus spike in September. We are grateful for the support of the San Diego County Community Enhancement program, the primary funding source of this year's Bonitafest," said Branscomb.
Audition for the Bonitafest Melodrama are July 25 and 26 at the Sweetwater Community Church. Tryouts begin at 6 p.m. The show requires children, teens, and adults of all ages. Professionals and beginners are welcome.
Auditioners will be asked to read from the script and sing 30-45 seconds a cappella selection from a show tune.
Written by Bonita playwright/composer Dr. Max Branscomb, it is based on Sweetwater Valley history. Branscomb will direct. Kerie Muller is the stage manager. Ken Santillan is the musical director.
"Really Fast Food" is based on the true story of a "mystery meat" controversy that embroiled a South Bay eatery in the 1980s. It was broadcast last October on KOGO radio.
This year's grand marshals are Ron and Reina Bolles, the founding director and choreographer of the Bonita Vista High School Music Machine show choir, for their immeasurable impact on the performing arts and arts education in San Diego County.
Ron Bolles said it is "a great honor" to be named grand marshals for this year's event. He said he has been participating in Bonitafest since the mid-1970s, the first time they took the Show Choir and the Music Machine to perform at the event for the community.
"The Melodrama was tent across the street from the main stage. It was a simple, folksy event. We continued to do that for a number of years. My wife helped me in 1976 with the forerunner to the Music Machine," he said.
Reina Bolles said when she started, the event was about three shopping centers large.
"There were many artsy things from the community. It was one of those small community situations that was so delightful. I went to Los Angeles to become famous, and I did not, then came back and we were married in 1978. We have been to nearly every Bonitafest since. We have had a long enjoyment of Bonitafest. Being grand marshals is very special for us," she said. "Especially in the early days, you went down there, and you always saw people you knew. We lived in Bonita for 10 years. Ron worked for the high school and middle school for 25 years, and I worked for Ron there for 20 years. So, we are real Bonitites in our hearts."
Ron and Reina Bolles went on their first date after Bonitafest after they put together the first show.
"I had loved working with her briefly back in 1974/75. So, I latched on to her. We put together that first show. We said, 'Let's celebrate and go out on a date.' We did. Our first date was after Bonitafest. Three months later I asked her to marry me. Three months later we were married. And as the crazy kids that we were, we took the Music Machine to Hawaii, and that was kind of part of our honeymoon. A trip spent with 20 teenagers," said Ron Bolles.
Another longtime supporter of Bonitafest, Terry Sampite, said like many people from the area, he was attending Bonitafest for the longest time.
"Growing up in South Bay, I have been going to Bonitafest since 1978," he said. "Like many people, it was the thing to do every fall. In 1994, was when I first became involved helping. Our church, Bonita Valley Baptist, was handling logistics for the festival. One guy in particular, Rod Buckham, said he could use some help. So, I began with him. We would haul hay bales from the feed store and set them up along the roadway for people to sit and watch the parade. We would put up barriers and barricades to block the road. Handled communications. Lots of odds and ends that went with the different committee jobs."
Sampite said he was the senior host at Bonitafest's 25th anniversary, got to ride in a car, wave to people, and talk to everyone about how much they enjoyed the parade.
"In 1999 and 2000, I became the chairman of the festival. In 1999, our fundraiser was a sock hop at the Optimist Club. The next year, we got Freddy Fender and we put on a concert at Rohr Park and drew a huge crowd," he said.
"I was grand marshal around 2016, based on the work I did with Homeland Security and emergency communications. I continued working, mostly as an advisor until I became more involved working with the Twilight Parade."
Sampite is heading the Twilight Parade this year.
Bonitafest 2022 Deputy General Chairwoman and Miss Bonita Arianna Chavez said she became involved in Bonitafest in 2016, applying to be a youth ambassador.
"I saw an application for youth ambassadors, and I thought it sounded interesting," she said. "I grew up in Bonita and always loved Bonitafest, and I love being involved in community events. I thought it would be a great opportunity to be involved in something that I loved as a kid."
Chavez became a Bonitafest youth ambassador, then went to college, but since graduation, she has been able to participate in Bonitafest and do her work as Miss Bonita.
"Since becoming the deputy director beside Max Branscomb, it has been a really great opportunity to work with the community," she said. "To meet people that have lived here for so long and getting together to make this wonderful event that has been going on for 50 years now."
Chavez said the biggest thing they are looking for now is funding, which they typically look to local businesses to be sponsors for the event.
"To have people funding this event so we have the big, beautiful stage where historically we have had local dance groups, show choirs, clubs perform on, and to get the community excited about the event, and bring this event back to life. We are bringing this back so that the community can see these wonderful performances again," she said
Chavez said her favorite part of Bonitafest is the idea that all that live in Bonita come together and celebrate everything Bonita presents. Whether it is the horses, the rural lifestyle, or the community among the community.
Joining the Bolles as Bonitafest VIP honorees are humanitarian Kerie Muller, historian Barbara Main, host and hostess John and Stephanie Garcia, and pioneers Jim Woodford, Mike Gailband, Sam Snyder and Chuck Hamilton. This year's Bonitafest Youth Ambassadors are Nicolette Luna, Jessica Engen and Nicco Brambila. Miss Bonita is Arianna Chavez. Miss Chula Vista is Xiomara Villarreal-Gerardo.
For more information, visit www.facebook.com/Bonitafest/