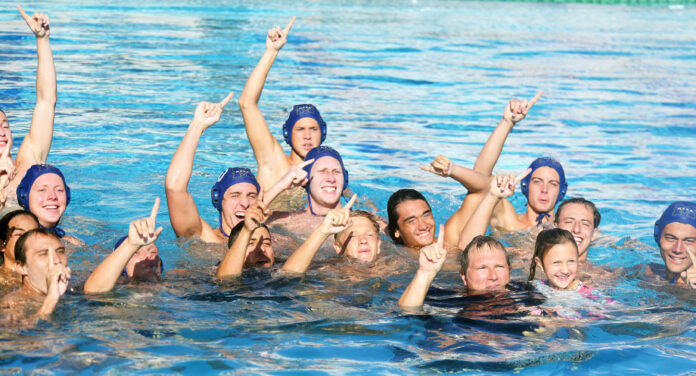 Eastlake High School grads Jeremy Redden and Jake Rose were freshmen on Mesa College's Pacific Coast Athletic Conference men's water polo championship team. They are joined on this year's Olympians roster by Jacob Redden, Jeremy's younger brother, who is a freshman.
Cementing the South County flavor of the team is new head coach Beto Vasquez, a former Bonita Vista standout and water polo high school and club coach.
This year's Mesa College team also has a definite East County — and Southern Water Polo Club — flavor with Santana alum Sam Odenkirk and Steele Canyon grads Vernon Frairie, Jonathan Nunez and Craig Boyle on the roster.
Rose led the team with 41 goals through 12 games while Jeremy Redden ranked third with 22 goals.
The Olympians could play as many as seven games over the two-day tournament, meeting such teams as Cypress, Cerritos, Rio Hondo, Citrus, Saddleback, and El Camino.
PCAC teams are entered as well, including Grossmont, ranked seventh in the state, and the tourney-host Jaguars (4-3 in conference, 11-9 overall) to provide a preview of the regional playoffs as well.
Mesa entered the week with a 10-5 record and five-game winning streak but continues to play catch-up in the conference standings to Grossmont College (9-0 in conference, 17-11 overall).
The Olympians (5-3 in conference) dropped an 11-9 decision to the Griffins on Sept. 15 and a 16-10 decision on Sept. 25.
Mesa edged Southwestern, 19-12, on Oct. 6. Zack Hastings had seven goals in the loss for SWC.
SOUTHWESTERN COLLEGE SCOREBOARD
FOOTBALL
Saturday, Oct. 9
Southwestern 26, Chaffey 24
Saturday, Oct. 16
Golden West 45, Southwestern 0
Saturday, Oct. 23
Fullerton 31, Southwestern 0
MEN'S SOCCER
Tuesday, Oct. 12
Southwestern 4, Imperial Valley 1
Friday, Oct. 15
Southwestern 1, SD Mesa 0
Tuesday, Oct. 19
Cuyamaca 4, Southwestern 1
Tuesday, Oct. 26
Palomar 3, Southwestern 1
WOMEN'S SOCCER
Tuesday, Oct. 19
Southwestern 3, MiraCosta 0
Friday, Oct. 15
Southwestern 6, Palomar 0
Tuesday, Oct. 26
Southwestern 3, SD City 1
WOMEN'S VOLLEYBALL
Friday, Oct. 8
Southwestern def. Miramar 3-0
Wednesday, Oct. 13
Palomar def. Southwestern 3-1
Friday, Oct. 15
Southwestern def. SD City 3-1
Wednesday, Oct. 20
MiraCosta def. Southwestern 3-0
Wednesday, Oct. 27
SD Mesa def. Southwestern 3-0
MEN'S WATER POLO
Friday, Oct. 15
Southwestern Mini-Tournament
Southwestern 13, Fullerton 5
Southwestern 20, El Camino 10
Wednesday, Oct. 20
Southwestern 16, Miramar 11
WOMEN'S WATER POLO
Wednesday, Oct. 13
Grossmont 13, Southwestern 6
Wednesday, Oct. 20
Southwestern 11, Miramar 8
Battle at the Beach
Friday, Oct. 22
Riverside 17, Southwestern 4
Cerritos 14, Southwestern 7
Saturday, Oct. 23
Diablo Valley 11, Southwestern 8
Southwestern 14, Rio Hondo 4
SDSU football hikes record to 7-0 with 20-14 win at Air Force
San Diego State University's football team is off to its best start since 1975 after defeating host Air Force Academy, 20-14, last Saturday in Colorado Springs. The Aztecs improved to 7-0 with the Mountain West victory.
SDSU took a 20-0 lead in the game on a pair of field goals by Matt Araiza (22, 51 yards), a one-yard touchdown run by Kaegun Williams and a three-yard scoring run by Chance Bell.
Team rushing leader Greg Bell (Bonita Vista) rushed 10 times for 44 yards in the game but was held out of the end zone. Bell leads the team with 563 net rushing yards and five rushing touchdowns.
The Aztecs have outscored their seven opponents 196-96 (32.8 to 16.0 points per game) this season.
Araiza (Rancho Bernardo) earned MW special teams player of the week honors for the second consecutive week.