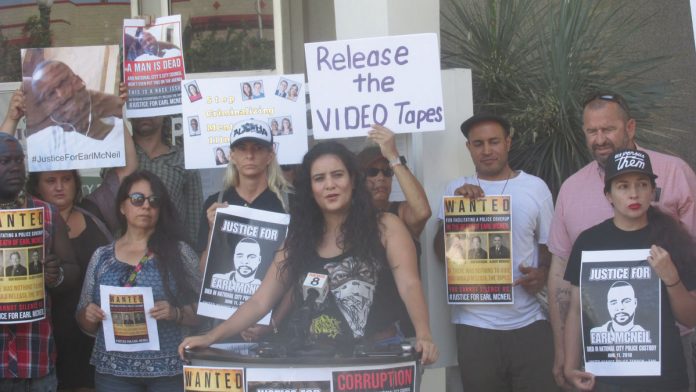 Supporters of Earl McNeil held a press conference Tuesday demanding National City Police Chief and city leaders release full audio and video recordings surrounding the death of McNeil, who they say died while in National City Police custody. They also seek all records including medical examiner's report and want an independent investigation into the matter.
McNeil's aunt Tammy Davis attended the event but did not speak to the media because she was still "reliving the incident."
But other supporters for McNeil were.
Yusef Miller with the Racial Justice Coaltion said McNeil's family have not received the proper information in regards to McNeil's death, who died on June 11.
"We want answers for the family," he said. "We're not hear tearing down the city, we're here asking for answers and we're met with brutality day after day, council meeting after council meeting."
National City Police allowed McNeil's family members last week with their attorney to listen to a recording of the call McNeil made outside the police station before he was arrested.
Mark Lane who works with the law firm representing McNeil's family said the police chief sent out a communication to the media that the McNeil family was happy with the meeting.
Lane said that the police chief's message that the McNeil family was happy is inaccurate.
"The family is not satisfied with what the family presented to them in their second meeting," he said.
Community members say they plan to hold a town hall meeting in National City at a future day. They said they plan to invite the National City community, the city council, Police Chief Manuel Rodriguez and San Diego District Attorney Summer Stephan.