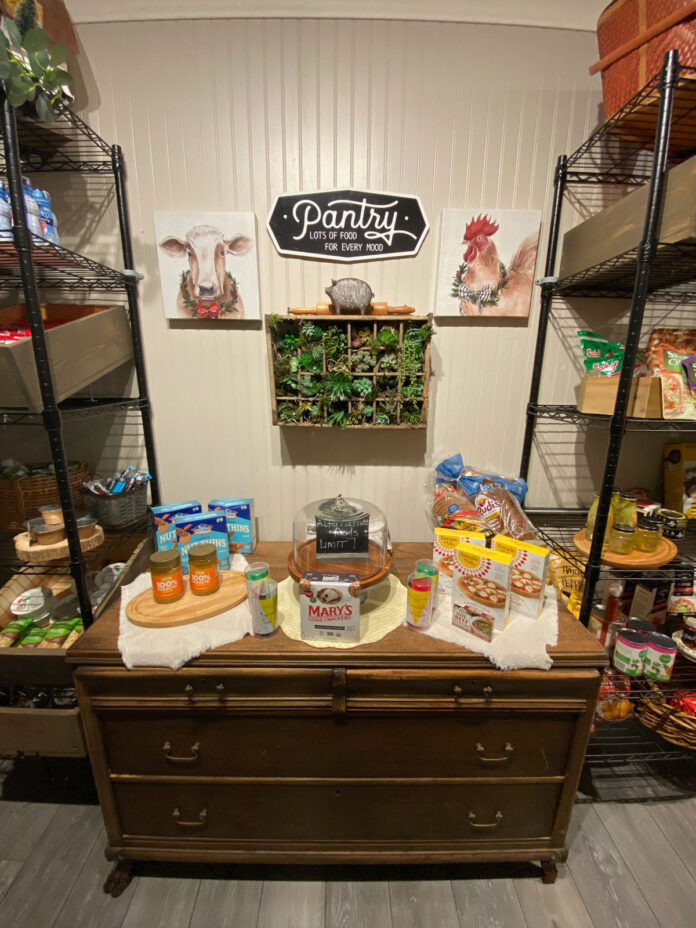 The ribbon was cut for a new food pantry in Imperial Beach on March 16, but it is much more than just a food pantry.
In addition to the client-choice pantry, the Magnolia Project 1:1 The People's Choice Pantry, which serves South County, not only helps those with food insecurity but is also partnering with sponsors UCSD and the San Diego District Attorney's Office in holding an eight week program, supported by CVS Health, Maggie's Table, led by professional chefs and nutritionists to educated people on how to serve up simple, healthy, easy to learn recipes and tips to promote health and wellness.
"Equitable access to food is one of the greatest barriers to better health and well-being for many people," said Verne Brizendine, chief executive officer, Aetna Better Health of California, a CVS Health company. "Over the past four years, we have proudly granted more than $50,000 to support Project 1:1 and their tireless, compassionate efforts to increase access to healthier food and relieve food insecurities that many San Diegans face."
The uniquely designed pantry offers a warm country-store atmosphere with bins of fresh local produce and bread, shelves filled with canned products and other shelf-stable food, plus toiletries and paper good. Including diapers and feminine products. Magnolia is also the only local pantry that has an "International Shelf" featuring an assortment of Latin, Asian, Middle Eastern, and Kosher products to serve its diverse residents. Clients can self-select nutritious, culturally appropriate foods they prefer for their families.
This Magnolia is the dream child of Project 1:1 co-founder and Executive Director Regina Gamboa and her husband James. Regina Gamboa said they chose Imperial Beach because she grew up there.
"I love that it is a military town. But we actually serve from National City to San Ysidro, so we serve the entire South Bay."
Gamboa has a nursing background, and when her husband and her first began the nonprofit in 2008, they started feeding the homeless for Thanksgiving, starting with one person.
"Over the 14 years it grew anywhere from 30 to 50 people," she said. "We would feed them hot meals every week, provide sleeping bags, tents. Put tables out during the holidays with tablecloths, gifts, and give them the whole holiday meal. We are Christian, so we offered every Tuesday in the back of Home Depot off of Saturn Boulevard, we would set chairs out and have church out on the street. Guitarists would come and they would sing. My son-in-law is a pastor at Horizon Christian Fellowship. He would come out and share the Word."
Gamboa said it is important to realize that when you are dealing with the unsheltered, there must be a level of trust.
"If they do not trust you and you do not build relationships, you are not going to get anywhere with them because they are opportunists," she said. "But when they start trusting you, they learn to confide in you, and you will find out that a large majority of women on the streets are there because of domestic violence.
They run from the person attacking them and they become victims of the street. Not everybody on the street is a drug addict. There is a lot of mental illness. My husband and my approach is everybody has a story behind them.
They are somebody's child. Most of them are parents and have made some very wrong choices in their life. We are not there to judge anybody. We simply want to lend a hand in hopes they would choose a better lifestyle. And we have some great success stories out of that."
Gamboa said it is called Project 1:1 because it is, "each one, reach one, each one love one."
Gamboa said when COVID hit, they not only fed the homeless, but began feeding families. They became a "super pantry" with the San Diego Food Bank.
"The whole world was in crisis, but in my opinion, they were meeting a current need out of an emergency situation, but they were not meeting an individual need," she said. "Because of my background in nursing, knowing about nutrition, they were really missing the mark in the healthy part of it and cultural sensitivities."
Gamboa said she would complain to her husband that she hated throwing food in people's trunks and hurrying them along for the next person, and at one point they were feeding thousands of people a month. She said her husband "haphazardly" said they should open up their own pantry, but she knew they did not have the money to do that.
"But, we are people of faith, and when he put that idea in my head I was like a dog with a bone," she said. "I started looking that night. I could not sleep."
Gamboa said it took two to three months before the realtor called her back, and they were already in negotiating with the property, but they had a restaurant available a couple doors down.
"When I thought restaurant, I have always told my husband if I could open a restaurant to feed the homeless. I thought this would be perfect," she said.
Gamboa said that the "Lord changed our hearts" at the end of 2022, and they pivoted and made the hard decision to stop working with the unsheltered and begin to start concentrating on struggling families.
"We handed the baton over for the homeless part of our organization and fully concentrated on the Magnolia Project," she said. "We got the word out and opened the doors on Jan. 6, although our grand opening was this week."
Gamboa said she and her husband are big on dignity and respect because they have worked with people who are not treated well because of what the look like, smell like, and other things.
"It should not matter," she said. "People are people. If you just look at people through the eyes of compassion, you go a really long way with them. Offering them hope seems more appealing when they have a relationship with you. That is the idea we brought into the Magnolia. To treat everybody with dignity and respect. We do not ask for ID's, income. We let it be known that it is for families suffering from food insecurity, but we will never turn anyone down that comes through the door. If they are coming here we are assuming they need help."
Gamboa said there is a short application, which is related to funding, but she also wants to understand the person's dietary needs.
"I want to know if you have high blood pressure, high cholesterol, diabetes," she said. "Part of the beauty of the Magnolia is that you choose the foods that you want. You come in here and shop just like you would a grocery store. The only difference is that you do not give us a dime."
Gamboa said its volunteers must have the same heart as they do.
"We want someone who really loves people and wants to help," she said.
Gamboa said the Magnolia is by appointment only because it is small and they want to keep the experience intimate.
"It is a farmhouse styled pantry. It is decorated like a General Store from yesterday when the world was kinder," she said. "It is a warm feeling. When you come in, we offer you a little cups of soup, or some artisan breads fresh baked out of the kitchen."
Gamboa said there are four people's choice pantries in the County, but the Magnolia is the only one with a pantry and a kitchen, and the only one that has a cultural center to help people with diverse dietary wants.
Gamboa said they support local, buying their honey from a local beekeeper, buys eggs full priced at Hilliker's Ranch Fresh Eggs in Lakeside, and eventually wants to build relationships with local farmers in the region.
For more information, visit projectoneone.org.