This year's high school state wrestling championship tournament is scheduled over three days from Feb. 21-23. It should be a spotlight event.
The idea for expanding the event from two days to three days is to accommodate both the boys and girls championship tournaments under one roof at Rabobank Arena in Bakersfield.
The two-day boys tournament has been a consistent draw wherever it has been held and has seemingly found a home in Bakersfield, a hot spot for the sport in the Golden State. Last year's boys tournament attracted a two-day total attendance of 19,010.
Seating capacity at Rabobank Arena is 10,400 for general events and 8,751 for ice hockey.
Girls wrestling has grown substantially in recent years. Last year's state finals in Visalia attracted 480 female competitors.
Placing both tournaments side by side should ensure packed stands all three days.
The state CIF's contract with Rabobank Arena runs through 2020, so fans might expect the same arrangement next year as well.
The expansion to include both genders at a state wrestling championship event follows up on what already has been done with swimming and diving and track and field at state championship events.
The bottom line is that more motel rooms will be needed in the Bakersfield region, something that will directly impact the economy there.
State of mind
For boys wrestling, post-season competition in the San Diego Section includes two rounds of qualifying tournaments leading up to the state championship meet.
The four divisional championships on Feb. 9 will serve to seed the 24-man brackets at the San Diego Masters state-qualifying tournament on Feb. 15-16.
The top seven place-finishers at both the Division I and Division II tournaments qualify for the Masters tournament while the top six wrestlers at the Division III tournament qualify. The top four wrestlers at the Division IV tournament qualify for the Masters tournament.
The top four wrestlers in each weight class at the Masters finals advance to the state tournament while the top six wrestlers in each weight class receive medals.
South County mat men will compete at several venues around the section as they start the road to the state meet.
Olympian High School will host the Division I championship tournament. Eastlake, Sweetwater, Bonita Vista, Olympian, Otay Ranch and San Ysidro will represent the South County region.
Fallbrook High School will host the Division II championship tournament. Two South County schools are slated to compete: Hilltop and Chula Vista. Montgomery High School will host the Division III championship tournament. Participating South County schools include Montgomery, Southwest, Mar Vista and Castle Park.
St. Augustine High School will host the Division IV championship tournament. South County schools participating include Mater Dei Catholic, Chula Vista Learning Community Charter and High Tech High Chula Vista.
San Marcos High School will host this year's Masters state-qualifying tournament.
Finals at the divisional tournaments are scheduled to start at 5 p.m. or later, followed by an awards ceremony. Wrestling starts at 9 a.m.
The opening day of Masters will face off at 10 a.m. while the second day of competition will start at 9:30 a.m. Finals are scheduled to start at 4 p.m. to cap the second day of competition.
Girls wrestling will hold its section finals Feb. 1-2 at Brawley High School.
Awards will be presented to the top four wrestlers at each weight class at the section tournament. The top three place-winners will qualify for the state tournament ion Bakersfield.
The state brackets have been expanded to 32 individuals for girls wrestling, so most sections received an additional qualifier, explained section girls wrestling tournament director Trevor Keifer.
In the spotlight
The El Cajon Invitational has traditionally been a mid-season showcase for the region. The 48th annual tournament took place Dec. 14-15 at San Ysidro High School.
The 2018 tournament featured a 64-man double-elimination bracket. Medals were presented from first through eighth place.
"This is San Diego County's longest running tournament with a rich tradition," tournament director Steve Bulette said.
The tournament traditionally attracts top teams from all over California as well as Oregon, Washington, Arizona and Nevada.
The 2018 event featured 60 teams. Three-time defending state champion Buchanan paced the field with 368 points, followed by Rancho Bernardo, the top team from the San Diego Section, in second place with 242.5 points.
Liberty, the Arizona state runners-up, finished third with 222 points, while Frontier, which placed ninth overall at last year's California state finals, followed in fourth place with 201.5 points.
Perennial section power Poway placed fifth with 182 points.
Imperial Valley power Brawley placed ninth with 122 points.
Olympian led all Metro Conference teams at the event with a 12th-place finish with 109 points while Eastlake finished 19th with 72 points.
Bonita Vista finished 31st with 51 points while Hilltop finished 33rd with 48.5 points. San Ysidro finished 37th with 41 points while Mar Vista was 48th with 18b points.
Otay Ranch was 53rd with 11 points while Southwest was 58th with four points.
Top South County individuals included Olympian's Luis Castro (second at 285 pounds), Hilltop's Marc Nunez (sixth at 113 pounds), San Ysidro's Israel Ramirez (sixth at 120 pounds), Bonita Vista's Jordan Bendorf (sixth at 138 pounds), Eastlake's Michael Morgan (sixth at 195 pounds), Olympian's Tyshawn Anderson (seventh at 170 pounds), Bonita Vista's Michael Miller (seventh at 220 pounds) and Hilltop's Dominic Gurule-Metzig (eighth at 132 pounds).
Castro lost by a 3-1 decision to Campo Verde's Trevor Kauer to earn his silver medal.
Buchanan finished with six weight class champions while Rancho Bernardo recorded four individual champions.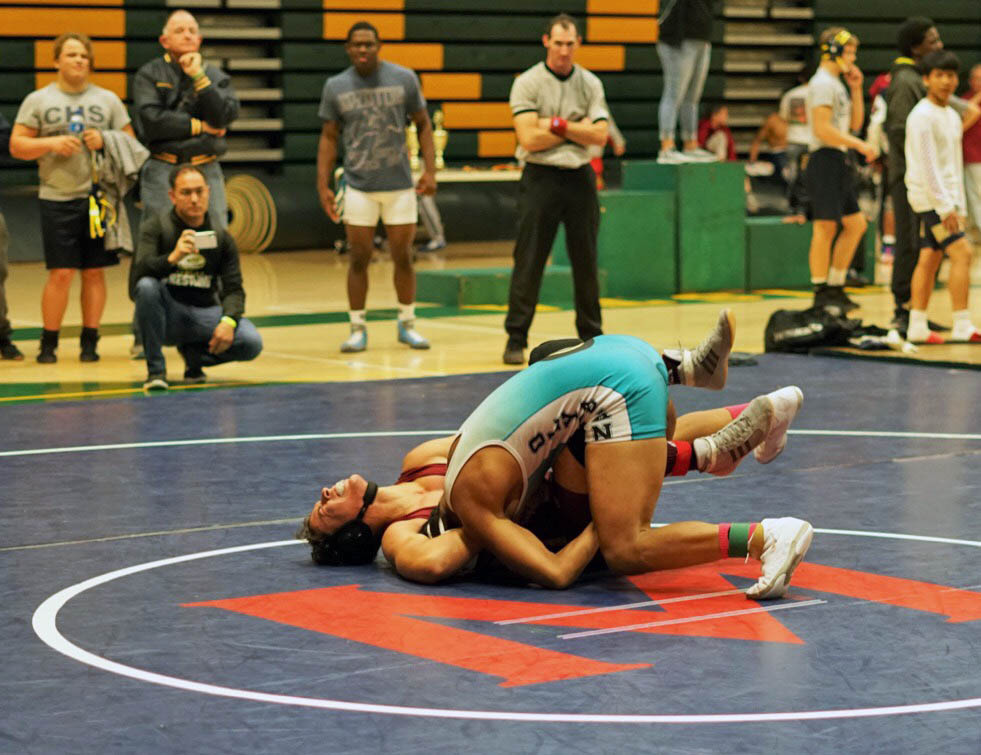 Soaring Eagles
Olympian captured the team title at the 18-team King of Beasts tournament Dec. 29 at Mater Dei Catholic High School and also won the team title at the San Pasqual Invitational on Jan. 19 in Escondido.
The Eagles recorded four weight class champions at the Mater Dei Catholic tournament: Anderson (160), Rylen Gregorio (170), John Johnson (182) and Castro (285).
Olympian totaled 16 place-winners overall at the King of Beasts event. Other place-finishers included Mico Gonzalez (third at 145), Brandon Dequito (fourth at 113), Ryan Magsino (fourth at 132), Shaihi Baker (fourth at 220), Benjamin Daluz (fifth at 106), Jaydon Caoile (fifth at 120), Brian Reyes (fifth at 170), Lance Lucas (fifth at 182), Cade Harbin (sixth at 132), Alejandro Llarena (sixth at 160), Ralph Magsino (eighth at 126) and Angel Valenzuela (eighth at 138).
Anderson and Castro both won by pin to claim their gold medals.
Castro pinned Poway's Daniel Acevedo in 2:30 while Anderson pinned Poway's Brendan Collier at 6:00.
Johnson won a sudden-victory overtime match against West Hills' Eddie Marquis to finish first in his weight class while Gregorio edged Mater Dei Catholic's Christian Silva by an 8-7 decision in their championship match.
The Eagles finished with 238 team points – well ahead of runner-up Poway (177 points), third place Vista (153 points), fourth place West Hills (146.5 points) and fifth place Temescal Canyon (103 points).
Bonita Vista finished in sixth place with 99 points while Mater Dei Catholic finished in 10th place with 79.5 points. Montgomery finished in 16th place with 38 points while Otay Ranch finished in 18th place with 29 points.
Bonita Vista had six place-winners: Bendorf (first at 138), Daniel Reyes (first at 152), Khari Douglas (fifth at 132), Ricardo Castillo (sixth at 126), Tyler Krecklow (seventh at 138) and Kenji Douglas (eighth at 106).
In championship matches, Bendorf pinned Poway's Trevor Dain in 2:26 while Reyes won by a 12-3 major decision over Holtville's Caleb Chambers.
Mater Dei Catholic finished with two weight class champions: Nicolas Demers (120) and Anthony Ching (126).
Demers won by a 7-1 decision over Vista's Matthew Nelson to capture first place while Ching followed with an 8-6 decision over Oceanside's Michael Aguirre in the finals.
Montgomery place-winners included Jose Sanchez (fourth at 195), Christian Venegas (fifth at 220) and Eduardo Perez (eighth at 120).
Otay Ranch place-winners included Ayden Wohlford (fifth at 113), Nathan Hizon (sixth at 285) and Garrick Fryer (eighth at 145).
Overall, Metro Conference teams finished with eight individual champions at the MDCHS tournament.
Other individual champions included Vista's Isaac Alvarez Jr. (106), Poway's Mikey McGruder (113), Scripps Ranch's Chaz Hallmark (132), Holtville's Richard Garcia (145), Oceanside's Shane Hansen (195) and West Hills' Saul Sanchez (220).
Olympian soared over the 23-team field at the San Pasqual tournament with 227 points to 183 points for runner-up Mira Mesa.
Rancho Bernardo finished third with 160 points while West Hills was fourth with 94.5 points.
The Eagles notched three weight class champions: Gonzalez (147), Johnson (184) and Castro (287).
In finals matches, Gonzalez won by a 6-4 decision over Mission Hills' Francisco Senteno, Johnson won by a 7-5 decision over Army-Navy Academy's Benjamin Rohrbacher and Castro pinned Mira Mesa's Elijah Joseph in 43 seconds.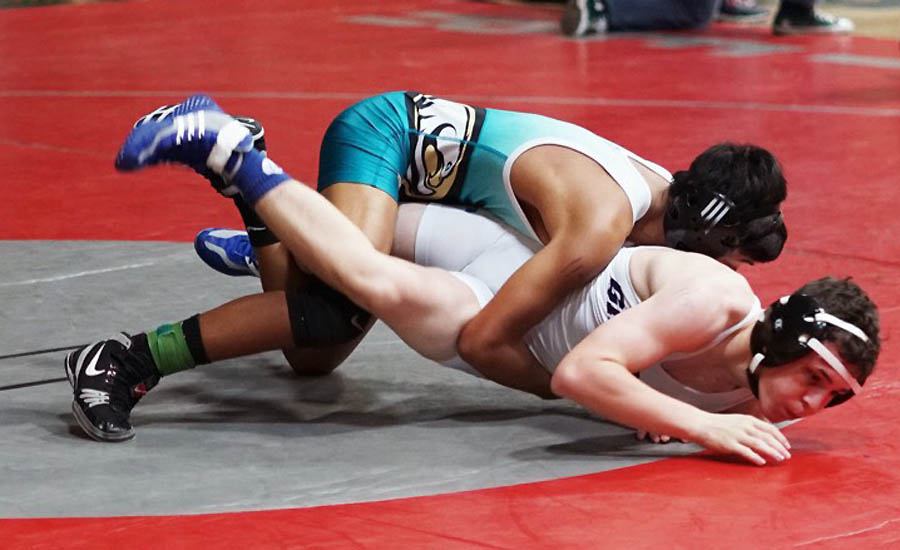 Olympian had five finalists. Zachary Ikaika Ramos finished second at 108 pounds while Anderson finished second at 162 pounds.
Overall, the Eagles produced 12 place-winners.
Dequito finished third at 115 pounds while Caoile finished third at 122 pounds.
Jacob Neiman finished fourth at 140 pounds while Ralph Magsino finished fifth at 128 pounds.
Ryan Magsino finished fifth at 134 pounds while Marko Alvarez finished fifth at 154 pounds. Gregorio finished fifth at 172 pounds.
High Tech High Chula Vista finished 23rd with 10 points.
More wrestling
San Ysidro (tied for 15th place), Montgomery (19th place), Mater Dei Catholic (26th place) and Castle Park (28th place) all competed at the Mission Hills tournament on Jan. 5 to ring in the 2019 calendar year.
San Ysidro's Ramirez finished second at 122 pounds while teammate Jarren Fabunan finished fourth at 184 pounds.
Montgomery's Sanchez finished third at 197 pounds and Aztec teammate Venegas finished sixth at 222 pounds.
Castle Park had two place-finishers. Xavier Alvarado finished sixth at 115 pounds while Guillermo Anguiano finished eighth at 162 pounds.
Mater Dei Catholic recorded two consolation champions: Javier Salas (128) and Silva (172).
Ramirez lost by an 8-0 major decision to Rancho Bernardo's Gavin Concepcion in the finals.
Rancho Bernardo won the team title with 233 points and six individual champions.
Montgomery (23rd place) and Castle Park (25th place) both competed at the Jim Londos Memorial tournament Jan. 19 at Orange Glen High School.
Montgomery's Sanchez finished second at 197 pounds while CP's Alvarado finished fifth at 115 pounds.
Mat showcase
Mater Dei Catholic participated in the Battle of the Belt Tournament at Temecula High School on Jan. 11-12. The tournament is annually regarded as a preview of the upcoming state meet.
The Crusaders finished 61st among 68 teams. Buchanan won the team title. La Costa Canyon was the highest San Diego County team in the team standings in 22nd place.
Ramona's Jeff Ramsthaler (145) and La Costa Canyon's Joe Curtis (182) were the highest San Diego County individual place-finishers after placing third in their respective weight classes.
Other San Diego Section place-finishers included Oceanside's Hansen (sixth at 195), San Marcos' Christian Navida (seventh at 138), LCC's Alex Hendrix (seventh at 145) and Mira Mesa's Joseph (seventh at 285).
The Metro Conference championship tournament is scheduled Feb. 2 at San Ysidro High School.
Mariners, Cougars, Devils post place-finishers at Monte Vista Invitational
While East County teams flooded the awards stand at this year's Monte Vista Invitational, held Jan. 12, wrestlers from Mar Vista, San Ysidro and Sweetwater high schools earned place-finishes as well.
Mar Vista finished 11th among the 27 scoring teams with 77 points while San Ysidro was 15th with 49 points. Sweetwater finished 23rd with 20 points.
West Hills won the team title with 195 points over runner-up Mira Mesa, which finished with 156 points. Grossmont was third with 144 points while host Monte Vista was fifth with 134 points.
Steele Canyon finished seventh with 125 points while Mount Miguel was 10th with 79 points.
Mar Vista's Roy Figueroa led the Metro Conference contingent with a second-place individual finish at 126 pounds while San Ysidro's Israel Ramirez finished third in his 120-pound weight class.
Figueroa recorded three pins, including two first-period falls, and an 8-0 major decision to advance to the championship round against Grossmont's Sebastian Coats.
Coats completed a perfect day with three pins by recording a 2:36 fall against Figueroa.
Ramirez advanced to the semifinals on the strength of a 5-1 decision over Mar Vista's Julian Winnie and a 1:07 pin of Point Loma's Ryu Brown. However, Ramirez could not get past Mount Miguel's Raul Garcia, who won the semifinal match by a 12-7 decision.
Ramirez pinned West Hills' Justin Zingale in 2:21 in the consolation semifinals and then captured a 7-2 decision over Steele Canyon's Randall Lockwood in the third-place match.
Ramirez finished 4-1 on the day.
Mar Vista finished the tournament with six place-finishers. They included Figueroa, Nathaniel Bingham (sixth at 160 pounds), Erick Gutierrez (sixth at 182 pounds), Elijah Eugenio (eighth at 106 pounds), Winnie (eighth at 120 pounds) and Jake Osthimer (eighth at 132 pounds),
Also earning place-finishes for San Ysidro were Adrian Plasencia (fifth at 113 pounds) and Jarren Fabunan (fifth at 170 pounds).
Sweetwater's medalists included Arturo Zepeda (seventh at 195 pounds) and Luis Ocarwza (eighth at 170 pounds).
Weight class champions included Steele Canyon's Logan Robinson (106), University City's Dusty Carr (113), Mount Miguel's Raul Garcia (120), Grossmont's Coats (126), Central Union's Omar Rosas (132), Mira Mesa's Gavin Kaminski (138), West Hills' Norman Stone (145), El Cajon Valley's Yama Safiullah (152), Calipatria's Nolan Ange (160), West Hills' Jake Maheu (170), Mira Mesa's Kurtis Modlin (182), Calipatria's Jamison Ange (195), West Hills's Saul Sanchez (220) and Monte Vista's Blake Schmidt (285).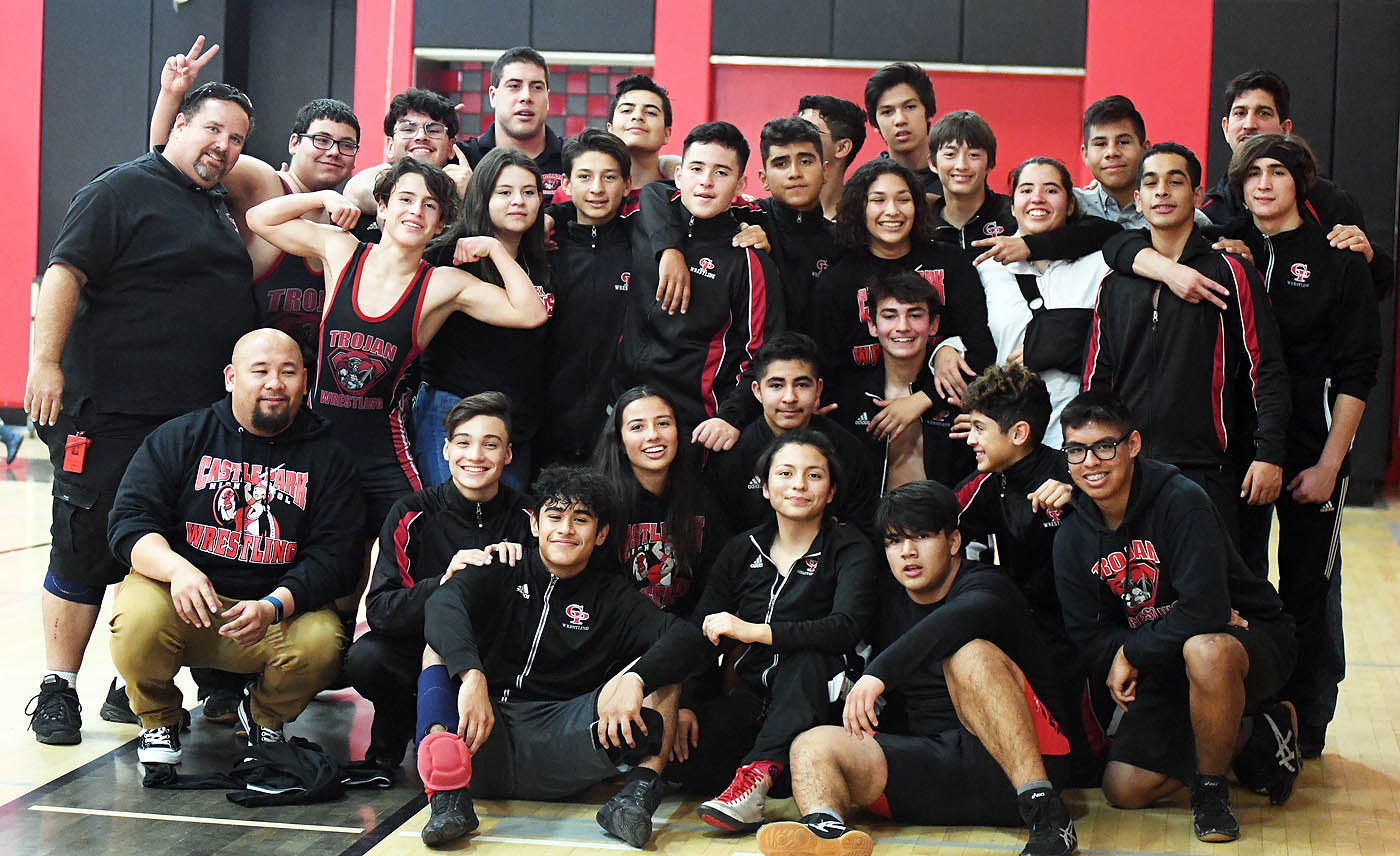 San Diego Section Weight Class Rankings
(Through Jan. 16)
112 Pounds
Israel Ramirez (San Ysidro)
128 Pounds
Anthony Ching (Mater Dei Catholic)
134 Pounds
Dominic Gurule-Metzi (Hilltop)
287 Pounds
Luis Castro (Olympian)