The South Coast/Costa Del Sur Water Polo Club has been very active over the winter months.
The club's 12U coed team and 14U boys team both competed at the Pacific Classic, a USA Water Polo-sanctioned event held Jan. 12-13 at the La Jolla, Cathedral Catholic and Del Norte high school pools.
The 12U team competed at Del Norte High School, winning the bronze medal with a 3-1 record.
Costa Del Sur won its opening two games, defeating Pacific 13-8 and Also More 11-7. The team dropped an 8-1 match-up against Coronado before defeating Mesa Polo, 6-5, in the bronze medal game.
The club's 14U boys team captured fifth place in competition at La Jolla's Coggan pool.
Costa Del Sur opened the event with a 17-10 win over Poway before suffering its lone loss in the tournament, 15-9, to Texas Pegasus. Del Sur rebounded with two victories to close out tournament play, 10-7 over Del Mar and 12-7 over ECA in the fifth-place game.
South Coast/Costa Del Sur's 16U team participated in the ODIN American Water Polo 17U tournament series on Jan. 27 at Valhalla High School.
South Coast won both its games, defeating the Baja Tritones 18U team by a 14-7 score and topping ODIN's 17U team by a score of 12-7.
Costa Del Sur/South Coast Water Polo is a sanctioned American Water Polo and USA Water Polo club and has added USA Water Polo events to the club's contests and looks forward to participating in Junior Olympics in July.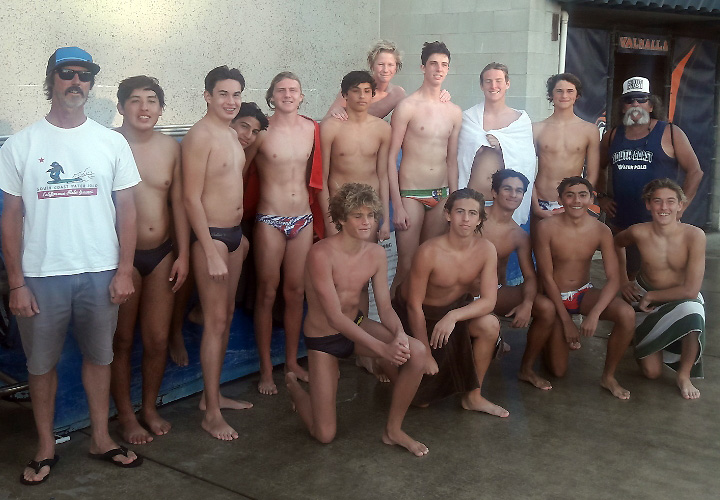 South Coast takes third place in Brea tournament
South Coast Costa Del Sur participated in a 12-under USAWP tournament March 2 at Brea Olinda High School, taking third place.
The order of finish included Elsinore (first), Brea A (second), South Coast (third), Brea B (fourth), Irvine Ohana (fifth), Huntington Beach (sixth) and Rancho Cucamonga (seventh).
South Coast defeated Irvine 8-4, lost to Brea 9-8 in overtime and defeated Brea B, 18-1, in the bronze medal game.
South Coast is scheduled to play March 16 at Brea Olinda in a 14-under tournament.
Take A Knee will hold youth football skills camp Saturday at Sweetwater High School
Take A Knee will hold a progressive youth football camp on Saturday, March 2, at Sweetwater High School.
The camp will focus on skills, change of direction, explosion and football IQ, according to camp director Jose Jarin, a 1977 Sweetwater graduate.
The camp is open to boys and girls from fifth grade through high school.
Registration starts on site at 8 a.m. The camp runs from 9 a.m. to noon. Cost is $20 per athlete.
Take A Knee, or Truly Accepting Knowledge, has offered camps throughout North America, including Canada, over the past decade.
The organization includes 71 former football coaches as coach clinicians.
Staff includes Jarin, Gene Alim, Phillip Napoleon, Lenny Rey Smith, Wesley Saleaumua, Lenny Rey Smith, Ronny Cortell, Ringo Leomiti, Rollie Abagat, Tuesese Taaununu, Jose Mendoza, Will Tate, John King, Steve Contreras, James Kilmer and Joe Murray.
The staff boasts impeccable credentials. Napoleon and Murray were all-league selections during their high school playing careers while 12 staff members earned all-CIF honors: Jain, Alim, Saleaumua, Smith, Cortell, Leomiti, Taaununu, Mendoza, Tate, King, Contreras and Kilmer.
Alim, Saleaumua, Smith, Cortell, Leomiti and Tate all earned player of the year honors.
Alim coached Sweetwater to section titles in 1983-84 while compiling a section record 36-game winning streak from 1983-85.
"We'll have a lot of knowledge on the field," noted Jarin, who played at Sweetwater from 1975-76.
Sweetwater High School is located at 2900 Highland Ave., National City.