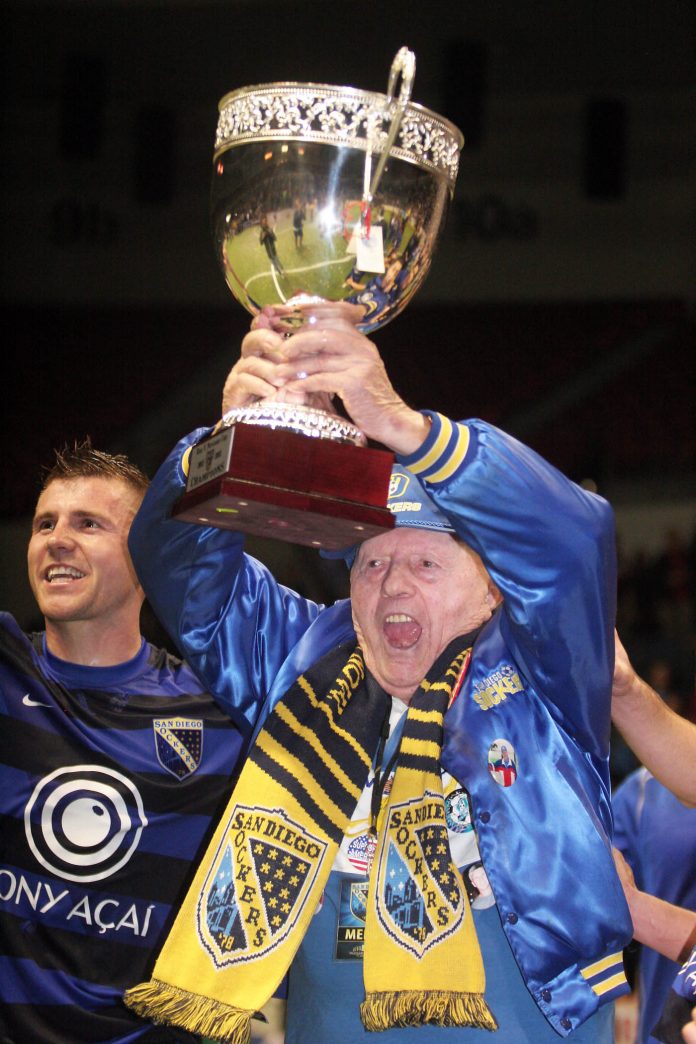 Longtime Chula Vista resident Captain Norbert Stein has taken his last kick.
The San Diego Sockers' longtime fan passed away Wednesday morning at the age of 105. He had been a city resident since 1958 and a soccer fan since his youth in his native Germany.
While outdoor soccer remained important to Stein, he developed a particular passion for indoor soccer during the Sockers' unprecedented run to 10 consecutive league championships in the 1980s and early 1990s.
Stein regularly attended practices, befriended the team's coaching staff and players, and even followed the team at his own expense on cross-country road trips, especially during the playoffs.
He staunchly supported the team on its journey through seven leagues: the North American Soccer League, Major Indoor Soccer League, Continental Indoor Soccer League, World Indoor Soccer League, MISL II, Premier Arena Soccer League and the rebranded Major Arena Soccer League.
Throughout the decades, he continued to maintain contacts with the team's long list of alumni.
In recognition of his unwavering support of the team, the Sockers made Stein's status as the team's avowed No. 1 fan official by honoring him several years ago during an on-field ceremony at the Valley View Casino Center.
In recent years, he delighted in offering pregame pep talks to players, often with his trademark penchant for poetry.
The Sockers issued a statement on Thursday in regard to the iconic Stein's passing.
"The San Diego Sockers are saddened by the passing of Norbert 'The Captain' Stein, who was one of most dedicated fans in club history," the statement read. "His love and passion for the team spanned four decades and was evident even at the age of 105. Our condolences and prayers go to the Stein family during this time. We were honored to have him as a great fan, friend and part of our family. The Captain will always be in our hearts forever."
Services, which are open to the public, are planned for June 11 at 10:30 a.m. with military honors at the Miramar National Cemetery, according to his daughter Livia Gail.
Stein, seemingly blessed with tireless energy and a flair for the paparazzi, was also a regular at Chula Vista City Council meetings and befriended numerous politicians and entertainment celebrities besides his sports contacts.
He made headlines two months ago when he married his longtime companion Edelmira Velasquez in a ceremony at Chula Vista's Living Coast Discovery Center that was extensively covered by local media outlets.
At the time, he was believed to be the oldest man in the United States to wed.
His daughter shared her outpouring of love for her father in a Facebook post, calling him an "amazing dad."
"Many believed (he) was 'bionic' because of his fearless extraordinary strength and resilience to survive and thrive against all odds," she noted in the post. "Regardless of age, it is challenging to really be prepared to say goodbye, even 'for now.' I already miss your poems, stories, so much laughter that you brought to me and all those you entertained … those precious toothless grins and giggles … those wonderful hugs …"
The Sockers kick off their 2018-19 season in December. Stein, a recipient of the Bronze Star for heroism in World War II, will likely be cheering for the team from wherever he currently may find himself.