The San Diego State women's soccer team has been predicted in annual preseason polls to finish either first or second in Mountain West Conference play in 12 of the last 13 years.
The Lady Aztecs, braced by 10 local prep products, including six from South County and two from East County, advanced as far as the semifinals of this year's conference championship tournament, falling by a score of 1-0 to top-seeded Wyoming, Nov. 2 at the University of New Mexico Soccer Complex in Albuquerque.
Fifth-seeded SDSU finished with a final 7-6-8 record.
Wyoming, which went on to place runner-up to San Jose State in the championship game, had earned a 2-1 win over the Lady Aztecs in regular season play.
SDSU out-shot the Cowgirls, 20-12, in the playoff rematch but could not bulge twine. San Ysidro High School alumna Denise Castro led the Lady Aztecs with seven shots as both teams finished with five cornerkicks.
Wyoming goalkeeper Miyoki Schoyea made six saves to record the victory.
The 2022 season kicked off Aug. 18 with a 2-1 non-conference win at the University of Nebraska. The Lady Aztecs drubbed the Idaho Vandals by a score of 7-2 in their home opener Aug. 21 at the SDSU Sports Deck.
The Lady Aztecs kicked off Mountain West play with a 5-1-1 run before hitting a 0-2-2 skid to end regular season play and finish with a 5-3-3 conference record.
SDSU defeated fourth-seeded Utah in the conference playoff quarterfinals in what proved to be a marathon encounter even by soccer standards. The Lady Aztecs and Lady Utes battled through 22 rounds of a penalty-kick tiebreaker before SDSU emerged with a 19-18 advantage on spot kicks.
In what is believed to be an NCAA record, 44 penalty kicks were taken and 37 found net.
The Lady Aztecs entered the conference tournament having allowed only three goals in their last nine games, including six shutouts.
Otay Ranch alumna Emma Gaines-Ramos finished as SDSU's leading scorer on the season with 19 points (six goals, seven points) while Castro finished runner-up with 18 points (seven goals, four assists). Gaines-Ramos, a junior, and Castro, a sophomore, both expect to key the offense again next season.
Six of the 10 San Diego area products produced points on the scoresheet.
Trinity Coker, a sophomore from Poway, ranked in a tie for fourth in team scoring with five points (two goals, one assist).
Eastlake grad Olivia Sekimoto, a junior, finished the season with one goal and two assists while Canyon Crest Academy's Lily Davis, a sophomore, scored one goal.
Helix grad Claire Watkins, a senior, had one assist.
SDSU roster included redshirt freshman Daniela Chavira (Eastlake), redshirt freshman Alyza Eckhardt (Bonita Vista), senior Jalyn Lupo (Steele Canyon) and redshirt freshman Dori Savage (Mater Dei Catholic).
All-MW
Four SDSU players earned all-conference honors based on regular season accomplishments. They included Castro, Emma Gaines-Ramos, both on the first team, senior midfielder Kiera Utush on the second team and freshman defender Grace Goins on the newcomers team.
All-tournament
Junior goalkeeper Alexa Madueno and Utush both made selection to the MW all-tournament team. San Jose State goalkeeper Bente Pernot earned tournament MVP honors after guiding the Lady Spartans (8-67) past Wyoming with a 6-5 win in penalty kicks following a scoreless tie between the teams in the championship game.
All-academic
Gaines-Ramos (3.51 GPA) and sophomore defender Emily Lowe (3.67 GPA) both made selection to the all-district academic team. To be eligible, a player must possess a minimum 3.50 GPA and be either a starter or important reserve.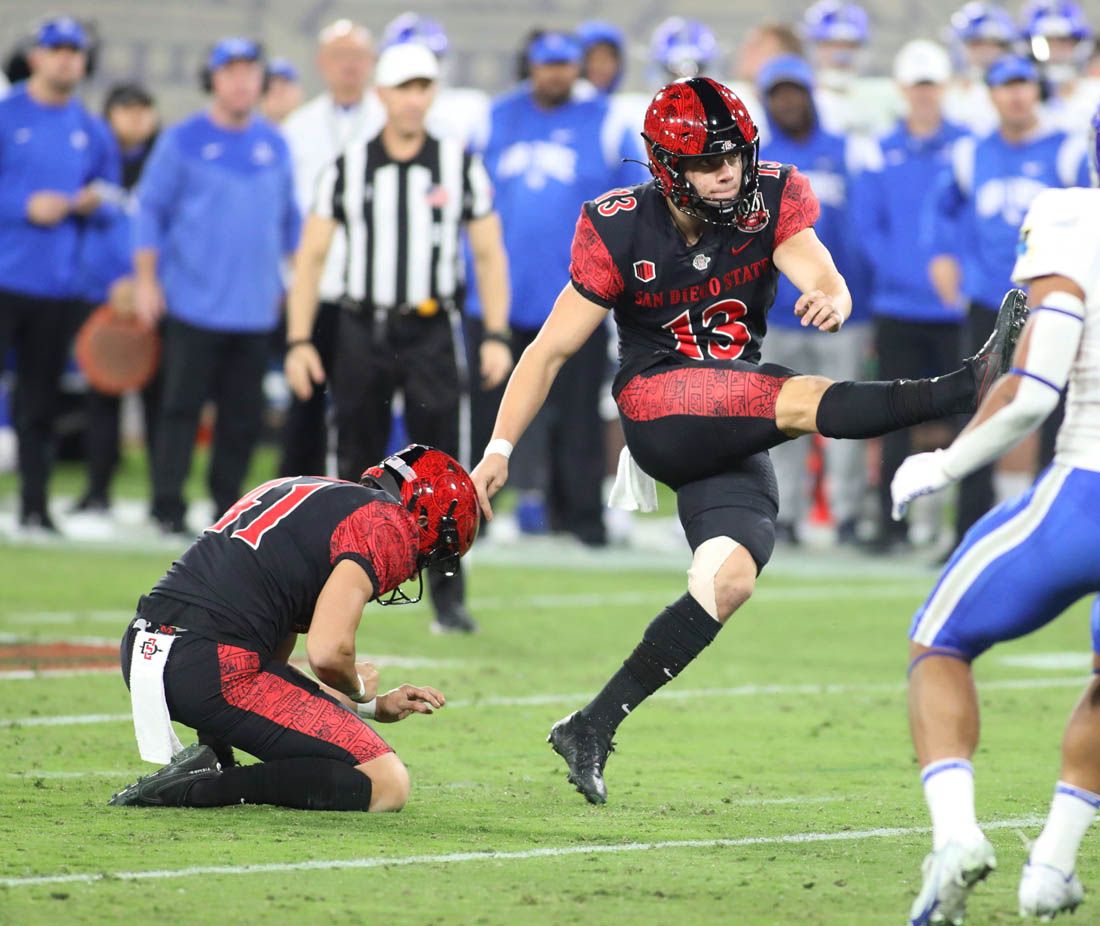 Six lead changes, five turnovers doom SDSU football team in 25-23 loss in Hawaii Bowl
The San Diego State University football team was making a return trek to the Hawaii Bowl for the first time in seven years after defeating the Cincinnati Bearcats, 42-7, to cap the 2015 season. The Aztecs were not victorious in their most recent trip to the Aloha State, as SDSU left the main island with a 25-23 loss to Middle Tennessee State University.
SDSU finished its season 7-6 while Middle Tennessee posted a final 8-5 record.
The Aztecs registered seven sacks in the game played in Honolulu but coughed up x leads, including a 14-0 advantage after the first quarter and a 23-22 edge with 5:43 left in regulation.
SDSU head coach Brady Hoke was obviously disappointed by the outcome.
"You know, we got to play better football overall," Hoke told the media in a post-game press conference. "I thought defensively, kids played hard. A nice job offensively. Can't have turnovers (three interceptions, two lost fumbles) like we had, and you know, we've got to be able to run the ball and we couldn't do that. Our defensive and offensive line had a hard time.
"I think they figured a few things out. But I sure think we have got to play better football and we didn't. You know, that's where it starts, and it starts on us coaching them and getting them set to go."
SDSU seemed set to go at the start of the game.
The Aztecs scored 14 points in the first quarter before Middle Tennessee responded with 13 points in the second quarter. The Blue Raiders tacked on a 26-yard field goal to start the second half to collect 16 unanswered points to move ahead 16-14 on the scoreboard.
But West Hills alumnus Jack Browning split the uprights from 39 yards out three minutes later to push the Aztecs back in front 17-16.
From there, the ball took a lot of funny bounces for both teams, including a missed field goal for each team. SDSU committed numerous turnovers to hand the ball back to the Blue Raiders offense.
The game featured six lead changes overall.
The Aztecs had opened the game with two touchdown passes by Jalen Mayden, the team's offensive MVP this season, to (tight end) Mark Redman (nine yards) and junior running back Kenan Christon (73 yards). Browning supplied the extra-point conversion kick on both scores.
Christon caught a short pass and broke through the defensive secondary via superb upfield blocking.
Zeke Rankin opened scoring in the second quarter with a 44-yard field goal to put Middle Tennessee on the scoreboard. The Blue Raiders followed with 10 more points to end the first half.
Chase Cunningham competed an eight-yard scoring pass to Jordan Ferguson for a touchdown to narrow the SDSU lead to 14-10. Rankin added a 26-yard field goal midway through the quarter to place the Conference USA team just one point behind.
Middle Tennessee returned to the scoring column as Cunningham completed a 16-yard touchdown pass to Jaylin Lane to up the Blue Raiders lead to 22-17 with the first scoring play of the fourth quarter.
The Aztecs generated the second scoring play in the quarter with 10:15 to play as Browning booted a 36-yard field goal to narrow the gap to 22-20. He came back with a career-record 52-yarder to nudge the Aztecs to a 23-22 lead late in the game.
But the Rankin came to the rescue with his fourth field goal in the contest – a 37-yard upright splitter with 2:05 to play to stand up as the game winner.
SDSU received the ball back for a final series but lost it on an attempted backward lateral with 58 seconds to play to allow Middle Tennessee to effectively run out the clock.
The Aztecs out-gained the Blue Raiders 364-170 in total offensive yards. The running game for both teams was not spectacular with SDSU recording 55 net rushing yards and Middle Tennessee finishing with minus-66 yards. The passing game was more lively with the Aztecs throwing for 309 yards and the Blue Raiders recording 239.
SDSU was also penalized nine times for 79 yards.
The 6,605 in attendance didn't create much atmosphere for a postseason game.
Browning, a Lakeside native, led the team with 11 points in the game (three field goals and two PATs).
Christon (Madison) keyed Aztec receivers with two catches for 111 yards and one touchdown while Jesse Matthews (Christian) had seven catches for 99 yards. Tyrell Shavers had four catches for 62 yards. Former Eastlake Titan had two catches for 18 yards.
Garret Fountain broke loose for one 27-yard run but the SDSU running game was otherwise bottled up. Mayden rushed 12 times for 26 yards while Jordan Byrd had 11 carries for one yard.
Mayden finished 19-of-43 for 309 yards with two touchdowns and three picks.
The Aztecs ended the season with two consecutive losses, including a 13-3 setback to the Air Force Academy in the final regular season game. Hoke reflected on the 2022 season, noting there were "some positives."
"When you look at how we made some adjustments when we needed to, I thought that was something that everyone was on board with, and everybody had a great attitude," he said.
Extra points
The MW sent seven teams to bowl games in 2022. Besides the Aztecs, also headed to postseason contests were Fresno State (L.A. Bowl on Dec. 17 against Washington State), Boise State (Frisco Bowl on Dec. 17 against North Texas), San Jose State (Potato Bowl on Dec. 20 against Eastern Michigan), Air Force Academy (Armed Forces Bowl on Dec. 22 against Baylor), Utah State (First Responders Bowl on Dec. 27 against Memphis) and Wyoming (Arizona Bowl on Dec. 30 against Ohio).
Fresno State (29-6), Boise State (35-32) and Air Force (30-15) emerged winners in their matchups so far.