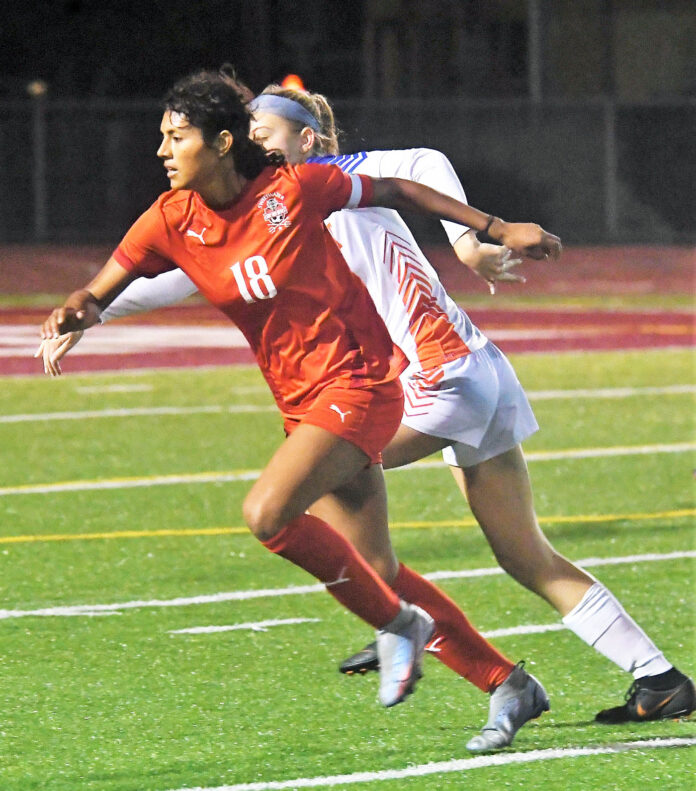 The Sweetwater High School boys soccer team is looking to post another successful season after winning last year's Metro-Mesa League title with a 9-1 record and finishing 14-5-1 by reaching the San Diego Section Division II playoffs.
The Red Devils are off to a 5-5-2 start this season in advance of 2022-23 league play.
"We're hoping to build on last season's successes," SuHi coach Diego Espinoza said. "We finished first in Mesa League, winning the banner, and were promoted to Division I. We were knocked out in the Division II CIF playoffs by Escondido in the quarterfinals.
"This was the third promotion in the time that I have been in charge as the team was in Division 4 when I was appointed. In four years I've been able to guide the program to Division I, with a preseason CIF ranking of No. 8 in the county. The team has plenty of returners from their championship season, so it will be a matter of staying fit and injury free during the season."
Sweetwater edged visiting Calexico, 1-0, in a non-league game on Monday to reach the 0.500 mark. Prior to that, the Devils played to a 2-2 draw with visiting Hilltop on Jan. 4.
Marco Santillan, a member of the 2021-22 All-Mesa League first team, led the Devils with 14 goals in 10 games in 2021-22 while Danny Rocha, a member of the all-league second team, led the National City team with 15 assists in 10 games last year.
Also returning are Joshua and Joseph Sarabia, four-year varsity players and captains, to lead the SuHi attack as well as team captain Jesus Romo, s second team all-league pick last season.
All of them are seniors.
Impact newcomers include freshman striker David Medina and junior defenders Jorge Banines and Angel Jimenes.
The SuHi coach said Banines has a "good competitive pedigree and leadership" while Jimenes displays "great ability."
Sweetwater is scheduled to kick off league play Jan. 17 against visiting Southwest, then play at Montgomery on Jan. 19.
The Devils have a non-league home game scheduled against Poway on Saturday, Jan. 21, at 11 a.m. and play a non-league home game against Steele Canyon on Jan. 30 at 6 p.m.
Cornerkicks
•Eastlake is off to a torrid 12-0-2 start after blanking visiting San Ysidro, 5-0, last Friday. Junior Diego Rivera led the Titan attack with three goals while junior Alessandro Sosa and senior Ronan McFarland both scored single goals. Senior Stefano Gulisano excelled with three assists while senior Alberto Tapia had one assist in the non-league game.
The shutout was the 10th of the season for Eastlake, which defeated visiting Francis Parker, 8-0, in its previous game on Jan. 4. In that matchup, the Titans received two goals each from Tapia and senor Gerardo Gomez and single tallies from Sosa and seniors Ruben Madrigal, Anthony Rodriguez and Roman Padua. Madrigal and Padua both finished with a goal and assist.
•Southwest shut out host Mater Dei Catholic, 5-0, in a non-league match on Jan. 5 to improve to 8-3-2 on the season.
•Chula Vista shaded host Santana, 1-0, last Friday in non-league play to improve to 9-4-1.
•Mar Vista is off to a 6-2-1 start after playing to a 2-2 draw against host Madison in a non-league game last Friday.
•Sophomores Nicolas Sanchez and Edward Chairez scored goals for Hilltop in the game against Sweetwater while senior Pablo Torrez was credited with 11 saves.
Game Log: Eastlake Titans (12-0-2)
Eastlake2, Point Loma 0
Eastlake 1, Carlsbad 1
Eastlake 1, Poway 0
Eastlake 2, University City 1 (OT)
Eastlake 2, Sweetwater 0
Eastlake 2, La Costa Canyon 0
Eastlake 2, Steele Canyon 0
Eastlake 0, San Diego 0
Eastlake 3, Mater Dei Catholic 0
Eastlake 1m San Ysidro 0
Eastlake 2, Hilltop 1
Eastlake 2, Calexico 2
Eastlake 8, Francis Parker 0
Eastlake 5, San Ysidro 0
Metro Conference
BOYS Non-League Records
(Through Jan. 9)
Eastlake 12-0-2
Mar Vista 6-2-1
Southwest 8-3-2
Chula Vista 9-4-1
Hilltop 6-3-4
Bonita Vista 4-3-2
Sweetwater 5-5-2
Montgomery 5-5-2
San Ysidro 5-5-0
Otay Ranch 4-5-3
Mater Dei Catholic 1-5-1
Castle Park 1-7-1
Metro Conference
GIRLS Non-League Records
(Through Jan. 9)
Mater Dei Catholic 6-0-3
Otay Ranch 7-1
Olympian 10-2-2
Sweetwater 10-4
Castle Park 5-4-1
Southewest 3-2-2
Bonita Vista 2-2-3
Eastlake 2-2-4
Mar Vista 4-5-1
Montgomery 5-7-2
San Ysidro 4-6
Hilltop 2-4-3
Chula Vista 1-6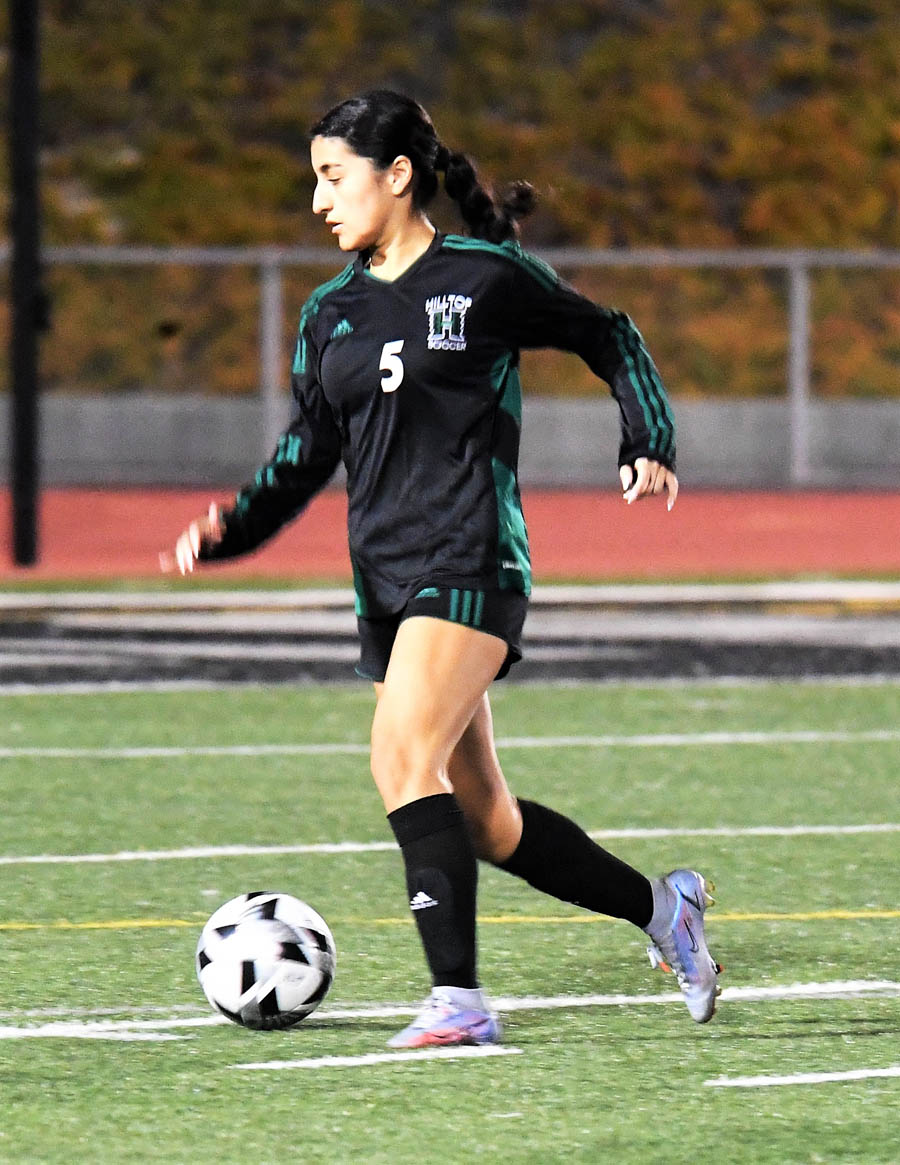 SAN DIEGO SECTION SOCCER RANKINGS
Boys Top 30 Teams
(MaxPreps through Jan. 10)
1. San Dieguito Academy 10-1-3
2. Eastlake 12-0-2
3. Del Norte 6-2
4. Kearny 7-0-2
5. Bishop's 6-1-1
6. Coronado 7-1
7. San Pasqual 8-4-1
8. St. Augustine 6-4-1
9. Poway 5-2-1
10. Torrey Pines 5-3-4
11. Southwest 8-3-2
12. Rancho Buena Vista 8-2-2
13. Morse 8-1-1
14. Santana 6-3-1
15. Brawley 12-2-2
16. Foothills Christian 6-2-2
17. Mission Hills 5-2-2
18. Clairemont 6-2-1
19. Cathedral Catholic 2-4
20. La Jolla Country Day 5-3-1
21. La Costa Canyon 4-4-2
22. Chula Vista 9-4-1
23. Point Loma 4-4-1
24. Mission Bay 5-2
25. Crawford 3-1-3
26. Fallbrook 6-3-4
27. University City 6-4-2
28. Rancho Bernardo 5-4
29. Hilltop 6-3-4
30. San Diego 4-2-3
Girls Top 30 Teams
(MaxPreps through Jan. 9)
1. Westview 8-1
2. La Costa Canyon 4-1-1
3. San Marcos 7-5-2
4. Cathedral Catholic 7-4-1
5. Eastlake 2-2-4
6. Mission Hills 5-2-3
7. Canyon Crest Academy 7-3-1
8. Carlsbad 3-2-3
9. Coronado 3-2-3
10. Otay Ranch 7-1
11. Patrick Henry 9-2-1
12. Olympian 10-2-2
13. Del Norte 3-1-2
14. Mater Dei Catholic 6-0-3
15. Pacific Ridge 8-2-1
16. Foothills Christian 7-2-2
17. Bonita Vista 2-2-3
18. Torrey Pines 2-2-2
19. West Hills 7-6-1
20. El Camino 3-1-2
21. Granite Hills 5-4-1
22. Classical Academy 9-3-1
23. Mission Bay 5-1-2
24. Clairemont 7-1
25. Santa Fe Christian 9-1
26. Oceanside 3-2-4
27. San Diego 4-3-1
28. Our Lady of Peace 4-3-3
29. Sage Creek 4-2
30. La Jolla 5-1-3
HIGH SCHOOL SCOREBOARD
Girls water polo:
Bonita Vista 26, Otay Ranch 8
Bonita Vista 10, West Hills 6
Bonita Vista 20, Mater Dei Catholic 2
Eastlake 12, Steele Canyon 1
Eastlake 12, Fallbrook 4
Eastlake 13, San Marcos 5
Eastlake 15, West Hills 6
Eastlake 10, Mission Bay 1
Eastlake 23, Otay Ranch 9