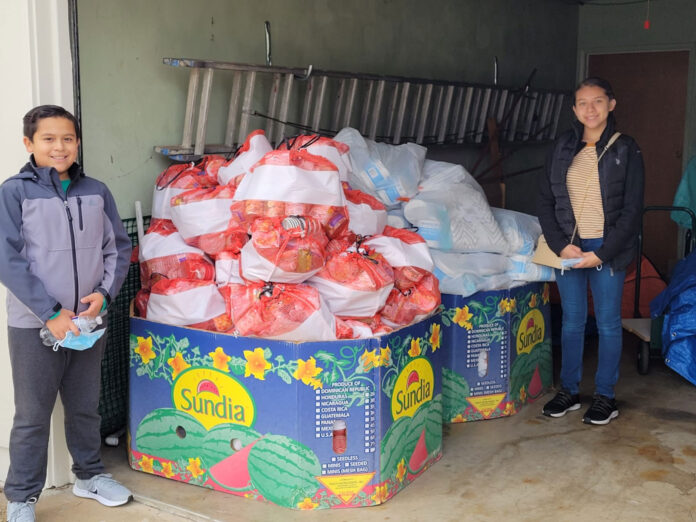 There is a small group of people in South Bay who are distributing "red bags " of food, clothing, tents, hygiene and toiletry products and more, seeking out the unsheltered in parking lots, parks, the streets, and encampments.
Based out of Saint Charles Caritas out of Saint Charles Catholic Church in South Bay, Jim's Project Homeless Help #69 started the new year distributing 60 red bags in total.
With about 16 volunteers, they plan on going out again in February with Jim's Project Homeless Help #70.
Jim's Project Director Merlyn Baker said this project is just one of many out of the caritas, but that this one is particularly important to her, as it is named after her late husband.
"In 2013, my husband was bedridden and he asked me if I could bag food for the homeless in the South Bay," said Baker. "I said yes and started with 25 bags of food, and with Joe Bajo, now the Knights of Columbus Grand Knight, we went around the Chula Vista area and the parks and distributed these bags of food."
Baker said when she returned home, her husband asked if she could increase the bags to 30 for the next round of deliveries. That was in November of 2013, and on the following Dec. 25, her husband passed away and she continued to carry on his last wish works in distributing goods to the homeless.
Baker said that the pandemic shut them down, leaving them at their #68 delivery, but that they are now back in delivery mode, but are still extremely cautious knowing that COVID-19 is still spreading, it is flu season, and because they have children who volunteer with their parents, they take all precautions necessary while bagging and distributing bags.
"We had bags of food again for 50. Toiletries, with blankets, tarps, and tents," she said. "We go from place to place. We comb Chula Vista and search for the homeless."
Baker said they caravan with the bags, starting at Saturn Boulevard, to the trolley, into Chula Vista, and if they see someone by the road, they will stop and give them a bag. She said that right now, they have around 14 active volunteers bagging and distributing and is happy to see that people are willing to come back after the pandemic and help with the charity.
Baker said the Caritas has several other charities that it works with, on both sides of the border, and that they are coming back with the pandemic seemingly dwindling down.
"We are helping four in Tijuana, Ensenada. We have an orphanage, home for girls, home for the elderly, formed by the sisters. We also have three in the Philippines, all run by nuns and priests," she said. "We are concerned about COVID coming back again, so we wear masks, gloves, and do our best to keep social distancing."
Baker said to volunteer people can email her, or look up Jim's Project Homeless Help on WhatsApp. There people can see the videos that they take during distribution.
For more information email Merlyn Baker at saintfrancis2001@aol.com.