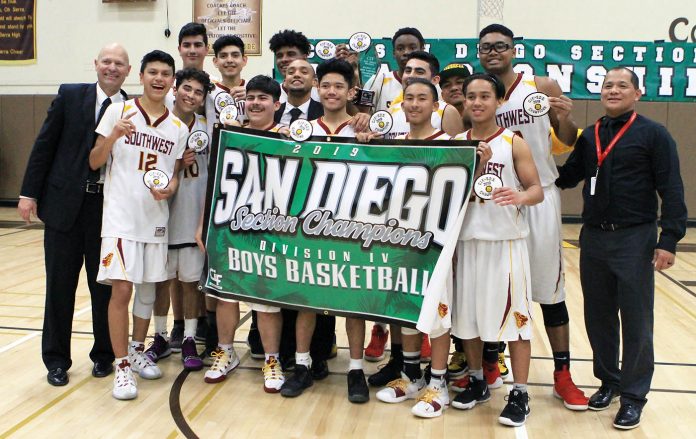 It's a rare occasion for any team in any sport to win back-to-back San Diego Section divisional championships but count the 2018-19 Southwest High School boys basketball team among them.
The Raiders, spurred by a tremendous second-half effort, defeated the Mt. Carmel Sundevils, 63-49, to capture the Division IV championship Feb. 21 at Serra High School.
Southwest won last year's Division V championship, thus making them back-to-back CIF champions.
Senior Diego Edwards, one of the catalysts of this year's championship run, has been a part of both banner-winning teams. He relished the latest one.
"I didn't get a lot of playing time my sophomore year," explained Edwards, a three-year varsity performer who stands 6 feet, 4 inches tall. "My junior year I started and my senior year we won CIF again. It feels great."
It took a concerted effort for the top-seeded Raiders (25-7) to win their latest division title. Southwest trailed, 31-26, at halftime. When the second-seeded Sundevils (15-15) scored the first points of the second half, the Raiders were suddenly down by seven points.
But the South Bay League runners-up heeded the halftime words of veteran coach Steve Selland and the momentum soon began to change, mostly through the efforts of hot shooting by Edwards.
A bucket by Edwards narrowed the Mt. Carmel lead to 33-31; he later dropped in a three-point shot to further trim the Sundevils' lead to 35-34.
A put-back by Southwest senior Issac Gonzalez tied the game 36-36.
A steal and lay-in by Edwards finally put the Raiders in the lead at 38-36 with just under a minute left in the third quarter.
A buzzer beater by senior Bryant Encinas gave Southwest a 43-36 lead entering the fourth quarter.
Gonzalez scored the first point in the final quarter to extend the Raiders' lead to 45-36 to complete a torrid 19-5 run.
Southwest was far from done.
Edwards sank a pair of free throws: 47-38.
Edwards sank another trey: 50-40.
Sophomore Dyon Ford followed in succession with a free-throw, lay-in and two more shots from the charity stripe: 55-40.
A bucket by Encinas upped the lead to 57-42 with 2:35 to play in the game.
For all practical purposes, the quest was over.
A pair of free throws by Edwards pushed the Raiders to a 63-46 lead with 1:25 left on the clock.
A desperation three-point shot by the Sundevils fell at the buzzer to make the final score 63-49.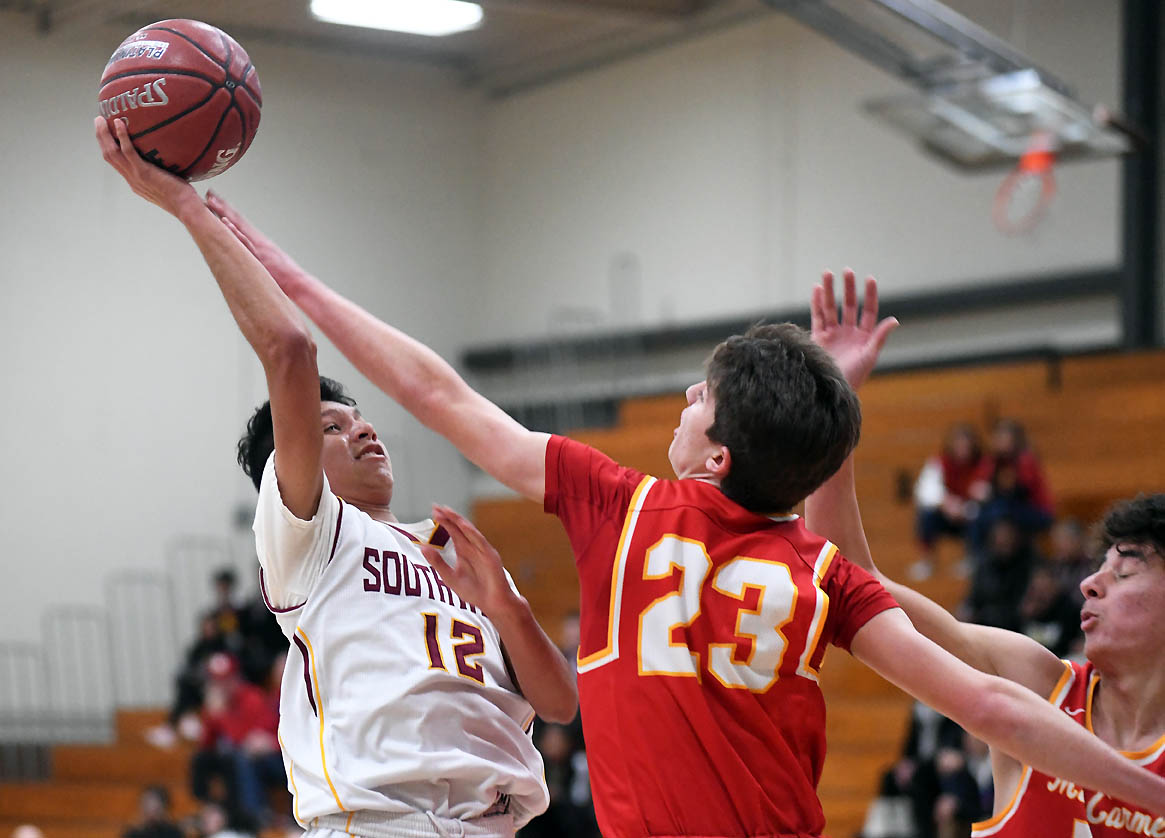 Southwest out-scored Mt. Carmel 37-18 in the second half, including 17-5 in the third quarter.
Selland said defense was the key to securing the win.
"Better defense — getting a hand up on their shots," Selland noted. "The first half they shot the lights out and we had to tighten the screws. Mt. Carmel really played well the first half.
"Diego Edwards really opened up their defense by shooting from the outside. We also got some transition buckets. Once Edwards started hitting outside shots, it softened up their defense a bit."
"Our coach told us we had to play better defense," Edwards said. "We had to come back."
Edwards led all scorers in the game with 26 points while grabbing five rebounds. Ford (6-4) added 20 points while Gonzalez chipped in with nine points.
Dylan Savallo led Mt. Carmel with 14 points.
As a reward, Southwest received the No. 2 seed in the Southern California Division V regional playoffs, defeating 15th-seeded Santa Monica New Roads, 67-43, in Tuesday's opening round.
The Raiders advanced to Thursday's quarterfinals against 10th-seeded Oxnard Hueneme (20-9) after the Vikings upset seventh-seeded Firebaugh (24-6) by a 42-41 score.
Southwest won convincingly by a 54-35 score to advance to Saturday's regional semifinals where the Raiders (now 27-7) will host third-seeded Perris Orange Vista (24-8) after the Coyotes defeated sixth-seeded Kerman, 56-50, on Thursday.
Tip-off is 6 p.m. at Southwest High School.
The regional finals are scheduled for Tuesday, March 5. The Southwest-Orange Vista will play the winner of Saturday's regional semifinal match-up between No. Foothill (21-11) and No. 4 Santa Clara (29-6).
State championship games are scheduled March 8-9 at the Golden 1 Center in Sacramento.
The Raiders took command of Thursday's game early on with a 12-2 run en route to a 33-9 halftime lead. Edwards poured in 15 points and nabbed 16 rebounds while Encinas led the hosts with 18 points.
Southwest advanced as far as last year's Division V semifinals. The Raiders, seeded 11th in the 16-team field, recorded upsets against sixth-seeded la Puente and third-seeded Nogales before eventually falling to seventh-seeded Van Nuys — all in road contests.
State regionals
Mesa League girls co-champions Bonita Vista and Mater Dei Catholic both received seeds in the So Cal Division II regional tournament after bowing out in the quarterfinal round of the section's Open Division playoffs.
Mater Dei Catholic, which received the No. 2 seed, hosted 15th-seeded Lake Balboa Birmingham in Tuesday's opening round, recording a 63-48 victory to improve to 21-8 on the season.
Bonita Vista, seeded 10th, ended its season 18-11 following an 85-66 setback at seventh-seeded Eastvale Roosevelt in Tuesday's Division II first-round match-up.
Mater Dei Catholic advanced to host Roosevelt (28-5) in Thursday's regional quarterfinals.
Website: www.cifstate.org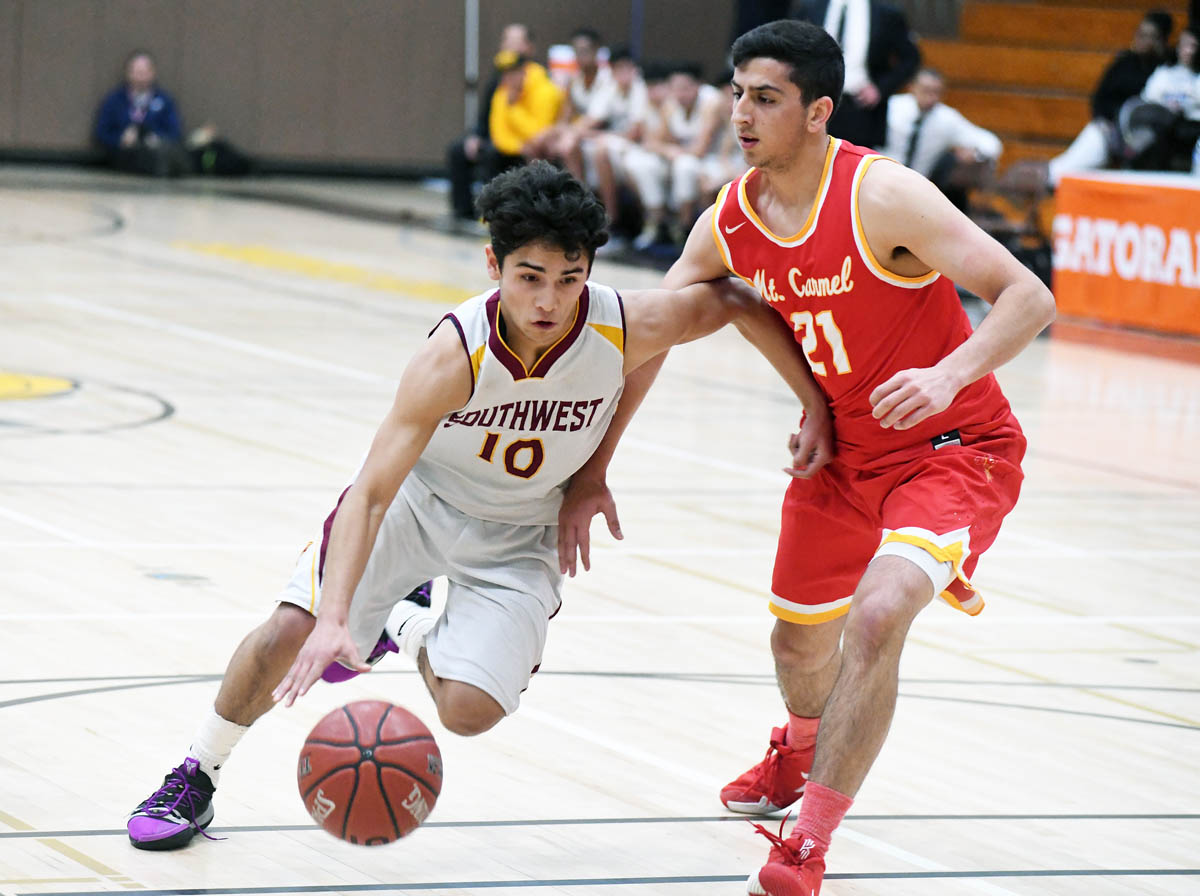 San Diego Section 2019 Basketball Championships
BOYS FINALS
OPEN DIVISION
(3) Torrey Pines 51, (1) Foothills Christian 47
Division I
(1) Cathedral Catholic 47, (3) Francis Parker 46
Division II
(3) Carlsbad 72, (1) Rancho Buena Vista 54
Division III
(4) San Diego 75, (2) Valhalla 56
Division IV
(1) Southwest 63, (2) Mt. Carmel 49
Division V
(8) San Pasqual 49, (6) Clairemont 42
GIRLS FINALS
OPEN DIVISION
(1) Cathedral Catholic 55, (3) Mission Hills 44
Division I
(1) La Costa Canyon 56, (2) San Marcos 43
Division II
(5) Carlsbad 64, (6) Grossmont 42
Division III
(1) Mission Vista 38, (2) San Dieguito Academy 34
Division IV
(1) Madison 47, (2) Foothills Christian 45
Division V
(2) Southwest El Centro 56, (1) Warner Springs 21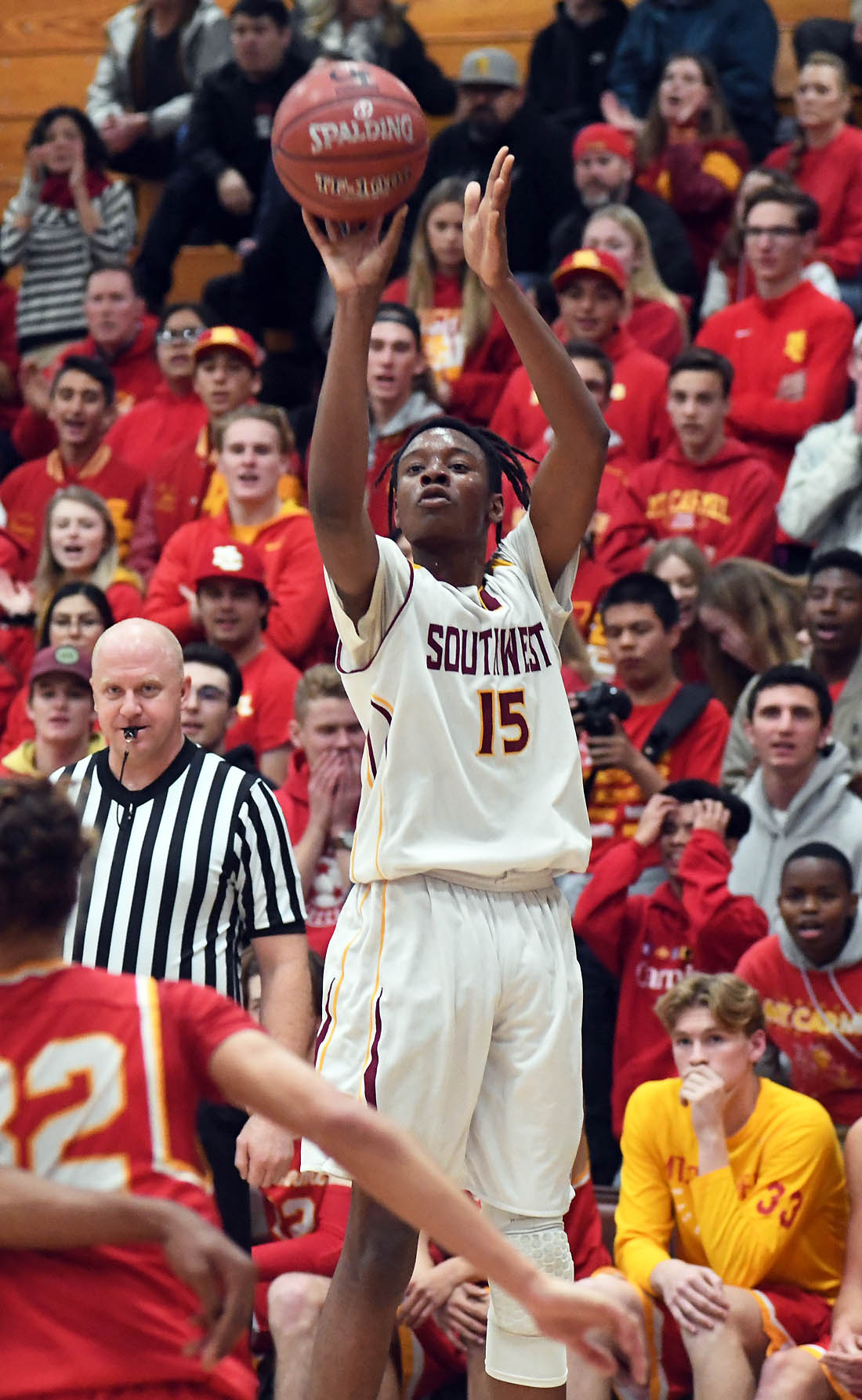 State Wrestling Finals
Boys Medalists
Jaden Abas (Rancho Bernardo), 145 pounds
Tyler Badgett (Rancho Bernardo), 152 pounds
Andre Gonzales (Poway), 106 pounds
Jason Miranda (Poway), 126 pounds
Jaden Le (Rancho Bernardo), 138 pounds
Aaron Gandara (Poway), 152 pounds
Joe Curtis (La Costa Canyon), 182 pounds
Jeff Ramsthaler (Ramoma), 145 pounds
Carson Sauriol (Poway), 120 pounds
Javen Jovero (Rancho Bernardo), 182 pounds
Team scores: 6. Poway 112 points; 8. Rancho Bernardo 91 points