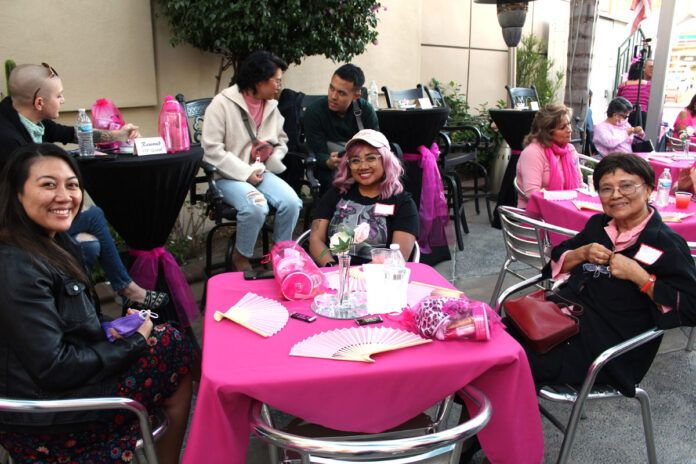 The historic El Primero Hotel in downtown Chula Vista transformed its courtyard into a pink paradise for Loving Your Through It's "Paint The Night Pink" event to bring an evening of support and encouragement to those who are currently going through breast cancer treatment on Oct. 28.
Snooky Rico, founder of Loving You Through It, and owner of Rico's on 3rd beauty salon in downtown, said as a breast cancer survivor herself, she is "blessed to be alive and surviving" and wants to give as much support to those going through cancer therapy.
"Loving You Through it is a nonprofit organization where we service cancer patients who are going through chemotherapy," she said. "We are an oncology, beauty service organization."
Rico said the event was held in honor of Breast Cancer Awareness Month.
"It was an evening of encouragement and inspiration for the women who are battling cancer and are in treatment," she said. "We had guest speakers, food provided by Stella Sutton and The Olive Garden. Our special speakers were cancer survivors. There were spoken words of inspiration to give these women hope. We also had a silent auction, and special music.
"It gave them an evening of hope," she continued. "Remember, these are women battling for their lives. They are in treatment. They are fearful. It helped in giving them empowerment to continue the fight."
Rico said Karen Riggott, of the El Primero Hotel, a family-run business, were happy to open their venue for the event. Riggott said her parents Sol and Pie Roque purchased the hotel in 2004, to remodel it to flip it. It is one of the oldest hotels in Chula Vista, built in 1930.
But they decided not to flip it, so they have been running the hotel for 18 years.
Riggott said this is the second time the hotel has hosted this event for Loving You Through It.
"It is an amazing event," she said. "They truly give to those who are in need, and they create a life of living, and to appreciate God's gifts to keep them here in this world for those who currently suffer and are going through chemo, for those who have survived and are in remission. What Snooky does is completely giving in love since she had breast cancer. She created a life-giving reward where she gives back to those who are suffering to keep them happy and to learn to appreciate the 'new them,' both as a patient and a survivor, is completely amazing. She gives back to their life. It really is God's nature to keep us here, and to keep them here longer in this world."
Riggott said those who came were happy, relaxed, and felt there was a reason they were there.
"It was a reinstatement of being happy and alive," she said.