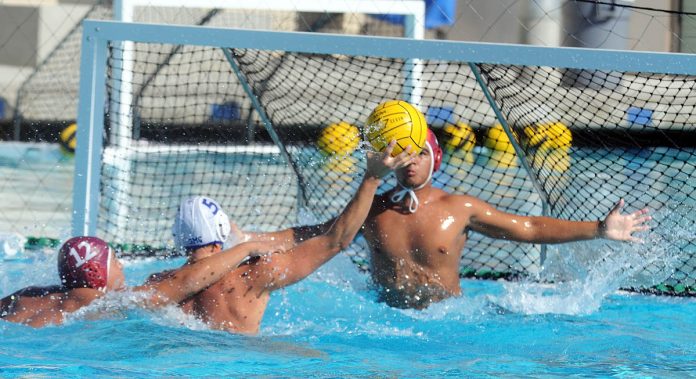 South County water polo enthusiasts will get a chance to watch high-level competition this weekend when the Pacific Coast Athletic Conference championships take place at Southwestern College.
The two-day event will feature both men's and women's competition with a total of 10 teams competing for championship and consolation titles in both fields.
The event is being hosted by Grossmont College but will take place at Southwestern College's new aquatics complex.
Six games are scheduled for Friday, Nov. 2, with four additional contests scheduled for Saturday, Nov. 3, to close out the event.
San Diego Mesa College enters the tournament as the top-seeded women's team with an 8-0 conference record, followed by second-seeded Palomar (5-3), third-seeded Grossmont (5-3), fourth-seeded Southwestern (2-6) and fifth-seeded Miramar (0-8).
Grossmont College enters the tournament as the top-seeded men's team with an 8-0 conference record, followed by second-seeded Palomar (6-2), third-seeded San Diego Mesa (4-4), fourth-seeded Southwestern (1-7) and fifth-seeded Miramar (1-7).
Two elimination games will start off Friday's competition. Southwestern will face Miramar in a women's game at 9:30 a.m. The same teams will match up in a men's game at 10:45 a.m.
The winners of both contests advance to the semifinals along with the three teams that received first-round byes in each gender bracket.
Palomar will meet Grossmont in a women's semifinal game at noon, followed by the Palomar-Mesa men's semifinal match-up at 1:15 p.m.
Mesa will meet the winner of Friday morning's women's elimination game in a semifinal game at 2:30 p.m., while Grossmont will take on the winner of Friday's earlier men's elimination game in semifinal action at 3:45 p.m.
The second day of competition opens Saturday at 10 a.m. when the losers of the two women's semifinal games meet in the third-place game.
The two women's semifinal winners will meet in the championship game at 11:30 a.m.
The winners of the two men's semifinal games will meet for the tournament championship at 1 p.m.
The men's third-place game pitting the two semifinal losers will close out the event with a 2:30 p.m. match-up.
The Southwestern College Aquatics Complex is located at 900 Otay Lakes Road, Chula Vista.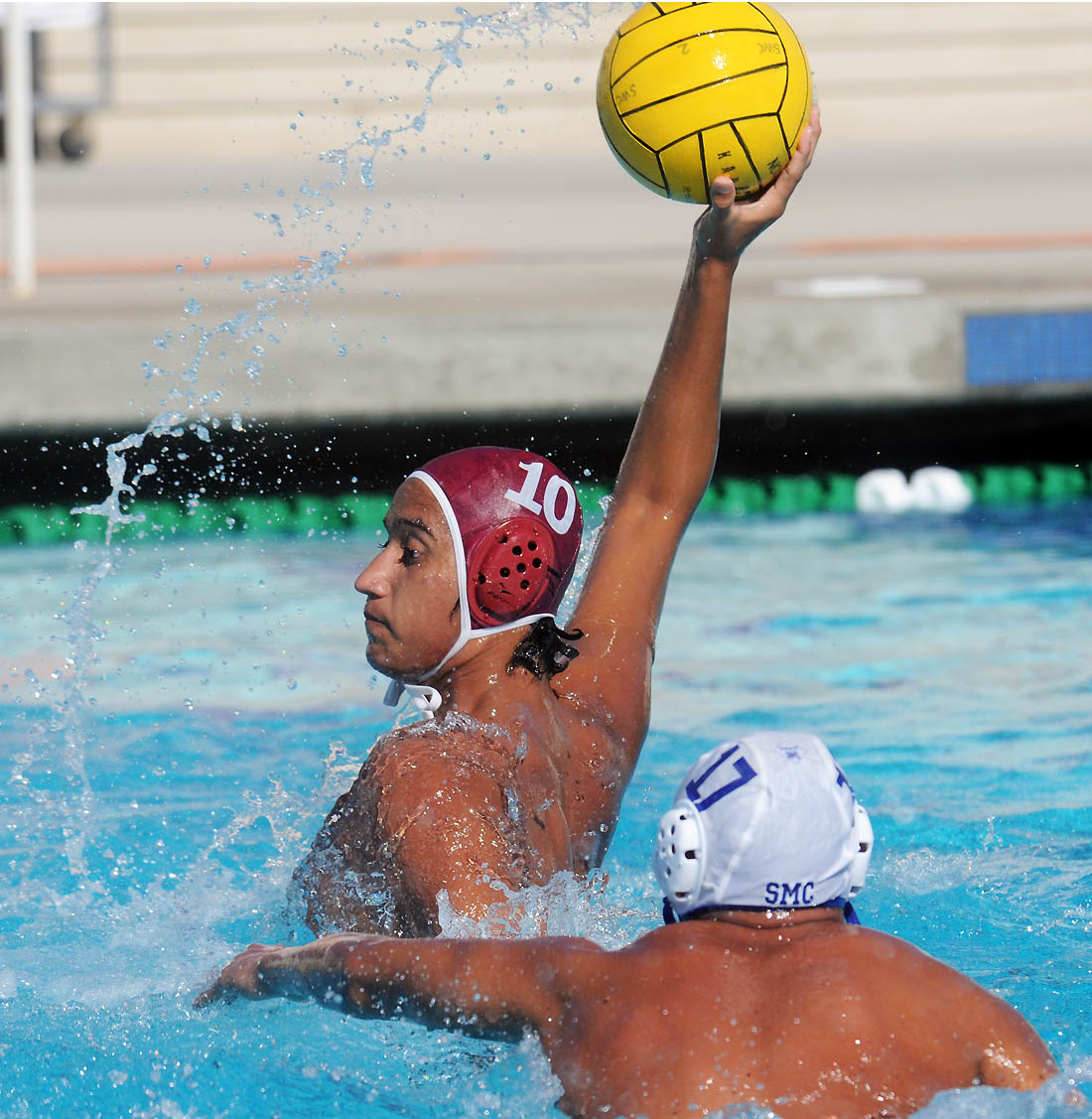 Hilltop High School alumnus Mark Estrada has helped power Southwestern College's offense this season. Photos by Phillip Brents
Test run
Southwestern hosted a men's mini-tournament last Saturday (Oct. 27) with five teams in attendance: Miramar, San Diego State University's club team, Rio Hondo, Santa Monica and Southwestern.
Each team played two games.
Southwestern defeated Miramar, 11-7 and lost to Santa Monica, 14-8, to end the day 1-1.
SDSU defeated Santa Monica, 14-10, after opening the tournament with a victory against Rio Hondo, which topped Miramar, 16-11, later in the afternoon.
SWC men's head coach Jorge Ortega said the event offered teams a chance for a late season tune-up heading into their respective conference championships.
"This is our first time hosting something, even when we were at the old pool," Ortega explained. "We were able to invite Rio Hondo and Santa Monica down and also had San Diego State participate. It was a soft opening. We're hopeful of hosting a larger tournament. We have some things to work on but it went pretty smooth.
"It was pretty solid. We were able to give everyone some quality games."
The mini-tournament offered Southwestern and Miramar an opportunity to fine-tune their game strategy prior to this weekend's championship tournament.
"It was the last regular season tournament before the PCAC tournament, so you can see how teams are trending at the end of the season," Ortega said.
"We've been trending up toward Mesa. The second time we played them we played with them through the third quarter. We're hoping the third time we can play with them through the whole game."
Southwestern's men's team lost its opening 17 games this season before winning its first game by topping Miramar in the second round of conference play. However, the Jaguars dropped their final conference game to Grossmont to fall to 1-18.
Southwestern had to play games at the Las Palmas pool in National City while the new aquatics complex was under construction. The loss of an on-campus pool had an obvious detrimental effect on participation numbers on both the men's and women's teams.
Now that the college can showcase its new facility to local high school teams, Ortega is hopeful that participation will increase in future recruiting classes.
"Hopefully, there's a bright future ahead," he said.
Hilltop alumnus Mark Estrada has powered the Jags offense this season while goalie Francisco Cabrera has been the defensive standout.
The SWC women's team has had slightly more success in the win column, though head coach Alissa Mashburn admitted her team has essentially started from scratch this season with just one returning player — Eastlake High alumna Aleigha Binda.
"Recruiting was a bit of an issue without a pool on campus," explained Mashburn, who previously served as an assistant coach with the team from 2006 to 2012 before electing to take time off to have a family. "We only have one returning play; the rest are all freshman. I'm very proud of them. In a short time they've really come together. I wish we had another month. We're just now getting into condition and play cohesively. It's a short season. Many of the girls had stopped playing after high school before enrolling here."
Freshman goalie Josie Fialko (Bonita Vista) has been a rallying point for the team.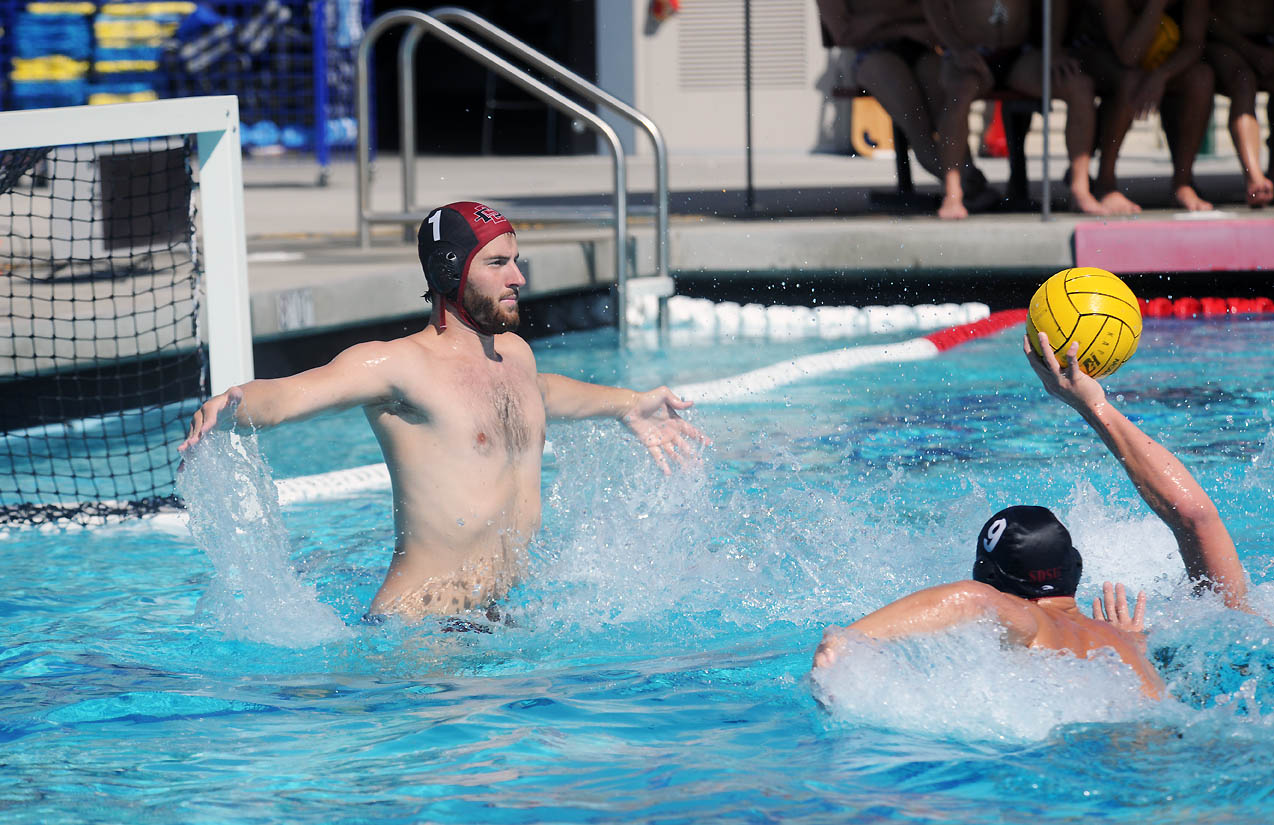 Aztec attack
SDSU's men's team operates as a self-funded club team whereas SDSU's women's program is funded by the school and competes at the NCAA level.
The arrangement hasn't hindered the Aztec men's team from excelling in its own ranks. SDSU has qualified for the last four national club championship tournaments, placing runner-up twice and third once before winning last year's College Water Polo Association national championship title at Florida State.
"We draw from all the students who attend SDSU and who have experience and want to continue playing water polo," assistant coach Josh Heller explained. "We are student run, with a president, vice president, secretary and treasurer. We have to work our budget and set up tournaments.
"This is definitely a learning experience for both water polo and life."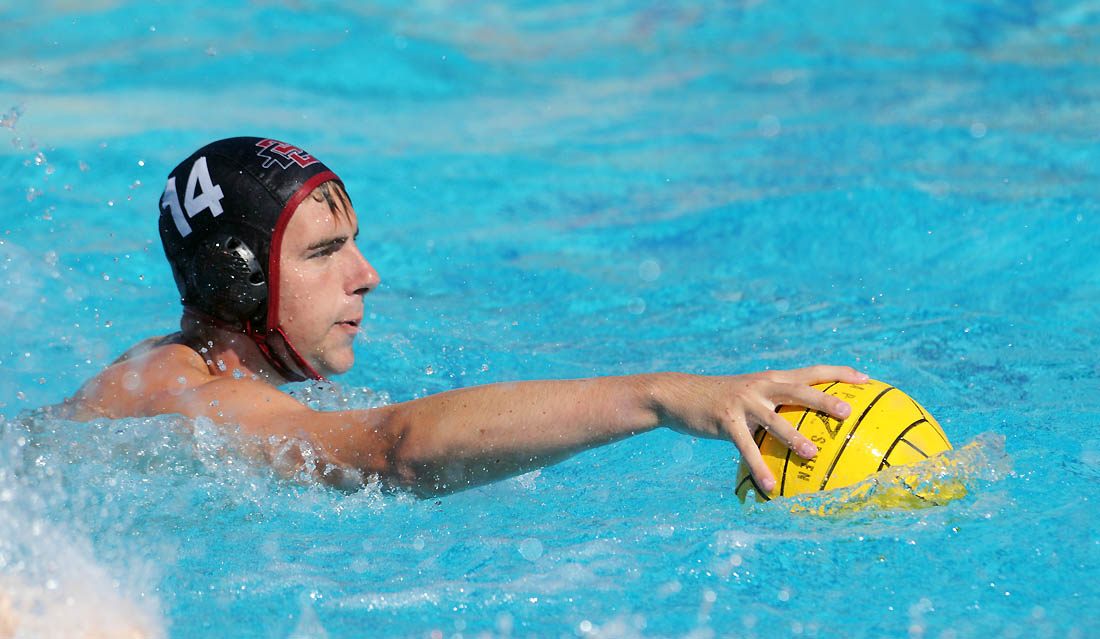 Top returning players include Blake Harmon, Kyle Hicks, goalie Rockne O'Brien, Tim Barnett and Peter DeSoto while top freshmen coming into the program include Thomas Trenholm and Jake Kelville.
O'Brien previously played at Grossmont College (and Valhalla High School) while Kelville attended Clairemont High School.
Players on the team come from throughout California, Heller noted.
About a third of this year's lineup are newcomers.
"It's great to have so much returning experience players from last year," Heller said. "We fully expect to go back to nationals again. Our goal is to win it."
Harmon, who hails from Moorpark in Ventura County, serves as club president while Orange County native Barnette is the team's vice president. DeSoto, from Carlsbad, serves as team secretary while Hicks, from Villa Park, is the team's treasurer.
SDSU competes in the Southwestern Division of the CWPA. Member clubs include the University of Arizona, Arizona State University, UC San Diego, UC Irvine, CSU Northridge and SDSU.
The division championship tournament is scheduled Nov. 3-4 at UC San Diego. The tournament champion qualifies for the national championship tournament at the University of Arizona in Tucson Nov. 9-11.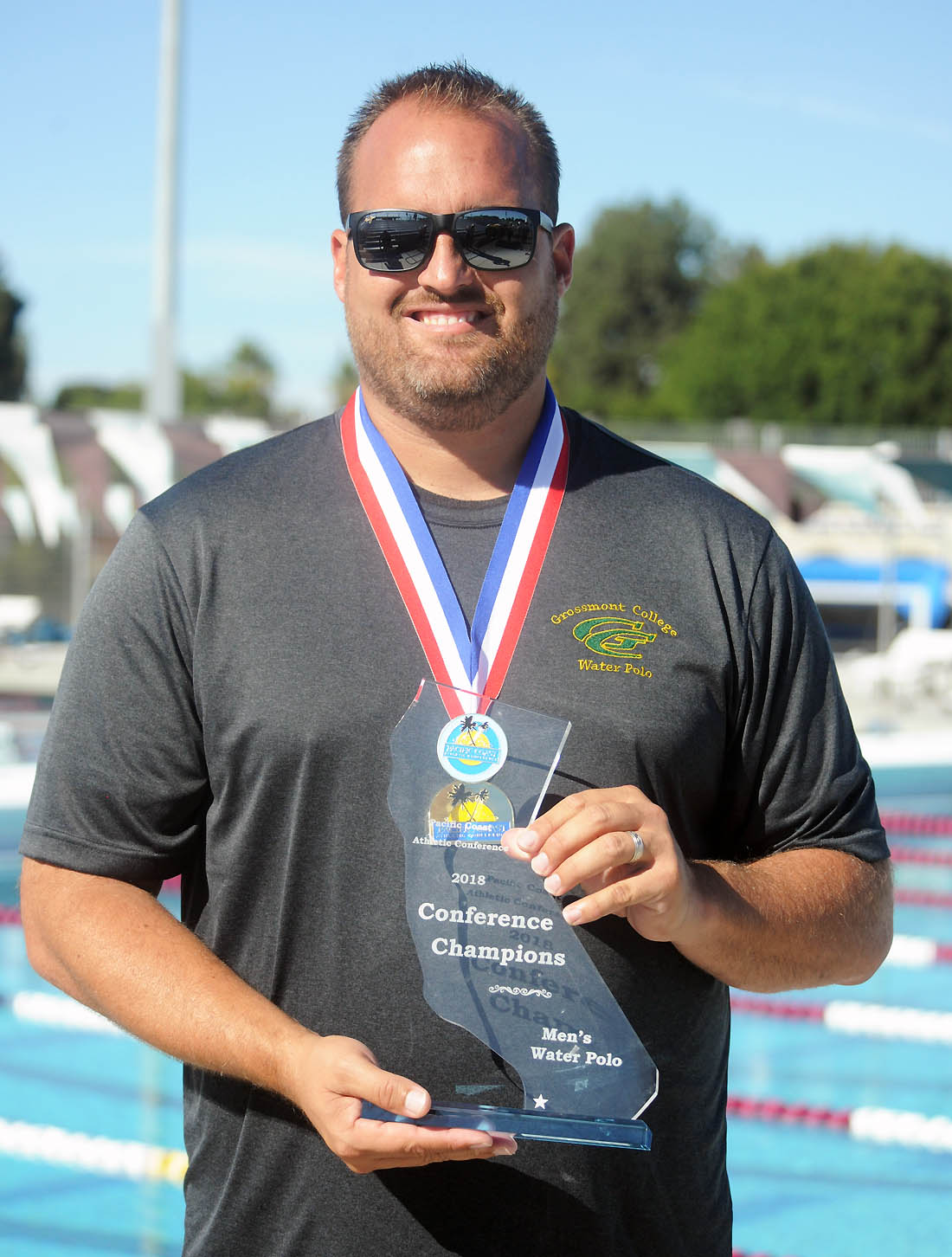 Grossmont Griffins claim PCAC men's water polo championship
Grossmont College's men's and women's water polo teams represented themselves well at this year's Pacific Coast Athletic Conference championship tournament held Nov. 2-3 at Southwestern College's new aquatics complex.
Five teams competed in each gender field.
Top-seeded Grossmont College defeated second-seeded Palomar College, 21-7, in the men's final while third-seeded Grossmont defeated fourth-seeded Southwestern, 12-2, to finish third in the women's field.
San Diego Mesa College defeated Palomar College, 13-12, to win the women's championship title while Mesa topped Miramar College, 19-6, to capture third place in the men's field.
The championship was the first for Grossmont men's coach Ty Lackey in five years with the team. The Griffins had advanced to the final on three other occasions but had finished runner-up to Palomar.
"This is what we wanted," Lackey said. "We had an all freshman team last year, so just about everyone came back this year and we added a strong group of freshmen to that.
"Our goals at the beginning of the year were to win conference and finish in the top 10 rankings and we're on pace to accomplish both goals."
Grossmont (23-5) earned the top seed for the PCAC championship tournament with an 8-0 regular season conference record while Palomar finished 6-2 in conference play. Mesa was 4-4 while Southwestern and Miramar both finished 1-7 in the conference standings.
The Griffins, who ended regular season play ranked eighth in the state, now advance to the Southern California regional playoffs.
Grossmont's top three scorers — freshman Brock Kammerer (95 goals, 75 assists) and sophomores Cole Kammerer (95 goals, 45 assists) and Ryan Blevitt (87 goals, 20 assists) — ranked as the top three scorers in the conference this season, and ranked among the top 10 scorers in the state.
Sophomore goalie Travis Rosenkoetter, a former Grossmont Foothiller, accumulated 17 assists and 35 steals over the course of the season.
The Griffins roster is primarily comprised of East County high school alumni from schools such as Granite Hills, Grossmont, Christian, Santana, Steele Canyon and El Cajon Valley high schools, as well as former preps form University City, Poway, Patrick Henry and Clairemont high schools.
Lackey noted that Cole Kammerer, a bounce back from the University of Redlands, was a key addition to this year's team.
"Getting a kid like that who had one year of experience at the four-year level was obviously a big boost for us," Lackey said.
Brock Kammerer (five goals, four assists) and Cole Kammerer (four goals, five assists) led the Griffins with nine points each in the championship game win over Palomar.
Blevitt, another ex-Foothiller, collected three goals and three assists while Mackenzie Nevins (Grossmont HS), Isaiah Webster (Granite Hills HS) and Nathan Seaux (Clairemont HS) each scored two goals.
Benjamin Mussey (Grossmont HS) contributed one goal and three assists while Wes Papike (Steele Canyon HS) and Garret Durado (Poway HS) each scored one goal.
Rosenkoetter had 11 saves on 16 shots in three quarters of cage duty while dishing out one assist and recording three steals. Patrick Sullivan (Patrick Henry HS) allowed two goals in one quarter of play.
Grossmont defeated fifth-seeded Miramar, 22-6, in the semifinal round while Palomar topped third-seeded Mesa 9-7.
Papike led the Griffins with five goals in the semifinal win while Blevins scored four goals.
"We play an aggressive style," Lackey said. "We have a lot of talent, a lot of guys who have club exposure.
"I think we have some good talent coming into the program next year; I think that we might even be better next year."
Grossmont's women's team finished 5-3 in the regular season conference standings alongside Palomar College. However, for the conference playoffs, Palomar received the No. 2 seed while Grossmont received the No. 3 seed. Both teams were seeded behind top-seeded Mesa (8-0 in conference play).
The Griffins fell to Palomar, 13-3, in the semifinals to drop to the third-place game against fourth-seeded Southwestern, which had come up short by an 18-7 score to Mesa in the semifinals.
This is Larry Larsen's 17th season coaching at Grossmont College. He said this year's women's squad had the best team chemistry among all his previous teams.
"It was a good year," Larsen said. "We finished third in conference. We definitely had a lot of individual progress, which was a bonus for us."
Impact players on this year's team included Grace Martin (Grossmont HS) and Cami Raley (West Hills HS).
Martin, along with teammate Maria Jimenez, led Grossmont with three goals each in the third-place game victory.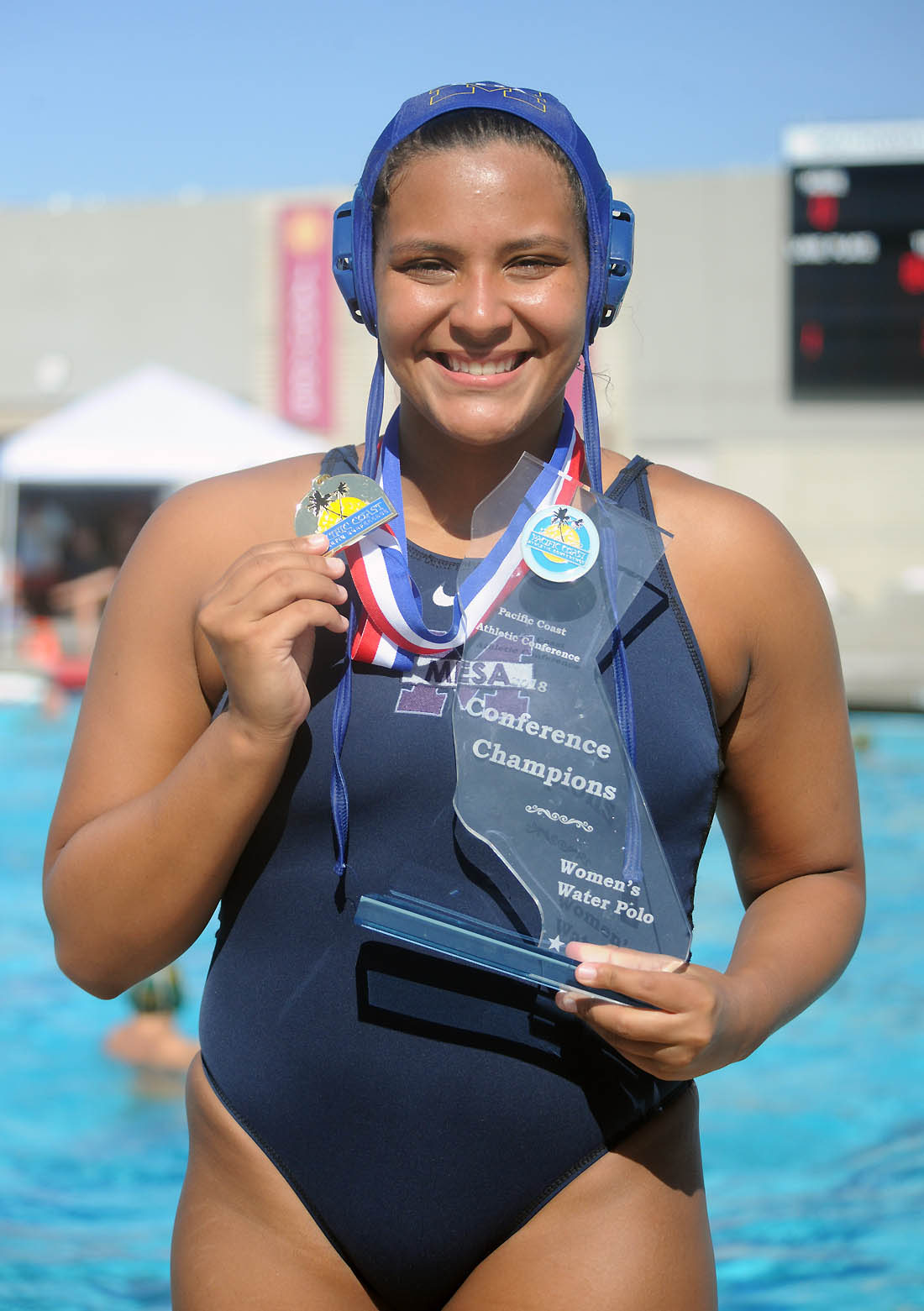 Shyla Toledo led Mesa's women's team with five goals and two assists in the championship game while teammate Sydney Fortune contributed two goals and three assists. Former Hilltop standout Sofia Espinoza scored three goals and five steals to boost the Olympians in the final while Ashley Greeven collected two goals, two assists and five steals.
Emma Thomas led Palomar with six goals, five assists and five steals.
The PCAC championship was the second for Espinoza with Mesa. "I'm proud that we won it again," she said. "We hit our goal — everyone contributed."
The former Lancer standout said she would like to play Division I women's water polo.
PACIFIC COAST ATHLETIC CONFERENCE
2018 WATER POLO CHAMPIONSHIP
All games at Southwestern College
Women's Tournament
Friday, Nov. 2
Elimination game: (4) Southwestern 12, (5) Miramar 2
Semifinal: (2) Palomar 13, (3) Grossmont 3
Semifinal: (1) San Diego Mesa 18, (4) Southwestern 7
Saturday, Nov. 3
Third place game: (3) Grossmont 12, (4) Southwestern 2
Championship game: (1) San Diego Mesa 13, (2) Palomar 12
Men's Tournament
Friday, Nov. 2
Elimination game: (5) Miramar 9, (4) Southwestern 8
Semifinal: (2) Palomar 9, (3) San Diego Mesa 7
Semifinal: (1) Grossmont 22, (5) Miramar 6
Saturday, Nov. 3
Championship game: (1) Grossmont 21, (2) Palomar 7
Third place game: (3) San Diego Mesa 19, (5) Miramar 6
GAME SUMMARIES
Women: (4) Southwestern 12, (5) Miramar 2 (elimination game)
The fourth-seeded Jaguars built a 10-0 lead in posting the elimination win over the fifth-seeded Jets. Southwestern zoomed in front 7-0 with a devastating first quarter offensive surge.
Ebony Santoyo (Bonita Vista) led SWC in the game with three goals while Ayleen Monge (Montgomery), Destiny Quinonez (Hilltop) and Briannah Johnson (University City) each scored two goals. Odette Ortega (Eastlake) and Nikki Torres (Hilltop) each scored one goal.
Women: (1) San Diego Mesa 18, (4) Southwestern 7 (semifinals)
The top-seeded Olympians took a 7-2 lead in the first quarter and tacked on four more goals in the second quarter for an 11-2 halftime lead. The fourth-seeded Jaguars came to life with three goals in the third quarter but it wasn't enough as Mesa responded with five goals in the final quarter.
Former Hilltop High School star Sofia Espinoza led the Olympians with seven goals while C Lupien and S Fortune each scored four goals for Mesa.
Nikki Torres (Hilltop) led SWC with four goals while Destiny Quinonez (Hilltop), Jazmin Glaman (Eastlake) and Ebony Santoyo (Bonita Vista) each scored one goal.
Women: (3) Grossmont 12, (4) Southwestern 2 (third place game)
The Griffins got out to a 7-0 first quarter lead and never looked back in downing the Jaguars to secure a 10-goal victory in the tournament's third-place game.
Grace Martin (Grossmont) and Marin Jimenez (Otay Ranch) led Grossmont in scoring with three goals each while Marissa Cavada (Steele Canyon) chipped in with two goals. Kayla Ellis, Cassandra Green (Otay Ranch), Adriana Hultman (Steele Canyon) and Bea Schaeffer (Patrick Henry) each logged one goal in the win.
Grossmont, which finished the tournament 1-1, led 9-1 at halftime.
Caitlan (Nikki) Torres (Hilltop) and Ebony Santoyo (Bonita Vista) each scored goals for Southwestern, which finished the tournament 1-2.
Men: (5) Miramar 9, (4) Southwestern 8 (elimination game)
The teams had split their two regular season conference match-ups, with Southwestern winning the second leg to earn the No. 4 seed for the conference championship tournament.
But it was a step back for the Jaguars, who opened Friday morning's elimination game with a 3-0 deficit to the fifth-seeded Jets. Southwestern battled back to tie Miramar, 3-3, at the end of the opening quarter on goals by Noah Collins, Alberto Gandara and Zach Courtney.
The Jets scored the opening goal of the second quarter to lead, 4-3, before the Jags reeled off four unanswered goals to take a 7-4 halftime lead. Collins, from Courtney, tied the score four-all, Mark Estrada put SWC up 5-4, followed by goals from Courtney and Jeffrie Villegas.
But Southwestern could not maintain the momentum as the Jets scored three unanswered goals once play in the second half resumed to tie the game 7-7. Courtney scored his third goal of the game to push the Jaguars ahead, 8-7, but Miramar promptly came back to tie the game and then slip ahead, 9-8 on a six-on-five tally by Calvin Lawrence.
Southwestern got a six-on-five advantage late in the contest. Collins hit the post and Courtney's attempt to tie the game floated over the crossbar.
"This is the fourth time we played them this season," SWC head coach Jorge Ortega said. "We started off flat, down 3-1, then we made a run to take a lead. But you have to give credit to Miramar. They kept their composure."
The teams finished 2-2 in their four games, but the Jets won the biggest of them to advance in the playoffs.
The Jaguars finished 2-of-6 on man-up advantages while the Jets were 3-of-6 but scored on both their six-on-five opportunities in the fourth quarter.
Southwestern leaders included Courtney with three goals, Collins with two goals and Estrada, Villegas and Gandara with one goal each. Estrada drew much defensive attention throughout the game as word was obviously out that he was the Jaguars' top offensive threat.
Miramar leaders included Lawrence and Samuel Suminski with three goals each.
Men: (1) Grossmont 22, (5) Miramar 6 (semifinals)
The top-seeded Griffins wasted little time in exuding dominance in the game by flying to a 9-0 lead over the fifth-seeded Jets. Grossmont out-scored Miramar 6-2 in the second quarter to lead 15-2 at halftime.
Wes Papike led the Griffins with five goals while Ryan Blevitt scored four goals. Brothers Cole and Blake Kammerer each scored three goals. Mackenzie Nevins and Garrett Durado each scored two goals.
Samuel Suminski and Mason Florez each scored two goals for Miramar.
Men: (3) San Diego Mesa 19, (5) Miramar 6 (third place game)
The third-seeded Olympians took a 5-2 lead in the first quarter and expanded it to 9-3 at halftime en route to recording the runaway victory to capture third place in the tournament standings.
Roman Rosser led Mesa in scoring in the game with five goals while Brendan McMahon contributed three goals. Micah Schwenkmeyer, Kenny Pineo and Austin Greenwell each scored two goals while Arman Hamrah and Eric Orozco each scored one goal.
The Olympians out-scored the fifth-seeded Jets 9-3 in the second half. Matthew Wiltz led Miramar with four goals in the setback. Mesa finished the tournament 1-1 while Miramar finished the tournament 1-2.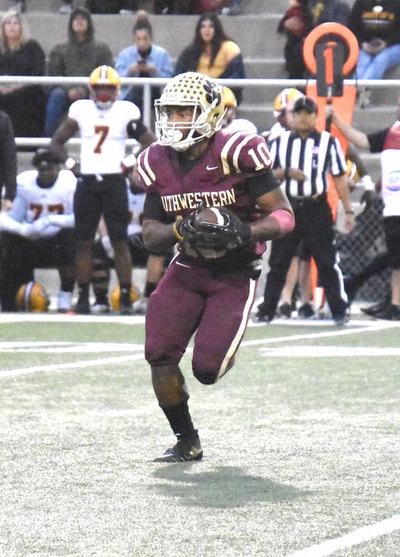 Community college football:
Jaguars return for final regular season home game
Southwestern College will play its final regular season home game on Saturday, Nov. 3, when the Jaguars host Golden West College in a National Southern Conference clash.
The Jaguars are 5-3 on the season, 1-2 in conference play, after falling 36-6 at Riverside last Saturday. Golden West is also 1-2 in conference play, 3-5 overall, after dropping a 54-38 contest at Saddleback College last Saturday.
Southwestern is bowl eligible but will await the results of its final two games to determine if it receives a home field bowl bid or must play on the road.
The Jaguars close out conference play Nov. 10 at Orange Coast College (1-7 overall, 0-3 in conference).
Grossmont defeated visiting OCC, 45-27, last Saturday in conference play to pick up its first win on the season. The Griffins improved to 1-2 in conference play, 1-7 overall.
Riverside (7-1 overall) and Saddleback (5-3 overall) are both tied atop the conference standings with 3-0 conference records, followed by Southwestern and Golden West.
Southwestern trailed Riverside, 33-0, before scoring its lone touchdown of the game on a 13-yard pass from Demonte Morris to Nicholas Bailey with 6:17 to play in the third quarter.
Morris completed six of 21 passing attempts for just 30 yards while Marcus Hernandez-Torrez was six-of-11 for 47 yards.
Deandre Daniels rushed 16 times for 79 yards to lead the Jaguars on the ground while Cameron Kane caught four passes for 44 yards.
Riverside recorded 21 first downs to nine for Southwestern and out-gained SWC 440 to 145 in total yards.
Stone Smartt keyed the host Tigers with 269 passing yards and two touchdowns without an interception while also scoring a rushing touchdown. Vic Viramontes added a rushing touchdown while John Garibay kicked a pair of field goals (47 and 43 yards) to round out the Riverside scoring.
Noah Berry led SWC's defense with 14 tackles. Overall, the Jaguars recorded five sacks and two fumble recoveries (one each by Logan Darby and Rayshawn Parks-Price).
Fullerton College, which defeated host Southwestern, 19-14, on Sept. 22, has been forced for forfeit all its 2017 wins and its 2017 National Southern League championship following an investigation by the Southern California Football Association.
Sanctions were delivered against the school, which has won back-to-back state titles for breaking California Community College Athletic Association rules regarding subsidizing, inducements and special privileges, according to a published report.
The Hornets will also be forced for forfeit games this season, though the number of games and opponents has not yet been revealed. Fullerton is also barred from postseason play this season.
A forfeit to Southwestern would greatly enhance the Jaguars' prospects of hosting a bowl game.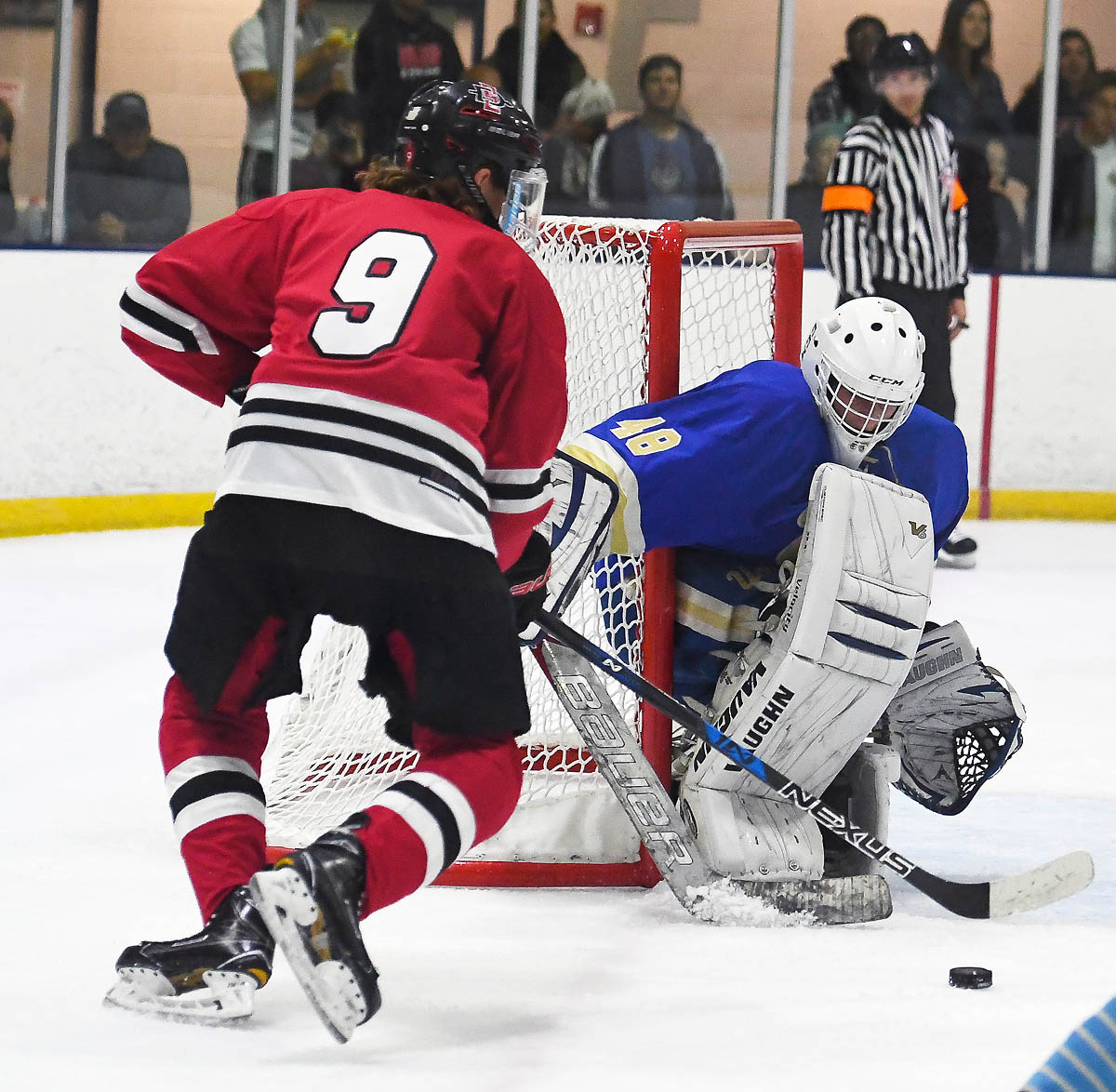 College ice hockey:
Eastlake's Mayer tops SDSU scoring chart
The San Diego State University men's ice hockey team will host the University of Southern California in a pair of PAC 8 Conference games this weekend at the Kroc Center. The teams will face off Friday, Nov. 2, at 8 p.m. and conclude their two-game set Saturday at 7 p.m.
Eastlake High School alumnus Aaron Mayer co-leads the Aztecs with 13 points (six goals, seven assists) through the team's opening seven games of the season. Mayer is tied with teammate Patrick Miller (five goals, eight assists) for the team scoring lead. Both players have recorded 13 points in five games.
Otay Ranch High School alumnus Devyn Taras ranks third in SDSU scoring with six points (three goals, three assists).
Goaltender Matthew Burbage, the third Chula Vistan on the Aztecs roster, has played in three games so far this season with a team-leading 2.55 goals-against average and .926 save percentage.
Mayer had a goal and assist in SDSU's 3-3 tie against Weber State University on Oct. 27 during a two-game road trip to Utah. Taras also chipped in with a goal in the game.
Mayer scored the game-tying goal at 10:52 of the first period, assisted by Miller. Taras gave the Aztecs a 2-1 lead on a goal just 10 seconds later, assisted by Mazyer and Miller.
Elisha Reece, one of three East County players on the SDSU roster, put SDSU in front, 3-2, with an unassisted goal at 4:14 of the third period. Weber State tied the game at the 15:48 mark of the period. Weber State recorded a 32-17 shot advantage in the game.
SDSU faced off its road trip with a 7-2 loss to Utah State University on Oct. 26. The Aztecs battled to a 1-1 first period standoff before falling behind 5-2 at the end of the second period.
Derian Theberge and Tyler Smith scored the two goals for SDSU, with assists going to Mickey Sullivan and Patrick Miller.
SDSU defeated UCLA, 8-1, in its last home game on Oct. 19. Mayer led all scorers with three goals and two assists while Taras collected two assists. Reece and Helix High School alumnus Isaac Miller each picked up one assist.
The Aztecs never trailed in the game, leading 2-1 at the end of the first period and 3-1 at the end of two periods before racing away from the Bruins with five third-period goals.