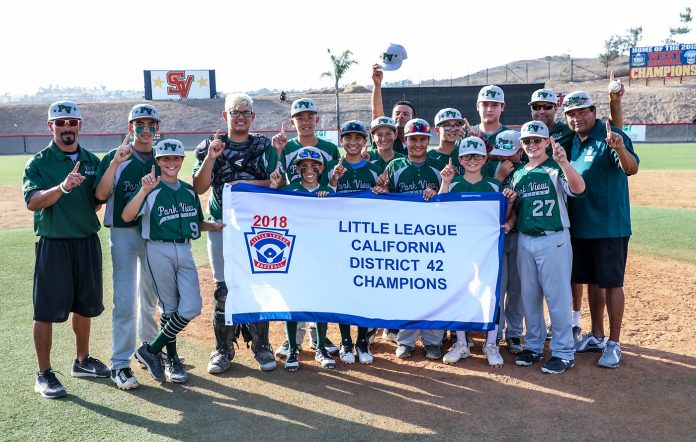 Park View Little League has taken the road to South Williamsport, Penn. — home of the hallowed Little League World Series — twice before, and now embarks on the same path a third time after capturing the 12U all-star division at last Saturday's California District 42 championship tournament at Sweetwater Valley Little League.
Park View's fabled Blue Bombers won the 2009 Little League World Series championship. The 2016 Park View team won two games in Pennsylvania.
How far will the 2018 team advance? That will be exciting to find out.
Park View defeated Sweetwater Valley, 6-4, to capture this year's district title, finishing 4-0 in as many tournament games.
Park View opened the tournament on June 30 with a 15-0 win over Imperial Beach, then shut out Eastlake, 6-0, in its next game on July 1.
After out-scoring its opening two opponents 21-0, Park View showed it could win the close games as well by edging Chula Vista American, 2-1, in the winners bracket final on July 5.
In last Saturday's championship game, Jose "Guero" Mendoza earned the win by pitching five-and-two-third innings. After reaching the pitch count, Mendoza handed the ball to reliever Kainoa Baptista, who came in to record the last out.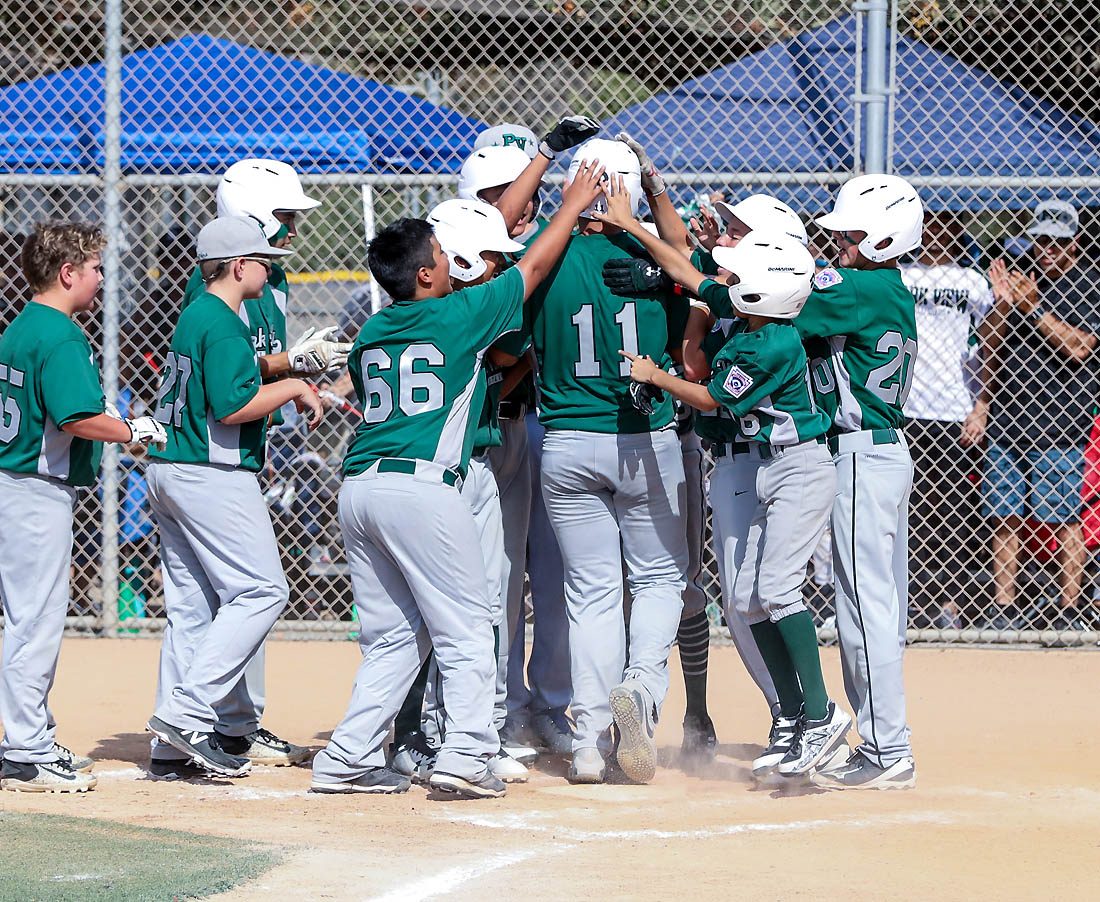 Michael Rodriguez hit his third home run of the tournament — a two run shot that made the score 4-3 — to stand out as Park View's big hitter of the game.
This year's Park View 12U team is very talented with strong pitching, power at the plate, great defense and speed on the bases, according to manager Will Bleisch.
However, Bleisch said the team's best attribute is its team chemistry.
"Everyone gets along well with everyone and they all trust each other," the Park View manager said. "No single player is more important than any other. They are a family and realize the importance of playing as a team. We coaches have preached the importance of TEAM — Together Everyone Achieves More — and the boys are buying into this concept."
Bleisch said everyone contributes to the team's success — from one to 13.
"If a player does not start that day, they may be asked to pinch run, pinch hit or come off the bench as a relief pitcher," the Park View manager said. "I am very proud of their accomplishment of winning the District 42 tournament. Everyone knows how tough our district is and nothing was handed to them; they had to scratch and fight for everything they earned."
Park View advances to compete in the four-team California Section 7 championship tournament being hosted July 14-18 by Chula Vista American Little League.
Park View opens tournament play Saturday at 10 a.m. against District 22 champion Calexico. The winner of that game advances to meet the winner of Saturday's afternoon match-up between District 41 champion Cajon de Oro and District 66 champion Lemon Grove on Sunday, also at 10 a.m.
Elimination games are scheduled Sunday and Monday. The championship game is scheduled Tuesday at 5:30 p.m.
If a double-elimination game is required, it will be played Wednesday at 5:30 p.m.
Park View must win four tournament titles to advance to the Little League World Series. Following the section tournament are the Division III Southern California championship tournament July 21-29 in Aliso Viejo and the West Region championship tournament Aug. 6-16 in San Bernardino.
"Our goal for this tournament season is to keep our eyes on the prize — the prize being a World Series championship in South Williamsport," Bleisch said. "The coaching staff is constantly reminding the players to play one pitch, one inning and one game at a time … to play their best from the first pitch to the last out and not hold anything back."
Bleisch is assisted by coaches Jorge Alonzo and Jorge Camarillo.
The path the team is now on is a familiar one for Camarillo, who served as 12U manager for the 2016 Park View team that reached the Little League World Series.
He remembers that road well.
"It's definitely fun reliving the possibility of returning to South Williamsport," Camarillo said. "But there's still a lot of work to do."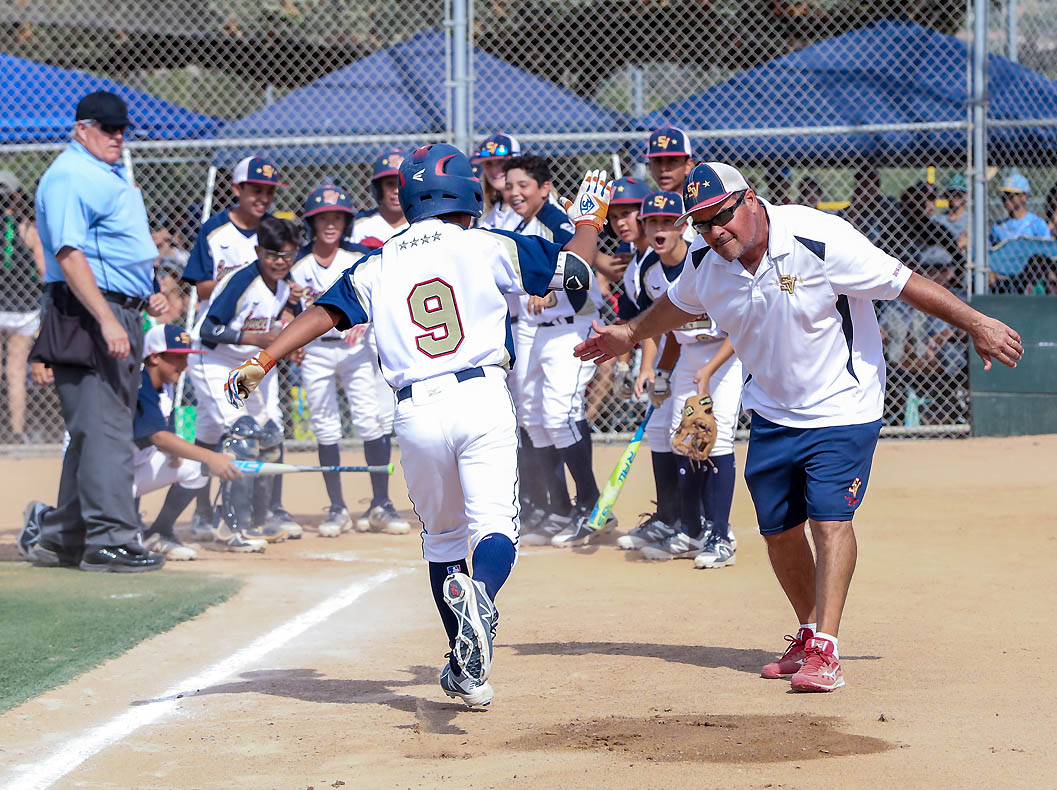 Sweetwater Valley manager Ward Lannom also remembers the road to South Williamsport.
His 2015 Sweetwater Sluggers team posted a third-place finish in the U.S. Division bracket in Pennsylvania. His 2018 team didn't quite make it that far.
But a lot of fond memories were definitely rekindled.
"I never thought I would set foot back at Sweetwater Valley Little League, so it was an adrenaline rush," Lannom admitted.
Lannom's three sons are well removed from the league. Mitchell, the oldest, is now a junior at Cal Poly San Luis Obispo while middle son Wyatt is a senior at Eastlake High School and youngest son Walker is a sophomore at the school.
Both Wyatt and Walker are still playing baseball. Both are involved in the Eastlake High School program during the school year and in travel ball out-of-season.
The elder Lannom said he returned to the managerial post for what he termed "the love of the game."
"I wanted the challenge of working with the kids, the challenge of getting the best out of each player," he said.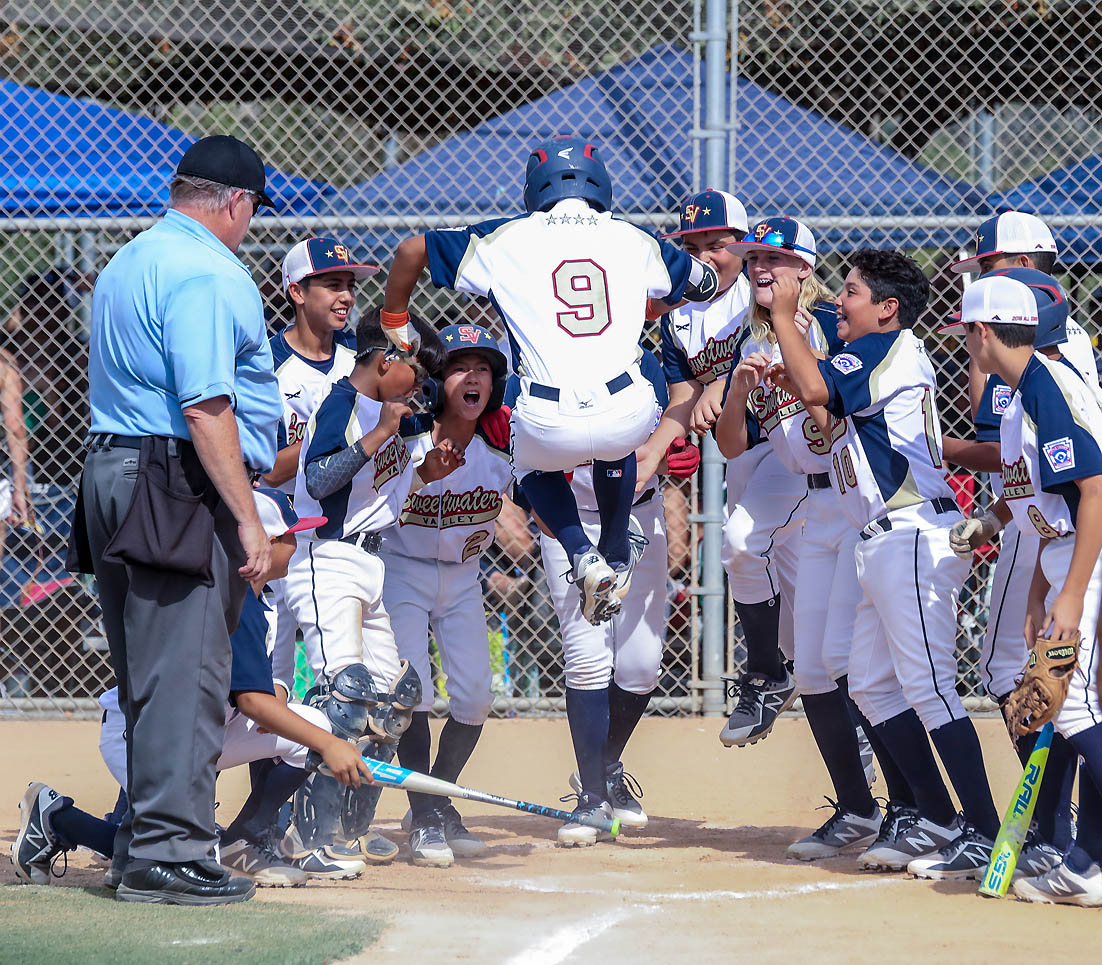 Sweetwater Valley opened this year's 12U district tournament with a 23-0 win over Chula Vista National on June 30. However, the team dropped a 6-5 decision to Chula Vista American in its next game on July 1 to drop to the single-elimination challenger bracket.
Sweetwater Valley remained in contention by defeating Southwest, 17-0, on July 3, topping Eastlake by a score of 6-2 on July 5 and eliminating Chula Vista American, 12-3, in last Friday's challenger bracket final.
Elijah Selga earned the win in last Friday's game while Johnny Scott, Adiel Torres and Noah Betanco each hit home runs to help fuel Sweetwater Valley's 16-hit attack.
Selga hit a three-run home run in the championship game to put SVLL in the lead before Park View scored the come-from-behind win.
Sean Cannon, Torres and J.P. Ortiz each spent time on the mound in the championship game.
This year's tournament was very competitive. Eastlake, the defending champion, was eliminated after three games.
"The district tournament is a good test to see the caliber of hitting and pitching you will face," Lannom said.
Triple play
All District 42 championship games in the 10U, 11U, 12U and Intermediate 50/70 League divisions were contested between Eastlake, Sweetwater Valley and Park View little leagues.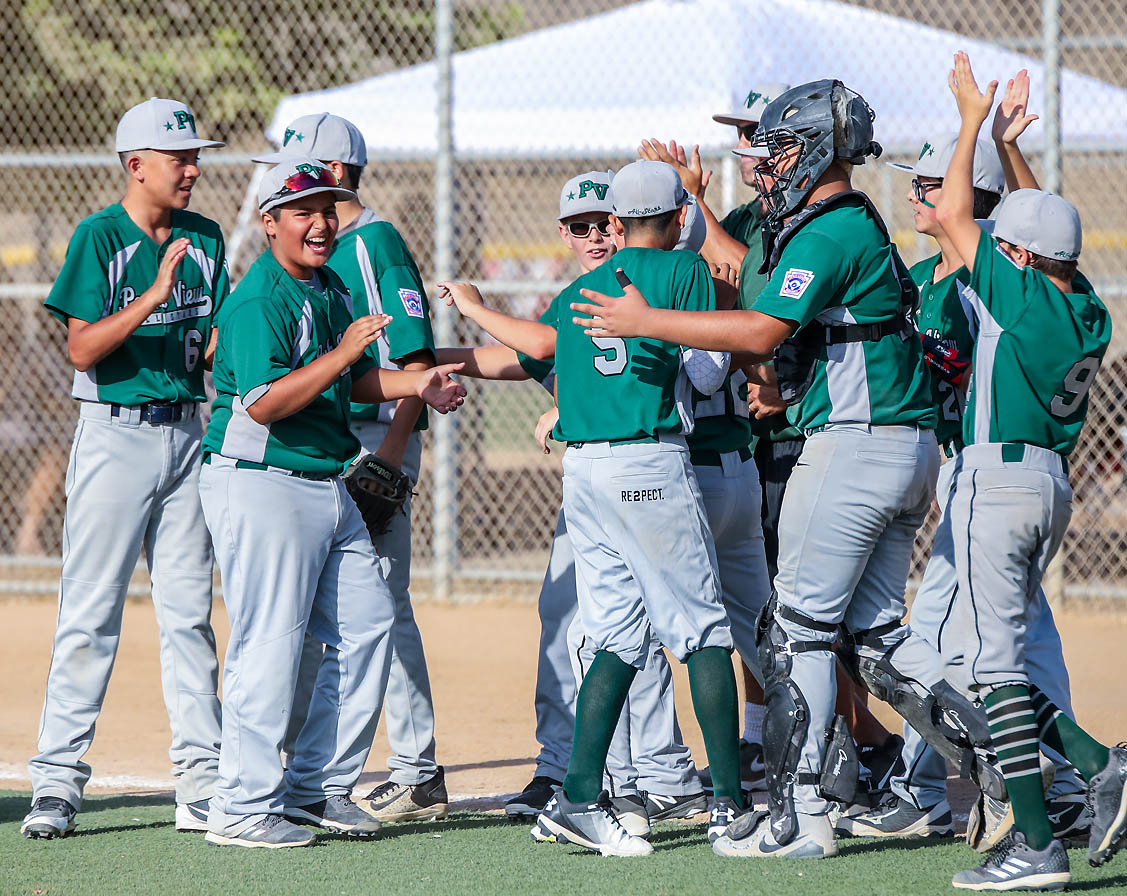 California District 42 Little League
Championship Game Rosters

12U DIVISION
Champion: Park View Little League
Players: Jordan Bleisch, Allan Camarillo, Ivan Rodriguez, Atticus Gates, Kainoa Baptista, Matt Bjornstad, Conner Alonzo, Aidan Skinner, Joseph Anderson, Makai Corpuz, Jose Mendoza, Anthony Leyva, Michael Rodriguez
Manager: Will Bleisch
Coaches: Jorge Camarillo, Jorge Alonzo
Runner-up: Sweetwater Valley Little League
Players: Noah Betanco, Tyler Cabana, Sean Cannon, Ismael Castanon, Victor Diaz, Alexander Iniguez, Jacob May, John Paul Ortiz, Johnny Scott, Elijah Selga, Blake Schweer, Abigail Steffen, Adiel Torres
Manager: Ward Lannom
Coaches: Mike May, Arturo Maldonado
California District 42 Little League
Championship Scoreboard
12U Division
Games of June 30:
Sweetwater Valley 23, Chula Vista National 0
Chula Vista American 15, Southwest 1
Eastlake 15, Luckie Waller 0
Park View 15, Imperial Beach 0
Games of July 1:
Chula Vista American 6, Sweetwater Valley 5
Park View 6, Eastlake 0 (Jose Mendoza complete game on the mound, home run)
Games of July 2:
Southwest 11, Chula Vista National 0
Imperial Beach 12, Luckie Waller 2
Games of July 3:
Sweetwater Valley 17, Southwest 0 (3-1/2 innings)
Eastlake 11, Imperial Beach 1 (4 innings)
Games of July 5:
Park View 2, Chula Vista American 1 (Park View advances to championship game)
Sweetwater Valley 6, Eastlake 2 (Sweetwater Valley advances to challenger bracket final)
Games of July 6:
Sweetwater Valley 12, Chula Vista American 3 (challenger bracket game)
Games of July 7:
Park View 6, Sweetwater Valley 4 (championship game)
Photo Gallery by Steve Wood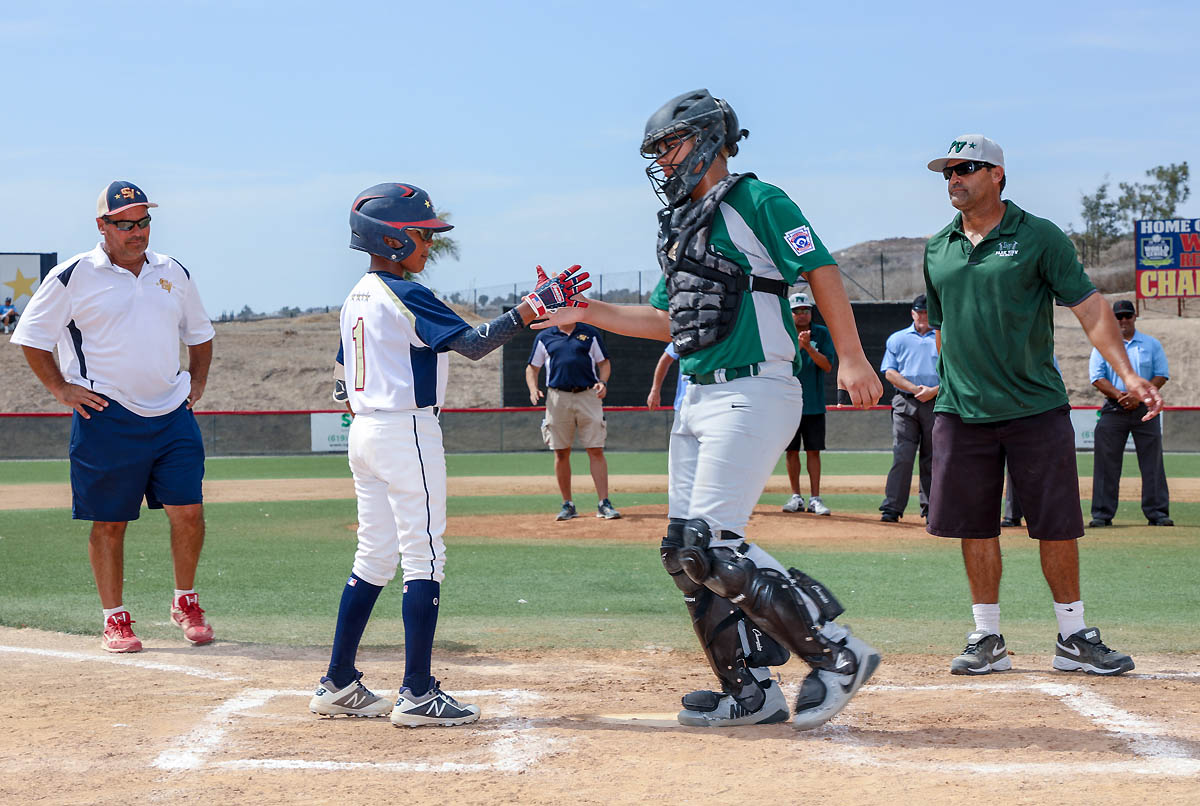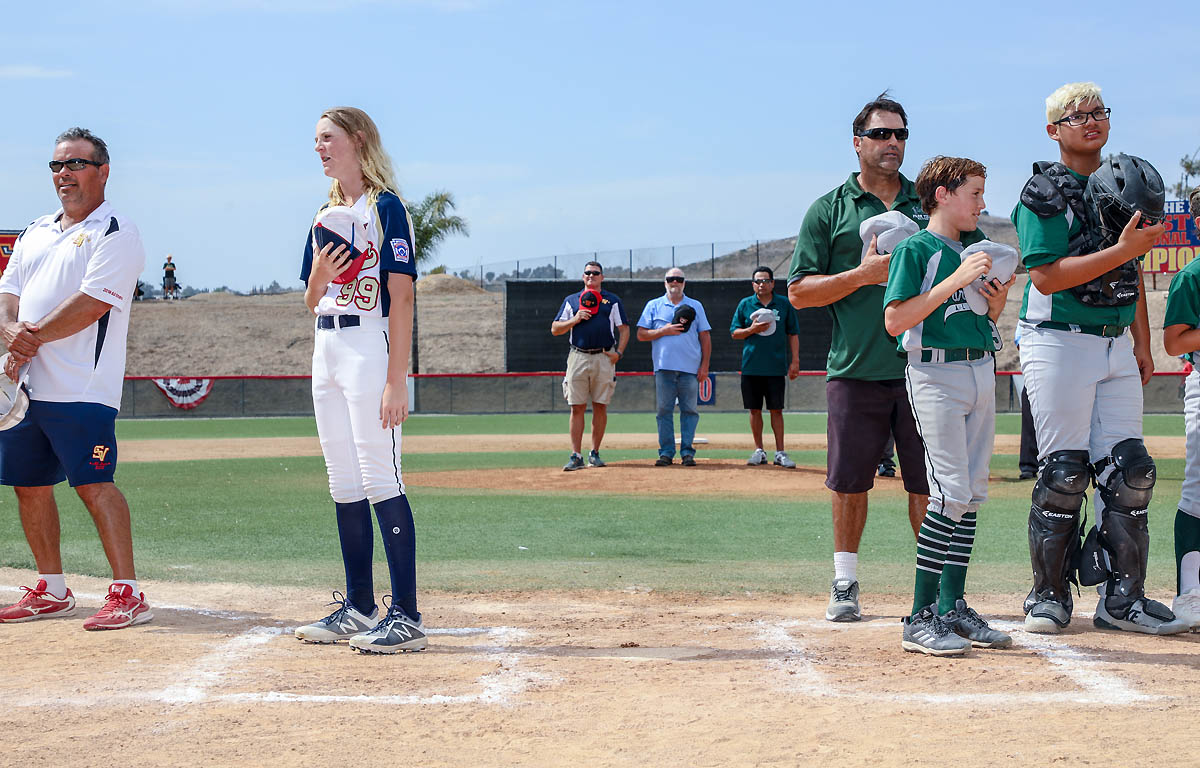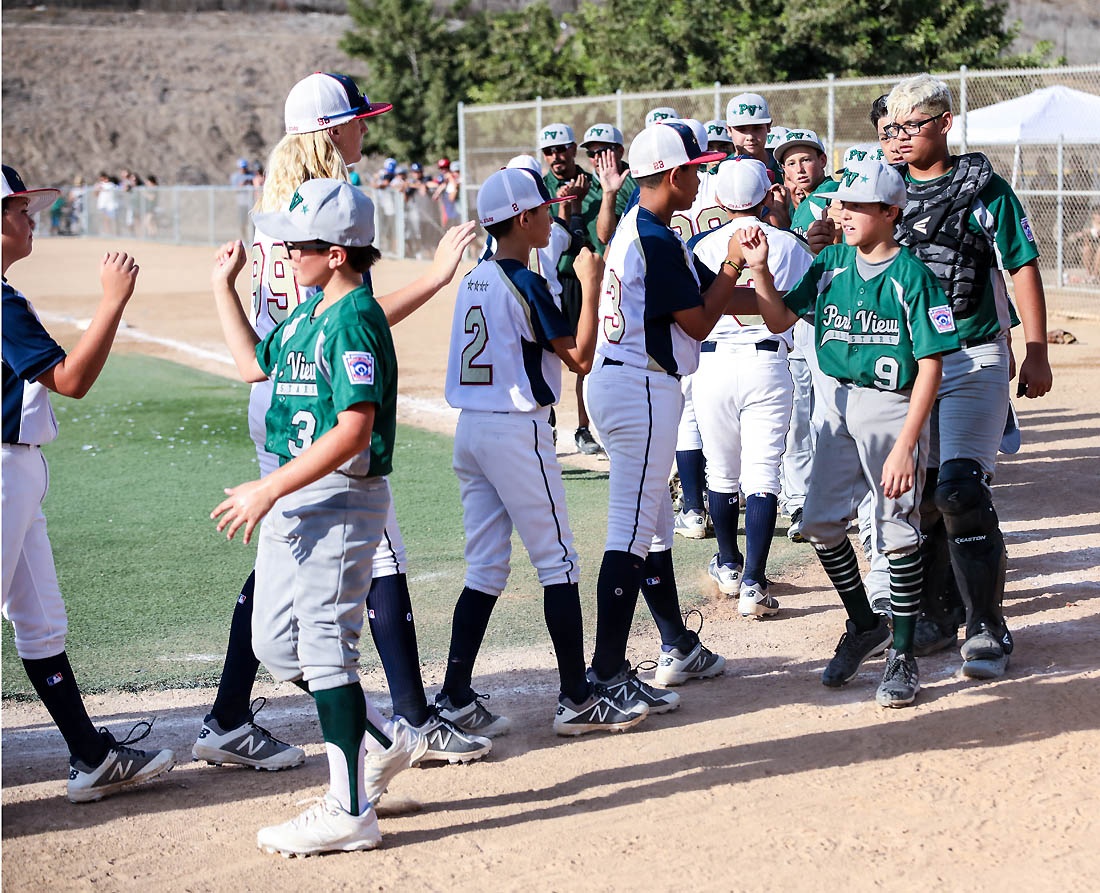 Park View LL Juniors end play in section tourney
The season ended for Park View Little League's Junior Division team with an 0-2 showing at last weekend's California Section 7 tournament at Alpine American Little League.
The California District 42 champions were unable to advance with a win in the double-elimination tournament.
"We fell short in sectionals but had a great time playing baseball at Alpine Little League, though it was not the outcome we were looking for," Park View manager Johnny Fuentes said.
Park View dropped last Saturday's tournament opener, 6-1, to District 41 champion Rancho San Diego, then suffered elimination following an 11-3 loss to District 22 champion El Centro on Sunday.
"The boys hung in there for both games, we just could not get the key hit in those crucial situations," Fuentes said. "Overall, it was a great season and great memories where built with the boys and parents."
The 10 Park View players participating in the section tournament included Christian Andrews, Miguel Diaz, Brian Rudden, Alex Hernandez, Ian Jacobs, Max Solis, Alex Greenwald, Andrew Nimuan, Ivan Sanchez andLuke Cassidy.
Assisting Fuentes were coaches Mike Arney, Memo Gomez and Kevin Rudden.