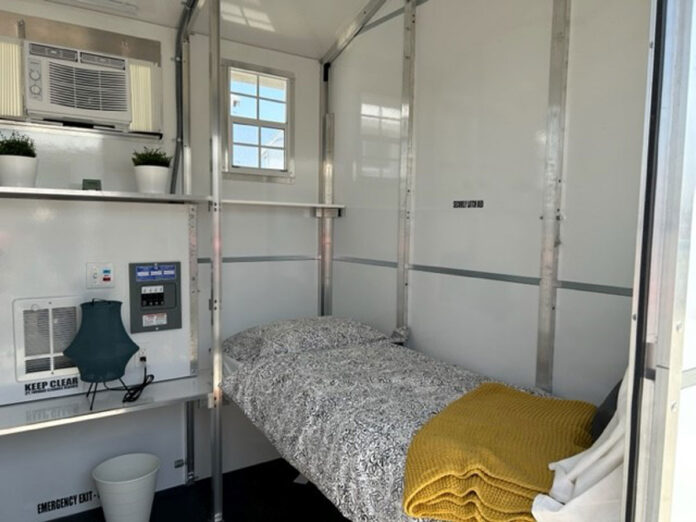 A ribbon cutting was held on May 11 unveiling Chula Vista Village at Otay, the first pallet home bridge shelter in San Diego that opened on May 15 offering wrap-around services. The location is on City property near Main and Broadway in southwest Chula Vista.
The 65 individual pallet homes are equipped with two single beds, shelving, a table and chair, locking doors, heating and air conditioning. Furnishings for each unit, bedding, curtains, door mats, lamps, and potted plants were donated by IKEA. Pallet Shelter manufactured the mini homes.
Chula Vista at Otay also has a shower facility with six individual shower/restroom stalls, a laundry facility with three washers and dryers, a multi-purpose room, a case manager room, and an outside patio area with furniture donated by IKEA.
Twenty-four-hour security is provided 365 days a year.
The facility is designed as transitional housing. Pets are welcome and residents can bring their belongings to be stored onsite. Residents selected to live in the homes are referred and vetted through the City's Homeless Outreach Team and the Department of Housing and Homeless Services.
Shelter operator, City Net, and other agency partners will deliver services to residents including health care, mental health care, and drug and alcohol treatment.
This $6.6 million project was funded by the U.S. Department of Housing and Urban Development, the state, the county, and the Regional Task Force on the Homeless. Costs include design, site preparation, construction, operational supplies, shower/restroom and laundry facilities.