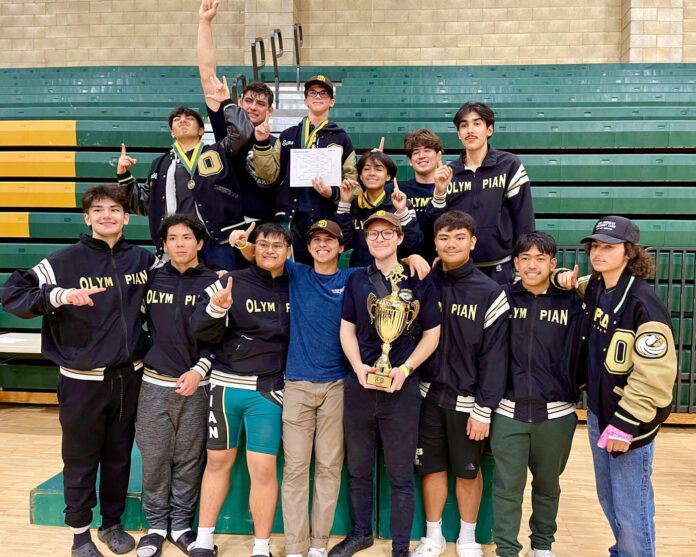 When Joe Schaeffer took over the head coaching duties of the Olympian High School boys wrestling program this season, he knew he was inheriting a program that had established itself as one of the top programs not only in the Metro Conference but also the San Diego Section.
But there were also quite a few unknowns.
"When I took over the program from my good friend Jordan Griffin this year, I was not sure what to expect for this season," Schaeffer admitted. "We had two of our best wrestlers transfer out of the district and were left with three returning seniors. Out of the 35 kids in the room, 30 of them have been wrestling for less than two years.
"With so many kids who are brand new to the world of wrestling, the focus this year is building a good culture where everyone is working hard and supporting each other. If we can achieve that, the medals, trophies, and banners will come naturally."
They already have. The Eagles won the team championship at the 22-team Mar Vista Battle by the Beach tournament last Saturday in Imperial Beach.
Olympian scored a tourney high 170 points to best runner-up Holtville's 166 points. Chula Vista and Escondido tied for third place with 139.5 points while Montgomery finished fifth with 114 points.
El Capitan topped East County teams entered with 100 points to place sixth ahead of tourney-host Mar Vista, which finished seventh with 99 points.
The Eagles finished with four weight class champions at the season opening event: Samuel Costa at 106 pounds, Alejandro Sarabia at 113 pounds, Jareth Marmolejo at 126 pounds and Jace Watson at 285 pounds.
Additionally, Olympian recorded two other place-finishers: William Costa (sixth, 113 pounds) and Michael Gooden (fifth, 120 pounds).
The new Eagles coach said Returning senior wrestlers Samuel Costa, Marmolejo and Watson are setting a good example in the room and on the mat.
Sarabia and Watson both won by pins in their finals matches while Samuel Costa and Marmolejo both won by minor decisions.
Sarabia pinned Southwest's Uziel Diaz in 1:22 while Watson pinned San Ysidro's Angel Daniel Martinez in 3:53.
Samuel Costa recorded a 5-1 decision over Holtville's Fernando Rivera while Marmolejo out-pointed Hilltop's Justin Bernardo by a 6-0 score.
Sarabia, a sophomore, was perhaps the team's biggest surprise this weekend, Schaeffer said
"Alex pinned all the way through his first varsity tournament to take his spot as our fourth individual champion," the OHS coach noted.
"Every one of our kids won at least one match," Schaeffer said. "Nathaniel Sagun (138) and Tyler-Ray Romero (220) are both first year wrestlers and went 2-2 at the event.
"Seeing Sam work out with his brother Will reminds me of me and my brother. We wrestled together at Olympian to win the school's first league wrestling championship in the 2010-2011 season."
It was a good showing for Metro Conference mat programs.
Chula Vista recorded two individual champions: Diego Peraza Aguilar (145) and Ke'Andre Davis (220). Mar Vista (Dylan Hartley (152) and Montgomery (Esteban Gonzalez (195) also recorded one individual champion.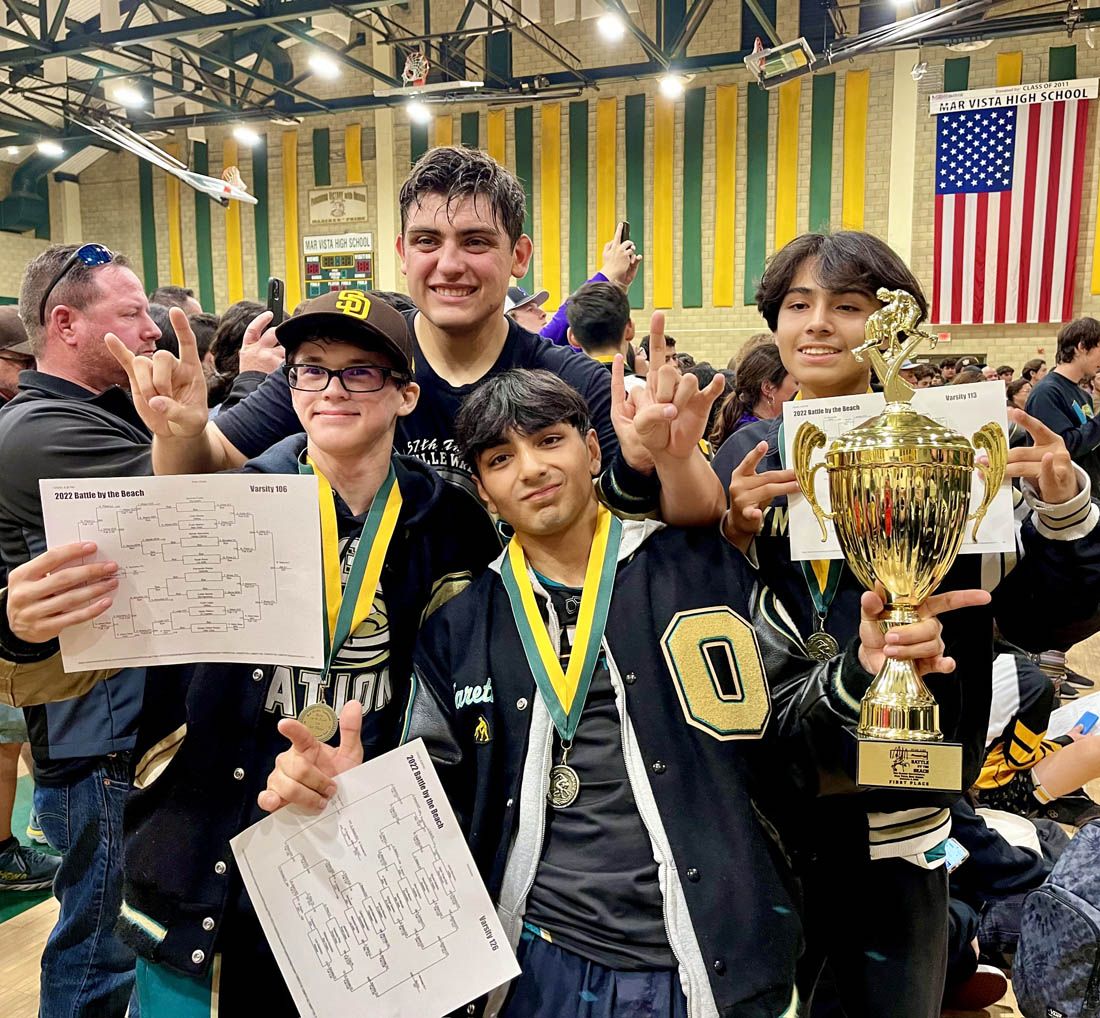 Mar Vista Battle by the Beach Wrestling Tournament
Dec. 3 at Mar Vista High School, Imperial Beach
Top Teams
Points: 1. Olympian 170, 2. Holtville 166, 3. (tie) Chula Vista, Escondido 139.5, 5. Montgomery 114, 6. El Capital 100, 7. Mar Vista 99, 8. (tie) Santana, Valley Center 98, 10. Hilltop 94, 11. San Ysidro 90, 12. La Jolla 62, 13. San Diego 60, 14. Clairemont 57, 15. Southwest 52, 16. Westview 45, 17. Otay Ranch 43.5, 18. Point Loma 35, 19. Mater Dei Catholic 29, 20. Castle Park 28, 21. Hoover 16, 22. Lincoln 3
Top Individuals
106 Pounds
First place: Samuel Costa (Olympian) dec. Fernando Rivera (Holtville) 5-1
Third place: Noah Pace (La Jolla) pinned Sergio Delos Reyes (Mar Vista) 1:47
Fifth place: Adrian Banuelos (Valley Center) won by no contest over Isaac Wilson (El Capitan)
113 Pounds
First place: Alejandro Sarabia (Olympian) pinned Uziel Diaz (Southwest) 1:22
Third place: Matthew Dobrowolski (Westview) dec. Maximus Fuentes (Mar Vista) 7-1
Fifth place: Jason Brumm (El Capitan) won by medical forfeit over William Costa (Olympian)
120 Pounds
First place: Riley Jones (El Capitan) pinned Nathan Crosby (Mar Vista) 3:11
Third place: Noah Heredia (Hilltop) won by no contest over Omar Rodriguez (San Diego)
Fifth place: Michael Gooden (Olympian) won by no contest over Liam Baker (Escondido)
126 Pounds
First place: Jareth Marmolejo (Olympian) dec. Justin Bernardo (Hilltop) 6-0
Third place: Joshua Rosson (El Capitan) won by no contest over Sinjin Torga-Eide (Otay Ranch)
Fifth place: Nicholas Gonzalez (San Ysidro) dec. George Spears (El Capitan) 12-7
132 Pounds
First place: Dion Johnson (Holtville) major dec. Lucas Maddalone (El Capitan) 17-7
Third place: Damien De La Vega (Santana) dec. Timothy Finnie (Montgomery) 10-3
Fifth place: Yurem Torres (Hoover), Anthony Solis (Escondido) double default
138 Pounds
First place: Jhett Puentes (Valley Center) pinned Patrick Sommer (Santana) 5:17
Third place: Hamza Saith (Santana) pinned Jackson Irungaray (Holtville) 1:48
Fifth place: Zane Villanueva (Escondido), Adrian Gomez (Mar Vista) double default
145 Pounds
First place: Diego Peraza Aguilar (Chula Vista) pinned Dannyel Alejo (Clairemont) 3:00
Third place: Brandon Kamali (Mater Dei Catholic) won by no contest over Armando Murillo (San Ysidro)
Fifth place: David Lee (Otay Ranch) won by no contest over Nathan Bergren (Westview)
152 Pounds
First place: Dylan Hartley (Mar Vista) dec. Joshua Enriquez (Holtville) 12-6
Third place: Rahman Ferguson (San Ysidro) pinned Charles Long (La Jolla) 1:47
Fifth place: Alex Campos (Clairemont), Nabil Azizi (Olympian) double default
160 Pounds
First place: Seth Iten (Holtville) pinned Matthew Godinez (Chula Vista) 1:10
Third place: Parker Birchheimer (Clairemont) won by no contest over Jose Aspericueta (Montgomery)
Fifth place: Adrian Garcia (San Diego) won by no contest over Christopher Phung (Westview)
170 Pounds
First place: Nick Womack (Escondido) dec. Isaiah Lloyd (Santana) 6-4
Third place: Gage Malott (Santana) pinned David Magallon (Holtville) 4:41
Fifth place: Jose Guadalupe (Montgomery), Charles Romero (Point Loma) double forfeit
182 Pounds
First place: Jesse Eads (Escondido) dec. Angel Zuniga (Chula Vista) 5-4
Third place: Gavin Clark (Santana) won by no contest over Brian Moreno (Southwest)
Fifth place: Alexandro Villegas (Chula Vista) won by medical forfeit over Joel Maya (Montgomery)
195 Pounds
First place: Esteban Gonzalez (Montgomery) pinned Greg Campbell (Escondido) 2:49
Third place: Logan Black (San Diego) pinned Lukas Mendez (Hilltop) 0:43
Fifth place: Vicente Aborqui (Castle Park) pinned Ali Khalil (Valley Center) 2:57
220 Pounds
First place: Ke'Andre Davis (Chula Vista) pinned Aidan Garces (Hilltop) 4:23
Third place: Isaac Zavala (Escondido) pinned Zachery Bader (Santana) 1:29
Fifth place: Riki Ghosh (Valley Center), Ivan Venegas (Montgomery) double forfeit
285 Pounds
First place: Jace Watson (Olympian) pinned Angel Daniel Martinez (San Ysidro) 3:53
Third place: Alexis Roldan (Holtville) pinned Jonahs Castaneda (Chula Vista) 3:38
Fifth place: Julian Avalos (Montgomery), Brandon Contreras (Valley Center) double forfeit