The Eastlake High School softball team has taken on status this year as the Mesa League's nomads without an on-campus field on which to host games.
The school's field is still under construction and, while much progress has been made, it appears the Lady Titans will not be able to host any games this season.
Construction is expected to be completed in October after the field was completely demolished.
Instead, Eastlake has played road matches or in tournament competition. The school has reached an agreement to use the Southwestern College softball field when the college team is playing on the road.
But it's just not the same.
"When coach told me we might play at the end of the year, I had no suspicions (we might not be able to play on it for the entire season)," said senior pitcher Rylee Alfaro, a four-year team member. "But when I found we wouldn't be able to sue it, I was devastated. It was my senior year and I had worked so hard all these years (on that field)."
Head coach Tony Richter has had to reinvent the team's daily practice schedule without a dedicated home field. The team practices on fields at nearby Chula Vista Community Park and also utilizes the school's weight room for strength conditioning.
"We still work hard with the limited time we have at the park (next to the school)," said Alfaro, who has accepted a full-ride scholarship to continue her softball career at Canisius College in Buffalo, N.Y. "We get an hour to work. It's been rough. We have lost more games than we've won."
The Lady Titans were 5-7 in non-league play entering Thursday's non-league game scheduled at SWC.
Eastlake's league schedule starts April 26 against Bonita Vista and run through May 12 against Otay Ranch.
Alfaro sees a potential turnaround for the team. "I was injured at the start of the season but I starting to get my strength back and I'm more flexible. I think we'll finish strong."
The Lady Titans definitely have shown potential in the first half of the season after defeating Cathedral Catholic, 2-1, in a non-league game on April 6. Eastlake also has dropped a one-run decision to Rancho Bernardo, 2-1, on March 22.
Rancho Bernardo (17-2-1) held down the San Diego Section's No. 1 ranking as teams entered Spring Break while Bonita Vista (13-5) was ranked third. Cathedral Catholic was ranked eighth with an 11-8-1 record.
Alfaro pitched a complete game one-hitter with eight strikeouts in the win over Cathedral Catholic. Freshmen Brianna Ayap and Kylah Wax each scored one run.
"We have been progressing every year since we were in the CIF championship in 2018," explained Richter, who is in his seventh year coaching the team. "Since I've been here, we've had several players progress to the next level."
The field rebuild comes as a result of Title IX legislation, ADA compliance and the need for a long-overdue upgrade. The field was originally used for baseball.
"At the beginning it was tough," Richter said. "We had limited time in different facilities. We couldn't really have a full practice. Once we made adjustments to our routine, everything is going much better now."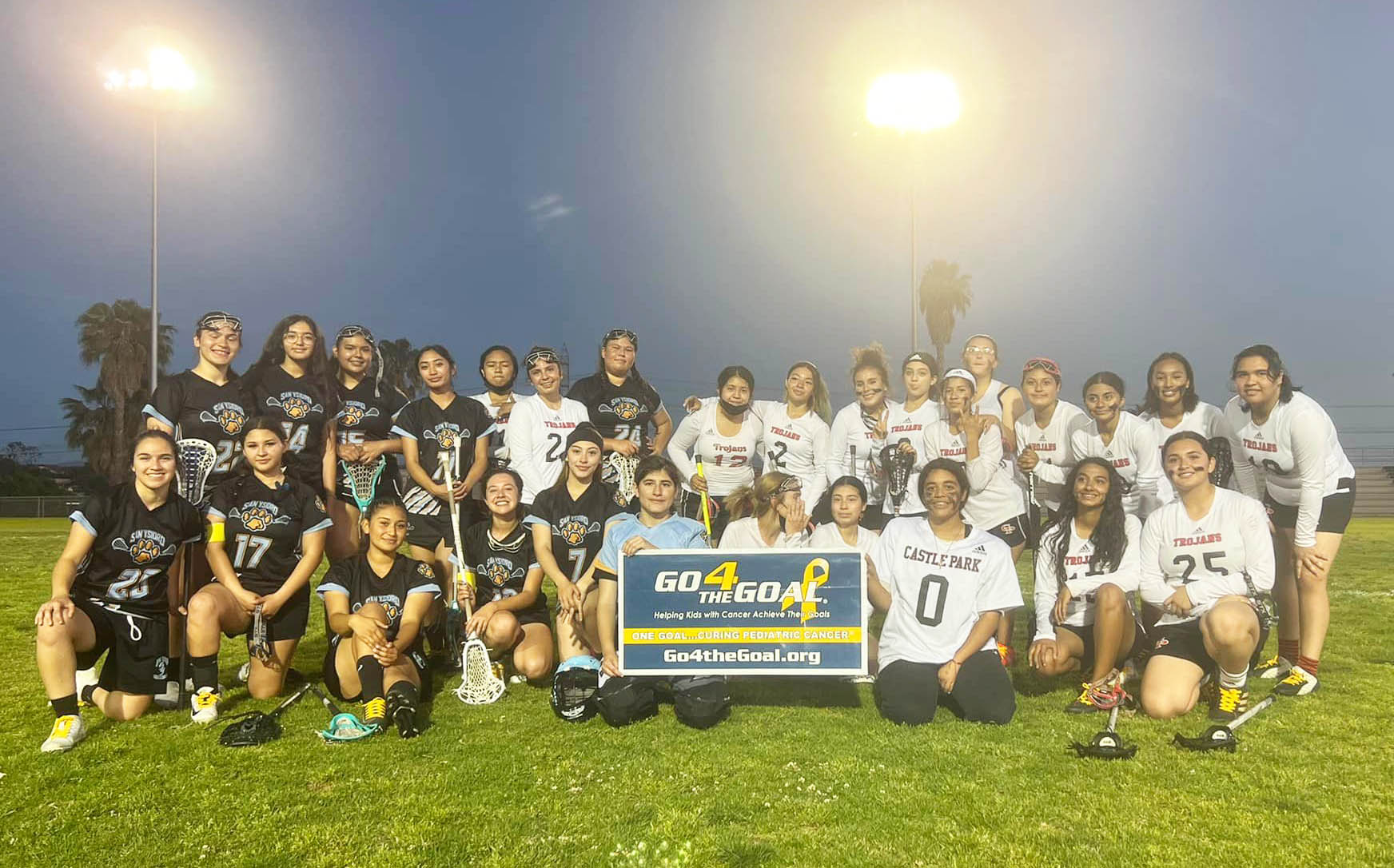 Lady Trojans, Lady Cougars unite for a good cause
The Castle Park and San Ysidro high school girls lacrosse teams came together to make a statement — and raise funds — in the fight against pediatric cancer last Friday at Swift Stadium.
Players and coaches on both teams wore golden shoelaces as a sign of support for the Go4TheGoal campaign in support of pediatric cancer.
"Coach Rodriguez at San Ysidro has lost a family member to cancer and I have friends who had family members have pediatric cancer," Castle Park head coach Chris Kryjewski said. "Thank you to San Ysidro for helping out with the great cause of lacing up for pediatric cancer awareness."
Each team spent $5 per set of shoelaces; Castle Park purchased 35 total shoelaces.
The host Lady Trojans won, 9-5, to improve to 3-1 in league play, 4-8 on the season. Sophomore Belma Bronja paced the victors with five goals while classmate Arleth Rios contributed two goals. Junior Diviana Enjambre and sophomore Princess Tacia both scored one goal in support of freshman goaltender Victoria Trujillo (eight saves).
"We played together as a full unit that evening," said Kryjewski, whose team sat in second place in the league standings behind Mater Dei Catholic. "Our kids played with so much heart and passion."
San Ysidro dropped to 0-4 on the season, 0-2 in league play.
Castle Park turned around to host a nine-team junior varsity tournament the following day.