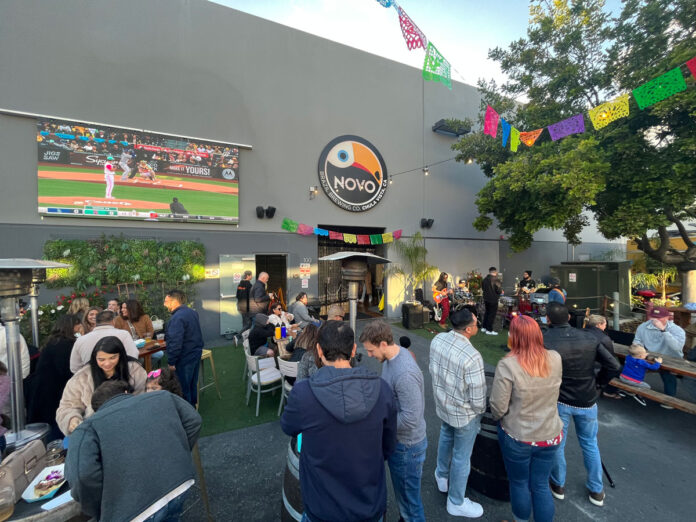 Chula Vista's NOVO Brazil Brewery Company's Lane Avenue taproom hosted a Cinco de Mayo celebration on May 5 featuring music from Tijuana's rock-reggae fusion band Nosis, a mariachi band, performances from Ballet Folklorico El Tapitio, and food trucks.
For more than 10 years, Nosis has played concerts and festivals around Mexico and all of Latin America. Ballet Folklorico El Tapatio is a dance ensemble that was created in 2000 and formally established in 2008 with the support of Bayside Community Center. Its mission is to inspire each member of the group to diligently work in order to develop his/her talent of dance, therefore becoming a genuine dancer; a dancer that projects passion, precision, and grace during performances, but at the same time, a dancer that projects love and proudness for the Mexican Folklore.
Patricia Sobue, NOVO's head of Marketing, said she wondered if the event would be a success coinciding with all the other Cinco de Mayo celebrations going on everywhere, but that people of all ages showed up and spent the evening listening to music, dancing, eating, and enjoying NOVO's taproom.
"I was a bit unsure, but it went really well," she said. "It was one of our most attended events. The band is very popular in Tijuana, and they were awesome. It was extremely interesting to see the audience. It was a mix of young and older people, young couples with kids. It was a very good mix and I think the band brought in the younger crowd. They have their own songs, and the lead singer was joking and communicating with the crowd. He is very charismatic."
Sobue said the entire event was entertaining, the food was great with Temakeria and Barracuda on site.
"It was packed," she said. "We had so many people. It was packed inside the bar, outside, and we had someone helping with the kids. It was a wonderful event."