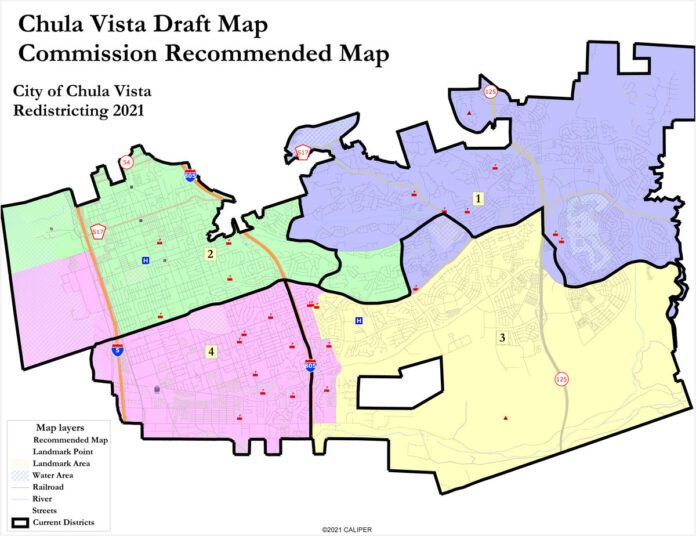 Chula Vista City Council unanimously approved the Chula Vista Redistricting Commissions final map on Dec. 7, with council member John McCann absent.
The City hired two major consultants in redistricting the city's district boundaries on March 16. The Redistricting Commission adopted resolutions on Feb. 18, recommending the selection of demographer, National Demographics Corporation as the demographer and Southwest Strategies, LLC as the public outreach consultant.
NDC was chosen by the Redistricting Commission for its professional experience, interactive mapping review, approach towards public engagement. Southwestern Strategies was chosen for its ability to reach out to the diverse communities in Chula Vista, its workforce, resources to successfully reach out to these diverse groups during a pandemic, and its multi-generational and multi- social economic approach.
After receiving the 2020 Census data on Sept. 27, the new adjusted population for Chula Vista is 276,060 individuals. An increase of 32,175 residents. Most of this growth occurred in District 3, growing by 22,000 residents, but all districts showed some growth. The current map was approved by the Commission on Nov. 18.
With the need to have districts 2 and 4 grow due to the least amount of growth, District 4 included the Oleander neighborhood, and movements of the lines between the two districts divided the bayfront due to the potential growth that will come with the Chula Vista Bayfront Project. District 2 moved further east along the Rancho Del Rey area. Due to the growth, District 3 is reduced around the Southwestern College area.
Mayor Mary Casillas Salas said that she was happy with the new redistricting map and understood the short timeframe that the Commission dealt with in the late release of census data.
"I like the way District 4 was extended to the bayfront," she said. "It has always been my belief that each district, as best as possible, should have a mix of economic demographics as well. I am happy to see that shift there moving into Rancho Del Rey in District 2."
Council member Jill Galvez said she was happy and relieved that Chula Vista High School stayed in District 2.
"That was a concern I heard from a number of residents," she said. "And I am fond of having both Hilltop and Chula Vista (high schools) in District 2."
The final district plan for the city will be transmitted to the San Diego County Registrar of Voters by Dec. 15.
City Attorney Glen Googins said the map will go in effect after the 2022 election, when the next two council members are elected.