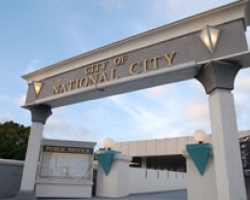 National City Council adopted a 2022-23 budget during a June 7 City Council meeting after questioning whether American Rescue Plan Act funding should be used toward a yoga lawn or small business microgrants.
According to the budget recommended by city staff, estimated revenues are projected at $122,966,664 with financial transfers into the budget projected at $11,385,211. Total expenditures are projected at $127,010,049 and transfers out are projected at $5,655,783. In total, the city stands to come out of 2023 with a positive $1,686,042 in the bank.
Chamber of Commerce Board Member John Borja submitted a public comment recommending the city increase funding for local businesses.
"Our region is still facing recovery from the pandemic as well as looming stagnation in the economy due to inflation. We at the National City Chamber of Commerce are turning to the city for support," Borja said.
City Council member Jose Rodriguez suggested $500,000 allotted to a yoga lawn at Las Palmas park might be better spent on small business microgrants.
However, Councilman Ron Morrison said the title of 'yoga lawn' was arbitrarily applied to an area that will need to be rehabilitated and currently can be funded through ARPA dollars as a one-time source of money while small businesses have and will continue to have other sources of funding.
Although other sources of funding might be available for small businesses and economic recovery, Vice Mayor Marcus Bush said, owners find themselves in competition for regional, state and federal dollars and potentially lose out.
"Most of the help in the region has been received north of the 8 freeway," Rodriguez said, in part because those businesses had staff on hand to apply for the grants while National City owner-operators did not qualify for the funding or did not have the manpower to apply for those grants.
"Overall, I think we need to spend more on helping small businesses," Bush said.
"I agree: the county should be stepping up efforts to support small businesses but our initial investment of $50,000 needs to provide a good return on investment," Mayor Alejandra Sotelo-Solis said.
Recently, she said, the chamber held a Women in Business event which could have been hosted in National City but was instead held in Chula Vista. Potentially, the mayor said, she would like to see the chamber utilize local businesses in an effort to support them.
A substitute motion to approve the budget with money diverted from park redevelopment to small business microgrants failed. The council unanimously approved the budget as presented by staff.