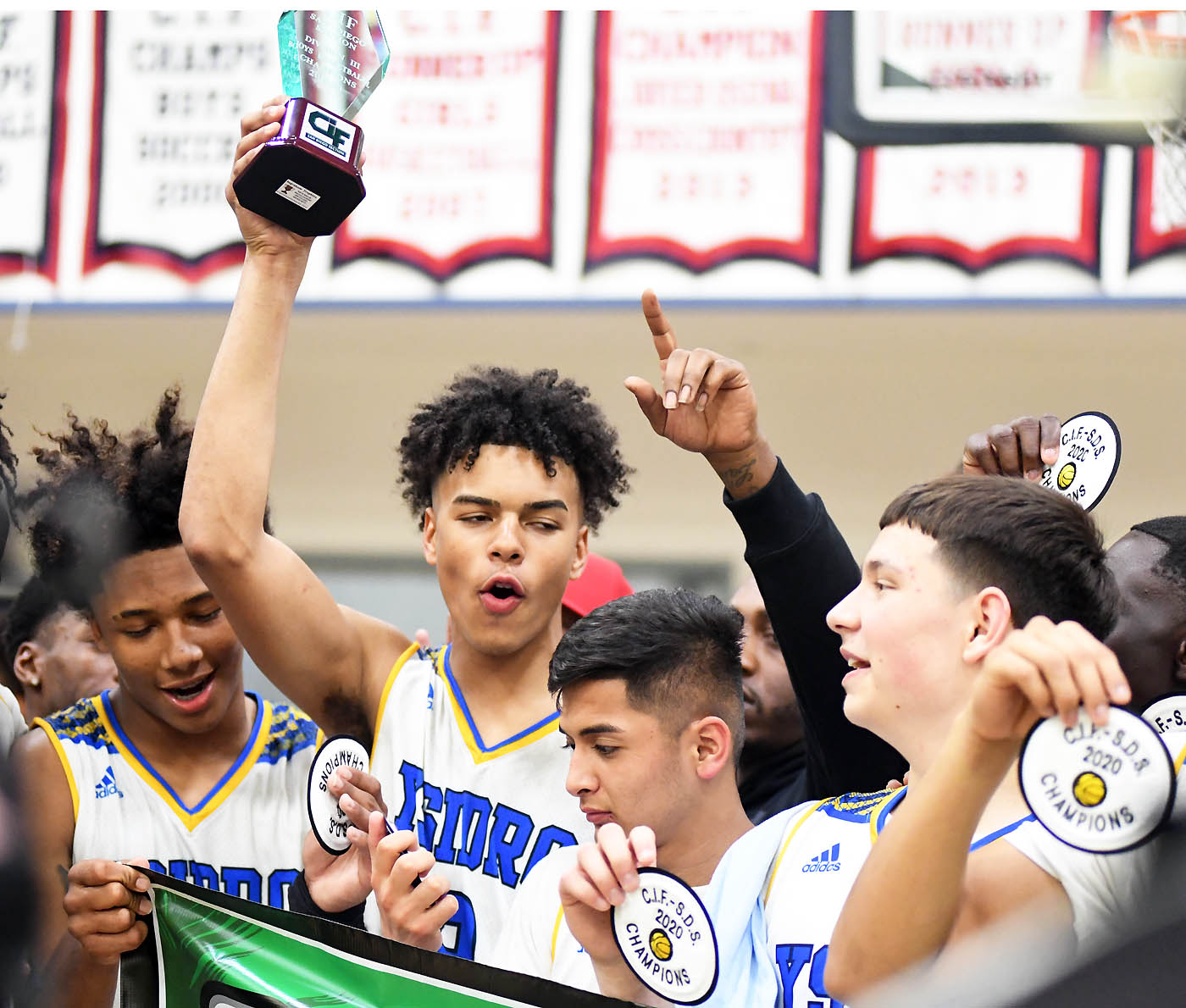 It didn't take long before emotions got the better of San Ysidro head boys basketball coach Terry Tucker following the top-seeded Cougars' history-making 71-59 win over the second-seeded Coronado Islanders in the San Diego Section Division III championship game Feb. 27 at Montgomery High School.
Moments after senior Kailen Rains sealed the championship game victory for the Cougars with a thundering slam dunk as time expired, Tucker was mobbed by his jubilant players.
He then began to weep.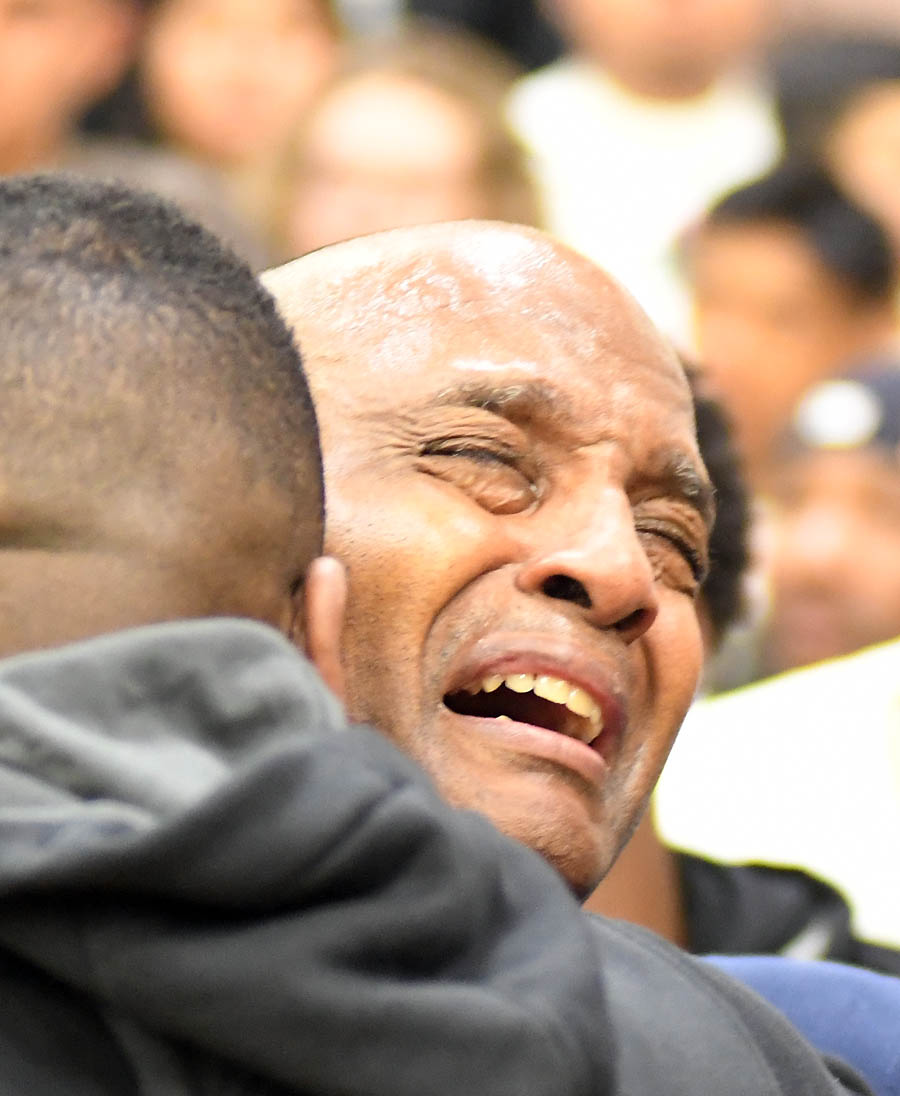 Yes, he later said, he was happy for the team. He also gave the real reason for his tears.
"About five years ago one of our players, Jesus Garcia, died," Tucker said. "He knew he couldn't play basketball anymore because of a medical condition (Marfan syndrome) and I promised him we would win CIF for him."
Tucker choked up a bit in finishing the story. "I didn't think it would take this long," the San Ysidro coach said.
Garcia, a promising 6-foot-10 sophomore, played in six regular season games during the 2015-16 season. He was averaging 3.7 points, 10.3 rebounds and seven blocks per game when he was forced to stop playing due to potential damage to his heart.
The Cougars dedicated their season to him but lost in the opening round of the San Diego Section Division II playoffs.
He died from an apparent ruptured aorta at the age of 16 following the conclusion of the season.
As a tribute to Garcia, the school's basketball team held a tournament in his honor, the Jesus Garcia Memorial Showcase, in January 2017.
Tucker provided his own personal tribute with his tears — and the team's first CIF title.
Cougar country
The Division III battle for supremacy between the Cougars (24-8) and Islanders (21-10) attracted a standing-room only crowd and a media blitz worthy of the night that LeBron James' son Bronny graced the Montgomery High School hardwood floor.
The game opened with three-point shots by both teams and freshman Mikey Williams got the crowd into the proper mood with a slam dunk.
The Cougars recorded three slams during the game, including one by freshman Jurian Dixon.
Dixon also put the crowd into a frenzy with a buzzer-beating half-court shot to end the first half.
Due to the large size of the crowd, and the resulting crowd noise, neither team seemed to be hitting on full cylinders. The Cougars led 30-21 at halftime in a relatively low-scoring affair.
San Ysidro increased its lead to 12 points late in the second half, but the Islanders eventually pared that lead down to six points in the dying moments of the game.
But the Cougars, braced by solid free-throw shooting in the final minute, managed to win by 12 points.
"It was hard to communicate," Tucker said. "We had to grind it out. We kind of prepared for this with our early season games. We were ready for this."
Dixon led all scorers with 32 points and 21 rebounds. Williams and Rains both had 16 points.
"He (Jurian) is one of the best freshmen in the country, he can do it all," Tucker said after the game.
"Amazing," Dixon offered. "The crowd was awesome. I was able to pick it up. I'm smiling. I hoped we would win."
"I'm proud of this, this is amazing," Williams said. "It means a lot, especially with our history. In the past we really didn't have a reputation; now we do. It's crazy."
Coronado junior Wayne McKinney III matched Dixon's dazzling offensive display with 32 points of his own.
Dixon sank 12 of 15 free throws, including many in crunch time to stymie the Islanders' comeback.
San Ysidro senior Jason Martinez grabbed 11 rebounds while Williams contributed three steals.
McKinney had 14 rebounds, three assists and three steals. He made eight of 12 free throws.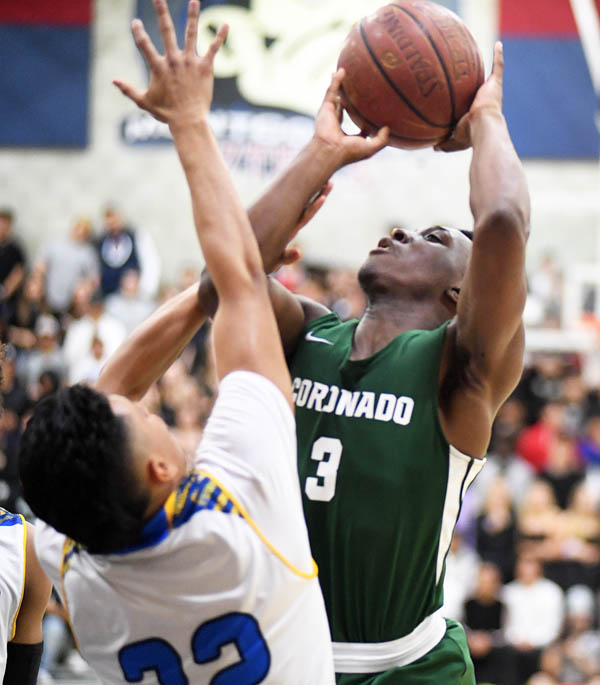 Otay Ranch girls settle for runner-up D2 finish
Top-seeded Otay Ranch saw its championship fortunes doused by a 49-44 loss to second-seeded Lincoln in last Friday's San Diego Section Division II championship game at San Marcos High School.
The loss ended a late season five-game winning streak for the Lady Mustangs (24-8) while the Lady Hornets improved to 23-7.
Otay Ranch led 13-12 at the end of the first quarter before Lincoln went up 21-20 at halftime. A 14-8 run by Lady Hornets in the third quarter proved to be the difference.
Maria Flores and Ezabella Everett led Lincoln with 15 points each. Lynette Garon had 15 for Otay while Aramais Gonzalez had 16 rebounds.