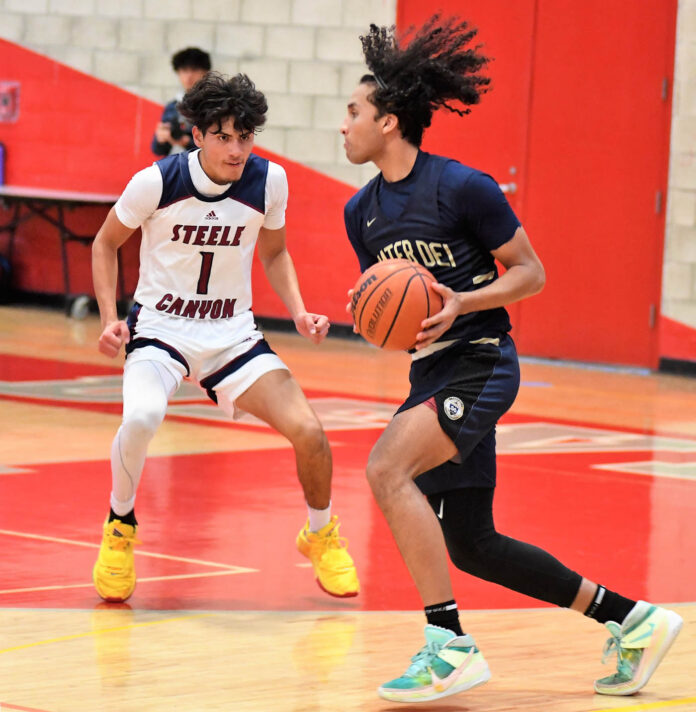 As of Jan. 9, the Mater Dei Catholic Crusaders were occupying some lofty territory as the No. 3 team in the San Diego Section rankings with a 15-3 record. A week later, the Montgomery Aztecs are in the same position with a 15-3 record after defeating the host Crusaders, 77-58, in a Metro-Mesa League game last Friday.
The teams rematch Jan. 27 in what promises to be an up-and-down season for several teams.
Montgomery extended its league record to 3-0 while Mater Dei Catholic dropped to 2-2.
Kristian Gonzalez, who is bound for Sacramento State, keyed the Crusaders (15-5) with 14 points and nine rebounds in the loss. He's averaging 19.7 points per game through 20 games.
Mater Dei Catholic fell from the ranks of the league unbeatens with a 73-69 loss at Otay Ranch on Jan. 11.
San Ysidro moved into a first-place tie with the Aztecs following last Friday's 93-85 home court win over Otay Ranch (2-2 in league, 12-7 overall). The Cougars improved to 3-0 in league play, 10-8 overall.
Seniors J.J. Taylor (44 points) and Mikey Williams (36 points) dazzled spectators with their sharp-shooting skills. Taylor collected 15 rebounds while Williams dished out 13 assists.
Senior A.J. McIlwain paced the Mustangs with 32 points and 10 rebounds.
Montgomery hosts San Ysidro in what should be another exciting game Wednesday, Jan. 25.
Taylor is averaging 26.7 ppg while Williams is averaging 23.1 ppg and also averaging 8.8 assists per game.
St. Augustine (16-3) continues to top the section rankings, though Carlsbad (16-4) remains close behind.
SAN DIEGO SECTION BASKETBALL RANKINGS
Top 50 Boys Teams
(MaxPreps through Jan. 16)
1. St. Augustine 16-3
2. Carlsbad 16-4
3. Montgomery 15-3
4. Torrey Pines 13-6
5. San Diego 12-6
6. Mission Bay 15-5
7. Mater Dei Catholic 15-5
8. La Costa Canyon 9-8
9. Santa Fe Christian 15-3
10. Del Norte 10-5
11. San Ysidro 9-8
12. El Camino 13-5
13. Otay Ranch 12-6
14. La Jolla Country Day 13-6
15. Lincoln 18-2
16. Mission Hills 11-8
17. Coronado 17-5
18. Cathedral Catholic 10-9
19. Victory Christian Academy 13-5
20. Poway 11-8
21. Bonita Vista 12-8
22. Scripps Ranch 10-9
23. Rancho Bernardo 10-9
24. West Hills 17-2
25. HTH San Diego 13-4
26. Bishop's 13-7
27. Canyon Crest Academy 13-5
28. Rancho Buena Vista 13-5
29. San Marcos 9-10
30. Hoover 9-8
31. Helix 10-11
32. University City 11-7
33. Olympian 11-5
34. Madison 11-6
35. Eastlake 11-8
36. Clairemont 15-2
37. Mt. Carmel 9-10
38. Ramona 10-9
39. Sage Creek 7-8
40. Vista 7-13
41. Westview 9-11
42. Calexico 10-6
43. Valhalla 12-8
44. Mission Vista 11-7
45. El Capitan 14-5
46. Vincent Memorial 11-4
47. Canyon Hills 14-6
48. Francis Parker 7-13
49. Christian 9-10
50. San Dieguito Academy 6-7
Mesa league standings
League/Overall
Montgomery 3-0, 15-3
San Yisdro 3-0, 10-8
Otay Ranch 2-2, 12-7
Mater Dei Catholic 2-2, 15-5
Olympian 1-2, 11-5
Bonita Vista 1-3, 12-8
Eastlake 0-3, 11-8
SOUTH BAY LEAGUE standings
League/Overall
Victory Christian Academy 3-0, 13-5
Sweetwater 3-1, 5-13
Mar Vista 2-1, 13-6
Southwest 2-2, 5-14
Hilltop 1-2, 4-15
Castle Park 1-3, 6-8
Chula Vista 0-3, 10-6
Top 50 Girls Teams
(MaxPreps through Jan. 17)
1. La Jolla Country Day 18-2
2. Westview 16-3
3. Poway 14-2
4. Bonita Vista 14-8
5. Mt. Miguel 10-6
6. Mission Hills 8-7
7. Mater Dei Catholic 12-5
8. Rancho Bernardo 18-2
9. Del Norte 14-5
10. Imperial 16-3
11. Scripps Ranch 15-4
12. Olympian 12-8
13. Carlsbad 13-6
14. Mt. Carmel 14-6
15. San Diego 16-1
16. Torrey Pines 13-7
17. Francis Parker 11-5
18. Our Lady of Peace 14-5
19. St. Joseph Academy 13-5
20. Cathedral Catholic 7-12
21. Grossmont 10-3
22. El Capitan 14-6
23. San Marcos 10-9
24. La Costa Canyon 9-9
25. Holtville 11-10
26. Granite Hills 14-5
27. Steele Canyon 16-4
28. Morse 13-5
29. Helix 13-5
30. Fallbrook 11-9
31. Montgomery 10-6
32. Oceanside 11-4
33. Monte Vista 12-5
34. Point Loma 12-7
35. El Cajon Valley 11-6
36. Ramona 10-7
37. Eastlake 7-9
38. Sage Creek 11-8
39. Calexico 13-7
40. Mission Vista 3-9
41. Central Union 10-9
42. Classical Academy 7-4
43. Christian 7-7
44. San Dieguito Academy 7-8
45. Otay Ranch 5-10
46. Calipatria 10-7
47. Rancho Buena Vista 8-8
48. Mira Mesa 6-13
49. Victory Christian Academy 6-13
50. Vincent Memorial 7-2
Mesa League standings
League/Overall
Bonita Vista 2-0, 14-7
Olympian 1-0, 12-8
Otay Ranch 0-0, 5-10
Mater Dei Catholic 0-1, 12-5
Eastlake 0-2, 7-9
SOUTH BAY LEAGUE standings
League/Overall
Victory Christian Academy 3-0, 13-5
Mar Vista 1-0, 3-8
Hilltop 1-0, 4-12
Sweetwater 1-1, 3-13
Chula Vista 0-0, 8-12
Montgomery 0-0, 11-6
San Ysidro 0-0, 7-13
Southwest 0-1, 3-13
Castle Park 0-1, 0-17
METRO CONFERENCE SOCCER STANDINGS
Boys Teams
Metro-Mesa League
League/Overall
Eastlake 1-0, 13-1-2
Sweetwater 1-0, 6-5-2
Southwest 0-1, 8-5-2
Montgomery 0-1, 6-6-3
Thursday, Jan. 12
Chula Vista 2, Eastlake 0
Tuesday, Jan. 17
Sweetwater 2, Southwest 1
Eastlake 2, Montgomery 1
Metro-South Bay League
League/Overall
Bonita Vista 3-0, 7-3-2
Chula Vista 1-0, 11-5-1
Hilltop 1-0, 7-3-5
San Ysidro 0-1, 6-6-0
Otay Ranch 1-1, 5-6-3
Castle Park 0-1, 2-8-2
Mar Vista 0-1, 6-4-1
Mater Dei Catholic 0-1, 2-6-2
Friday, Jan. 13
Montgomery 1, Hilltop 1
Tuesday, Jan. 17
Bonita Vista 7, Mater Dei Catholic 2
Hilltop 1, San Ysidro 0
Chula Vista 2, Olympian 0
Girls Teams
Metro-Mesa League
League/Overall
Mater Dei Catholic 2-0, 7-0-3
Otay Ranch 2-1, 9-2-0
Eastlake 1-1, 3-3-4
Bonita Vista 0-1-1, 3-3-4
Olympian 0-2-1, 9-5-3
Thursday, Jan. 12
Bonita Vista 3, Hilltop 0
Tuesday, Jan. 17
Mater Dei Catholic 3, Otay Ranch 1
Olympian 1, Bonita Vista 1
Metro-South Bay League
League/Overall
Mar Vista 1-0, 6-5-1
Hilltop 1-0, 4-4-3
Southwest 0-0, 3-2-2
Montgomery 0-0, 6-7-2
Chula Vista 0-0-1, 2-6-2
Sweetwater 0-0-1, 10-4-1
San Yisdro 0-1, 5-7-1
Castle Park 0-1, 5-6-1
Tuesday, Jan. 17
Hilltop 2, San Ysidro 1
Mar Vista 5, Castle Park 1
Sweetwater 1, Chula Vista 1