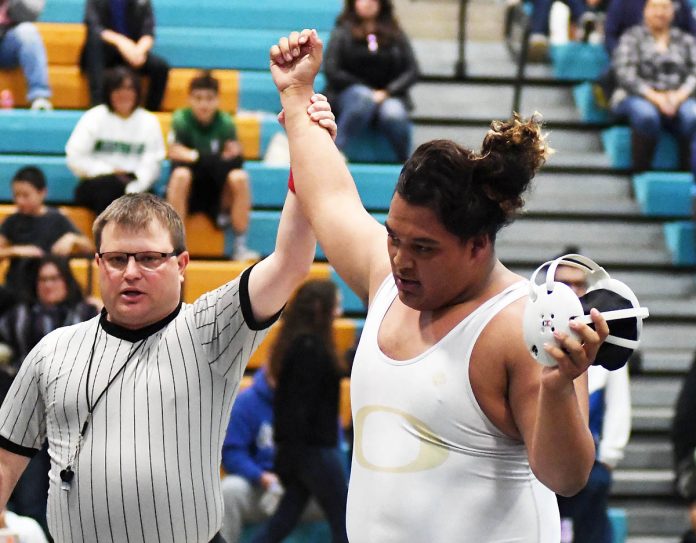 History — or, if you like, herstory — will be made this weekend in Bakersfield when the California wrestling championships take center stage at Rabobank Arena for three days, from Thursday, Feb. 21, through Saturday, Feb. 23.
What makes this year's event so unique is that this will mark the first time in the state's history that both the girls wrestling finals and boys wrestling finals will be contested at the same venue at the same time.
Previously, the two gender championship meets had been held at different venues and in different time frames.
South County can count itself as part of the history-making event.
Eleven female wrestlers and five male counterparts from the Metro Conference will represent their schools at this weekend's mega-tournament.
The San Diego Section girls wrestling championships took place Feb. 1-2 at Brawley High School. The top three place-finishers in each of 14 weight classes qualified to compete at the state meet.
The section held its boys San Diego Masters state-qualifying tournament at San Marcos High School last weekend. The top four place-winners in each of 14 weight classes punched their ticket to the state tournament.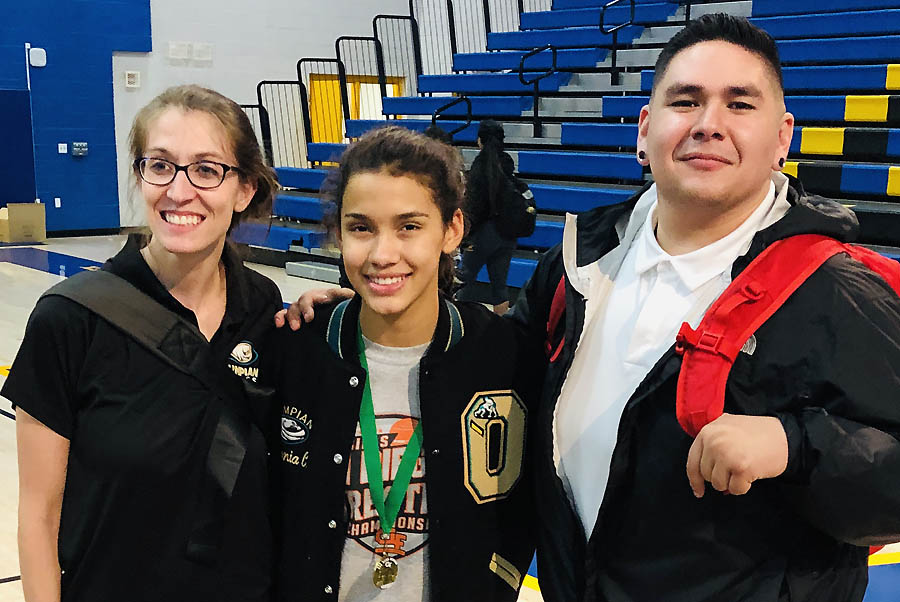 Ladies first
The following female wrestlers will represent their schools at this weekend's girls tournament: Olympian's Yesenia DeGuire, Eastlake's Ana Mercado and Brooke Klomp; Hilltop's Nahdia Barrientos; Montgomery's Jasmin Ballesteros and Leilani Pompa; Otay Ranch's Aylin Salas; and San Ysidro's Sandy Luevano, Alexa Rosales and Desirae Ferguson and Mar Vista's Anya Rodriguez.
DeGuire won this year's 106-pound section title while Mercado, Klomp, Barrientos, Ballesteros and Salas all placed second. Pompa, Luevano, Rosales, Ferguson and Rodriguez all placed third.
Stars in their eyes
The Metro Conference's five boys state meet qualifiers include Mater Dei Catholic's Nicolas Demers (second at 115 pounds), San Ysidro's Israel Ramirez (second at 122 pounds), Olympian's Ralph Magsino (fourth at 122 pounds), Eastlake's Michael Morgan (second at 197 pounds) and Olympian's Luis Castro (second at 287 pounds).
Castro, seeded second in his weight class after winning the Division I championship the preceding week, opened the tournament with three consecutive pins.
After receiving a bye, Castro pinned Rancho Bernardo's Damien Evans in 2:26 in the second round. The Eagle heavyweight then pinned Imperial's Wolfgang Horner in 1:08 in the quarterfinals and next put Holtville's Michael Toten on his back in 1:46.
Castro advanced to meet top-seeded Andrew Johnson of Poway in the championship round. Johnson completed his run to the gold medal with his fourth pin of the tournament after recording a 3:39 fall against Castro.
Among Johnson's four pins were falls in 26 and 50 seconds.
Castro takes a 35-4 record into this weekend's state tournament.
Both Demers (Division IV champion) and Ramirez (Division I champion) enjoyed 3-0 starts in the tournament to reach the finals.
Demers recorded an 18-2 technical fall in his first match and added a 9-1 win by major decision in his second match. The Crusader mat man then recorded a tense 1-0 victory against Rancho Bernardo's Gavin Concepcion, the Division I champion, in the semifinals.
But Demers was unable to get past top-seeded Brock Bobzien of Poway in the championship match as Bobzien recorded a 1:36 pin.
Ramirez rode two pins and a 4-3 decision (over Division IV champion Raul Garcia in the quarterfinals) to meet top-seeded Carson Sauriol of Poway in the championship round. Sauriol, one of 10 Titans to make the finals and one of eight weight class champions, won by a 1:35 pin.
Morgan took one of the more convoluted routes to landing a berth in this weekend's state tournament. Seeded fifth in his weight class, the Titan grappler recorded a 47-second pin in his first trip to the mat, then pinned fourth-seeded Kody Renly of University City in 49 seconds in the quarterfinals.
Morgan drew Poway's Laith Gilmore, top-seeded in the weight, in the semifinals but Gilmore was disqualified to send Morgan to the championship round against Division III champion Shane Hansen of Oceanside.
Morgan took second place on a medical forfeit.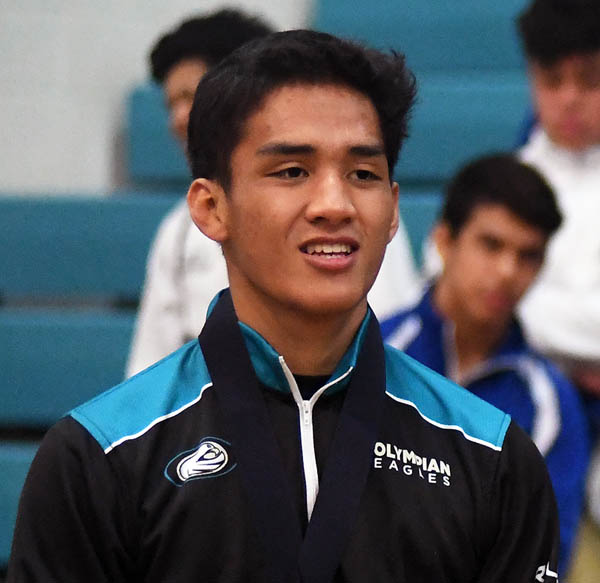 Magsino earned his trip to the state meet in upset fashion after pinning Mira Mesa's Calel Velasco, the weight's No. 4 seed, in 1:04 in his second match. Magsino quickly proved that was no fluke by pinning Valley Center's Brock Puentes, the No. 5 seed, in 1:46 in the quarterfinals.
Magsino lost by a 55-second pin to Poway's Sauriol in the semifinals but captured a high stakes 8-7 win over Oceanside's Michael Aguirre in the consolation semifinals to advance to the third-place match and, in the process, sew up a trip to the state meet.
Magsino lost 10-6 to Mt. Miguel's Garcia in the bronze medal match but had already made his statement on the mat.
Overall, Magsino finished 4-2 on the day with three pins.
Hardware wars
Overall, the Metro Conference recorded 10 place-winners at this year's Masters tournament, including three by Olympian.
Olympian's Zach Ramos, seeded seventh, placed fifth at 108 pounds with a 4-2 record while teammate Tyshawn Anderson, seeded sixth, finished sixth at 162 pounds.
After dropping a 4-0 decision to Division I champion Alexander Beato of Rancho Bernado, seeded second, in the quarterfinals, Ramos responded with two wins in the single-elimination wrestle-backs to advance to the consolation semifinals against Division III champion Daniel Moreno of Brawley.
Moreno won by a 2:49 pin to relegate Ramos to the fifth-place match that Ramos eventually captured by a 9-1 decision over Eastlake's Jesus Plasencia.
Plasencia finished 4-3 in seven matches over the two-day tournament, racking up three pins and a 15-0 technical fall.
Anderson, coming off a championship performance at the preceding Division I tournament, recorded a 16-2 major decision over Ramona's Broc Holibird to open competition. However, Anderson came up short in his next match against Imperial's Paul Ortiz, the Division IV champion, by a 4-1 score.
The Olympian mat man staved off elimination with victories against Oceanside Ja'Quez Goodson (8-3 decision) and Rancho Buena Vista's Mario Albarran (4:28 pin) to advance to the consolation semifinals where he lost 6-5 to La Costa Canyon's Benjamin Houri.
Anderson closed out a 3-3 showing at Masters with a 12-8 setback to Mt. Carmel's Emerill Abad in the fifth-place match.
Mar Vista's Roy Figueroa, seeded third, placed fifth at 128 pounds with a 3-2 record.
Figueroa, who placed third at the Division III finals, recorded wins over RBV's Ansin Sloat and Grossmont's Sebastian Coates before dropping a tight 5-3 decision to San Diego's Alexander Schwaebe, seeded second, in the semifinals.
Figueroa lost, 5-4, in double overtime to Mt. Carmel's Micah Levine (sixth at the Division III tournament) in the consolation semifinals to just miss advancing to the state meet.
The Mariner mat men defeated Coates by a 5-3 decision to secure a fifth-place medal.
Bonita Vista's Daniel Reyes, seeded sixth, placed fifth at 147 pounds with a 3-2 record.
Reyes, the reigning Metro Conference champion, pinned Carlsbad's Antonio Torres in 1:58 in his first match and then recorded a 4-2 win over Division III champion Alexander Hendrix of La Costa Canyon in the quarterfinals.
Reyes, however, could not get past Ramona's Jeff Ramsthaler in the semifinals after being pinned in 1:47. The Baron matster lost his next match by a 38-second pin to Poway's Christian Morales in the consolation semifinals.
Reyes closed out the tournament with a 4:02 pin against Vista's Daniel Navarro in the fifth-place match.
Mat attack
Poway, the Division II champion, won the team title with 361 points and advanced 13 of its 14 wrestlers to the state tournament. Division I champion Rancho Bernardo finished second with 220 points, followed by Division III champion Brawley with 129.5 points.
Olympian led the eight Metro Conference teams competing at San Marcos High with a fifth-place team finish (108 points) while Eastlake finished in 15th place and Bonita Vista in 18th place.
For updated state tournament results, visit the website at www.cifstate.org.