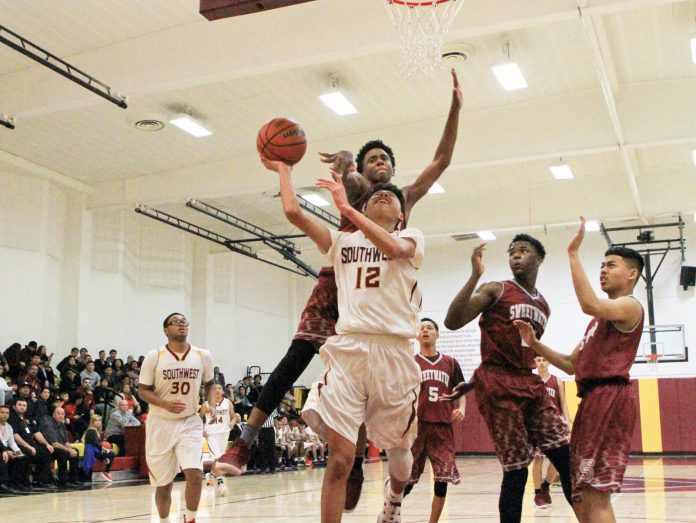 The Southwest High School boys basketball team and the Eastlake High School girls soccer team will be making repeat appearances in this year's San Diego Section championship finals to cap the 2018-19 winter sports season.
The teams were among nine CIF championship hopefuls from the Metro Conference that earned berths in this week's semifinal playoffs.
Raider Nation
Southwest (24-7) topped the fifth-seeded Imperial Tigers, 61-37, in Tuesday's boys basketball semifinal pairing to advance to meet the second-seeded Mt. Carmel Sundevils (15-14) in Thursday's division final at Mira Mesa High School.
Tip off is 7:30 p.m.
It marks the second time in as many seasons that the Raiders have advanced to a division final.
Southwest won last year's Division V championship.
The Raiders built a 17-8 first quarter lead on the Tigers and expanded on that with a 22-5 second quarter run to lead 39-13 at halftime.
In other words, Southwest took care of business.
"We have nine returning players, four returning starters, so they knew what to expect in the CIF playoffs," veteran coach Steve Selland said. "Like last year, they are trying to play their best in these playoffs."
Issac Gonzalez led the Raiders in Tuesday's game with 26 points on seven three-pointers, six steals and five rebounds.
Selland called the performance "a great overall game for a hard-working senior who is finishing a great career here at Southwest High."
Senior Diego Edwards was held to nine points, but also had nine rebounds and four blocks. Senior Jorge Castillo also played well, "not wanting his career to end just yet," Selland noted
Mt. Carmel defeated third-seeded Mission Vista, 51-38, on Tuesday.
Imperial ended its season 19-10.
"Obviously, playing Mt. Carmel, an experienced North County team, will be a bigger challenge than last year's final," Selland noted.
Edwards led Southwest in scoring with 31 points in last Saturday's quarterfinal playoff win over eighth-seeded El Capitan (15-14) while Gonzalez added 11 points and Castillo had 10 points.
"It was a hard-fought win, as El Capitan didn't want their season to end and kept coming back at us after we got the early lead," Selland explained. "Our home court crowd urging us on wouldn't let us lose and eventually we closed them out."
Girls soccer
Sixth-seeded Eastlake (16-7-5) will meet ninth-seeded Steele Canyon (11-13-3) in Saturday's Division I championship game at Mission Bay High School after recording a 2-0 victory at second-seeded Bishop's (14-6-1) in Wednesday's semifinals.
The Mesa League co-champion Titans scored two goals in the first half and made them hold up to record the upset playoff win.
Saturday's championship game, which is scheduled for a 4:30 p.m. kickoff, is a rematch of last year's Open Division final in which the Titans outlasted the Cougars in an overtime shootout.
Steele Canyon advanced to Saturday's title match after outlasting fourth-seeded Poway (8-10-3) by a count of 3-1 in an overtime shootout after the teams had battled to a scoreless draw.
The Titans advanced to the semifinals after tipping third-seeded Rancho Bernardo, 2-1, in last Saturday's quarterfinals.
Steele Canyon is the clearly division's dark horse after dealing top-seeded San Marcos a 2-1 loss in last Saturday's quarterfinals and previously upending eighth-seeded Point Loma by the same score in the opening round.
Eastlake tied Bonita Vista for this year's league championship after both teams finished with identical .833 winning percentages. The Titans finished 10-2-0 in league play while the Barons finished 9-1-2.
Fifth-seeded Bonita Vista recorded a 1-0 upset win at fourth-seeded Helix in last Saturday's quarterfinals to advance to face top-seeded Grossmont (13-7-2) in Wednesday's Division II semifinals.
Senior Jackie Barrientos scored the lone goal of last Saturday's match to lead the visitors to the upset win and, in the process, extend the team's unbeaten streak to 12 games (9-0-3).
The Highlanders (11-10-1) had a chance to send the game into overtime but missed wide of the post on a penalty kick with 10 minutes to play in regulation. Sabrina Ibanez was credited with the shutout victory.
Bonita Vista had not lost since the championship game of the Quin Murphy/San Diego County Cup on Dec. 29 at Hilltop High School when it dropped a kicks-from-the-mark (KFM) tiebreaker shootout to Montgomery.
But the Barons (17-5-3) were unable to extend their winning streak in Wednesday's overtime shootout loss at Grossmont (14-7-2).
Both teams scored goals in each half for a 2-2 standoff through regulation.Barrientos put the visitors up 2-1 on a long blast with seven minutes remaining in regulation play before the Foothillers tied the scored late in the game off a set play.
A scoreless overtime period prompted a kicks-from-the-mark tiebreaker in which the hosts won 6-5.
Grossmont will face sixth-seeded Valhalla (12-7-2) in Saturday's division championship game at 4:30 p.m. at Hilltop High School after the Norsemen edged second-seeded Patrick Henry (9-5-6) by a 1-0 score in Wednesday's semifinals.
Fourth-seeded Mater Dei Catholic (15-3-2) bowed out of the playoffs with a 3-2 overtime loss at top-seeded San Diego in Wednesday's Division III semifinals.
Both teams scored goals in each half, and the Cavers added the only goal in the sudden-victory overtime period.
San Diego (18-3-4) advances to meet second-seeded Serra (15-7-2) in Saturday's Division III final at 11 a.m. at Mission Bay High School.
The Crusaders had advanced to meet the Cavers after eliminating fellow Metro Conference rival Montgomery, 3-1, in last Saturday's quarterfinals.
Fifth-seeded Montgomery ended its season at 13-12.
Meanwhile, San Diego advanced after slipping past ninth-seeded Chula Vista, 5-3, in a shootout tiebreaker in last Saturday's quarterfinals after the teams had tied 1-1 through overtime.
Chula Vista (10-12-8) had advanced by the same score in a shootout tiebreaker win over eighth-seeded Santa Fe Christian in the opening round.
Montgomery had shut out 12th-seeded Sage Creek, 2-0, in the first round.
Boys soccer
All South County boys soccer teams were shut out of title contention
Mesa League champion Eastlake received the No. 3 seed in the Division I playoffs but was unable to get past sixth-seeded Westview in last Friday's quarterfinal home match, losing 3-0 to the Wolverines.
The Titans finished the season 12-7-2, 9-1-2 in league play.
Westview (12-8-5) will meet fourth-seeded Poway in Saturday's Division I championship game at 7 p.m. at Mission Bay High School after recording a 1-0 upset win over second-seeded San Marcos (11-11-4) in Tuesday's semifinals.
High Tech Chula Vista, seeded 10th in the Division V field, lost 2-0 at second-seeded Classical Academy in last Friday's quarterfinals.
The Bruins ended their season 7-10-3 after finishing 5-2-1 in the Patriot League standings.
Classical Academy (15-6-2) will play eighth-seeded High Tech High North County (13-5-1) in Friday's Division V championship game at 5 p.m. at Hilltop High School.
Almost famous
San Diego Academy, top-seeded among Division V boys bassketball teams, saw its season end following last Saturday's 77-58 loss to eighth-seeded San Pasqual. The Cavaliers finished the 2018-19 hardwood campaign with a 21-5 record while the Golden Eagles advanced to meet fourth-seeded Del Lago Academy in Tuesday's semifinals.
San Pasqual (12-18) won Tuesday's game, 64-53, to advance to Thursday's division final at Montgomery High School against sixth-seeded Clairemont (15-16).
Junior Kevin Early paced San Diego Academy with a 19.7 scoring average this season while senior Isaac Soli followed with a 13.1 scoring average.
The Cavaliers finished 11-1 in Citrus League play to tie Victory Christian Academy for the league title.
SAN DIEGO SECTION SEMIFINAL PLAYOFFS
Boys Basketball
Division I
(3) Francis Parker 58, (2) Montgomery 49
Division II
(2) Carlsbad 76, (15) Bonita Vista 49
Division III
(4) San Diego 79, (1) Sweetwater 78
Division IV
(1) Southwest 61, (8) El Capitan 39
Girls Basketball
Division III
(1) Mission Vista 44, (5) Chula Vista 30
Division IV
(1) Madison 51, (12) Castle Park 34
Girls Soccer
Division I
(6) Eastlake 2, (2) Bishop's 0
Division II
(1) Grossmont 2, (5) Bonita Vista 2 (Grossmont wins 6-5 in KFM)
Division III
(1) San Diego 3, (4) Mater Dei Catholic 2 (OT)
No. 1 Red Devils come up short on final shot, end season with 79-78 loss to No. 4 Cavers
The stage was set with a home game in Tuesday's San Diego Section Division III boys basketball semifinal playoff game and all the trappings were present courtesy of a full house in the Red Devils' National City gym.
The overflow crowd was treated to an exciting finish — one that went down to the final spit-second on the final shot of the game.
If Craig McMillan's desperation floater dropped through the net, top-seeded Sweetwater would advance to Thursday's division championship game at Mira Mesa High School.
If the shot didn't fall, the fourth-seeded San Diego Cavers would make the trip instead.
McMillan's shot didn't fall and the Devils — leading by six points with 3:21 to play — saw their season end prematurely with a 79-78 loss to the Cavers.
San Diego (21-8) advanced to play second-seeded Valhalla (28-3) for the division championship.
Sweetwater (24-7) will have to wait until next season to make another statement on the court.
This one obviously hurt; the pain was etched all over the face of SuHi head coach Jesse Aguirre following the game.
"It's too bad," sighed Aguirre, who appeared beyond disappointment. "Both teams played well. We kept a four-to-five-point lead for most of the fourth quarter. Their guy made three free throws. We just didn't play smart basketball.
"Every time we got a good groove going, the whistle started blowing for some reason. Our focus was not there for four quarters."
The meltdown started when Red Devil 6-foot-7 giant C.J. Jackson fouled out with 2:38 left in the game. At that point in the game, Jackson had tallied 10 points and grabbed 18 rebounds.
That left the major burden of carrying the team on the shoulders of the 6-foot-5 McMillan, who seemed to respond to the challenge.
San Diego cut the Sweetwater lead to 69-67 on a bucket by Jaliel Jackson. But McMillan responded with a pair of free throws to up the Devils' lead to 71-69.
The hosts played the final minutes of the contest in foul trouble, repeatedly sending Cavers to the charity stripe in the dying stages of the game, which helped complete the fall.
Jaliel Jackson dropped in a foul shot with 2:19 to play to trim the SuHi lead to 71-70. Teammate Steve Stinson then stole the ball and scored on an uncontested lay-up with 2:01 to play to put the visitors ahead 72-71.
At this point, the Cavers were also in serious foul trouble and the slightest physical contact seemed to draw a trip to the free throw line for either team.
McMillan sank both free throws with 1:46 remaining to push the hosts back on top 73-72.
The momentum seemed to swing in Sweetwater's direction when Jimmy Mattox grabbed a rebound and sped down court for an uncontested lay-up and a 75-72 SuHi lead.
The home fans were roaring at this point; the din became even louder when McMillan sank one of two free throws with 1:03 to play to extend the Devils' lead to four points at 76-72.
But too much time remained on the clock.
The hosts could not contain the visitors, who had designs on making a comeback of the first order to silence the SuHi fans and create shrieks of ecstasy from their own group of supporters.
The ending was not for the faint of heart.'
San Diego's Andre Love was awarded three free throws with 49.4 seconds remaining in regulation. The pressure was clearly on Love, who made all three shots to trim the Sweetwater lead to 76-75.
The Devils called a time-out with 33.1 seconds to play. Promptly on the inbounds play, McMillan was sent to the line with a chance to wrap up the game.
But the SuHi scoring standout missed both shots with 32.2 seconds left on the clock to hand the ball back to the Cavers.
Football standout Daniel Thomas scored on a lay-up with 21.6 seconds to play to put the Cavers in front 77-76.
That set the stage for a wild finish.
McMillan sent the large SuHi fan base into delirium after hitting a jumper with 11.8 seconds to play to nudge the Devils in front by the slimmest margin at 78-77.
But the hosts were unable to defend that lead, however small it was. Perhaps predictably, they fell victim to a pair of free throws by Stinson with 6.9 seconds remaining.
Sweetwater got the ensuing inbounds to McMillan, who raced up court weaving through defenders. He finally pulled up for a jump shot … that missed falling in at the buzzer.
Game over. Season over for the two-time defending South Bay League champions.
One spectator fainted.
McMillan finished with some truly inspirational numbers for a depleted Devils' squad: 32 points, four assists and eight rebounds.
Ariene Velasco and Jeilen Jackson each contributed 12 points while the younger Jackson tacked on nine rebounds.
Mattox, who missed last Saturday's quarterfinal victory against San Ysidro due to an unexpected hospital visit, was back for Tuesday's semifinal but was not the team's savior.
"I give it all to him (Mattox)," Aguirre said. "We had three guys (injured) on the bench."
Thomas led San Diego, riding an 11-game winning streak, with a season-high 21 points while Aaron Burgin Jr. dropped in 15 points and Stinson added 14 points.
With a win on Thursday, the Cavers have a chance to win a CIF basketball championship to go with their CIF football championship in the fall.
Only the Norsemen, riding a 14-game winning streak, stand as the final barrier to clear.
No. 2 Aztecs stall in CIF semifinals with 58-49 setback to No. 3 Francis Parker
The Mesa League champion Montgomery High School boys basketball team made a statement in last Saturday's 82-57 San Diego Section Division I quarterfinal playoff win over visiting Helix after recovering from an early four-point deficit to win by 25 points.
Kyle Paranada led all scorers on the playing court with 33 points while teammate Rahin Williams dropped in 14 points.
The game's momentum swung in Montgomery's direction following a slam-dunk by Williams with 1:39 remaining in the third quarter that electrified the crowd.
The second-seeded Aztecs proceeded to out-score the 10th-seeded Highlanders 46-23 in the second half.
It was a different story in Tuesday's semifinals.
Montgomery fell behind 25-13 in the first quarter but rebounded with two strong middle quarters to trail 42-40 entering the final quarter. But the Aztecs were unable to steal a win after being out-scored 16-9 by third-seeded Francis Parker in the fourth quarter.
Paranada led the Aztecs (27-4) with 24 points in the 58-49 loss.
Francis Parker (20-9) advances to meet top-seeded Cathedral Catholic (22-9) in Friday's division championship game at UC San Diego's RIMAC Arena after the Dons eliminated fourth-seeded La Jolla Country Day, 64-55, in Tuesday's semifinals
Girls basketball
South Bay League co-champion Chula Vista (22-9) ended its season with a 44-30 setback at top-seeded Mission Vista (20-2) in Tuesday's semifinals.
Junior Frida Caballero led the fifth-seeded Spartans with 15 points to earn player of the game honors from the team's coaching staff. Junior Alexandra Lozano had eight rebounds.
Mission Vista advanced to meet second-seeded San Dieguito Academy (22-6) in Thursday's division final at Mira Mesa High School.
In a Division IV semifinal match-up on Tuesday, 12th-seeded Castle Park (11-17) led top-seeded Madison (26-3) by a 12-9 score after the first quarter. But the Trojans were out-scored in the next three quarters, including 11-2 in the third quarter, to end their season with a 51-34 loss.
Imani Moore (17 points) and Megan Irwin (14 points) each scored in double figures for the victorious Warhawks, who advanced to Thursday's division championship game against second-seeded Foothills Christian (25-6) at Serra High School.