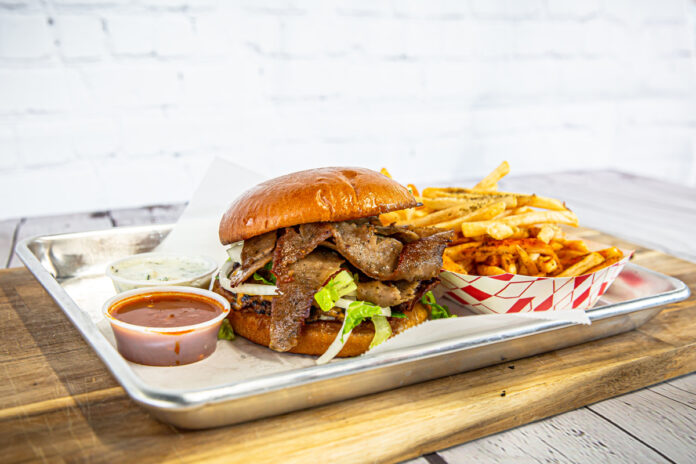 There is a new restaurant in Chula Vista on Broadway that is bringing Mediterranean food with a California twist to locals who normally must drive to downtown or East County San Diego to get their taste of popular Mediterranean delights. San Diego Kabob Shack, located at 200 Broadway, is already getting five-star reviews on Yelp and Google.
Kabob Shack Founder Said Hofiani is a first generation Afghanistan-American, brought to the U.S. when he was 3-years-old with his parents shortly after the Soviet-Afghan War. He grew up in San Diego and La Mesa. He said his parents told him to "go to school, go to college." He is a local Aztec, graduating from SDSU and started his career in the corporate world. He said growing up, "food was a big passion in my family, making kabobs and things on Sunday with the family."
He moved to Washington for five years working the corporate side of the world, and then COVID hit.
"I realized at home we did not have a lot of family parties and events that I was many times hosting," he said. "So, 2020 was a great year of self-reflection with everything going on in the world. It was a good time to evaluate priorities in life. I wound up moving back earlier this year to double down on a restaurant. I picked Chula Vista because there is an appetite for Mediterranean food in this area that you cannot really get."
Hofiani said choosing Chula Vista was a long-term decision with the upcoming growth at the bayfront with the convention center, the amount of work in improving the Chula Vista area, and said he found his nice corner spot on Broadway.
"The one thing I love about this community is that they really invest in small businesses. Customers and other local small businesses believe in my story about my passion for food," he said.
Hofiani said Kabob Shack's menu is quite unique, mostly influenced by his love of Mexican food and taco shops, so he created a fusion menu.
"Like our burrito that we call a California Kabob Wrap that has guacamole and French fries, similar to a California burrito. So, it is like a Mediterranean burrito and people love it," he said. "We have our Shah Deluxe Pressed Burger where we marinate the beef patty, traditionally cooked on an open flame. No one has a Middle Eastern burger, so we decided to invent one. So, since the invention of our World Famous Koobideh Burger, it has gone viral on the internet, which is pretty cool. It is a smashed styled burger, marinated beef on a Brioche bun on it. We have so many people that love ordering that burger. We have an Afghan dessert Sheer Yakh, an Afghan version of our ice cream. No one has this in San Diego, so I wanted to make sure that people get a picture of part of our country as well while they are at our restaurant."
Hofiani said it kept with original recipes with its kabobs and rice plates but does have a jalapeno twist to its rice place, another way in trying to connect with the local community.
"I think this is why this restaurant is so successful," he said. "It has a good menu that caters to this community, and we are hoping to expand to the Eastlake community as well."